A leg of lamb is an impressive dinner for a party or holiday gathering. You can feed a crowd with this large tender cut of meat.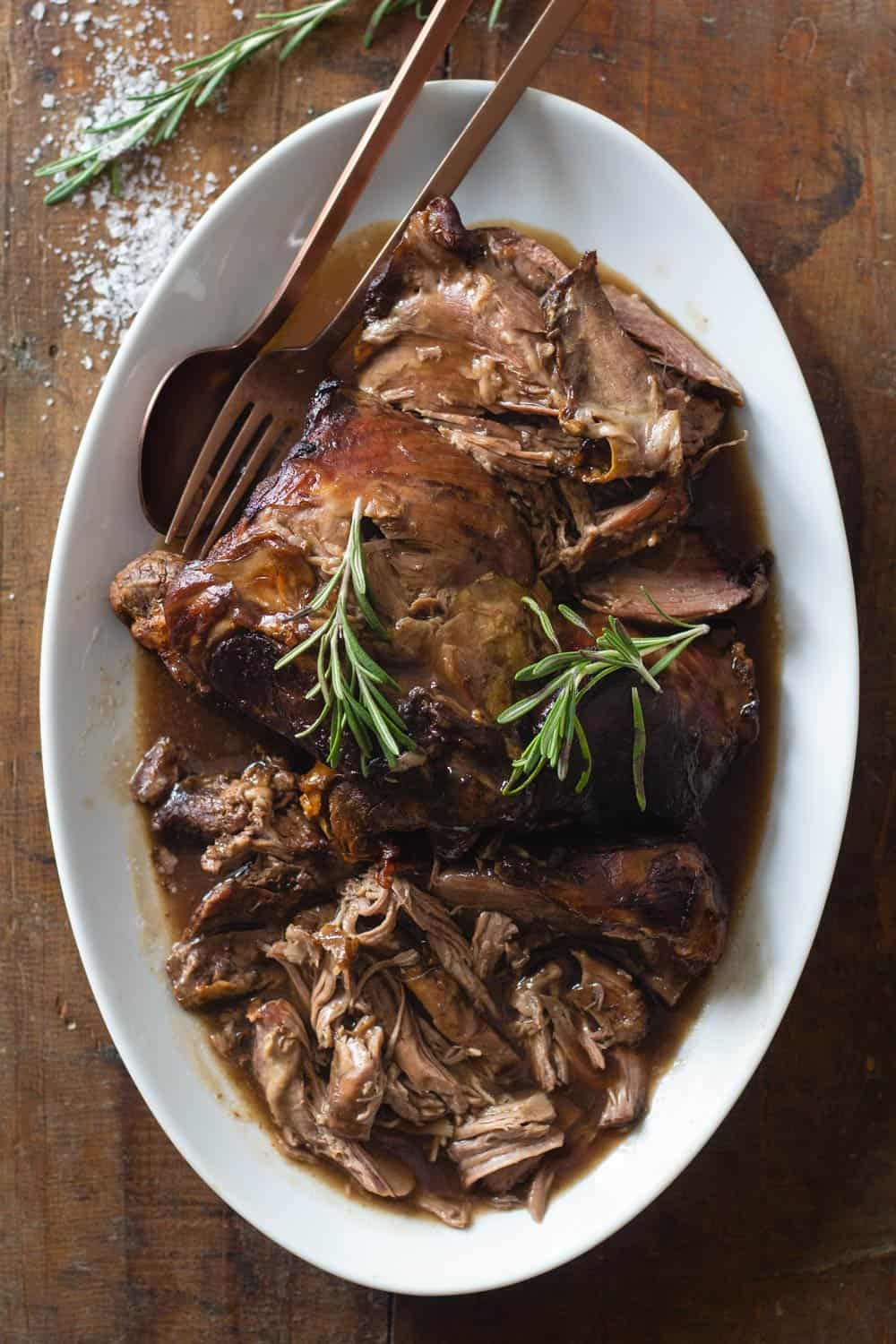 It is a splurge for a dinner party or celebration. The leg of the animal is low in fat and high in protein. Lamb has less marbling than beef so less fat throughout the muscle.
A lamb leg, while typically too large and time-consuming for daily cooking, makes a great meal to share with family and friends.
How do you choose a cut of lamb?
The leg of any animal works hard. That means that it is a fairly lean cut of meat, but will have a strong flavor. You will have to be careful not to overcook it however since there is not a lot of fat to insulate the meat.
You can get a leg of lamb with the bone left in or de-boned. Finding a boneless one makes it much easier to carve when it is finished. Either way, it's the perfect cut for slow roasting.
Do you wrap the roast in foil?
You want to cover the lamb leg during most of the cooking in order to preserve the tender juicy meat. A leg is not a fatty part of the animal. The easiest way to do this is to cover your dish with another baking dish. If you don't have one that fits, tent the meat with foil.
Only leave the meat uncovered for the last 40 minutes of cooking time. This will crisp the edges, but not dry out the interior meat.
Plus, the juices will stay in the pan instead of being evaporated. You can then use this delicious by-product to make gravy.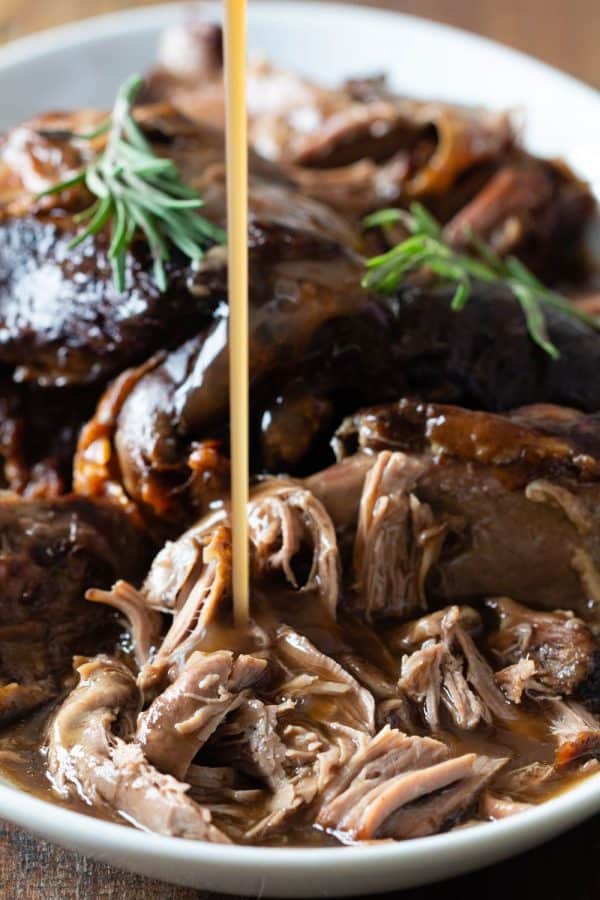 How long should you roast a leg of lamb?
The times in this recipe are intended for a 4.5 pound boneless leg of lamb. That will provide eight servings- the perfect size for a dinner party.
I prefer this type of cut to roast at a lower temperature for a longer period of time. If I cook the lamb at 325F, I must allow it to roast for a total of four and a half to five hours. The leg of lamb will be so tender it will be falling apart.
What are the best side dishes for this?
You'll need some side dishes to go with your lovely roasted leg of lamb. It's easy to make gravy from the pan drippings, so mashed potatoes are a common side dish. Try some of these other sides as well: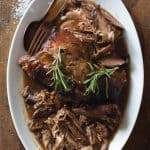 Slow-Roasted Leg of Lamb
A leg of lamb is an impressive dinner for a party or holiday gathering. You can feed a crowd with this large tender cut of meat. 
Print Recipe
Pin Recipe
Ingredients
4.5

lbs

boneless leg of lamb

-

2 kg

2

small yellow onions

-

or 1 large

1

bulb garlic

2

stalks celery

1

carrot

2

sprigs rosemary

4

cups

beef bone broth

1

cup

red wine

1

Tbsp

olive oil

sea salt

pepper

2

Tbsp

corn starch

2

Tbsp

water
Instructions
Peel only the first layer of the onion. The rest of the skin can stay on. Cut small onions in half or large onion into quarters. Peel only first outer layer of garlic bulb and cut in half horizontally. Wash stalks of celery. Wash carrot. Wash rosemary. Add all to the center of a baking dish with high sides in one layer.

Add leg of lamb on top of veggies, fat skin up and season generously with salt and pepper. Then flip and season generously on the other side. You want to end up with fatty skin down and leg on top of onions/garlic.

Add bone broth to the baking dish (do not pour over leg of lamb but rather pour around it). Add red wine to the broth. Drizzle olive oil over leg of lamb and swish a bit around with your fingers.

Cover baking dish with another baking dish or lack thereof, tent tightly with aluminum foil.

Place in the oven for 4-4.5 hours. You want the leg of lamb to fall apart when you use a fork and start scraping it a bit. Once it's fall-apart tender, take it out of the oven, flip the leg of lamb (this will be difficult because it breaks into parts, simply use some tongs and a spatula and do your best).

Return leg of lamb into the oven uncovered this time for 40 minutes.

Remove from the oven, put meat on a platter and cover with a baking sheet or aluminum foil to keep warm, strain the juices through a colander and then pour into a fat separator to remove the fat. This is important because if you leave too much fat in the liquid, the gravy will taste very very oily and not have any depth to it.

Pour liquid without fat into a large pan, then add a corn-starch slurry made of 2 Tbsp corn starch and 2 Tbsp water to the liquid and bring to a boil while constantly whisking.

Reduce the sauce until gravy consistency.

Pour gravy over lamb and enjoy!
Nutrition
Calories:
286
kcal
|
Carbohydrates:
6
g
|
Protein:
38
g
|
Fat:
9
g
|
Saturated Fat:
3
g
|
Cholesterol:
103
mg
|
Sodium:
153
mg
|
Potassium:
567
mg
|
Fiber:
1
g
|
Sugar:
2
g
|
Vitamin A:
1281
IU
|
Vitamin C:
3
mg
|
Calcium:
21
mg
|
Iron:
3
mg
What's your clean eating vibe?
Take this fun QUIZZ and find out in 10 seconds!