Imagine the coldest you have ever felt and then imagine feeling much much much colder than that for an eternity feeling 30 minutes. This is what I feel like when I go pick up my kids from school some days in Montreal, Canada. It is a 15-minute walk to school and then a 15-minute walk back home. On bearable temperature days such as -20ºC to +35ºC (-4F to 95F) this is a wonderful thing. The fresh air feels amazing and clears the head and I do a little exercise without even noticing. Now, on the opposite of bearable temperature days such as -21C to -40C (-6F to -40F) – yes! It does get THIS cold here sometimes – I.DO.NOT enjoy those walks. They are horrible, they are simply brutal. No matter how many layers I wear, first my feet and legs start hurting, then my face, my nose hair freeze with every breath I take (whaaaat?!? YES!), my hands start hurting and my eye lashes. Before moving here I didn't even know eye lashes could hurt. They do folks. They can hurt. Did I ever tell you I hate the winters here? Oh, yeah, right, I remember, like five million times already. Well, sorry for being so repetitive beloved readers but bearing these temperatures is only possible when cursing and complaining.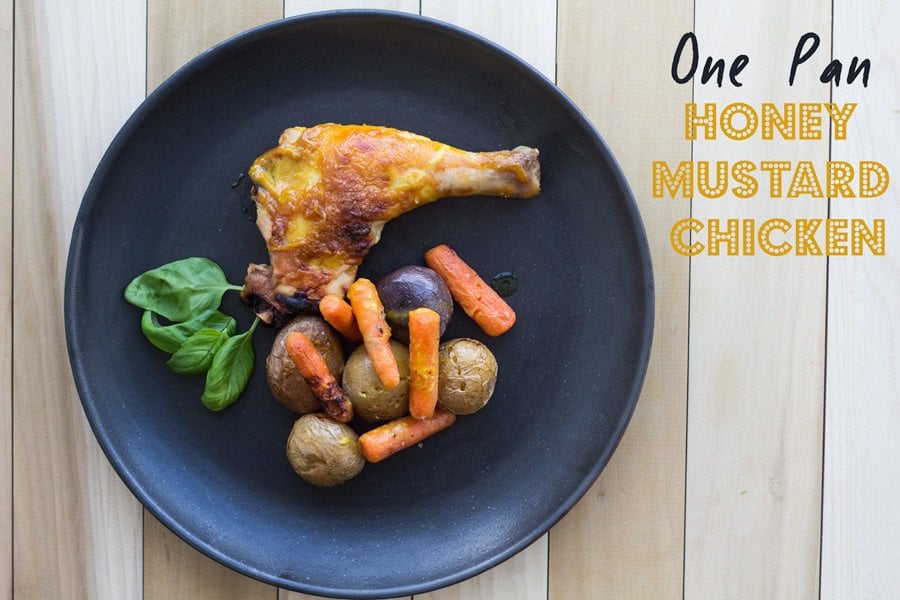 Ok, so now I will get to the point of my story. This week has been like I describe above. Pretty brutal and every day I finally got home with my two VERY hungry little ones I either cut myself while quickly preparing lunch or burned myself while quickly preparing lunch. Why you ask? Well, because I couldn't feel my hands and feet in like forever after that 30-minute walk through what feels like Antarctica sometimes. So, after the third day of feels-like-temperatures of -30ºC (-22F) due to wind chill, I decided I had to prepare lunch without actually having to "prepare" anything at all. My hands stayed safe, I had time to warm up under a blanket with my kiddos watching Paw Patrol (*yawn*), and 1 hour later HOT lunch was ready and life was back in my hands to take the pan out of the oven "without" burning myself. *bliss*.
My One Pan Honey Mustard Chicken is not only brilliant for when your hands are not properly functioning for whatever reason but also for when you have like ZERO time, or ZERO mood to stand in the kitchen and prepare something. It takes 3 minutes to toss everything onto the pan, 10-15 minutes for the oven to pre-heat and off you go do other things you have or want to do, becaaaaauuuse…there are no dishes to be washed. Wohoooo! Well, only one tiny little one where you mixed the honey and mustard together but that takes like, what, a minute to wash?
This is how you avoid buying processed food, order in expensive take outs or going to a restaurant. There is a solution for every situation to manage to eat a healthy real food lunch or dinner. Enjoy!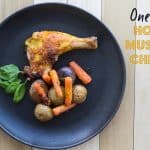 One Pan Honey Mustard Chicken
Print Recipe
Ingredients
2

chicken breasts

2

chicken thigh-drumsticks

2

chicken wings

1

lbs

baby carrots

-

(450g)

1.5

lbs

baby potatoes

-

(700g)

3

Tbsp

honey

3

Tbsp

mustard

3

Tbsp

butter

-

50g
Instructions
Preheat oven to 200ºC (400F).

Butter a large deep baking dish using a little butter and moving it around with your hands.

Place potatoes and baby carrots without peeling on the pan making sure they are well spread out and not one on top of the other. Leave space for the chicken pieces.

Place the chicken directly on the pan, not on top of the vegetables.

In a small bowl, mix together honey and mustard and then evenly pour over chicken and vegetables.

Cut butter into pieces and place pieces on chicken and vegetables.

Bake for 50-60 minutes or until potatoes are cooked through.
What's your clean eating vibe?
Take this fun QUIZZ and find out in 10 seconds!