This honey-sweetened apple bread recipe produces a moist and soft bread with the flavors and aroma of freshly baked apples. You all absolutely love my German Apple Cake , Baked Apples , and Apple Yeast Bread so it was about time I created a healthy sweet apple bread.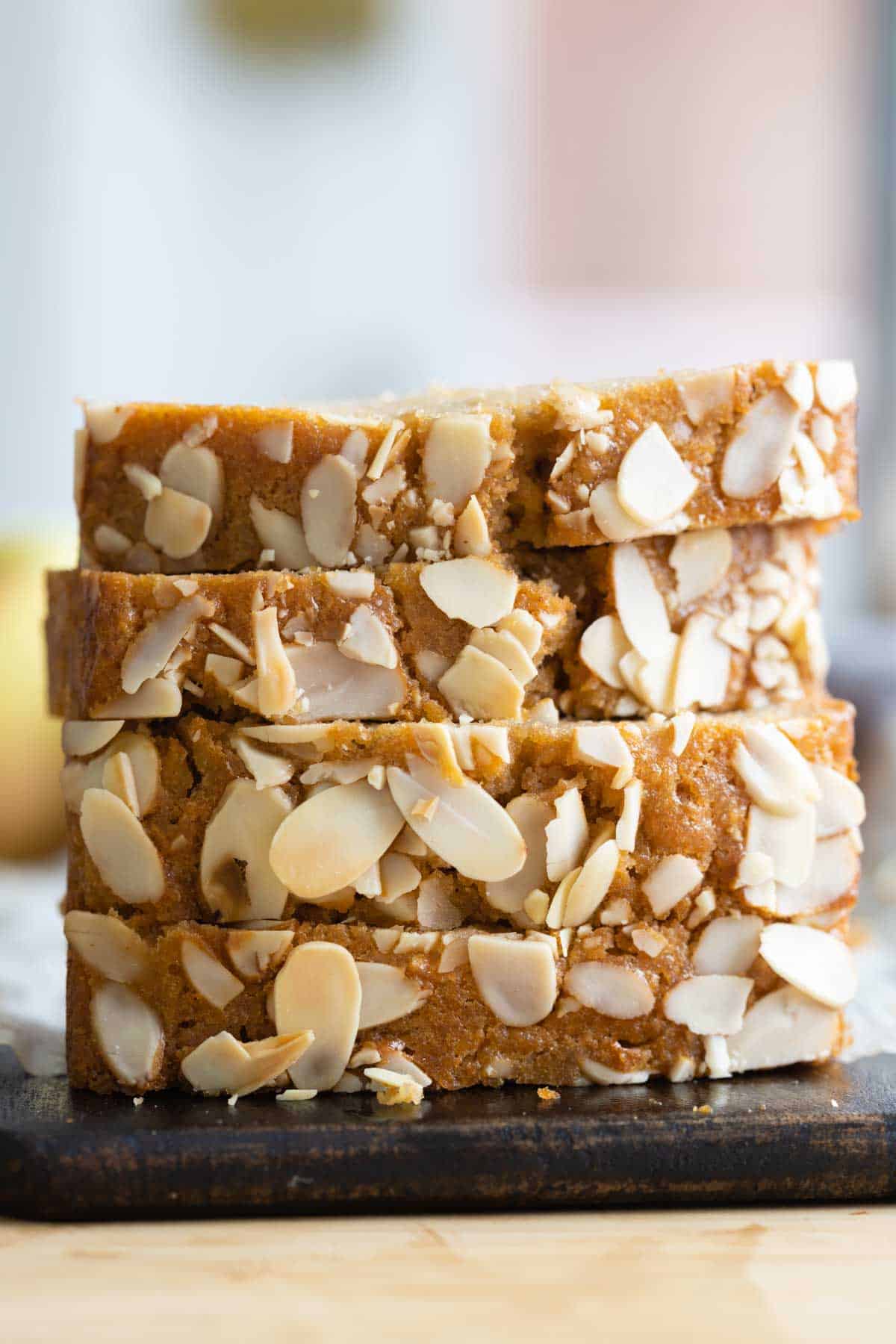 Apple bread is similar to banana bread or banana muffins. You can eat it as a dessert or for breakfast. I loved serving this with a hot cup of coffee. The combination is unbeatable.
Ingredients and Substitutions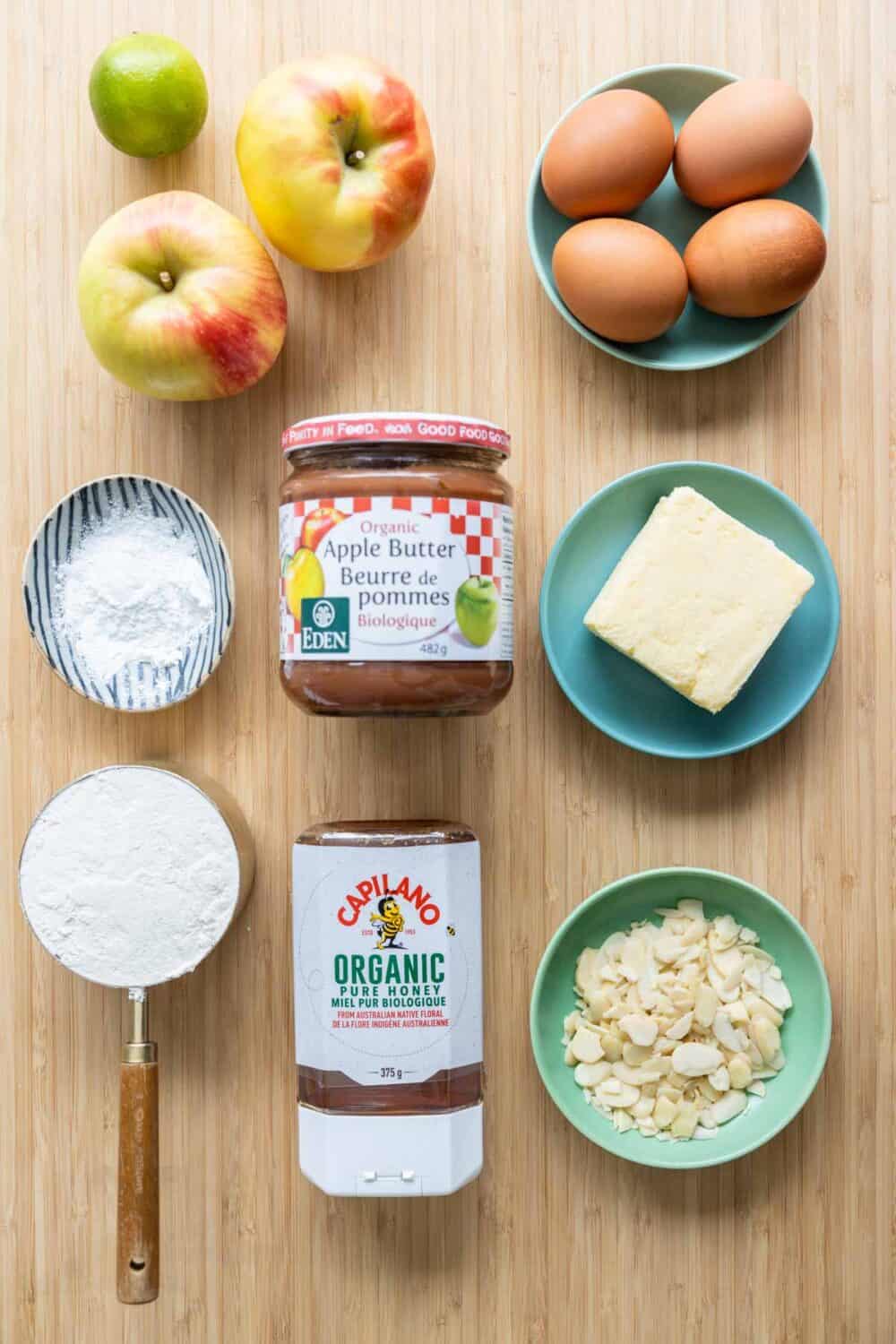 Flour – the recipe calls for all-purpose white flour. In some baking recipes, you can exchange flours but in other more delicate ones, they simply cannot. All flours react differently with other ingredients due to their chemical composition. All-purpose flour for example is high in carbohydrates, has moderate protein, and is low in fat. Almond flour on the other hand is high in fat, has moderate protein, and is low in carbohydrates. They obviously react completely differently in a baking recipe. You cannot simply substitute other flours. This apple bread recipe has been extensively tested and the only flour that will give you 100% success is all-purpose white flour. It's just 1 cup for the whole bread. It's fine :)
Baking Powder – do not mistake with baking soda. They are often not interchangeable in baking recipes. In this recipe, you can maybe exchange them. Baking powder has an activator integrated, but baking soda does not. Baking soda requires an acid to be activated which is why baking recipes made with baking soda always call for either lemon juice, honey, buttermilk, or vinegar. This recipe has lemon juice and honey so in "baking theory" you can use baking soda instead of powder, I have not personally tried it though so use it at your own risk.
Butter – in order to omit refined sugar in this recipe I used honey to sweeten it but that messes with the wet-to-dry proportions. To counter this, butter is the best fat for the apple bread recipe because it is not liquid. You can only substitute oil if you use sugar instead of honey to sweeten it.
Honey – the only substitution is cane sugar (white or light brown). You cannot use maple syrup because of its higher water content and the high amount of wet ingredients already used in the recipe.
Apple Butter – I tried making this recipe work with apple sauce but unfortunately the high water content in apple sauce is not suitable. Adding more grated apples also won't work and the only way to get a deep apple flavor is by using apple butter. I personally prefer unsweetened apple butter and I will soon post a recipe on how to make it but for now, you can find it in most health food stores or online.
Eggs – in baking recipes that call for one to two eggs, you can sometimes replace them with flax eggs. When a recipe has more than two eggs, however, it is not recommended to replace them. Eggs are essential for this apple bread recipe and you cannot substitute them without completely altering the consistency and flavor of the apple bread.
Grated Apples – any type of apple will work in this recipe. I personally love Honeycrisp Apples but I've tried other varieties and they all work. The important thing is that you press out the water, that's all.
Almonds – you can use other nuts or even chocolate chips to top the apple bread. The nuts are mostly for decoration and you can even completely omit them.
Special Tips For How To Make Apple Bread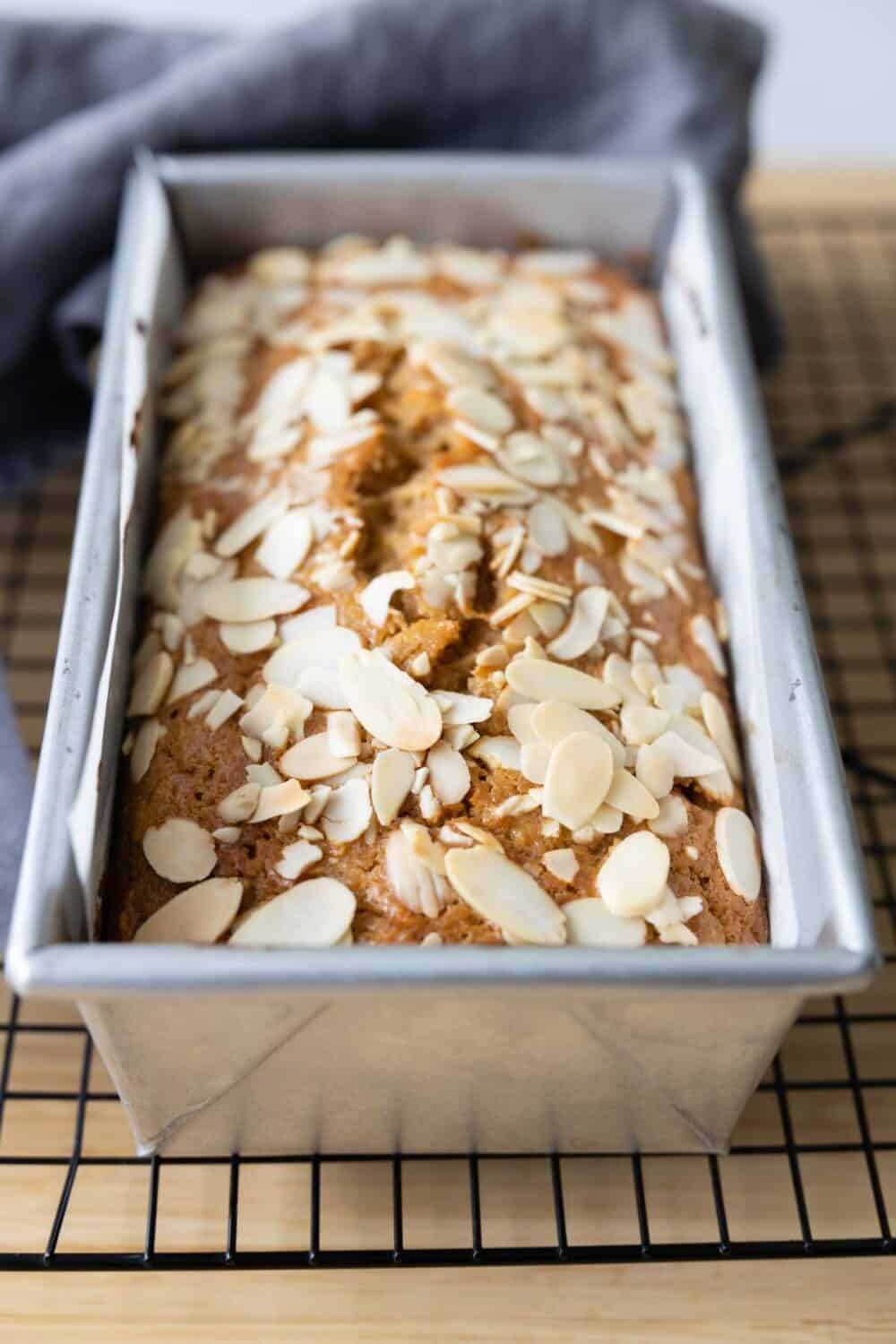 Cream the butter and honey until super smooth and fluffy. You won't achieve the same consistency as when creaming butter and sugar but you'll get pretty close. 3-4 minutes on medium speed with an electric hand mixer or stand mixer should do the trick.
Add eggs and flour in stages. One egg at a time followed by 1/4 of the flour. This way you ensure every egg gets mixed well into the batter. Avoid the urge to just dump all 4 eggs and the cup of flour into the bowl at once.
Press out all water from the shredded apple. The more water you add to the batter the denser and flatter your apple bread will be. Make sure you press hard and discard the apple water.
Bake until the center registers 180F on a digital thermometer. That's the most accurate way to figure out if a bread or cake is baked through without overbaking it. 190F internal temperature tends to be the right temperature for most doughs but out of the oven, the temperature tends to increase another 10-15 degrees so you want to take it out BEFORE it reaches 190F.
Special Variations
You can use different apples. One tangy, and one sweet for example.
You can add chopped nuts, chocolate chips, and or raisins to the batter at the very end with the grated apples. Just make sure they are not too many to not mess with the dry/wet ratio. 1/3 cup max I would say.
You could also add some spices to your apple bread if you like. Cinnamon, all-spice, or a pinch of nutmeg, cardamom, and clove are all spices that will taste great in it. To add spices I recommend mixing them into the flour and baking powder mix.
Frequently Asked Questions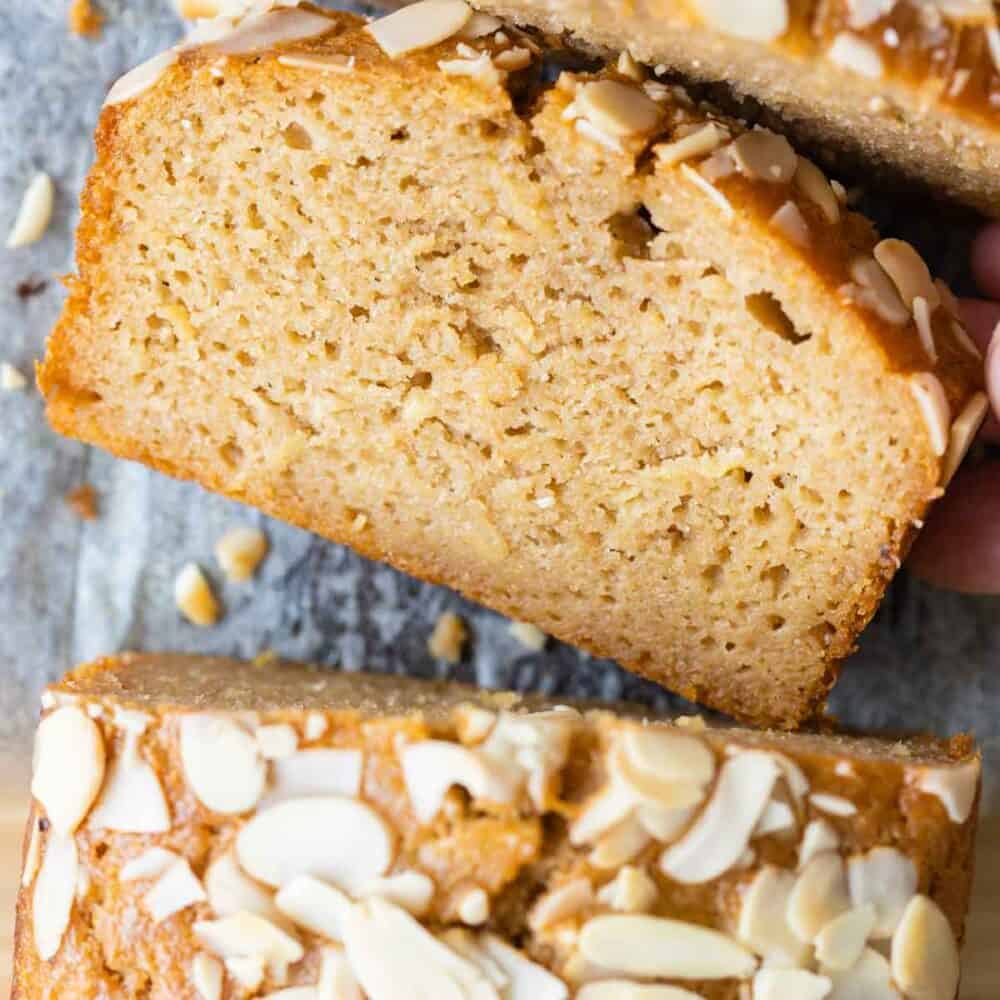 Why are apples shredded for this bread?
The apples have to be shredded so water can be pressed out of them. Otherwise diced or sliced apples will release a lot of water during the baking process and make the apple bread very dense and flat.
How long does apple bread last?
On the counter, it will last for a day. In the fridge for up to 4 days. Store in an airtight container so the bread can maintain its moisture.
Can I freeze the apple bread?
Yes! I recommend cutting it into slices, then spread in one layer on a baking sheet and freeze on the baking sheet for 1 hour. Then stack the slices and place them in a freezer bag. This way you can take out individual pieces and defrost only what you will eat and keep the rest in the freezer.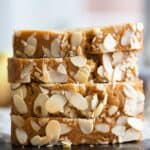 Easy Honey Apple Bread Recipe
This honey-sweetened apple bread recipe produces a moist and soft bread with the flavors and aroma of freshly baked apples.
Print Recipe
Pin Recipe
Ingredients
2

large apples

1

lime

1

cup

all-purpose white flour

-

135g

1.5

tsp

baking powder

1/2

cup

butter, at room temperature

-

120g

1/2

cup

honey

-

150g

1/2

cup

apple butter

-

140g

4

eggs, at room temperature

1/4

cup

almond flakes
Instructions
Preheat the oven to 350F and oil and parchment paper line a loaf pan.

Peel and grate apples into a bowl and drizzle with lime juice. Set aside.

In a bowl mix flour and baking powder with a fork until well combined. Set aside.

Cream butter and honey with the flat beater in a stand mixer or with an electric hand mixer in a bowl until creamy and pale (3-4 minutes on medium), then add apple butter and mix until well incorporated (1 minute on medium).

Reduce speed to low and mix in eggs one by one and flour in 4 stages. One egg, 1/4 of the flour, another egg, another 1/4 of the flour etc. always waiting for each part to be mixed in before adding the next.

Press water out of the grated apple with your hands and add to the batter and mix in by hand with a spatula. Then transfer batter to loaf pan.

Flatten the batter with the spatula and sprinkle almond flakes on top. Then bake for 55-60 minutes or until golden brown.

Remove from the oven and place in the pan on a wire rack for at least 30 minutes. Do not remove from the pan before the 30-minute mark.

Take the bread out of the pan and either let cool completely or cut right into it and enjoy.
Nutrition
Calories:
263
kcal
|
Carbohydrates:
36
g
|
Protein:
4
g
|
Fat:
12
g
|
Saturated Fat:
7
g
|
Polyunsaturated Fat:
1
g
|
Monounsaturated Fat:
4
g
|
Trans Fat:
0.4
g
|
Cholesterol:
90
mg
|
Sodium:
102
mg
|
Potassium:
185
mg
|
Fiber:
2
g
|
Sugar:
23
g
|
Vitamin A:
405
IU
|
Vitamin C:
4
mg
|
Calcium:
54
mg
|
Iron:
1
mg
What's your clean eating vibe?
Take this fun QUIZZ and find out in 10 seconds!