This 20-minute prep Kale Quinoa Salad recipe is simple yet scrumptious. The finger-licking delicious lemon garlic dressing is the star of the recipe. It is creamy, earthy, spicy, and bright and the best dressing for this crunchy salad.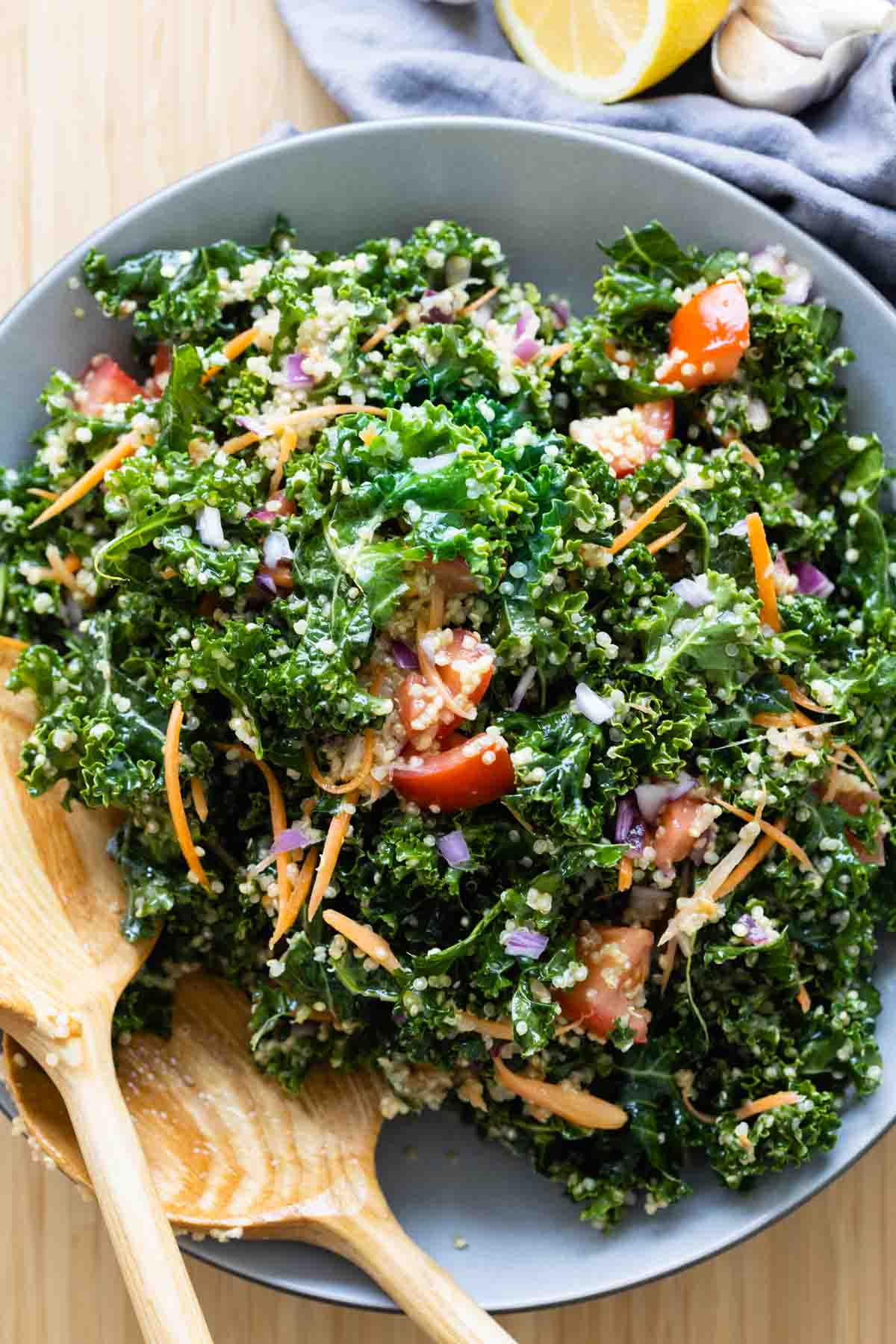 It's perfect for meal prep because kale doesn't wilt easily like other leafy greens and holds its shape for several days in the fridge. Divide it into meal prep containers, add some protein, and your superfood lunch for the whole week is made.
Serve it with chickpeas, lentils, or Instant Pot hard-boiled eggs as protein for a quick and easy vegetarian lunch or dinner. Serve it with Pan-Seared Salmon or Sole Fillet if you want fish as your protein. Or make Cilantro Lime Chicken Thighs or Lemon Pepper Chicken as protein for this amazing Kale Quinoa Salad.
Ingredients and Substitutions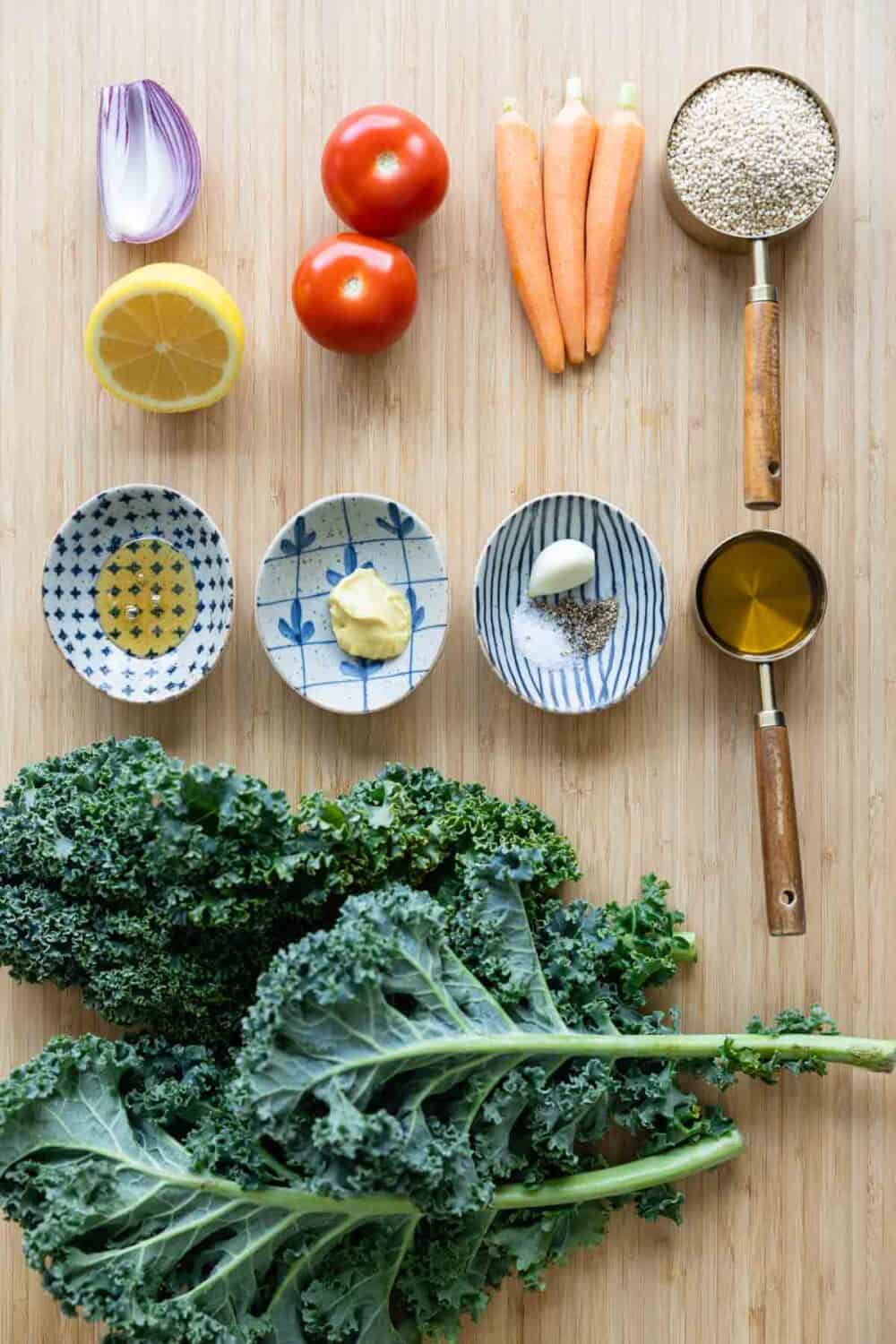 Kale – Curly Kale is the best kale for this salad but lacinato kale works, too of course.
Quinoa – any grain works in this recipe really. Quinoa, farro, brown rice, you name it but quinoa really is the best choice because of its nutty flavor.
Tomatoes – you will want to add one sweet juicy ingredient to your salad. I love tomatoes for that but you can also opt for a sweeter fruit like an apple, pear, or even mango.
Carrots – I love the extra crunch carrots offer, celery and or red bell pepper do the trick, too though.
Red Onion – white onion works great, too. Both red and white onion are great raw. Yellow onion is a bit too spicy I find.
Olive Oil – use extra virgin olive oil or alternatively a flavorless oil such as avocado oil.
Dijon mustard – yes, it's essential. Don't leave it out. I get this question often. If you are allergic, the best replacement is tahini but honestly, it's just not the same in terms of flavor.
Honey – maple syrup works perfectly as well or in a pinch you can even use white sugar. Many people think it's weird to add a sweetener to a salad dressing but trust me. Any salad dressing you've ever tried from a 5-star restaurant has a sweetener to balance the acidity and make it well-rounded. It's just 1/2 Tablespoon for the whole salad. That ends ups being a pinch per serving.
Garlic – a salad dressing with garlic is simply incredible and mixed with kale, quinoa, and lemon it's a total flavor explosion.
Lemon – lemon is bright and fruity and like no other. Lime works but won't be as delicious as Meyer Lemon in this special salad dressing.
Sea Salt & Pepper – add as much or as little as you like, this is really up to each individual but make sure you are adding enough to really give the whole salad enough flavor. Remember the salad has quinoa, grains always absorb a lot of the saltiness in a recipe.
Special Tips & Tricks to Make This Kale Quinoa Salad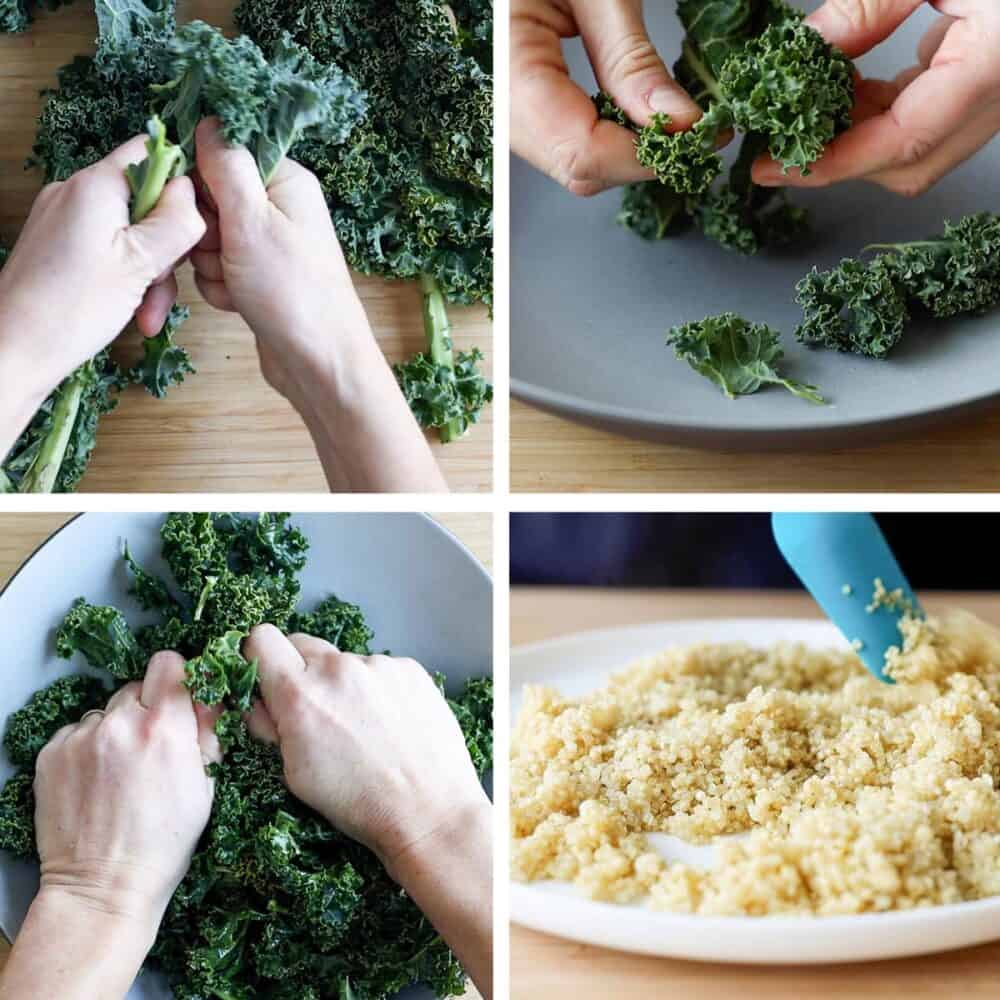 Just like I explained in my other Simple Kale Salad Recipe, it's important to dry the kale leaves with a kitchen towel after washing them. The more water is left on the leaves the more watered down your dressing will taste later.
Make sure you rip the kale leaves into small bite-size pieces, otherwise it's really hard to eat them later. The smaller, the easier to eat.
Massage the kale properly do not just toss it. Drizzle half the dressing over the kale and then really get in there with strong fingers and hands and massage the leaves for at least 2-3 minutes or until every leave has been pressed between your fingers.
Fluff the quinoa and then let it cool down before adding it to the salad, otherwise, the hot steam might make your kale wilt.
Lastly, use a large bowl (!!!) In the video, you'll see I used one that was way too small and tossing the salad was pretty hard without everything flying all over the place. Learn from my mistake. Size matters :P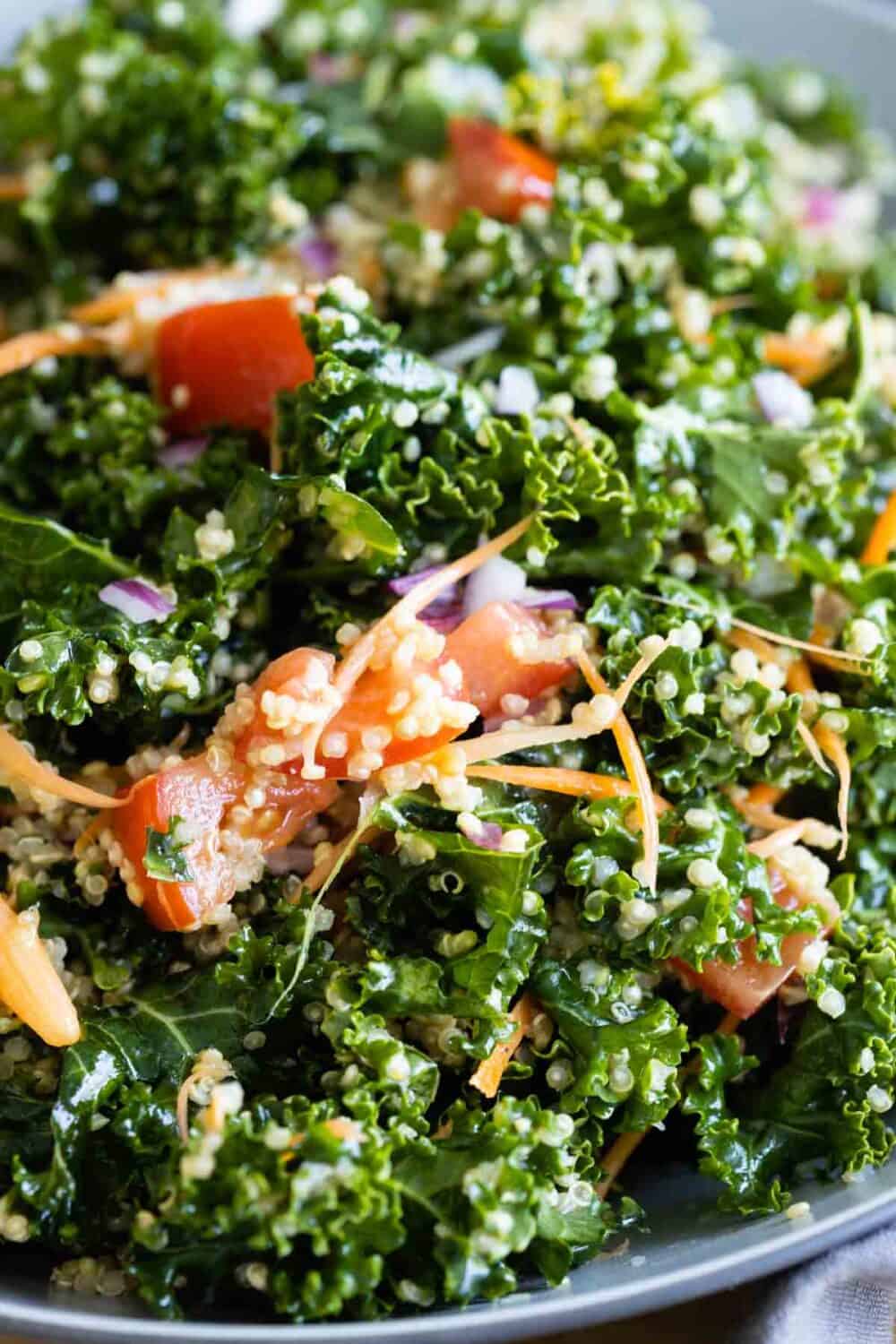 How Long Does Kale Quinoa Salad Last?
This specific salad lasts 3-4 days in the fridge because it doesn't contain any ingredients that brown easily. The great thing about kale is that it doesn't wilt as quickly as many other leafy greens. It holds its shape really well and tastes amazing even after 4 days in the fridge, yes all-dressed.
Can I Add Nuts, Seeds, Or Cheese To The Salad?
The best "extras" are chopped almonds, sunflower seeds, dried cranberries, or crumbled feta cheese. They will each taste amazing but be aware that most of them will also increase the amount of fat in the recipe.
Is Quinoa In A Salad Enough Protein To Make It A Main Dish?
No. Nutritionally speaking quinoa is a carbohydrate high in protein. So while it offers more protein per weight than many other carbs such as rice, or farro, it is still considered a carbohydrate. It does not offer enough protein to count as the protein in your meal. I recommend serving this salad as a side dish and eating it with either plant protein or animal protein on top.
You can learn more about nutritionally balanced eating in my 6-Week Clean Eating Program, where every meal and every day is nutritionally balanced. Every meal and day includes healthy fats, sufficient carbohydrates, plenty of protein, tons of fiber, and all the vitamins to keep you fueled for the day.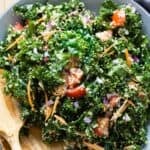 Kale Quinoa Salad
This 20-minute prep Kale Quinoa Salad recipe is simple yet scrumptious. The finger-licking delicious lemon garlic dressing is the star of the recipe.
Print Recipe
Pin Recipe
Ingredients
4-5

large kale leaves

2

carrots

2

tomatoes

1/4

red onion

1/2

cup

quinoa

1/2

lemon

1

Tbsp

Dijon mustard

1/2

Tbsp

honey

1

clove garlic, grated or crushed

4

Tbsp

olive oil

sea salt

-

I add about 1/2 tsp

freshly cracked black pepper

-

I add about 1/4 tsp
Instructions
Cook quinoa as instructed on the package.

Wash and towel dry kale, then destalk, and rip leaves into bite-size pieces and set aside in a large salad bowl.

Prepare the dressing by adding the juice of half a lemon, Dijon mustard, honey, garlic, olive oil, and sea salt and pepper to taste to a jar and whisk until emulsified and creamy.

Pour half of the dressing over the kale and massage the dressing into each leave to break down the leaves and to ensure the dressing is in every nook and cranny.

Dice tomatoes, finely dice red onion, grate or julienne carrots, and add all three to the kale into the salad bowl.

Spread the quinoa out on a large plate so it can cook down quickly, then add to the salad bowl.

Pour the remaining dressing over the salad and toss to combine.
Nutrition
Calories:
256
kcal
|
Carbohydrates:
24
g
|
Protein:
5
g
|
Fat:
16
g
|
Saturated Fat:
2
g
|
Polyunsaturated Fat:
3
g
|
Monounsaturated Fat:
11
g
|
Sodium:
90
mg
|
Potassium:
537
mg
|
Fiber:
5
g
|
Sugar:
6
g
|
Vitamin A:
9862
IU
|
Vitamin C:
53
mg
|
Calcium:
140
mg
|
Iron:
2
mg
What's your clean eating vibe?
Take this fun QUIZZ and find out in 10 seconds!