Picture this: beautiful weather, afternoons at the park until the very last minute, kids covered in sand and mud from head to toe. And then picture this: 30 minutes to bedtime having to not bathe but scrub those two piglets under running water while the brown water runs right into the drain plus having to cook dinner and make sure it's sooo good that they will gobble everything down in 3 minutes max so I'm able to put them in bed in time for them to be well rested for the next school day….. Easy Fish Tacos too the rescue!!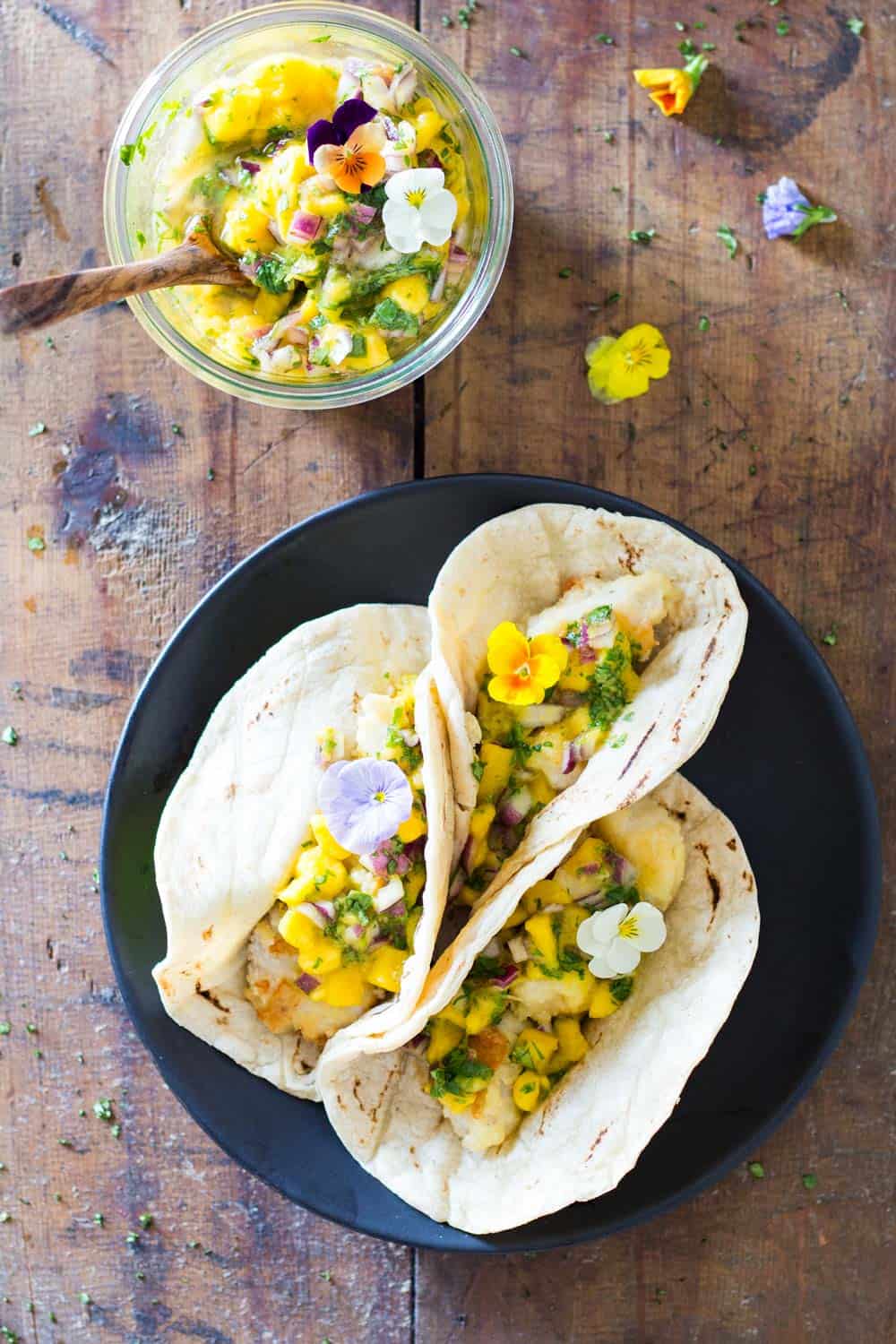 It takes 15 minutes to prepare these super simple but extra nutritious fish tacos and it takes about 5 minutes to prepare the kid-friendly Mango Salsa which ends up being the secret ingredient to make everyone devour the tacos in 0.5 seconds.
Kids love breadcrumb coated fish but store-bought fish fingers and the like are full of….junk (for lack of a better word). Why not make your own healthier version? It's super easy and quick and you decide on the ingredients. In this case we will use a high quality fish filet, not fish scraps, and we're using nutritious almond flour instead of white bread crumbs. It's a 3 minute job to get the coat onto the fish chunks, easy peasy, and after cooking they look like this:
Tacos are pretty fun to eat, fish tacos even more but fish tacos with Mango Salsa ….. OMG! Don't even get me started. They taste almost like dessert. The almond crust alone makes the fish taste sweet and delicious and the mango salsa contributes to the tacos' perfection. All of that goodness wrapped in a warm corn tortilla and you're off to the best 15-minute dinner of your life!
Now, let's get to the fish itself. It is very important what kind of fish you choose for this in order to succeed. Flakey fish won't work. It has to be a fish that holds well together and has more of a chicken-like consistency when cooked. Halibut and Mahi Mahi are about the best fishes that come into my mind. I used Halibut but I know it's pretty expensive. For a cheaper alternative use Mahi Mahi. They hold their shape perfectly even when cooked.
Ready to go make your Easy Fish Tacos? Here's the recipe:
Easy Fish Tacos
Print Recipe
Ingredients
400

g

mahi mahi or halibut filet

2

Tbsp

all-purpose flour

1

egg

1/3

cup

almond flour

Mango Salsa
Instructions
Heat a large pan over medium heat.

Heat a small non-stick pan over low heat.

Wash, and dry fish filet(s) with a paper towel. Remove skin if any. Cut into bite-size junks making sure to remove any hidden fish bones.

Add all-purpose flour to a large ziplock bag or similar and then the fish, seal leaving lots of air in it and shake until evenly covered.

Crack and egg into the bag and close again making sure lots of air is sealed in and shake again.

Lastly, add 1/3 cup almond flour and shake again.

Add a splash of avocado oil to the hot pan and then add the fish to the pan one chunk at a time making sure they don't touch each other. Cook for 1 minute per side or until slightly golden and immediately remove from pan.

While cooking fish, add one tortilla at a time to the small pan for 20 seconds per side and place on plate.

Add 3-4 chunks of fish to one tortilla, top with mango salsa and enjoy!
What's your clean eating vibe?
Take this fun QUIZZ and find out in 10 seconds!
P.S. Don't forget to come back and let me know in the comments below how you liked them or how you changed them up and what your suggestions for improvement are :)