Happy Monday!! It is a beautifully sunny day here in Montreal and as always "beautifully sunny" in winter means: freeeeeeezing cold. Brrr! I'm starting to get desperate for spring and the only thing I can do to not go completely crazy with the undesirable temperatures outside is cook as if spring was already here. I've made a Creamy Parmesan Polenta with Grilled Vegetables for you….spring vegetables of course! This together with a spring-tasting 5-Minute Basil Pistachio Pesto gives the dish the ultimate finish it needs to make you want to jump around shouting spring spring spring!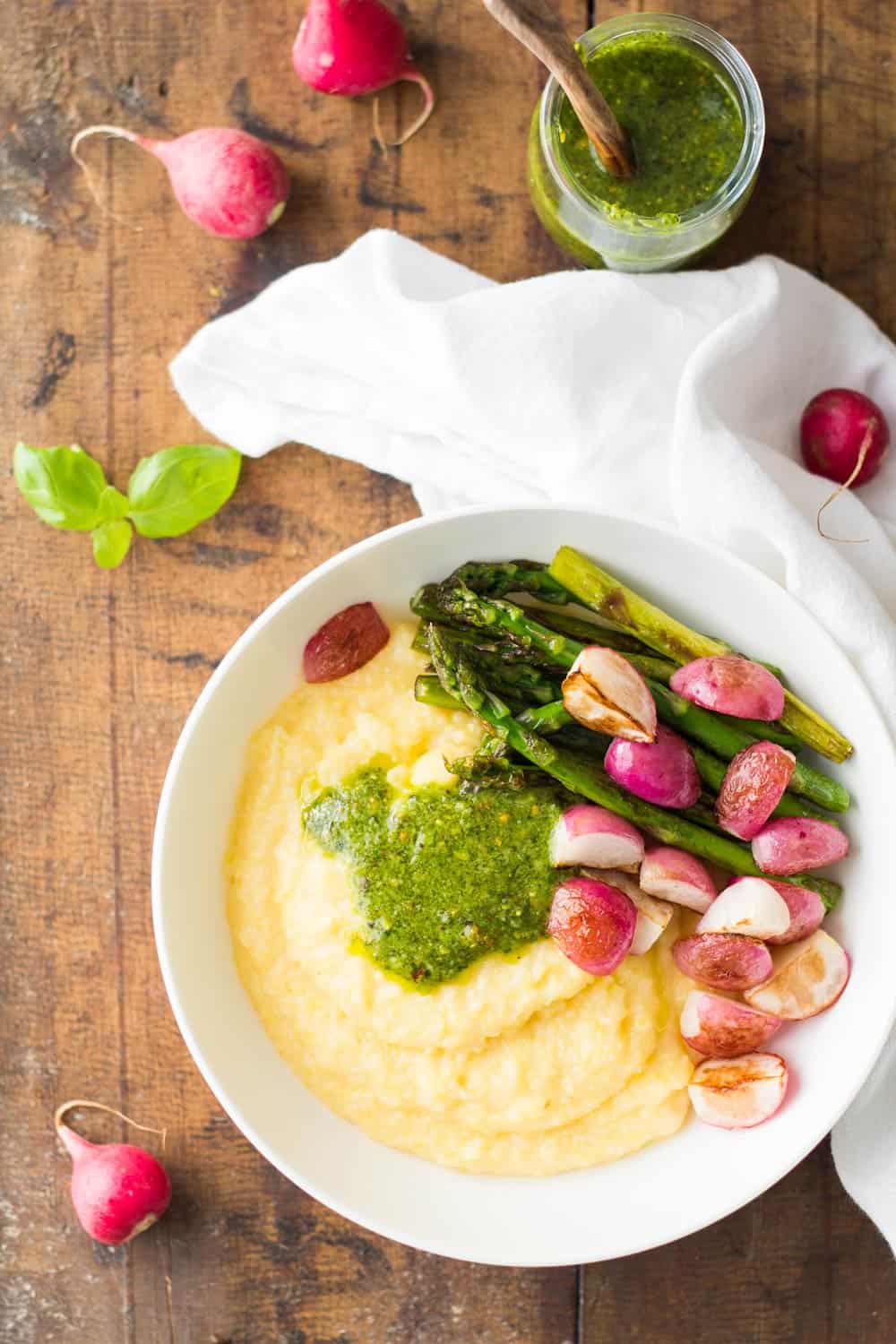 The Reason Polenta rocks my world:
It is is super cheap! So cheap it was considered peasant food in the "1700's – when it was made popular in Italy"*.
It is prepared super fast and mixed with Parmesan and butter becomes deliciously creamy.
"Polenta is a low carbohydrate food rich in vitamin A and C making it a good source of the caroteinoids, lutein and zeaxanthin."*
"It is easier to digest the carotenoids from milled corn foods than those in carrots and spinach."*
"The level of beta-carotene is 97 micrograms per 100 grams with health benefits like, cancer and heart disease prevention."*
Ohhhh, and probably the most important of all….IT TASTES DELICIOUS!!!
*(For the source of the quotes and for further reading visit http://www.naturalhealth365.com/polenta.html/)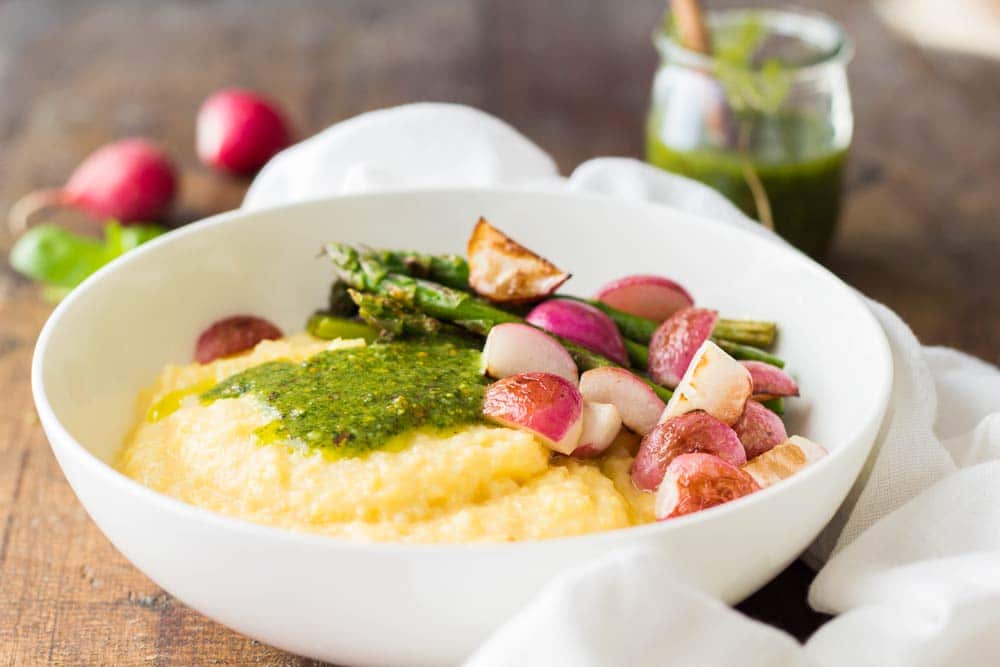 Making this recipe I have made and tried something I have never tried before: "cooked" radishes. I have never ever in my life had radishes other than raw and to be honest it would never have occurred to me to somehow cook or grill or roast or otherwise heat them up if it wasn't for Pinterest and the gorgeous photos of other food bloggers "cooking their radishes!!". I've eaten radishes ever since I was a kid but always raw and dipped into salt. Then when I moved to Mexico – the Mexicans love radishes in their soup – I've had radishes in soup, but they were also always raw and cut into thin slices and then sprinkled on the soup only seconds before eating so they wouldn't cook. After seeing all those recipes online including roasted radishes, I figured though why not give this a try. My opinion: How could I live a live without grilled/roasted radishes before?!? They taste AMAZING! They become sweet and loose all their spiciness. I can't even really explain how delicious they are. You have to try them!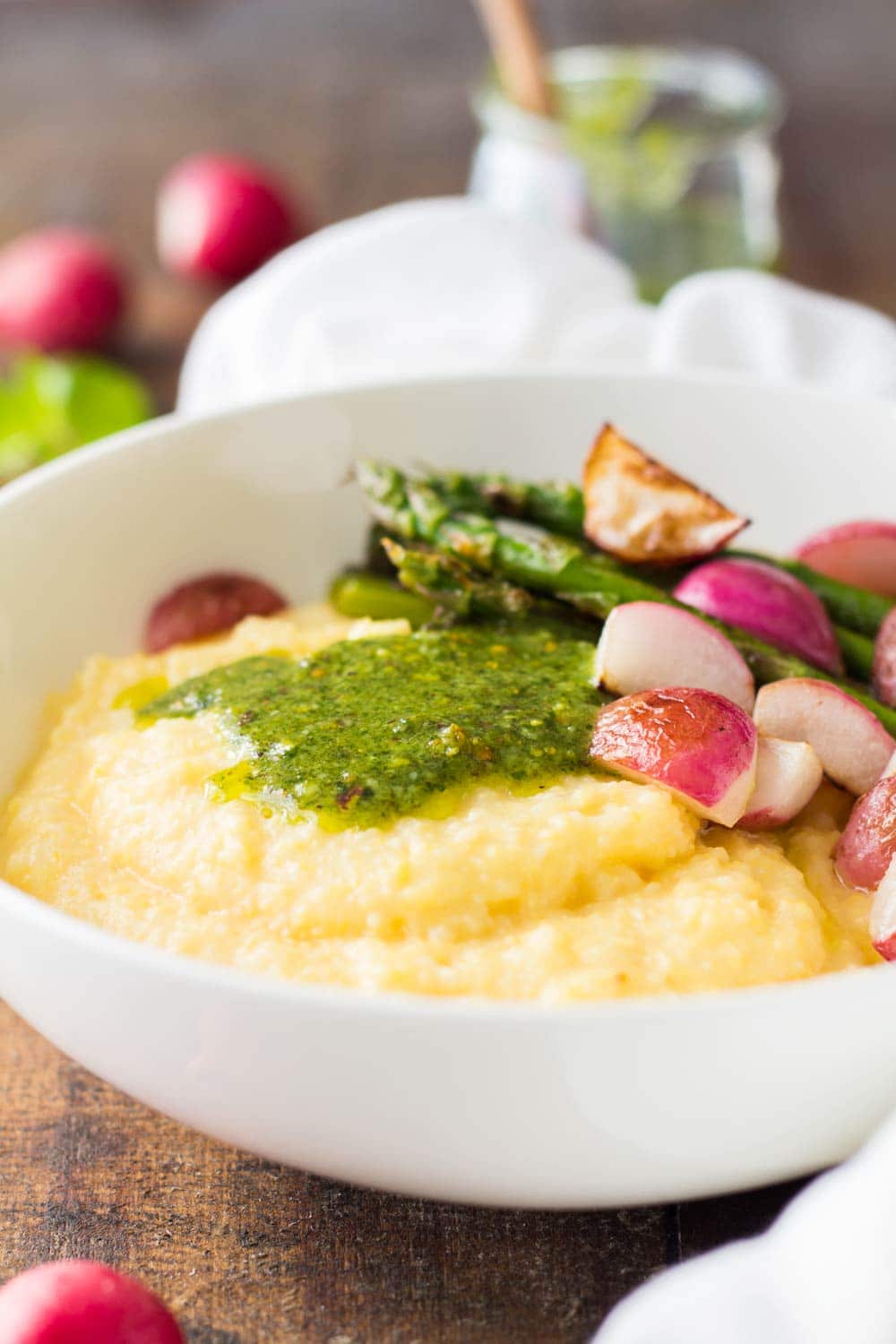 Unfortunately, I can't write much today. I'm sorry. I've had to cook and photograph two recipes this morning plus write this blog post because as I mentioned above, it's a beautifully sunny day and I need sun for the photos. Running out the door to go get the kids is in T-7 minutes and that's why I've got to call this a wrap. See you Wednesday, have a lovely start of the week. I love you! Byyyyyye!!!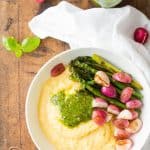 Creamy Parmesan Polenta with Grilled Vegetables
Print Recipe
Ingredients
4

cups

water

1

cup

corn meal

1

cup

freshly grated Parmesan

2

Tbsp

butter

-

(30g)

1

Tbsp

butter

-

(15g)

20-30

spears of asparagus

20-30

radishes

salt

pepper

1

batch

5-Minute Basil Pistachio Pesto
Instructions
Bring 4 cups of water to the boil in a pot.

In the meantime, grate Parmesan until you have 1 cup grated cheese.

Once water is boiling boiling, slowly pour in the polenta while briskly whisking. Once the polenta starts to stick to the whisk (the whole stirring in, takes maybe 3 minutes) reduce heat to low (!), cover and set an alarm for 10 minutes.

In the meantime, heat a large grilling pan over medium heat.

Wash asparagus and cut about 2 inches of the bottoms off and discard. Then cut asparagus in 2 in the middle.

Wash radishes and cut off tail and leaves. Then cut into 4.

When polenta alarm goes off, add 1 cup grated Parmesan and stir well. Cover again and set alarm for a further 10 minutes.

The grilling pan should be hot by now, add 1 Tbsp butter and once melted add bottom parts of the asparagus only (they take longer to soften). Grill for 2-3 minutes turning occasionally. Then add rest of the vegetables.

Add salt and pepper to vegetables and toss frequently while grilling.

Once polenta alarm goes off, remove pot from heat, add 2 Tbsp butter and stir until melted and incorporated.
What's your clean eating vibe?
Take this fun QUIZZ and find out in 10 seconds!
If you like this recipe, want more like these and haven't already subscribed to my blog, make sure to subscribe to receive all my delicious and nutritious recipes directly into your inbox.
[mailchimpsf_form]