Fall starts tomorrow! Let's make some roasted Butternut Squash Pasta Sauce with Bacon on top of your favorite pasta. We have to celebrate the start of the most beautiful season of the year!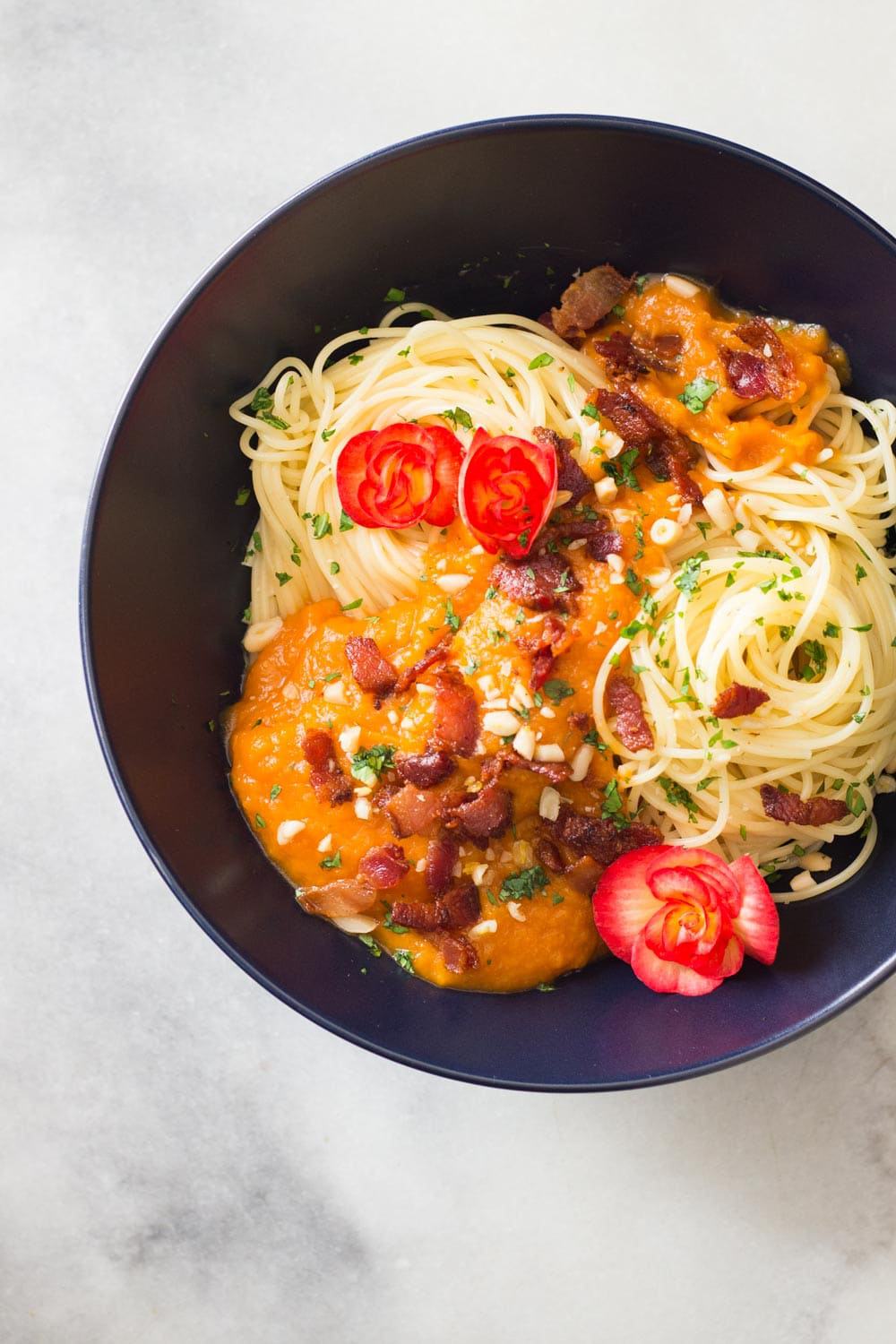 In Montreal fall starts tomorrow! Not only on the calendar like everywhere else in the Northern hemisphere but in real life as well. My phone's weather forecast app tells me with a cute little symbol of a sun that today is the last day of summer.
It's impressive how clear the cuts of the seasons are in this city. It's almost like the weather Gods stole our human calendar and decided to follow to the dot. Yesterday we had 26 degrees and sunshine. Today we'll reach 25 degrees and expect sunshine all day. Tomorrow….it'll rain, the temperature will drop to 20 and it will most likely stay under 20 from then on.
Perfect sweater weather and perfect weather for Butternut Squash Pasta Sauce with Bacon, for Roasted Garlic Butternut Squash Soup, for Roasted Butternut Squash Salad, for Butternut Squash Nachos … ummmm can you tell I love Butternut Squash?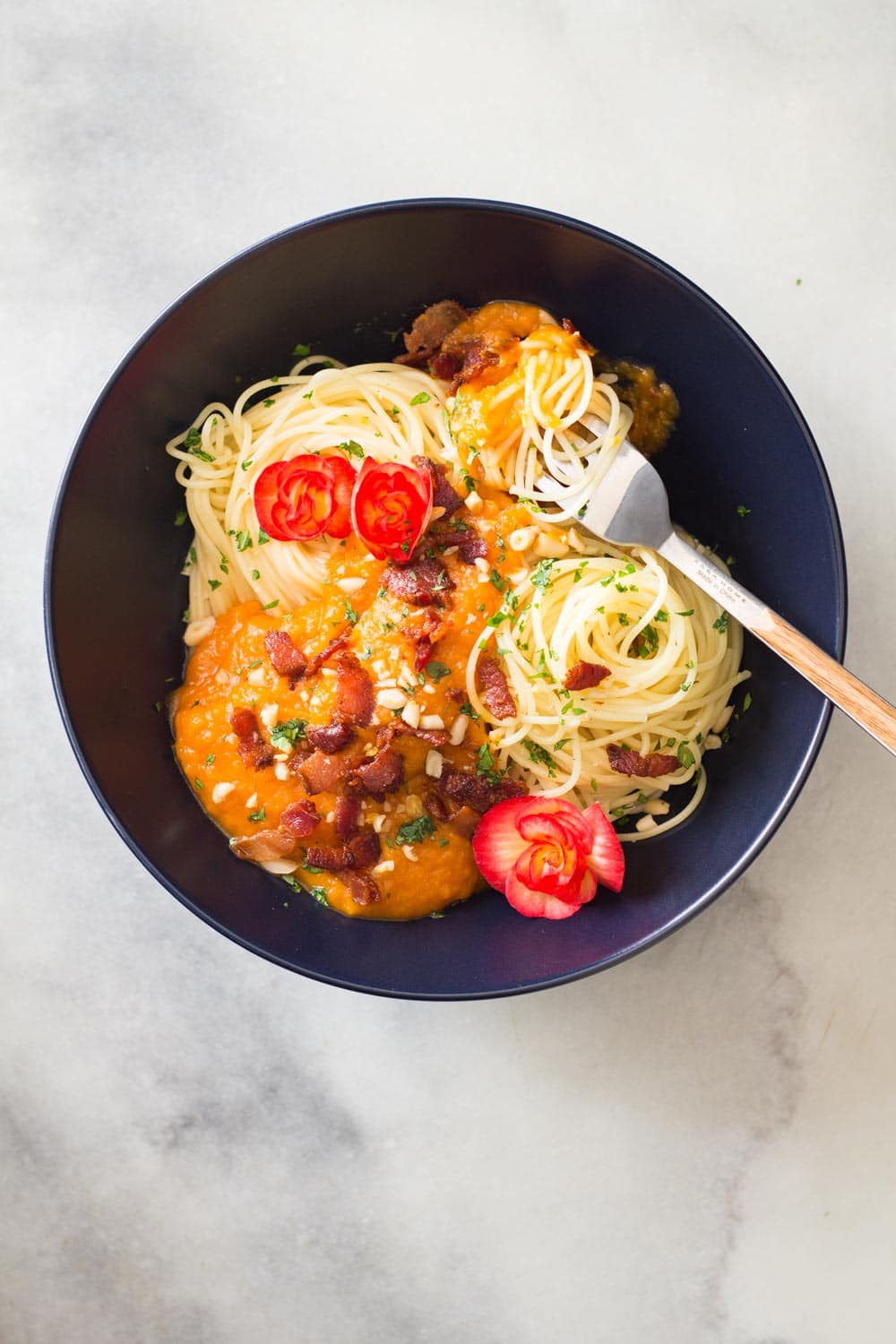 So, as I said, it's officially fall basically. Butternut squashes and other squashes and pumpkins are appearing at every store and every corner. It's time to dive deep into the culinary adventures of fall with these amazing cucurbits. I've linked a couple recipes further up. The blog is FULL of butternut squash recipes. And here, I have a new one for all of you.
How to make Butternut Squash Pasta Sauce in 5 easy steps
Peel, cube and roast the butternut squash.
Fry some onions.
Add roasted squash and a little bit of tomato sauce.
Add some water.
Puree and season to taste.
And now the itty bitty details in order to transform a whatever Butternut Squash Pasta Sauce into a OH MY GAWD Butternut Squash Soup in 5 easy further steps:
Cut up some bacon into small pieces.
Fry the bacon until crispy, then remove from the saucepan with a slotted spoon and lay on a paper towel lined plate. This so the paper tower can absorb the fat from the bacon and make it even crispier.
Remove half of the bacon fat and store in a glass container for another recipe and leave the other half in the pan.
Fry onions in bacon fat. YUUUUM!
Do the above 5 steps and then sprinkle everything with fresh coriander and chopped pine nuts.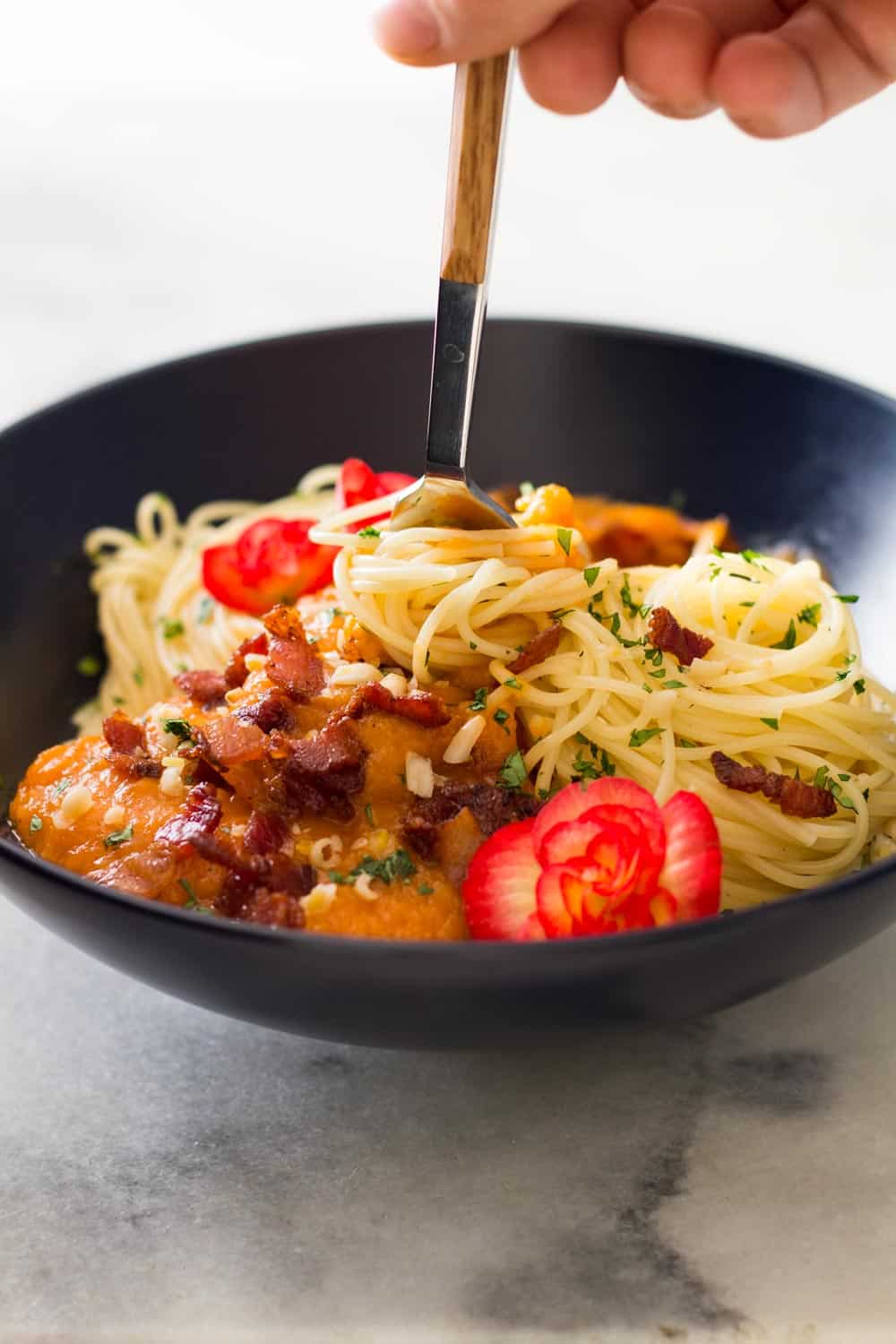 You've seen my list of butternut squash recipes up there already but if you like this recipe more for the fact that it's pasta, you should totally go check out theeeese this Roasted Garlic Tomato Sauce for pasta and this Mexican-Style Shrimp Capellini Pasta. I can't believe what a huge collection of recipes I already have on the blog. Isn't it amazing what one can create over time?
Tell me, what's your favorite season? What's your favorite pasta sauce? And most importantly, are we squash friends?
Butternut Squash Pasta Sauce Video
Butternut Squash Pasta Sauce with Bacon
Fall starts tomorrow! Let's make some roasted Butternut Squash Pasta Sauce with Bacon on top of your favorite pasta. We have to celebrate the start of the most beautiful season of the year!
Print Recipe
Ingredients
1,200

g

butternut squash

1

Tbsp

olive oil

1

tsp

Salt

200

g

bacon

1

medium

onion

1/2

cup

canned tomato sauce

-

(or else, 1 Tbsp tomato paste and a little more water than the 2.5 cups)

2.5

cups

warm water

Salt

Pepper

1

hand full

fresh coriander leaves

1/4

cup

pine nuts
Instructions
Preheat oven to 400F.

Peel, deseed and cut butternut squash into 1" cubes.

Place squash cubes on a large non-stick or parchment paper lined baking sheet and pour 1 Tbsp olive oil over and sprinkle 1 tsp salt over it and mix with your hands.

Put in the oven for 40-50 minutes or until golden brown (time depends on size of cubes, the smaller the cubes, the faster it roasts).

If serving this sauce over freshly cooked pasta, now is a good time to get water to the boil in your pasta pot.

While the butternut squash is roasting, heat a large saucepan over medium heat.

Cut bacon into small bits and peel and finely chop onion.

Add bacon bits to hot pan and fry until crispy stirring ofen and keeping a close eye on it so it doesn't burn.

Remove the bacon bits with a slotted spoon, and place on a paper towel lined plate.

Remove about half of the bacon fat and store in a heat proof glass container for another occasion.

Add onion to remaining bacon fat and fry until translucent, stirring often to avoid from burning.

Your pasta water is probably boiling by now. Add your pasta and set a timer! You'll be doing too many other things to be able to pay attention to the pasta.

Add roasted butternut squash, tomato sauce (or paste) and warm water to saucepan and blend with an immersion blender. Alternatively, you can also add all ingredients to a food processor and then return everything into the saucepan.

Season with salt and pepper to taste.

Strain pasta, add butternut squash sauce, sprinkle with crispy bacon, chopped fresh coriander and chopped pine nuts.

Serve immediately :)
Nutrition
Calories:
314
kcal
|
Carbohydrates:
6
g
|
Protein:
8
g
|
Fat:
29
g
|
Saturated Fat:
7
g
|
Cholesterol:
33
mg
|
Sodium:
1082
mg
|
Potassium:
290
mg
|
Fiber:
1
g
|
Sugar:
2
g
|
Vitamin A:
200
IU
|
Vitamin C:
4.2
mg
|
Calcium:
15
mg
|
Iron:
1
mg
Have you tried this recipe?
Take a picture and tag @greenhealthycooking Can't wait to see your version!