A healthier version of the cheesy nachos we all love digging into when watching something important or not so important on TV. These Butternut Squash Nachos are full of healthy butternut, delicious goat cheese, melty manchego cheese and flavorful spicy chilies!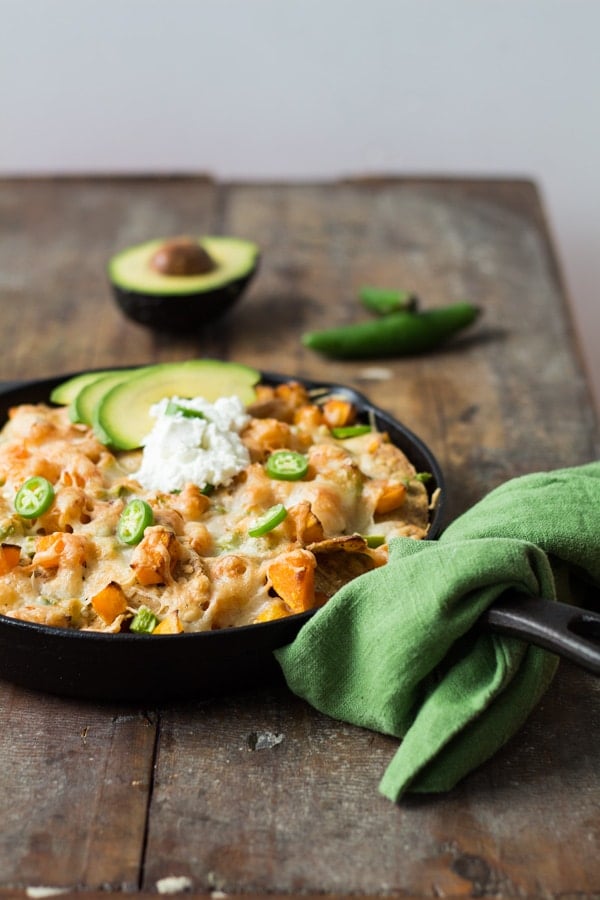 Butternut-butternut-buddana-banana….try saying butternut 10 times in a row very fast, haha!
Did I ever tell you I loooove all squashes and that I am the happiest person on the planet that fall is around the corner? Squashes are about to pop up everywhere! I don't think I used to have a favourite season before moving to Montreal. Can you imagine? In Germany all 4 seasons are kind of mild. In Mexico there is pretty much rain season and not-rain season so that doesn't really count as seasons. And in London there was only a little rain or a lot of rain all year round (*exaggerating-a-bit*).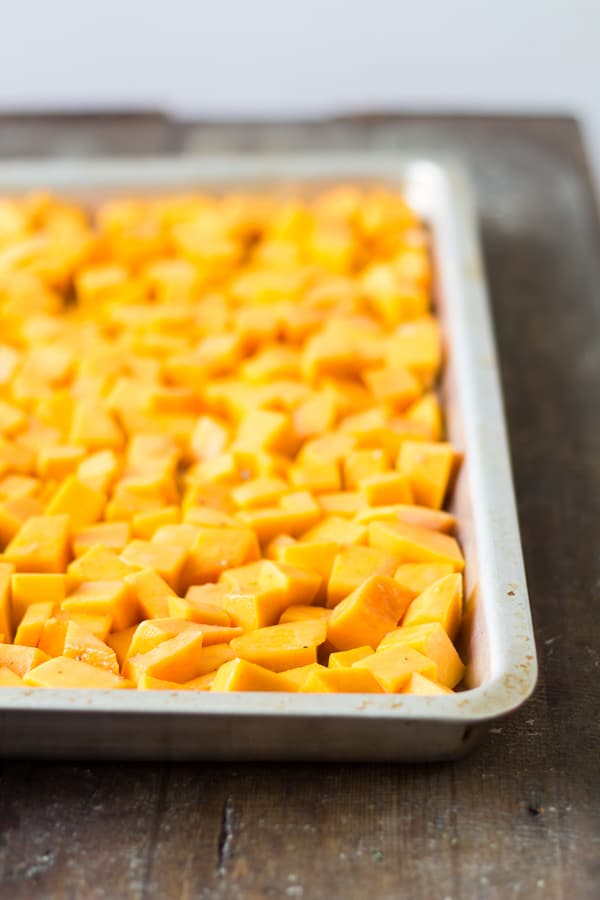 Here in Montreal I DESPISE winter. It is getting better. Don't get me wrong. Humans are incredibly adaptable, I am incredibly adaptable, but "better" is FAAAAR from good and I still detest it. Spring is basically non-existant because all the snow melts during that time of year converting the city into one giant mud whole and then comes the amazing summer. Now, faaaall guys, fall is the absolute most beautifullest-fullest-fullest ever here. The leaves do not only become brown, they become, brown, yellow, bright red and sparkly, all at the same time. The wind comes back (in summer it seems it sleeps), the breeze smells amazing, the sun is still warm enough to only wear a light cardigan or even t-shirt on some days but doesn't burn, the humidity is gone, the squashes and apples start popping up at every corner, schooool staaaaarts *aham*. It get's darker earlier and it becomes easier to put the kids to bed in time…….Fall, I adore you! *hearts-in-my-eyes-and-sigh*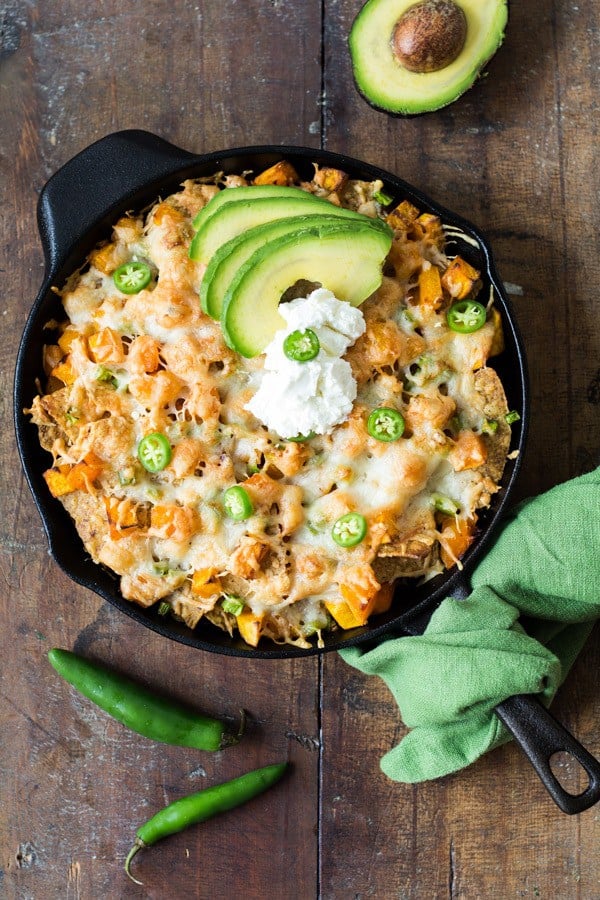 Anyway, so much weather talk and all you want is some details about this recipe, right? Come to the point Lorena!!
How to make butternut squash nachos at home
— Peel and cube a butternut squash
— Smother the squash cubes in melted butter and maple syrup plus some salt and pepper.
— Roast the buttery mapely squash cubes in the oven.
— Mix nacho chips with deliciously roasted butternut squash.
— Top eeeeeverything with cheese and bake for 10 minutes for the cheese to melt into every nook.
— Add chili, creamy goat cheese and avocado and pull out a crispy cheesy spicy nacho!!! WOAH!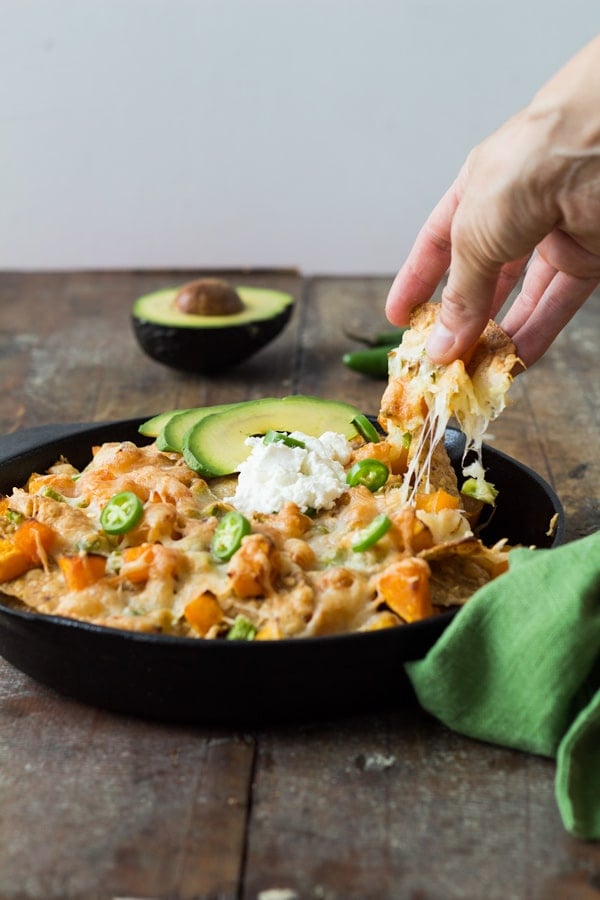 Butternut squash nachos take a little longer to prepare than most other nachos recipes but I promise you, it's tooooootaly worth your time! Promise! Promise! Just try them once! :)
For more butternut recipes because butternut squashes are mushy gold check out this amazing Roasted Garlic Butternut Squash Soup or this Roasted Butternut Squash Salad or this Roasted Butternut Squash Pasta Sauce!!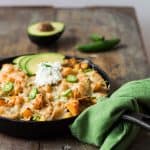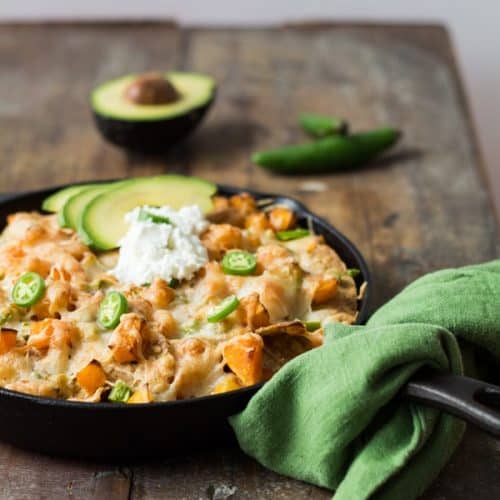 Butternut Squash Nachos
Print Recipe
Ingredients
1

butternut squash

60

g

butter

1 .5

Tbsp

maple syrup

Salt

Pepper

200-300

g

Manchego cheese

-

(or any other melty cheese)

2-4

Jalapeño chillies

1-2

Serrano chilies

50-100

g

soft goat cheese

1

avocado

4

hands full

tortilla chips
Instructions
Preheat oven to 400 F (200ºC).

Peel butternut squash, deseed and cut into 1" (2.5 cm) square pieces.

Melt butter.

In a big bowl add butternut squash, maple syrup and melted butter, about a teaspoon of salt and 4-5 round of fresh pepper from the pepper mill and combine with your hands making sure all is well mixed.

Spread butternut squash pieces evenly on a baking sheet in one layer. Make sure they are well spread out and bake for 45-50 minutes.

Grate cheese, deseed Jalapeño chillies and cut into small pieces.

Once butternut squash is caramelized, take out of the oven, leaving the oven on. Take a baking dish or a cast iron skillet, lay out two hands of tortilla chips at the bottom, cover with about 100g cheese and half of the butternut squash and have of the diced jalapeño chillies, then again a layer of tortilla chips, this time butternut squash, jalapeño chillies and THEN the cheese on top.

Place back in the hot oven for 10-15 minutes.

Cut up Serrano chillies for whoever wants his nachos hot, spread some avocado on top and a big blop of goat cheese on top for everyone to dip their nachos in.
What's your clean eating vibe?
Take this fun QUIZZ and find out in 10 seconds!