Tired of reading 500-ingredient 2-hour quinoa burger recipes? Welcome to this healthy 30-Minute Quinoa Burger Recipe. Red lentils, quinoa, a couple spices and you're good!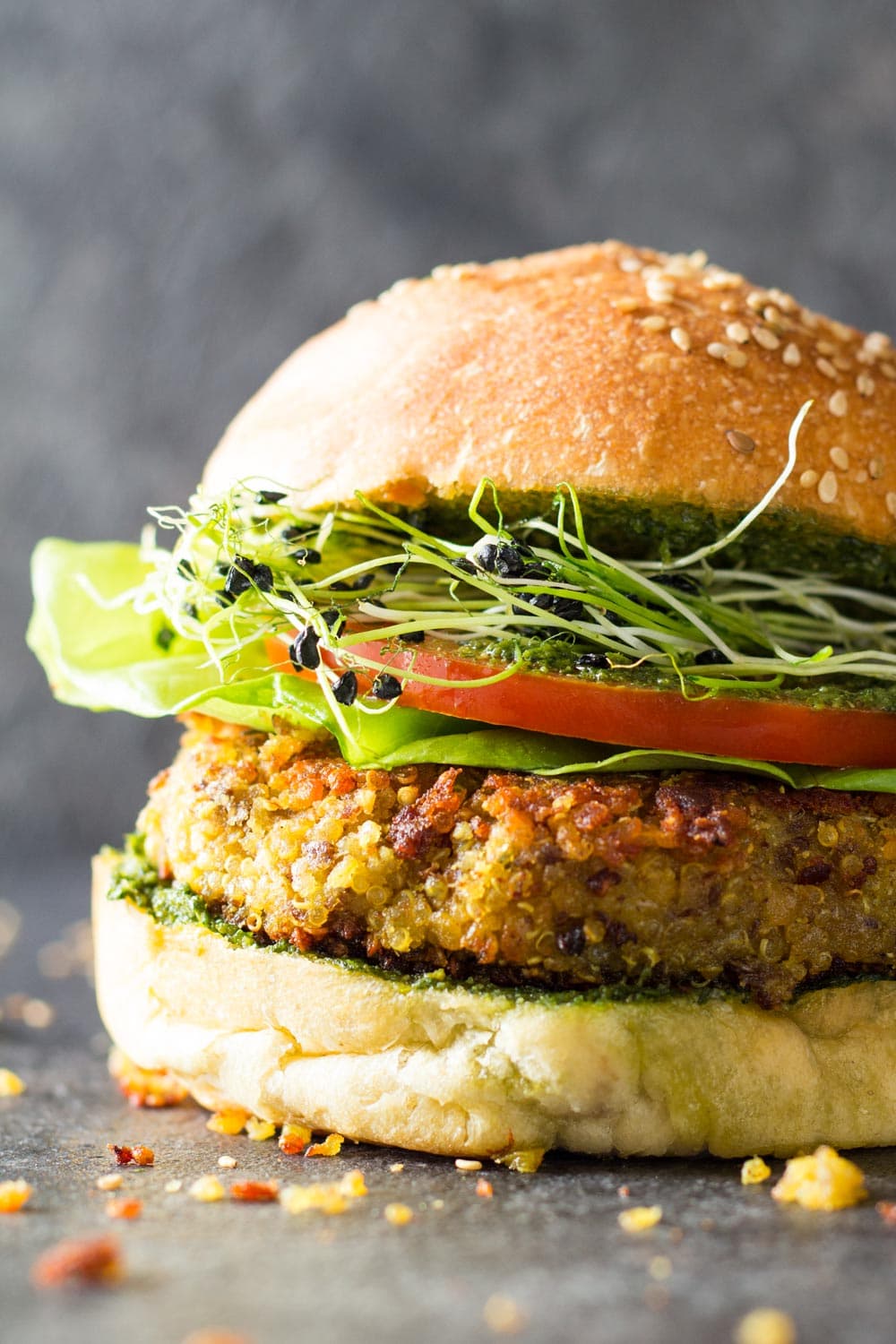 Experimenting with ingredients to form quinoa patties is quite something, let me tell you. Most recipes I've found have a million ingredients and/or expect you to stand in the kitchen for a good 2 hours. Umm, who has time for that on a random Wednesday evening? Not me.
I felt a bit like a witch today in the kitchen. Or like when I was a kid and experimented mixing flour and eggs and dirt from the garden and a couple daisies for decoration maybe, hehe. Only, after some experimenting I ended up with the perfect mix for a quinoa patty, not a gross mush with back yard ingredients. Phew.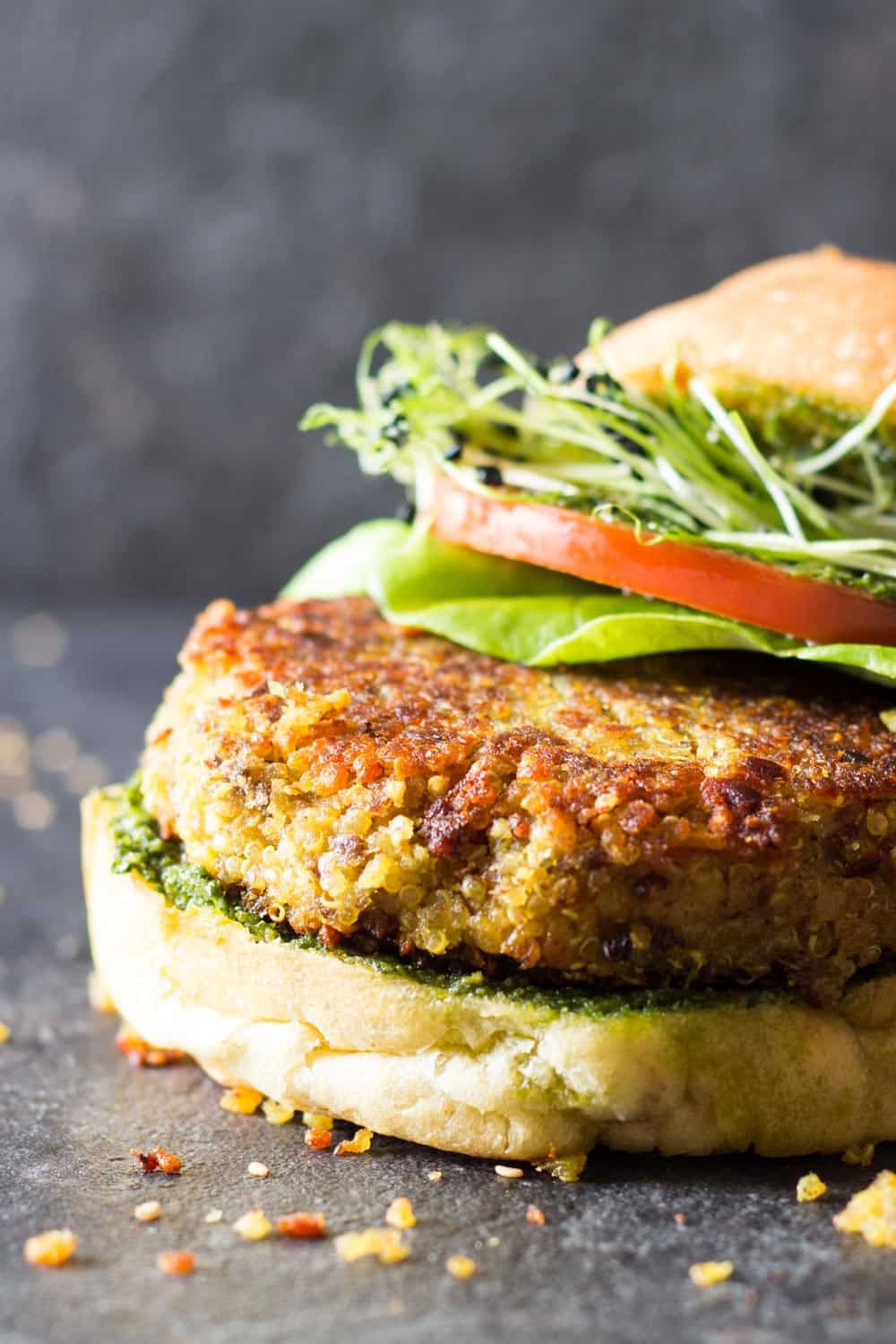 Why this Quinoa Burger is so EASY
The patties have only 3 main ingredients and 3 spices! That's it.
The bread you can obviously buy. My favorite are buns made of unbleached kamut flour that I find at my local shop. Try and find a brand that makes buns with only clean ingredients.
The toppings are up to you. I love it simple and add only lettuce, tomato and some micro-greens (which ever ones I have on hand). The patties go really well with cucumber though, too.
The sauce can be either this 5-Minute Basil Pistachio Pesto for the vegetarian version or this Out of this World Tahini Herb Sauce for the vegan version. I used the pesto but want to try soon with the Tahini Herb Sauce. You can obviously also use store-bought. Look out for only clean ingredients such as olive oil, herbs, spices, nuts, maybe parmesan and that's it.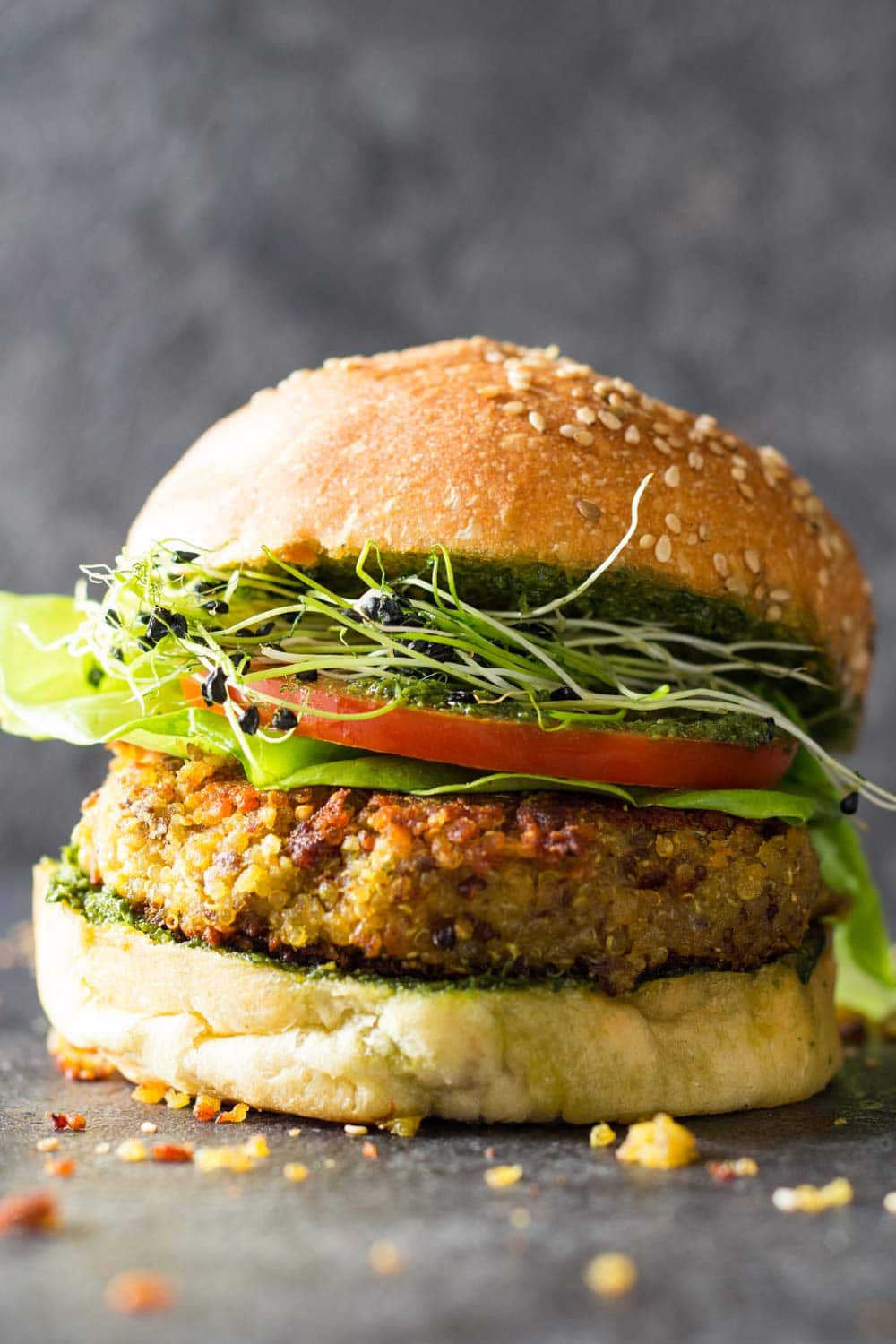 How to keep vegan quinoa burger patties from falling apart
The #1 ingredient to keep patties together tends to be egg. I wanted to make the patties vegan though and most vegan patties fall apart. Some recipes call for white beans as "glue" but white beans are so tasteless in my opinion that you need too many spices to make them tasty.
For these quinoa burger patties I used a combination of two secret ingredients to make them hold their shape! Red lentils and flax meal. Red lentils become pretty mushy once cooked and flax meal mixed with water becomes what many people call a "flax egg". The flax egg and red lentil mix is responsible for the patty's beautiful shape.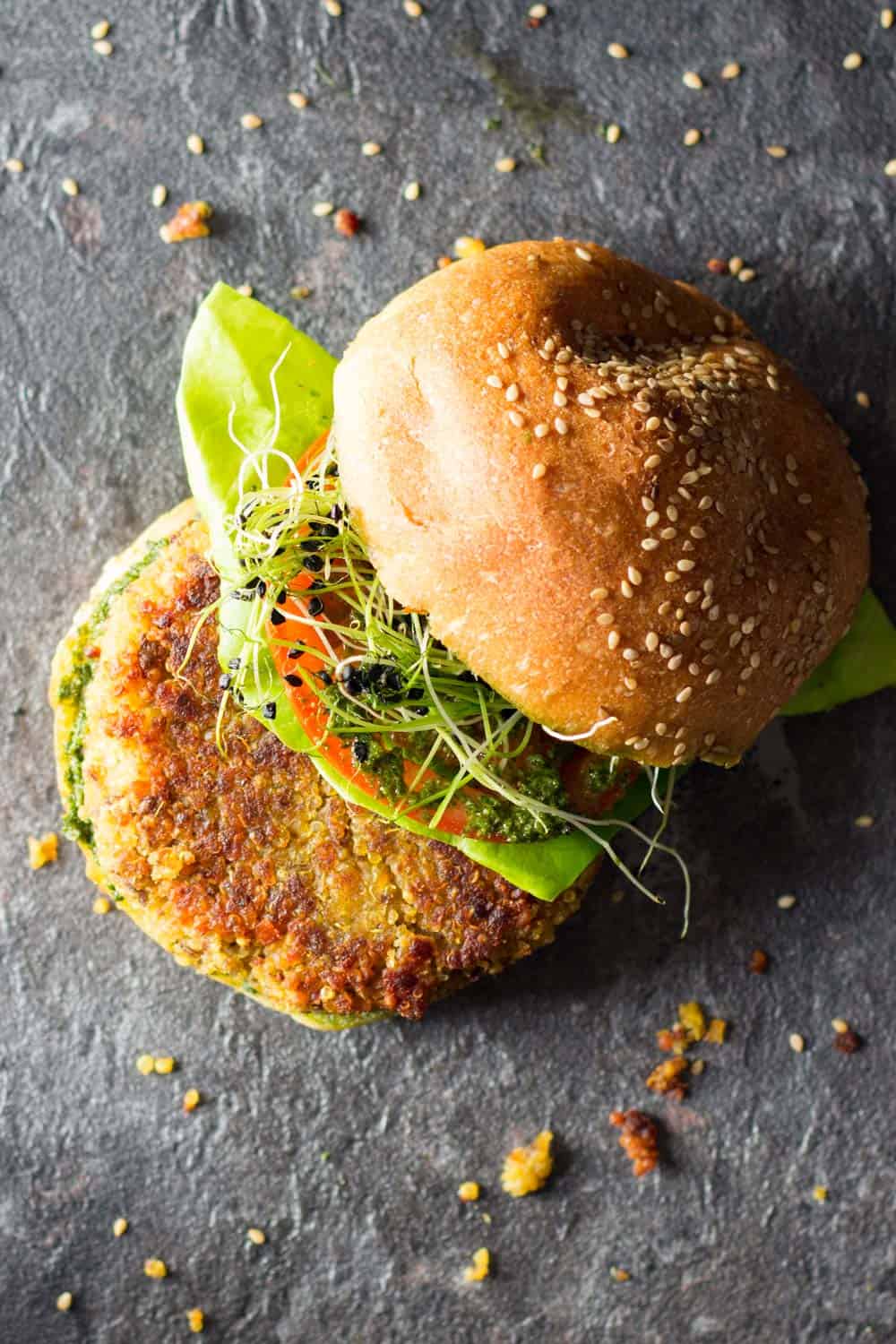 Golden Quinoa Burger every time
The secret to getting a golden and crispy quinoa burger patty is to fry them slow on low. I like heating up my pan on medium low for at least 5 minutes. I do this while I'm working on the patty dough, mixing quinoa/red lentils with flax egg. Then I add 1 Tbsp oil and wait another minute for the oil to get nice and hot. Then I carefully add the patties. The oil should be sizzling but not spraying out in all directions. I leave the patties to themselves without moving around for a good 4-5 minute, then flip and leave another 4-5 minutes.
To turn it's easiest to work with two spatulas. I slide one under the patty and keep the other on top, flip and then slide off the second spatula I had on top (which now is the bottom).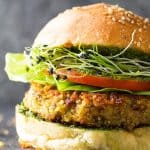 30-Minute Quinoa Burger
Tired of reading 500-ingredient 2-hour quinoa burger recipes? Welcome to this healthy 30-Minute Quinoa Burger Recipe. Red lentils, quinoa, a couple spices and you're good!
Print Recipe
Ingredients
1/2

cup

quinoa

1/2

cup

red lentils

1.5

cups

water

1

tsp

curry powder

1

tsp

sea salt

1/2

tsp

cumin

2

Tbsp

flax seeds

2

Tbsp

water

4

burger buns

4

leaves

lettuce

4

slices

tomato

1

hand full

micro greens

4-8

Tbsp

5-Minute Basil Pistachio Pesto or Out of this World Tahini Herb Sauce

-

(links in text above)
Instructions
Add quinoa, red lentils, curry powder, sea salt, cumin and 1.5 cups of water to a large pot, mix well and bring to the boil. Once boiling cover and immediately reduce heat to minimum. Let simmer for 12-15 minutes or until water is completely absorbed.

In the meantime wash and dry lettuce leaves and micro greens. Wash and slice tomatoes and prepare pesto or sauce. Cut burger buns in half and add pesto or sauce on both sides.

Preheat a large empty pan over MEDIUM-LOW heat. No oil yet.

Dump the cooked quinoa and lentils into a bowl and fluff with a fork to release steam and cool a little. If you have more than 30 minutes you can skip this step and simply let the quinoa/red lentils cool down in the pot and mix everything in the same pot. Saves dishes but requires more waiting time.

Grind flax meal in a coffee grinder and add to a small bowl to combine with 2 Tbsp water. Stir with a fork until all flax meal is hydrated and then add to the bowl with quinoa and lentils. Mix well with a spatula until the "flax egg" is very well incorporated and everything resembles a dough. If you can touch the quinoa by now knead it with your hands to mix in the flax egg really really well.

Divide dough into 4 and form round thick patties the size of your burger buns.

By now, the pan should be fairly hot. Add 1 Tbsp oil, wait about 30-60 seconds for it to heat up and then carefully place the patties in the hot pan. Fry for 3-5 minutes on one side, flip, and fry another 3-5 minutes on the other side or until golden and crispy.

Place quinoa red lentil patties on burger buns, top with lettuce leaf, slice of tomato and micro greens.
Nutrition
Calories:
342
kcal
|
Carbohydrates:
59
g
|
Protein:
15
g
|
Fat:
5
g
|
Saturated Fat:
0.2
g
|
Polyunsaturated Fat:
2
g
|
Monounsaturated Fat:
0.5
g
|
Sodium:
830
mg
|
Potassium:
117
mg
|
Fiber:
9
g
|
Sugar:
5
g
|
Vitamin A:
650
IU
|
Vitamin C:
7.4
mg
|
Calcium:
180
mg
|
Iron:
5.2
mg
What's your clean eating vibe?
Take this fun QUIZZ and find out in 10 seconds!