The best part about this Roasted Garlic Tomato Sauce? The roasted garlic of course. Roasted garlic should be in absolutely every recipe. From breakfast waffles to dessert. Full stop!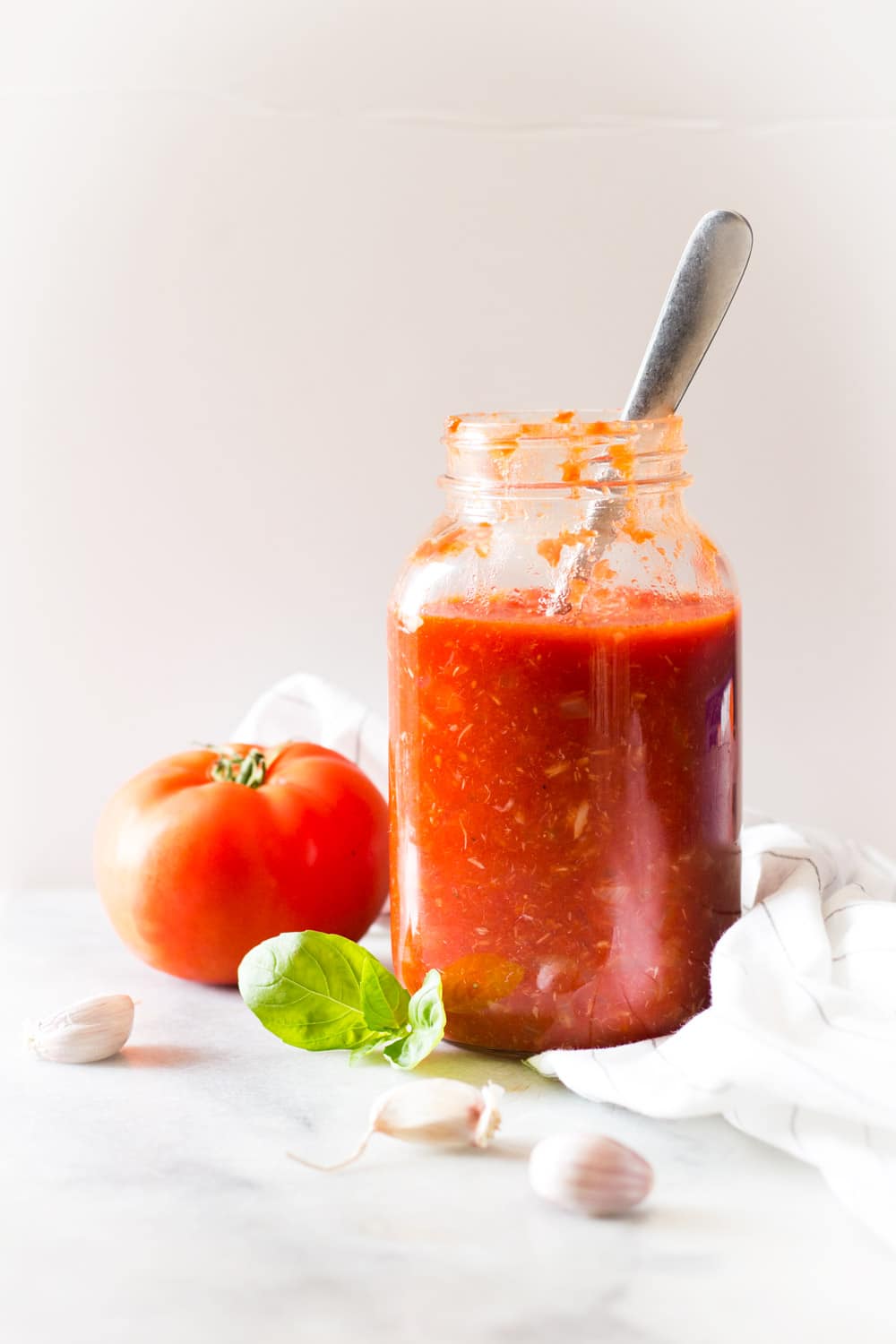 Can you tell I love roasted garlic? I first discovered this deliciousness when my dad came home from a restaurant where he had been served roasted cloves of garlic and diced potatoes with rosemary. He loved it so much he recreated the recipe at home the very next day and got us all hooked.
It is one of the things I introduce everybody to that tells me they haven't tried. It is literally the one thing I tell people they HAVE to try before they die.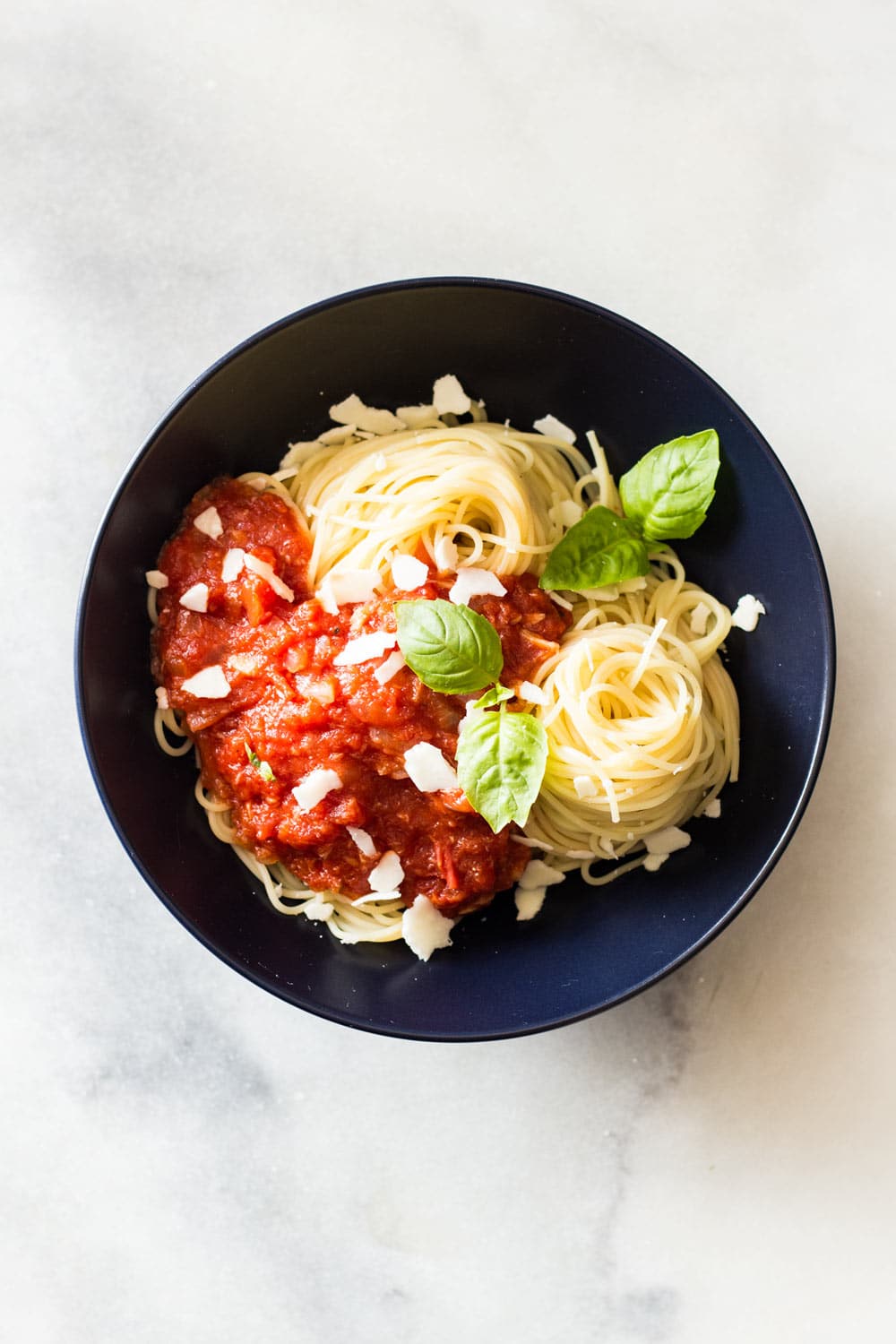 The best part about roasting garlic is that it looses all its "stinkiness" and doesn't leave you with a garlicky breath at all. It caramelizes so much in the oven it becomes like sweet butter. It does taste a little like garlic in your food but the garlic taste is very subtle.
I've made Roasted Garlic Butternut Squash Soup and Roasted Garlic Potato Leek Soup on the blog before. Both fall/winter foods. Hot soups. What about summer though? How could I possibly survive either eating hot soup on a hot summer day OR not eating roasted garlic from May to October? Both is very much NOT an option.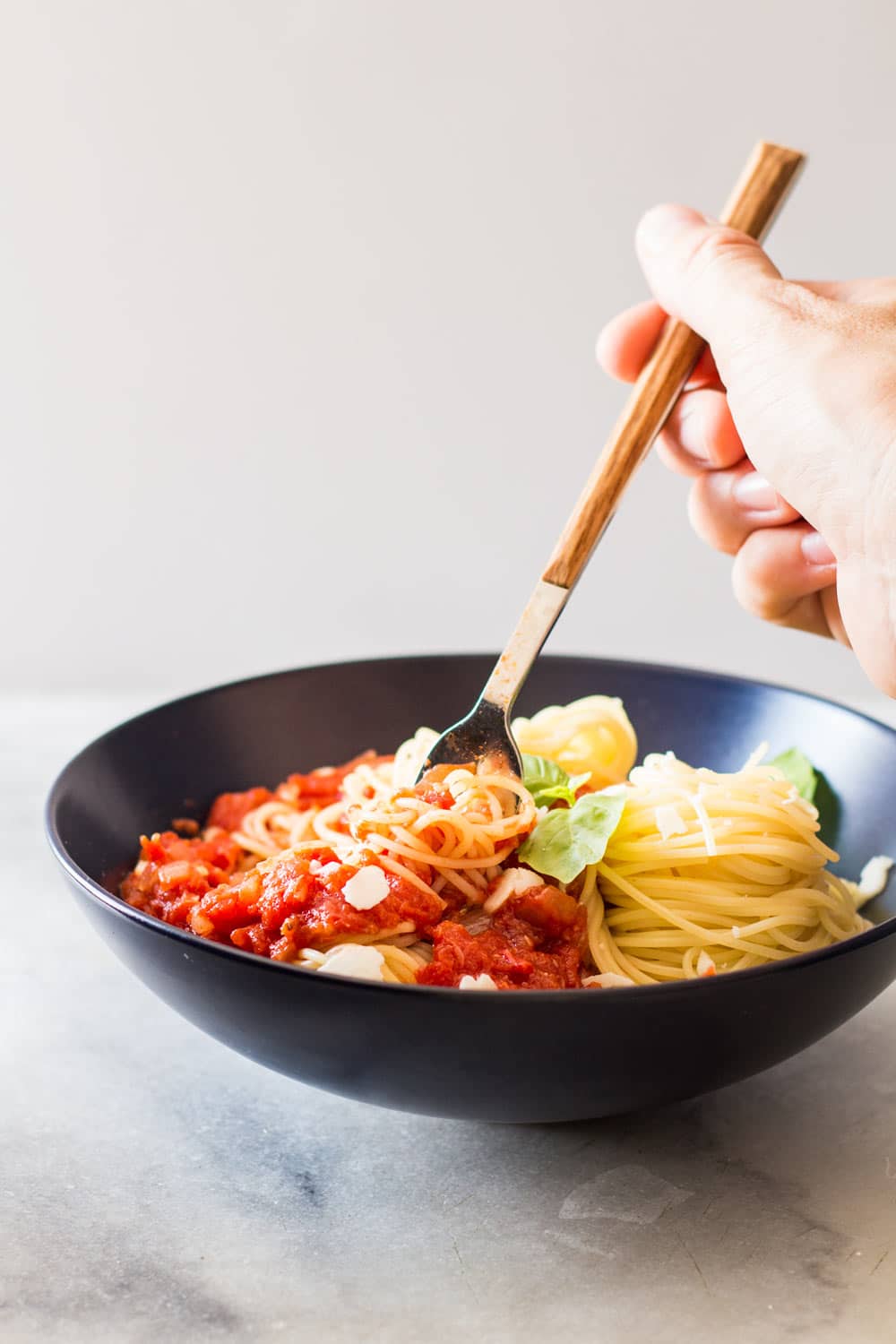 I had to find a solution and this is what I came up with: Roasted Garlic Tomato Sauce for Pasta! Aha! Perfect dinner that tastes amazing both hot AND cold.
Roasting the garlic takes a bit of time but you don't have to be doing anything while that happens. Preparing the bulb of garlic to roast takes about 30 seconds and then you're off duty for 45 minutes. The rest (preparing the sauce & cooking the pasta) is done in 15 minutes flat.
I chose Capellini pasta because they cook so much faster than any other pasta, hehe. The sauce tastes great on any pasta shape though of course. I can imagine it tasting beyond amazing on zucchini noodles as well for a gluten-free dinner. Once I tried it, I will report back.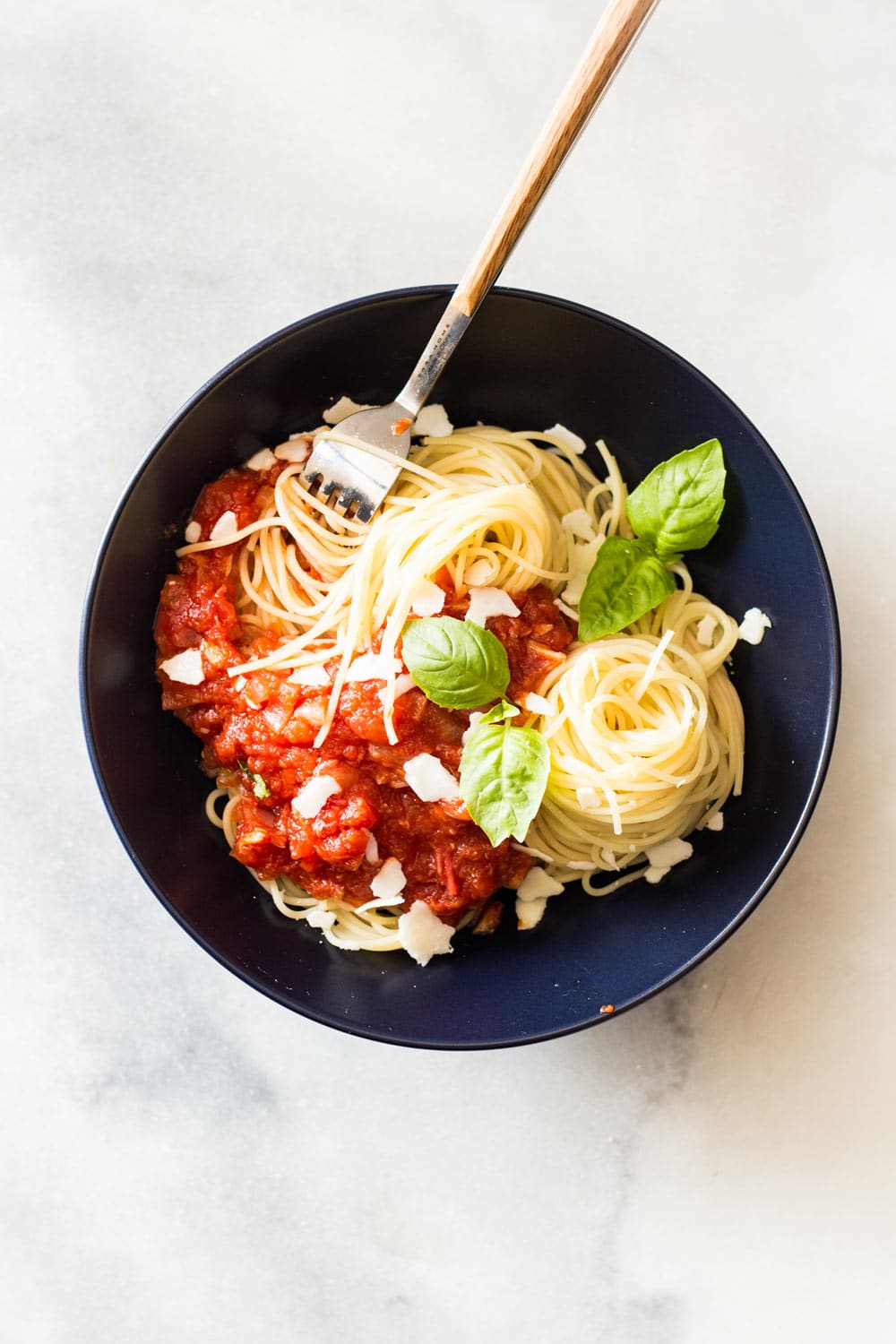 Kids are out of summer camp and this is about as much patience as they could offer. I will have to call this Capellini with Roasted Garlic Tomato Sauce recipe post a wrap and say bye bye without any further words ;)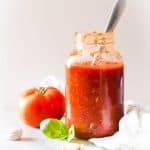 Roasted Garlic Tomato Sauce
The best part about this Roasted Garlic Tomato Sauce? The roasted garlic of course. Roasted garlic should be in absolutely every recipe. From breakfast waffles to dessert. Full stop!
Print Recipe
Ingredients
1

bulb

garlic

-

(yes, a whole bulb!)

1

Tbsp

olive oil

1

medium

onion

2

cans

diced tomatoes

-

(2x400g)

Salt

Pepper

500

g

pasta

-

(I chose Capellini for fast cooking time)

basil

-

(optional)

Parmesan cheese

-

(optional)
Instructions
Preheat oven to 400 F (200 C).

Peel off the paper-like outer layer of the garlic bulb, leaving intact the skins of the individual cloves and being careful to keep the bulb as a whole.

Cut the top part of the garlic in order to expose the upper part of every clove. Drizzle a few drops of olive oil onto each clove.

Place garlic bulb in cocotte and cover (or lack of thereof wrap in aluminum foil). Put garlic in the preheated oven for about 45 minutes or until soft and golden.

Peel and chop onion.

Preheat a large pan over medium heat & bring about 4 litres of water to the boil in a separate pot over high heat.

Once pan is preheated add a generous dollop of olive oil and chopped onion, reduce heat to low and sauté onion until translucent.

Add diced tomato and roasted garlic (only the flesh, not the skin, you will have to pull out clove by clove from its skin and add to the sauce).

Use a potato masher or a fork to mash the cloves and big tomato pieces.

By now the water should be boiling. Cook your pasta as instructed on the package.

Let the tomato sauce simmer for about 10 minutes.

Serve sauce over favorite pasta and if desired add some fresh basil and shaved Parmesan cheese.
Notes
Double or triple the recipe to take advantage of the oven heat to roast several bulbs of garlic and freeze the other batch(es) for ultra busy week-nights or lazy Sundays ;)
What's your clean eating vibe?
Take this fun QUIZZ and find out in 10 seconds!