This roasted butternut squash salad with quinoa and arugula is the perfect cold-weather salad! Hearty and filling and perfect for meal prep.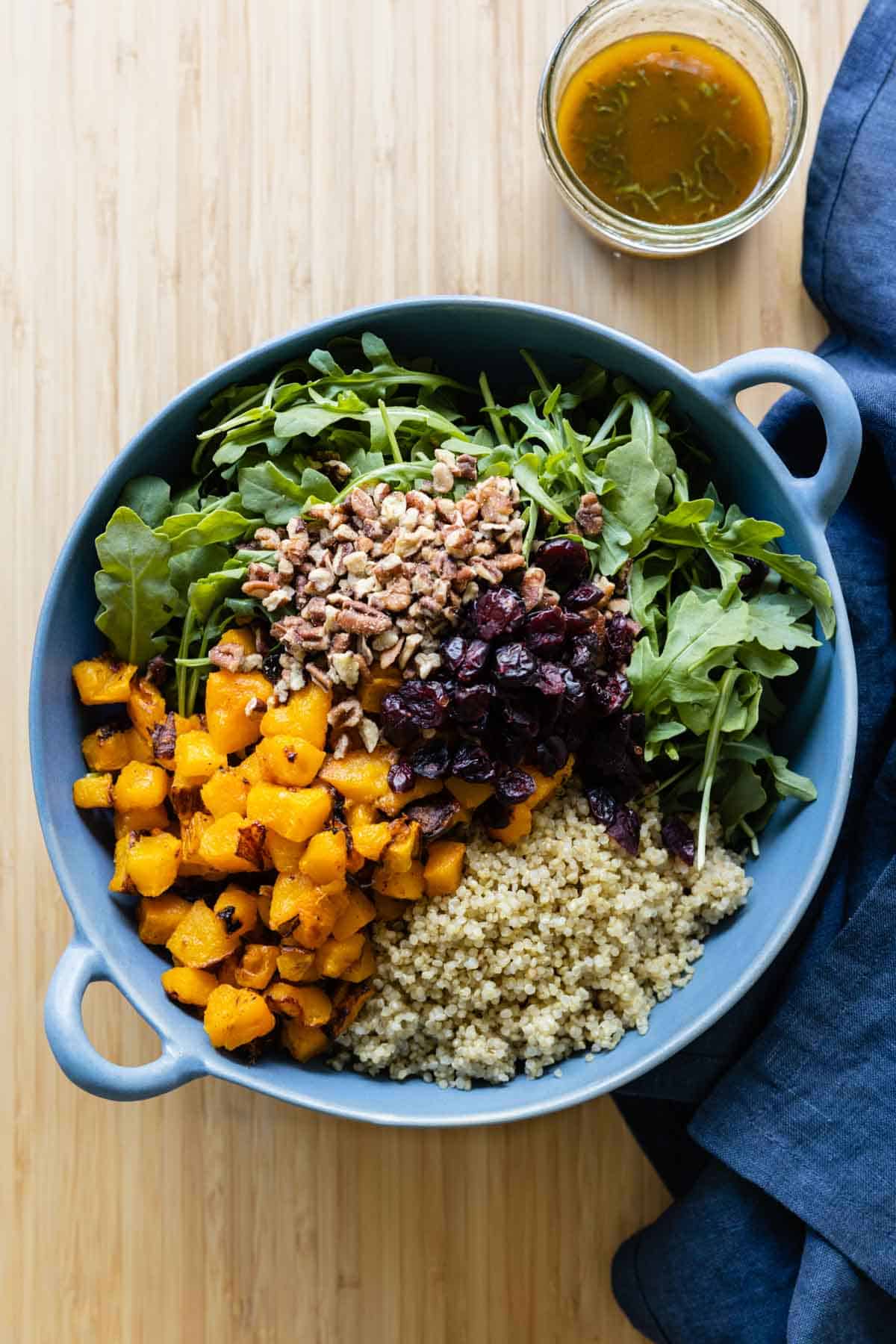 Butternut squash is one of my favorite veggies to roast in the fall and winter. It is rich in vitamins A and C, potassium and magnesium. It also contains antioxidants and is low in calories. I love curling up with a hot bowl of Roasted Garlic Butternut Squash Soup and thick socks.
Hands-down this roasted butternut squash salad is one of the best winter salads, with a mildly sweet flavor and a secret ingredient: sage. The bold herbal taste of sage makes this salad SO special and goes amazingly well with the rest of the ingredients. Check out this other delicious winter salad recipe with orange and pomegranate to see what I mean.
Salad Ingredients and Substitutions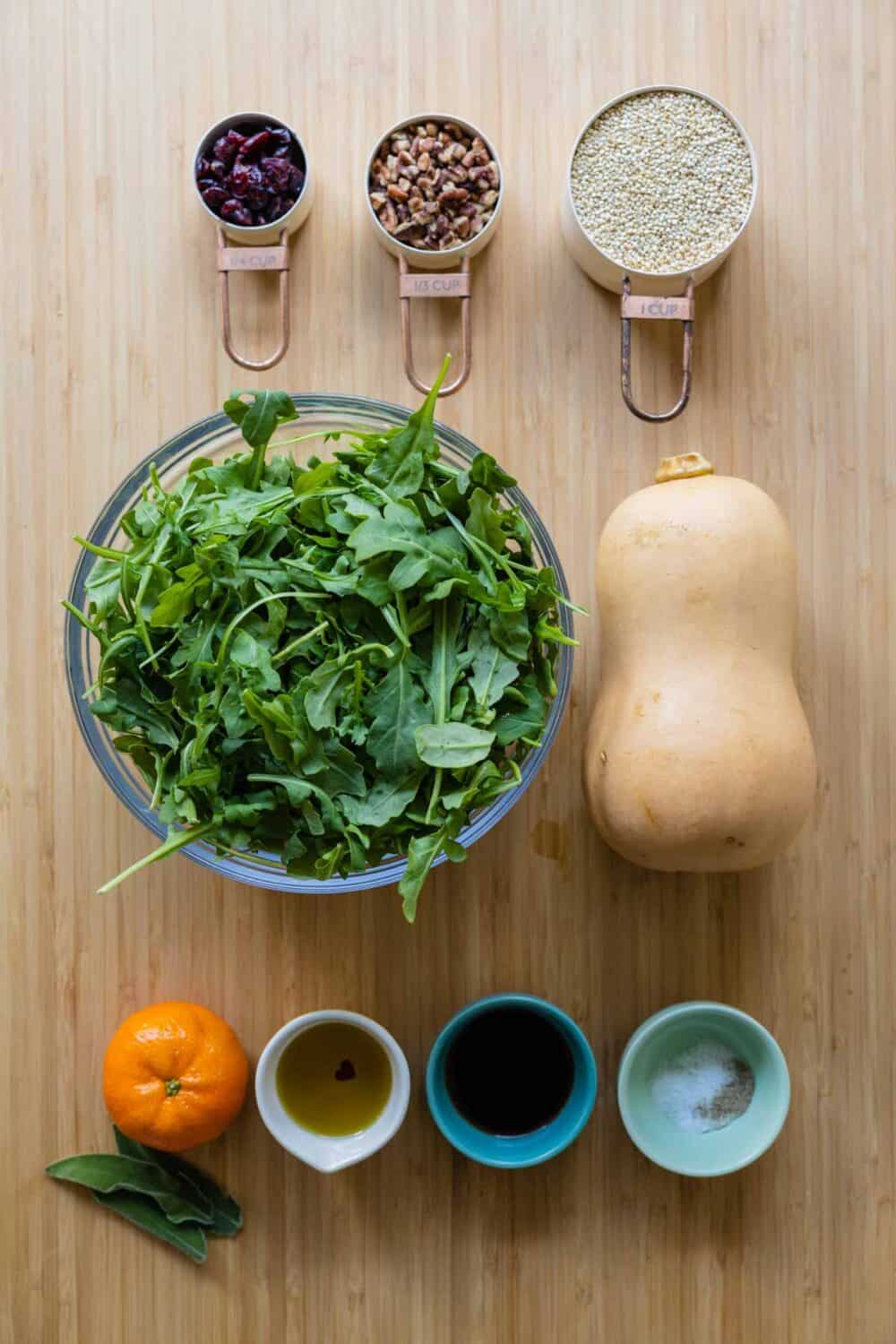 Butternut Squash – use a small butternut squash, about 2 lbs is enough for this salad.
Cooked Quinoa – quinoa is a power grain and it is the best grain for salads. However farro, barley, buckwheat and even brown rice work too.
Arugula – the spiciness of the arugula contrasts amazingly with the sweet taste of roasted butternut squash and cranberries. A great alternative though is to use baby spinach.
Dried Cranberries – they add a touch of sweetness and texture, alternatively you could use raisins, chopped date or chopped apricot.
Chopped Pecans – the crunchiness of pecans can easily be replaced with literally any other nut you have on hand. Walnut is my favorite replacement.
Avocado Oil – I like using avocado oil for its mild flavor, but it can be replaced with any other high smoke point oil, like grapeseed or sunflower oil.
Dressing Ingredients and Substitutions
Olive oil – any other flavorless oil works too.
Balsamic vinegar – in a pinch you could replace it with apple cider vinegar.
Clementine juice – the sweetness of the clementine juice balances the flavors in this dressing. A good alternative would be the juice of one small orange.
Sage leaves – sage is what gives this salad a very special taste, don't skip it!
How to make Roasted Butternut Squash Salad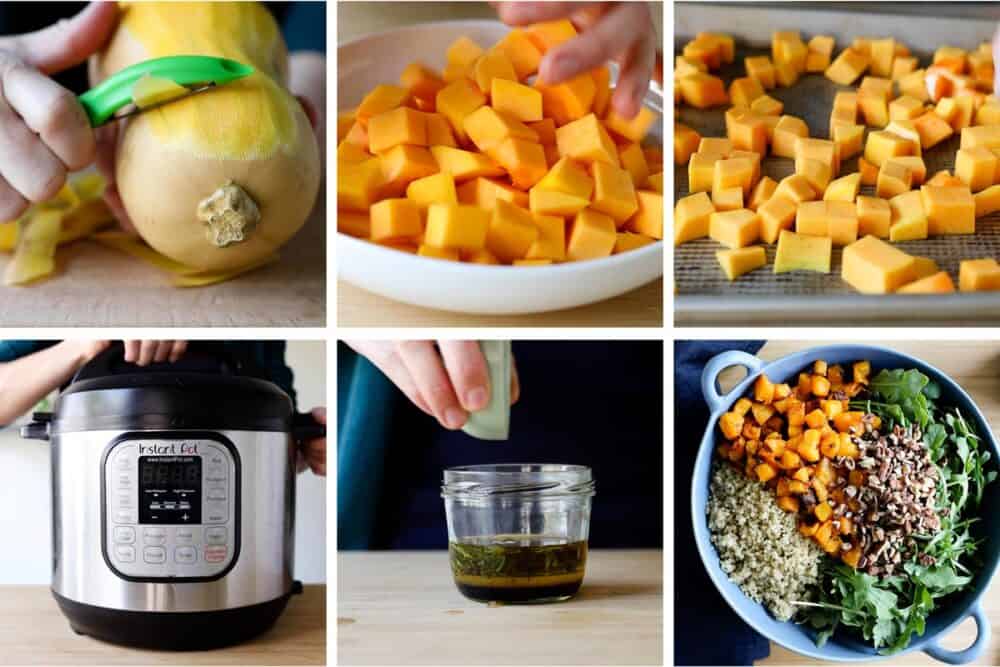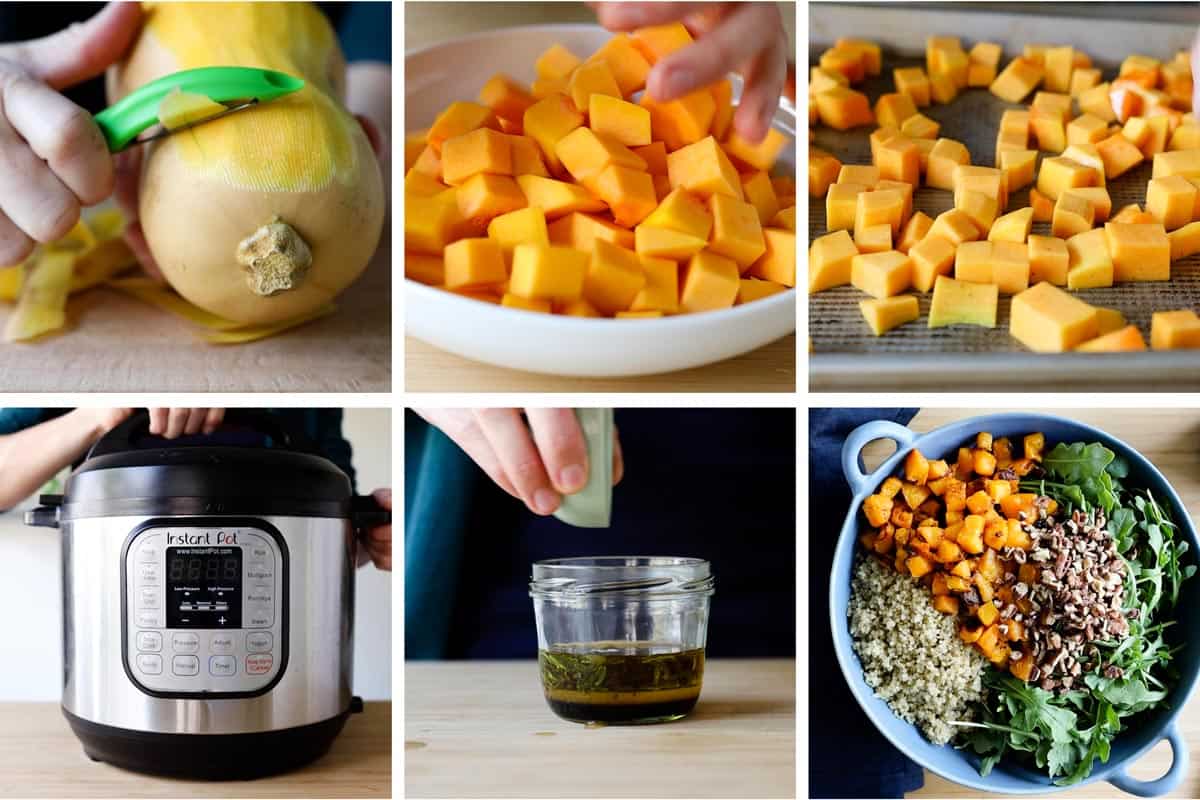 Before you start, preheat your oven at 400F and put your baking sheet IN the oven while it preheats, this will make your sheet non-stick!
Peel your butternut squash using a serrated vegetable peeler to make the job much easier. Cut off both ends then cut in half lengthwise. Use a spoon to remove all the seeds and discard them, then cut into slices and finally into dice.
Add the diced pieces to a medium bowl and drizzle them with a little avocado oil and salt and pepper to taste, then use your hands to cover them completely in the oil.
By the time you finish prepping the butternut squash, the oven will be hot and so will your baking sheet. Spread the cubed butternut squash pieces carefully on the hot baking sheet. You'll hear it sizzle, which is exactly what you want.
Put the baking sheet back in the oven and roast your butternut squash for 40 minutes, giving it a quick stir half-way through.
In the mean time cook the quinoa for the salad. I love using my Instant Pot for this, I add 1 cup of quinoa and 1 cup of water with a little bit of sea salt. Close and seal the lid and set it for 1 minute on high pressure and wait for full pressure release. If you don't have an Instant Pot, make sure to check my guide on how to cook quinoa on the stove.
While the quinoa is cooking and the butternut squash is roasting, you have enough time to prepare the dressing. Take 3 sage leaves, roll them up and cut them into very thin slices. Then add them to a sealable container.
Add 1/4 cup of extra virgin olive oil, 1 tbsp of balsamic vinegar, the juice of one clementine, and sea salt and pepper to taste.
Seal your you container and SHAKE SHAKE SHAKE until the dressing is well combined.
Once your butternut squash is roasted and your quinoa is done and fluffy, let them cool down a bit otherwise your salad leaves will wilt. Wait until they are no longer hot, just warm.
To assemble your salad get 5 oz of arugula and place it into a large salad bowl, then add your cooked quinoa, your roasted butternut squash, 1/3 cup of chopped pecans, and 1/4 cup of dried cranberries.
Pour your delicious sage vinaigrette over everything, give a quick stir and ENJOY!
How to Meal Prep Salad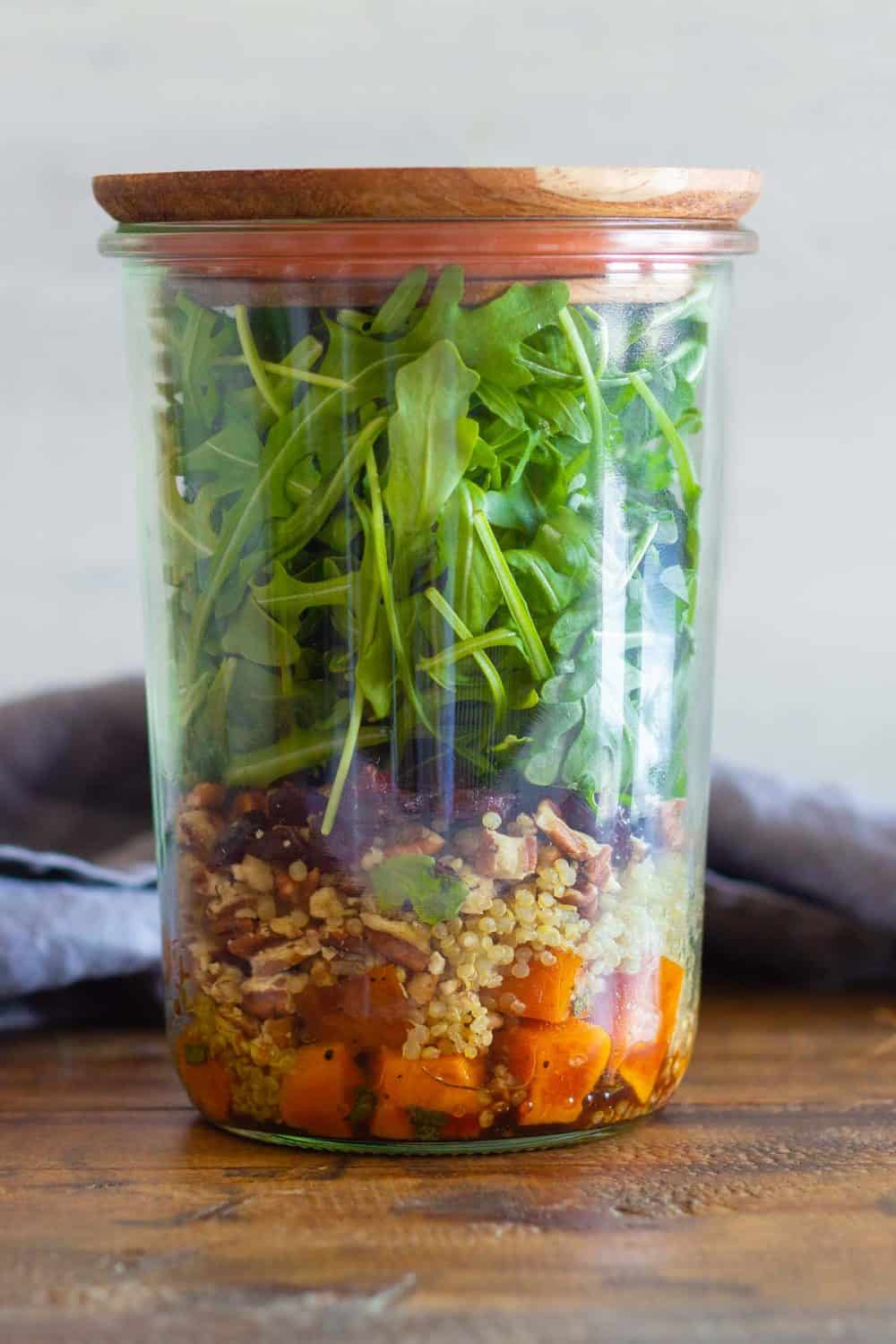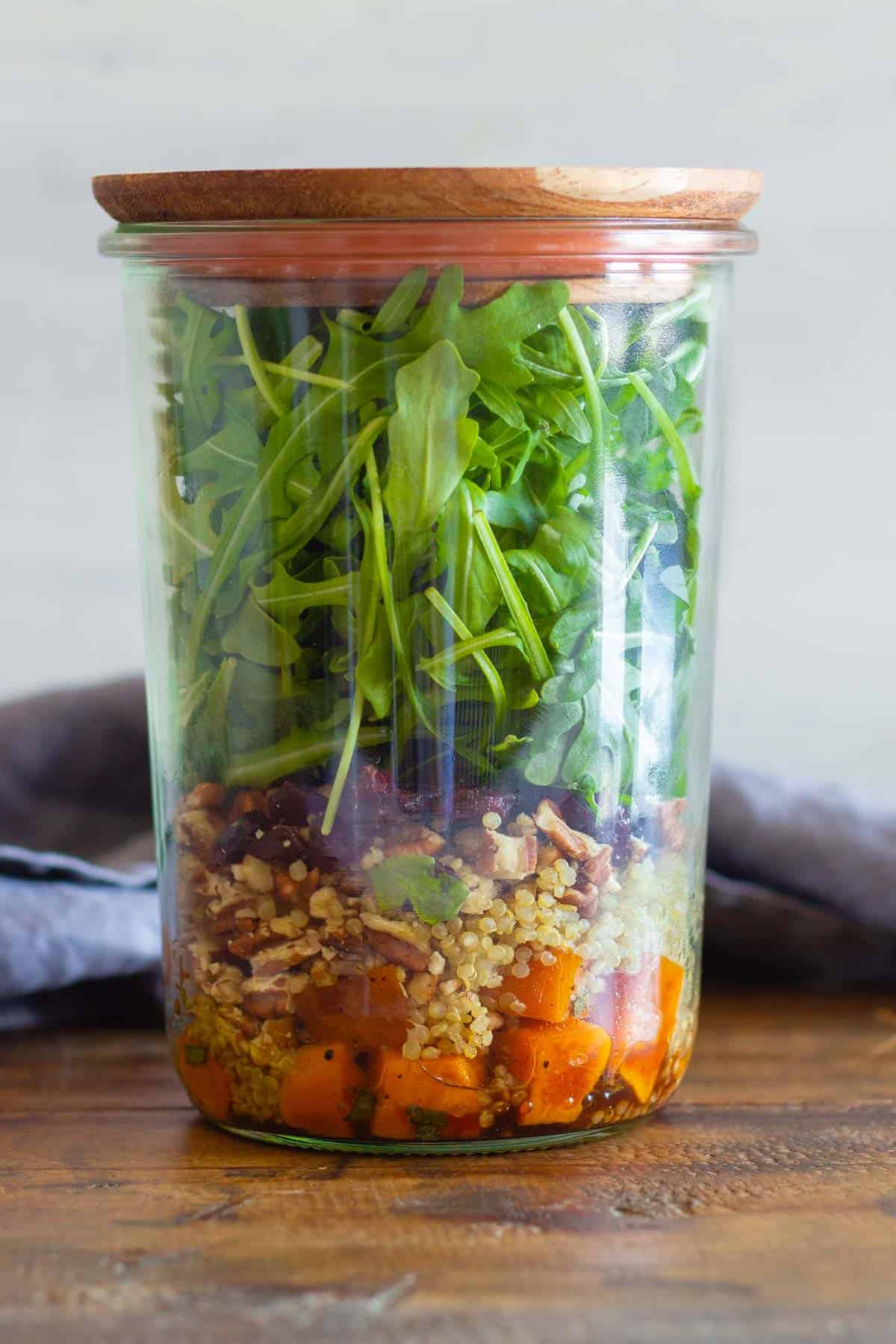 Butternut squash salad is fantastic for meal prep. It can be kept in the fridge for up to 3 days without a problem.
Important steps to follow to ensure the salad's freshness are:
Use a tall jar instead of a wide container.
Add the dressing at the bottom, then layer the chunky non-leafy ingredients.
Add only room-temperature or cold ingredients. You want to avoid steam building in the jar and wilting any greens.
Place any leafy greens at the top far away from the dressing. This is the best way to keep them crunchy and fresh.
Place a tight-sealing lid on the jar and place it in the refrigerator.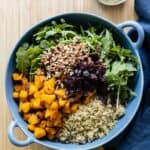 Roasted Butternut Squash Salad
This roasted butternut squash salad with quinoa and arugula is the perfect cold-weather salad! Hearty and filling and perfect for meal prep.
Print Recipe
Pin Recipe
Ingredients
2

lbs

butternut squash

1/2

Tbsp

avocado oil

1

cup

quinoa

5

oz

arugula

1/4

cup

dried cranberries

1/3

cup

chopped pecans

1/4

cup

olive oil

1

Tbsp

balsamic vinegar

1

clementine

-

juice only

3

sage leaves

sea salt

pepper
Instructions
Preheat oven to 400F (200C). Add your baking sheet dry to the oven to preheat as well.

Peel and deseed butternut squash and cut into 1/2" (1 cm) dice. Add to a shallow bowl, drizzle with avocado oil and season with sea salt and pepper. Mix with your hands, then lay out in an even layer on the hot baking sheet and roast for 40 minutes or until golden. Give a quick stir half way.

Cook quinoa in the Instant Pot or a regular pot. Here are instructions on how to cook quinoa.

Add arugula to a large salad bowl. Add cooled-down roasted butternut squash cubes, cooled-down quinoa, chopped pecans, and dried cranberries.

Prepare the dressing by adding olive oil, balsamic vinegar, juice of clementine, chopped sage leaves, sea salt, and pepper to a sealable container and shake to combine.

Drizzle dressing over salad, toss, and enjoy!

For meal prep: Add 1-2 Tbsp dressing to the bottom of a tall jar, then butternut squash, quinoa, pecans, cranberries, and top with arugula. Make sure arugula doesn't touch the dressing to avoid from getting soggy. Store in the refrigerator for up to 3 days.
Nutrition
Calories:
501
kcal
|
Carbohydrates:
66
g
|
Protein:
10
g
|
Fat:
25
g
|
Saturated Fat:
3
g
|
Polyunsaturated Fat:
5
g
|
Monounsaturated Fat:
16
g
|
Sodium:
22
mg
|
Potassium:
1247
mg
|
Fiber:
10
g
|
Sugar:
13
g
|
Vitamin A:
24965
IU
|
Vitamin C:
62
mg
|
Calcium:
201
mg
|
Iron:
4
mg
What's your clean eating vibe?
Take this fun QUIZZ and find out in 10 seconds!