At the beginning of last week while indeed cold it was still quite sunny and I bought some arugula so I could make a salad early this week. Today (Monday) it snowed all.day.long! All day long? Yes! I am not exaggerating. Literally: all.day.long!  I saw that I had to make that salad soon or the arugula was going to go bad but I had no desire whatsoever to eat a cold salad. You wouldn't have either? Well here I present to you *drumroll please*: A warm vegan Butternut Cranberry Winter Salad. This salad is sour, sweet and salty. It is soft, silky and crunchy at the same time. Exactly how I like it. I absolutely love to touch all my tastebuds in just one meal. This salad can be enjoyed as side dish but also as main dish because thanks to the quinoa it is a highly nutritious complete meal. My family ate this for lunch as a main dish and it kept us satisfied until dinner.
The roasting squash and cranberries in the oven produced the most amazing aroma in the apartment. We could all hardly wait for lunch to be ready.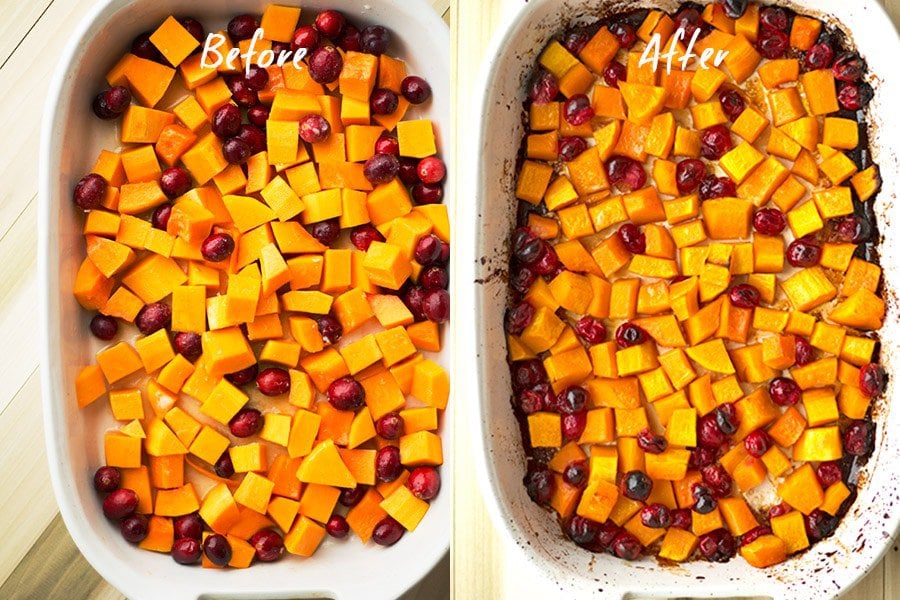 The oven and the stove where the Quinoa was cooking radiated a lovely heat while we were looking out the window observing the millions of snowflakes fall.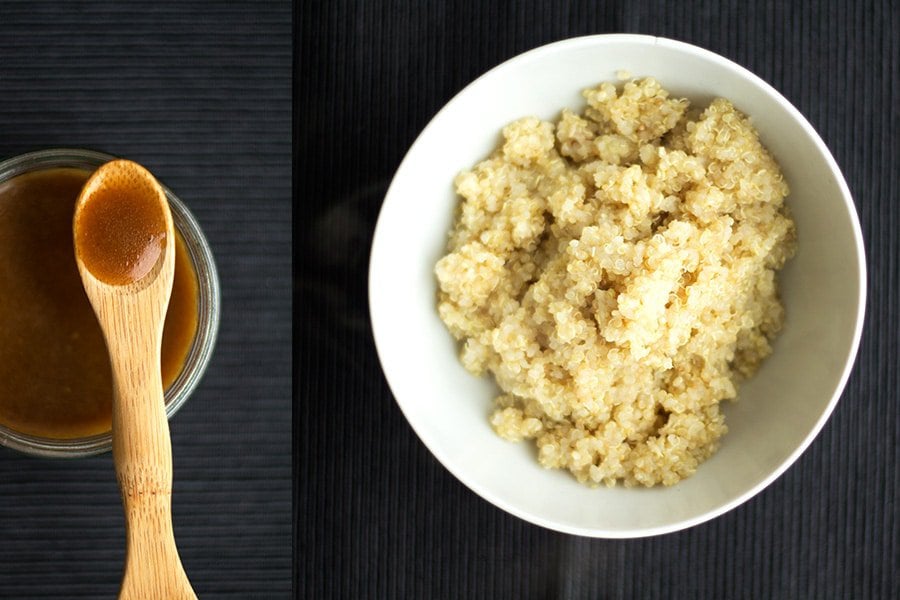 The clementine juice in the salad dressing gives it a wintery flavor and provides some additional Vitamin C to the one from the cranberries to give our immune systems a very much needed boost during flu season.
Remember to include lots of Vitamin C and D in your diet and eat even more leafy greens that you already do to help your immune system combat any kind of attack.
Butternut Cranberry Winter Salad
Total Time
1
hour
5
minutes
Ingredients
1

large butternut squash

(1kg/2.2lbs)

1

heaped hand full fresh cranberries

(100g/3.5oz)

Juice of 1 sweet clementine

2

Tbsp

coconut oil

1/4

cup

maple syrup

1/2

cup

uncooked quinoa

6

Tbsp

olive oil

2

Tbsp

balsamic vinegar

1/4

tsp

sea salt

Juice of 1 sweet clementine

3

hands full arugula or more if desired

(100g/3.5 oz)
Instructions
Preheat oven to 400f (200C).

Peel and deseed butternut squash and cut into 1" (2.5cm) dice. Place into large ovenproof dish.

Wash and dry cranberries and add to squash

Add clementine juice, coconut oil and maple syrup to squash and cranberries and mix well with your hands spreading out everything into a single layer .

Roast for about 45 minutes or until butternut squash is soft.

In the meantime, cook quinoa as instructed on the package and prepare vinaigrette by adding olive oil, balsamic vinegar, sea salt and clementine juice to a sealable container (such as a mason jar) and shake until well combined (both should end up looking like in picture above)

Wash and dry arugula and either place on plate or add to a large salad bowl.

Top arugula with cooked quinoa and then butternut squash and cranberries or add all three to salad bowl.

Season with salad dressing and enjoy warm.
Get all recipes straight into your inbox!