This Broccoli salad balances the heavy ingredient of bacon with the light crisp flavor of apples. It's perfect to bring the fresh tastes of the harvest to your table any time of year!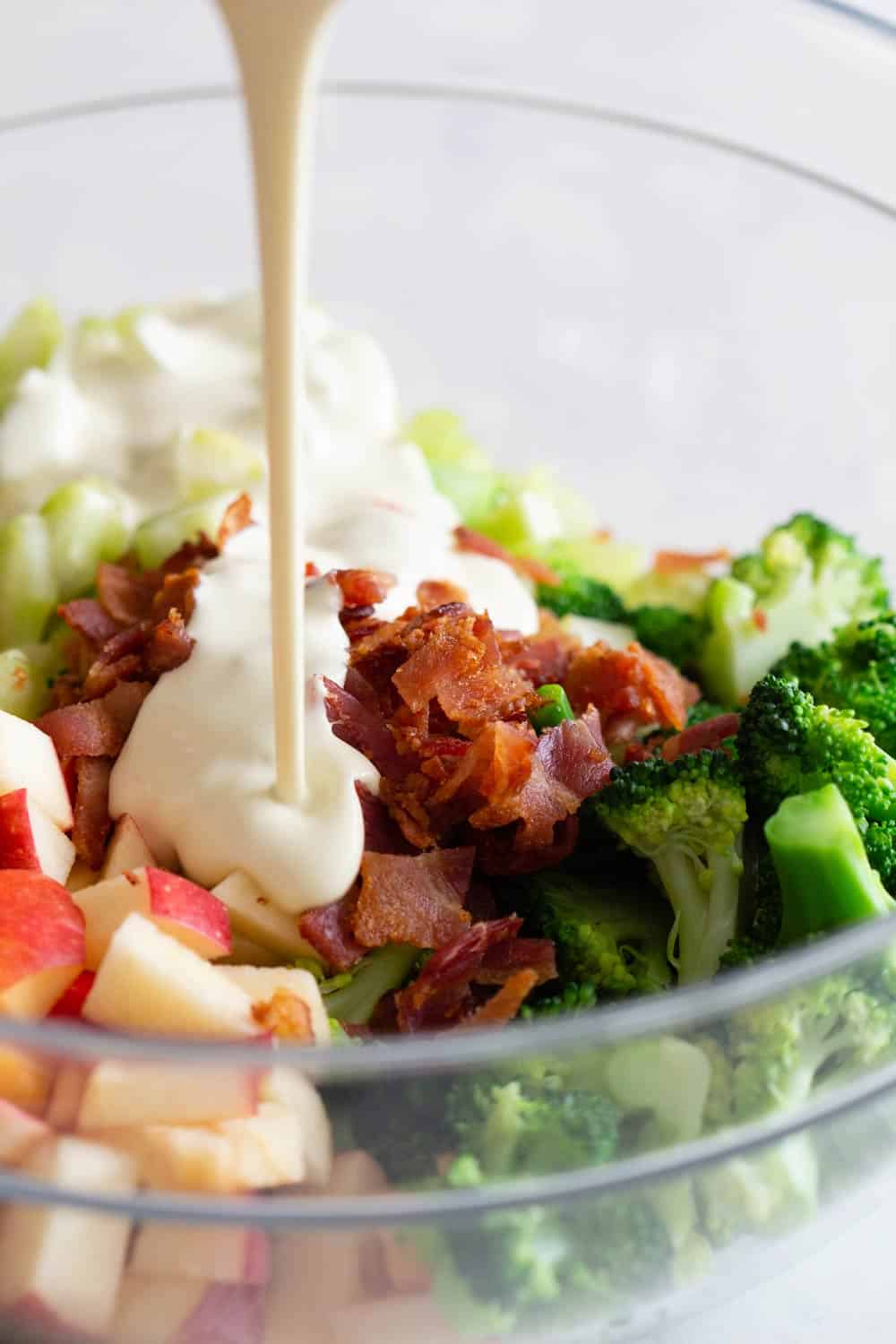 This is a great side dish to compliment any meal. It could also be a protein-packed lunch. The broccoli, celery, and apples provide lots of vitamins and minerals. The bacon will keep you full for the rest of the day. But it's still a light meal with low calories.
This broccoli salad is naturally gluten-free and made from whole foods.
How do you cut broccoli for broccoli salad?
In this broccoli salad recipe, you will need to blanch the broccoli. You'll only cook it for about two minutes. This is the healthiest way to cook broccoli. It softens the tough florets and improves the flavor. But it doesn't cook long enough for the nutritional value to be degraded.
You want to end up with broccoli pieces that are all about the same size so you won't have sections that are under or overcooked. Follow these instructions for the best way to cut the head of broccoli.
Wash the broccoli. Rub your hand over it to loosen any dirt. Do not soak the broccoli in water.
Cut off the leaves. While they are edible, most people prefer not to use them or to use them only for garnish.
Separate the florets from the stalk. Cut about an inch down from the flowering part. Start at the outside and work your way toward the middle.
Trim the florets and stalks so all the pieces are about the same size.
If you want to cook the stalk, you can peel the tough outer layer and then slice it into even pieces. I don't use the stalk in this salad, but it is edible. When cooking, you can add the stalk pieces first and the florets a few minutes later since the stalks take longer to cook.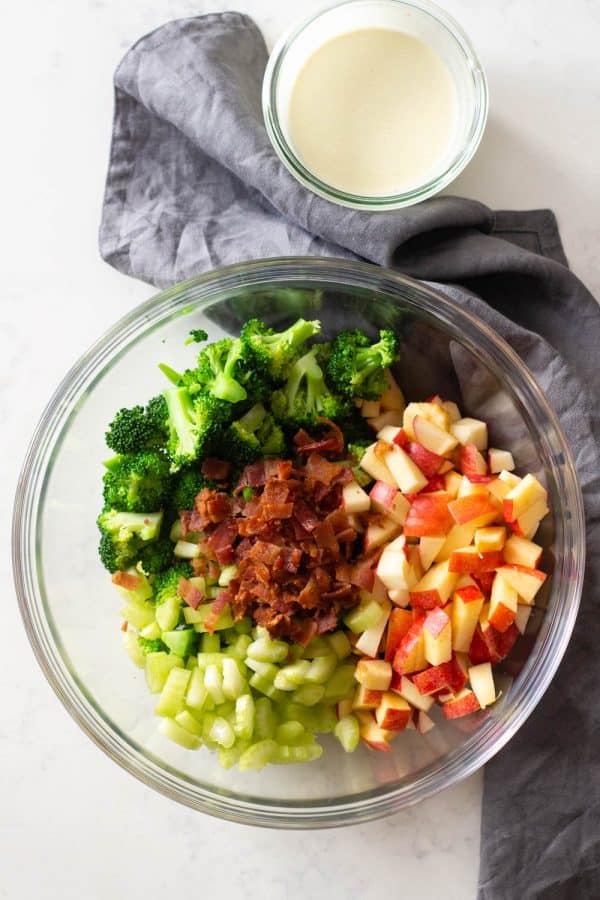 What kind of apple should I use?
There are so many apple varieties to choose from. For this broccoli salad, choose one that has a crisp texture and has a flavor you enjoy to compliment the heavier flavors of the bacon. Try any of these varieties:
Red Delicious- These are mildly sweet and very crisp- a perfect combination.
Gala- These apples are very sweet.
Fuji- These are super sweet and very crunchy.
Granny Smith- For something different, try this tart apple instead.
Honeycrisp- This variety offers a great balance of sweet and tart. Plus, they are super juicy.
Golden Delicious- This is a good pick for nearly any recipe. It's mild with the added benefit of the flesh staying white for longer than usual after being cut.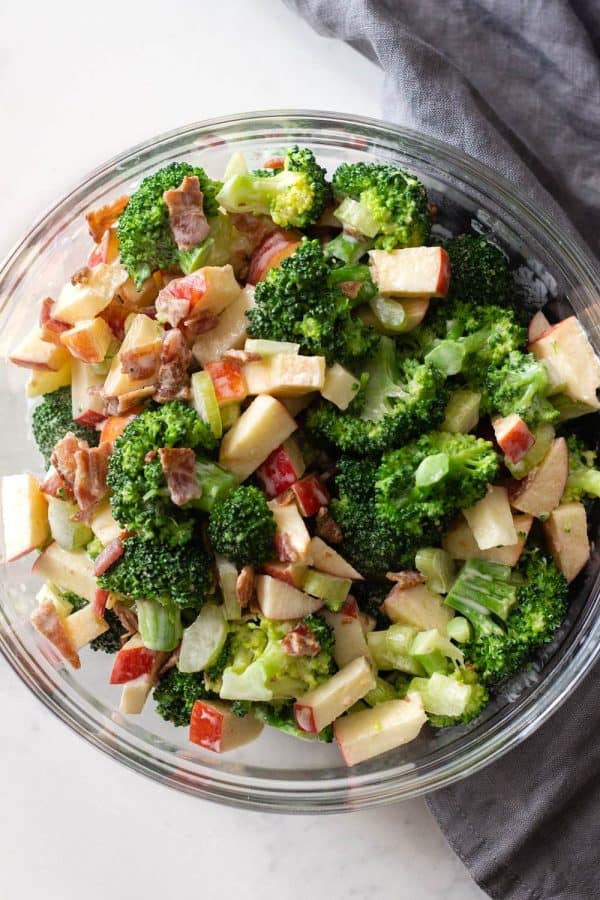 What tastes good in broccoli salad?
Ingredients that I add to my broccoli salad are bacon, apples, and celery. The bacon adds lots of flavor to your salad. The celery and apples are crisp and sweet.
The dressing I prefer is a combination of mayonnaise and yogurt. It's super easy to make homemade mayonnaise.
Other ingredients you may want to add to your broccoli salad are:
Raisins
Cheddar cheese
Onion
Cranberries
Almonds
Sunflower seeds
Shredded carrots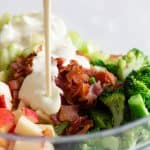 Bacon Apple Broccoli Salad
This Broccoli salad balances the heavy ingredient of bacon with the light crisp flavor of apples. It's perfect to bring the fresh tastes of the harvest to your table any time of year!
Print Recipe
Pin Recipe
Ingredients
4

rashers bacon

4

cup

broccoli florets

2

apples

2

stalks celery

1/3

cup

homemade mayonnaise

- how to make mayonnaise

1/3

cup

plain unsweetened yogurt

sea salt

pepper
Instructions
Add bacon to a baking sheet with bacon racks or lined with parchment paper. Bake bacon 20-25 minutes depending on thickness. Keep an eye on them to avoid burning. Bake until crispy.

In the meantime, Bring a large pot of water to a boil. Wash broccoli and cut into florets, then add florets to boiling water and blanch for 2 minutes. Drain broccoli and let cool completely.

Wash, and core apple and cut into dice. Wash and dice celery.

Add blanched broccoli florets, diced apple, diced celery and crumbled up crispy bacon to a large bowl.

Mix 1/3 cup mayonnaise with 1/3 cup plain yogurt and pour over broccoli salad. Give a good mix and enjoy!
Nutrition
Calories:
310
kcal
|
Carbohydrates:
20
g
|
Protein:
7
g
|
Fat:
24
g
|
Saturated Fat:
5
g
|
Cholesterol:
24
mg
|
Sodium:
311
mg
|
Potassium:
476
mg
|
Fiber:
5
g
|
Sugar:
13
g
|
Vitamin A:
616
IU
|
Vitamin C:
85
mg
|
Calcium:
86
mg
|
Iron:
1
mg
What's your clean eating vibe?
Take this fun QUIZZ and find out in 10 seconds!