A recipe for the most delicious Bacon Wrapped Chicken Breast of all times. Juicy chicken, crispy bacon, broccoli and a delicious sour cream sauce. Make it entirley in the oven to avoid the mess!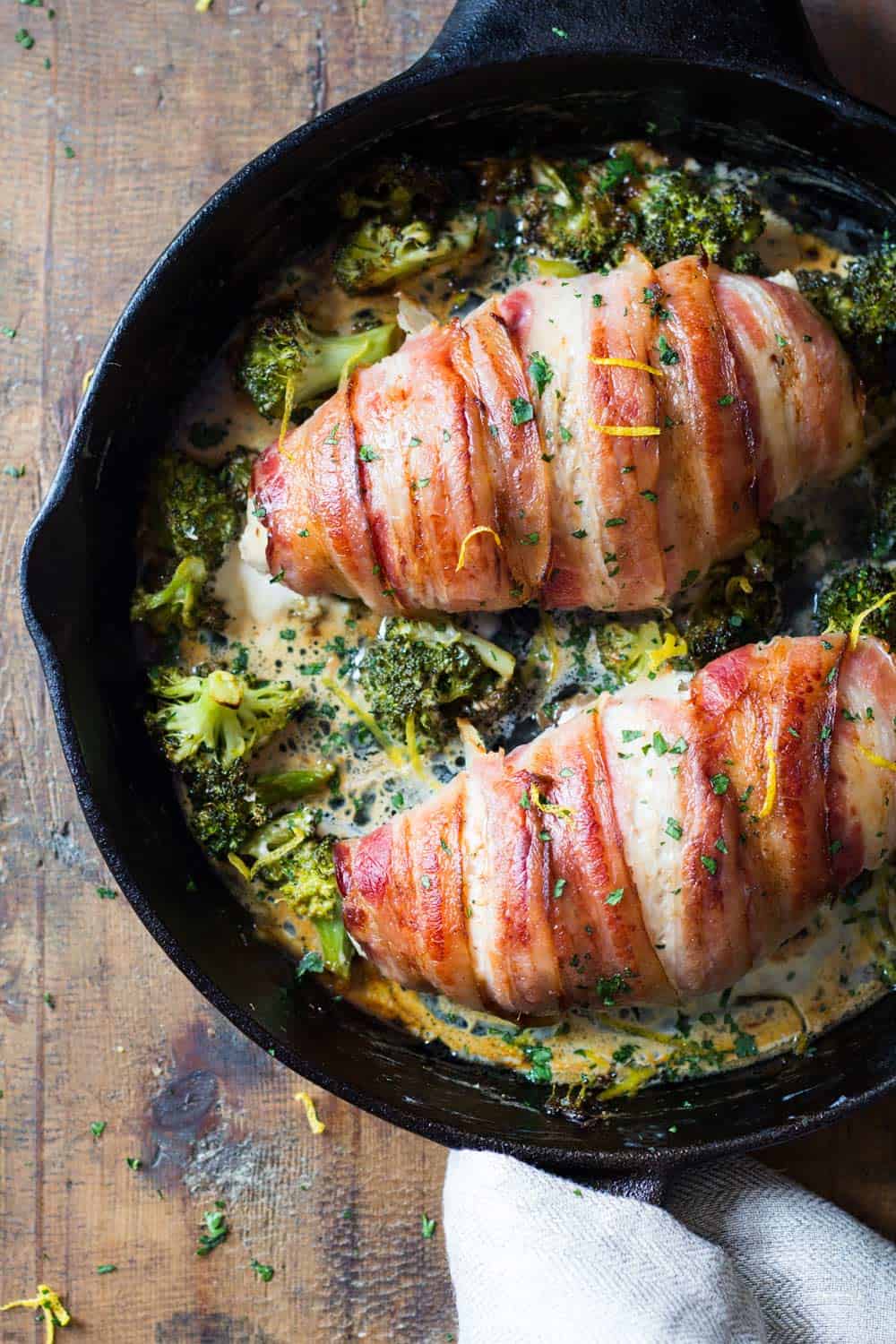 Two friends and I bought a whole pork a couple of months ago and the bacon is u.n.r.e.a.l. !!! The best bacon I have ever tried in my life.
If you have access to a non-supermarket bacon but rather quality butcher's bacon, go for the good stuff. Go for it! It's worth every penny. The strips tend to be much longer and thicker than the bacon I've seen at supermarkets.
It's easier to wrap those around a chicken breast. The difference in taste and texture is huge! If you don't have access to this kind of bacon, don't despair and certainly don't shy away from making this bacon wrapped chicken breast. Just use the bacon you always buy. It'll work just fine and still give amazing results :)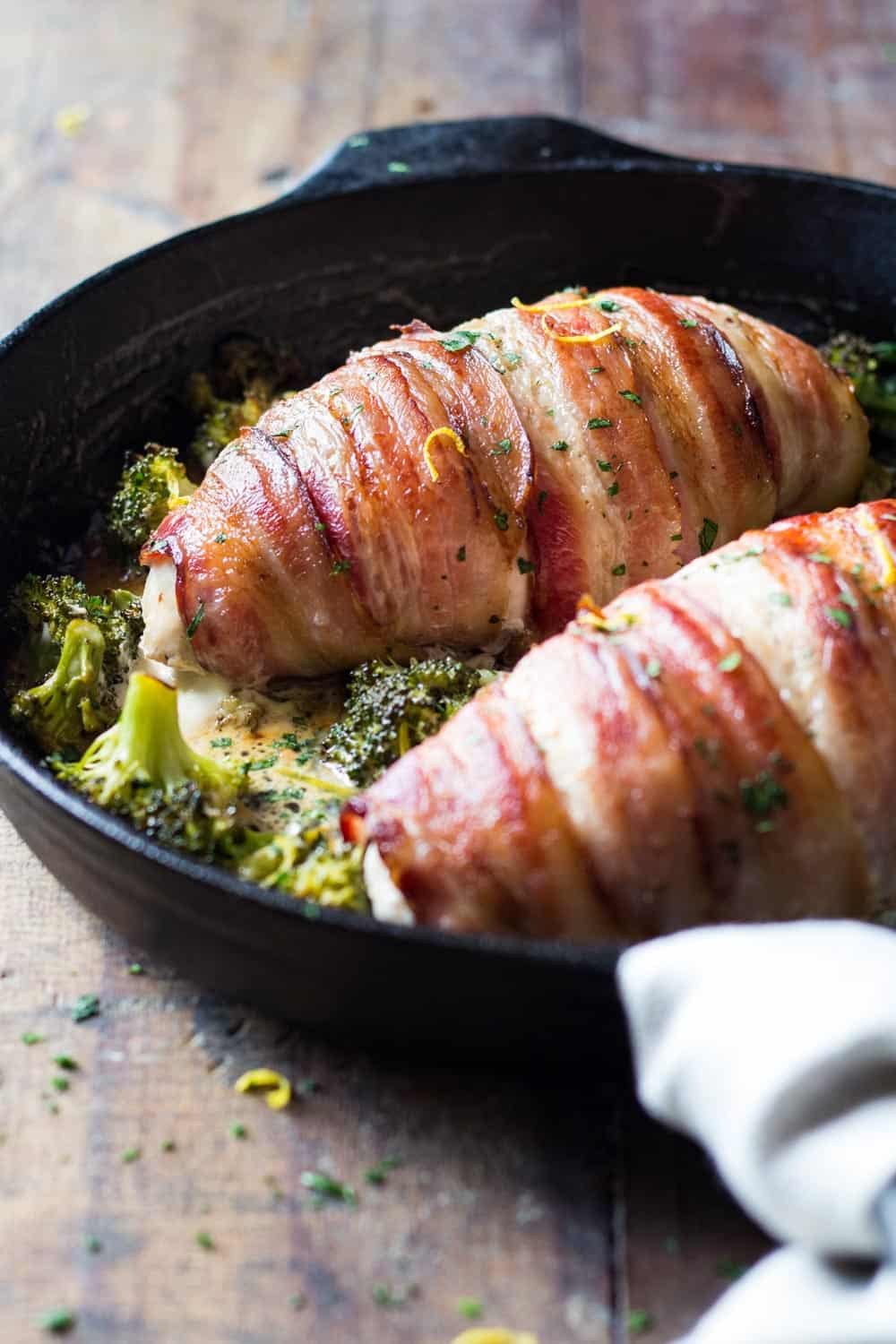 Why Chicken Breast with Bacon is the best combination ever!
I have to be completely honest with you. Plain chicken breasts are not my thing. I love them as "part" of a dish. A dish with a delicious sauce or cut up and mixed into something else or in a burger with mayonnaise. Even simply sliced and on top of a salad.
As main thing on my plate without any other seasoning than salt and pepper though …. uhhh, usually not so much. I know several ways to cook chicken breast to perfection for it to be juicy and still, eating plain chicken breasts with a boring side is way too boring for me.
Now, wrap a chicken breast in bacon and I'm sold! I can eat that even without a side. Bacon makes everything delicious, even plain boring chicken breasts.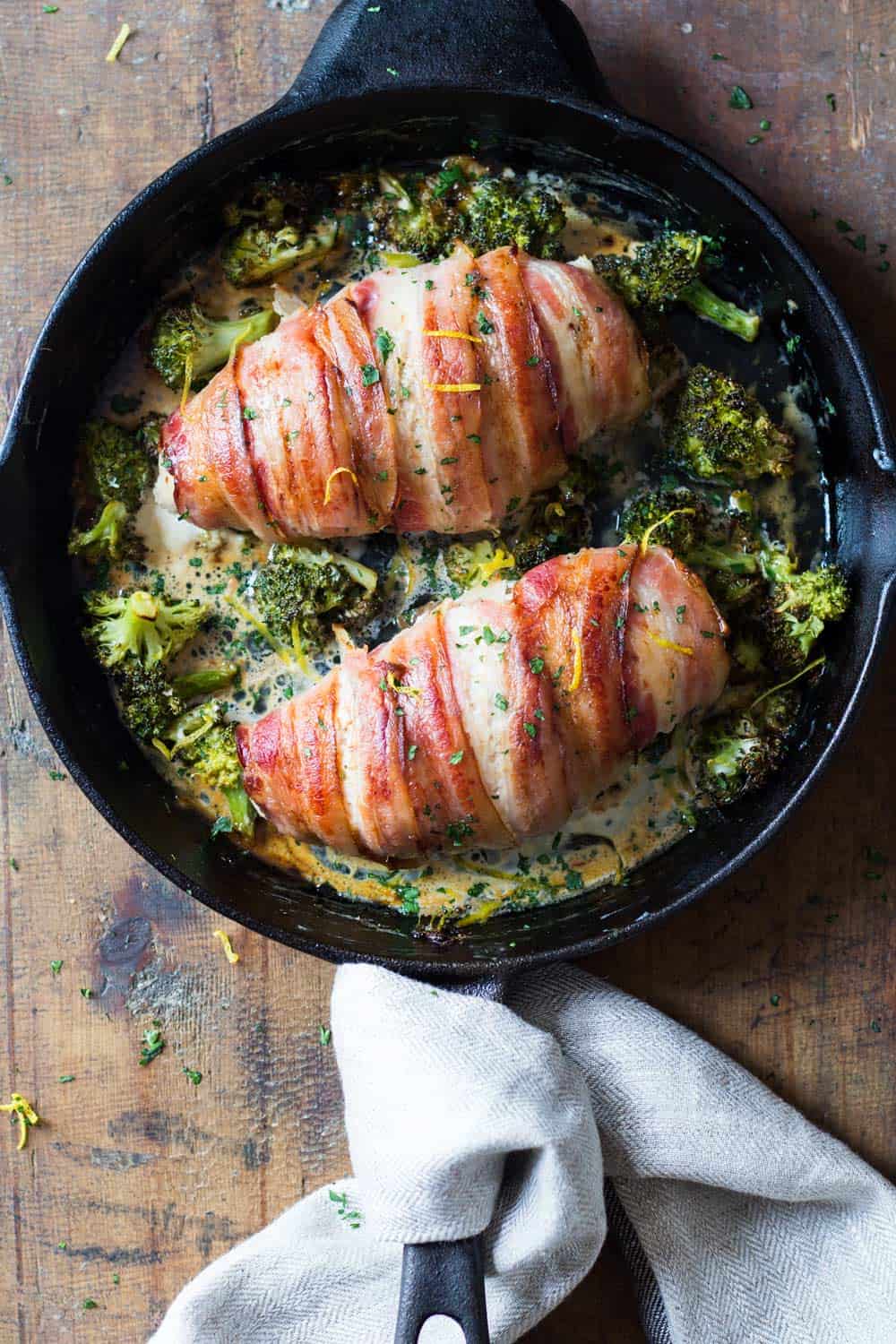 How long to bake a Bacon Wrapped Chicken Breast in the oven
This will obviously depend on the thickness of the chicken breast. In my humble opinion 4.5 minutes per ounce (28g) at 400F. So, a 7 oz (200g) chicken breast takes about 31.5 minutes until it's done.
The best way to determine if a chicken breast is done is to use an instant meat thermometer. The safe internal temperature is 165 F (74C). I recommend to pull it out of the oven at max 155F (68C) though because once out of the oven it continues cooking.
I like to keep the oven temperature low-ish for juicy meat and then turn on the broiler for 3-5 minutes to crisp up the bacon at the end.
Whatever you do, do NOT cut into the meat right away. Let the meat rest for about 8-10 minutes after taking out of the oven. The juices redistribute slowly. If you cut into the meat right away, all the juices just run out and dry out your chicken breast.
With experience you will start knowing by intuition how long the chicken breasts you buy will need in the oven. I always buy from the same farmer and they tend to be about the same size. I know they won't take more than 30 minutes.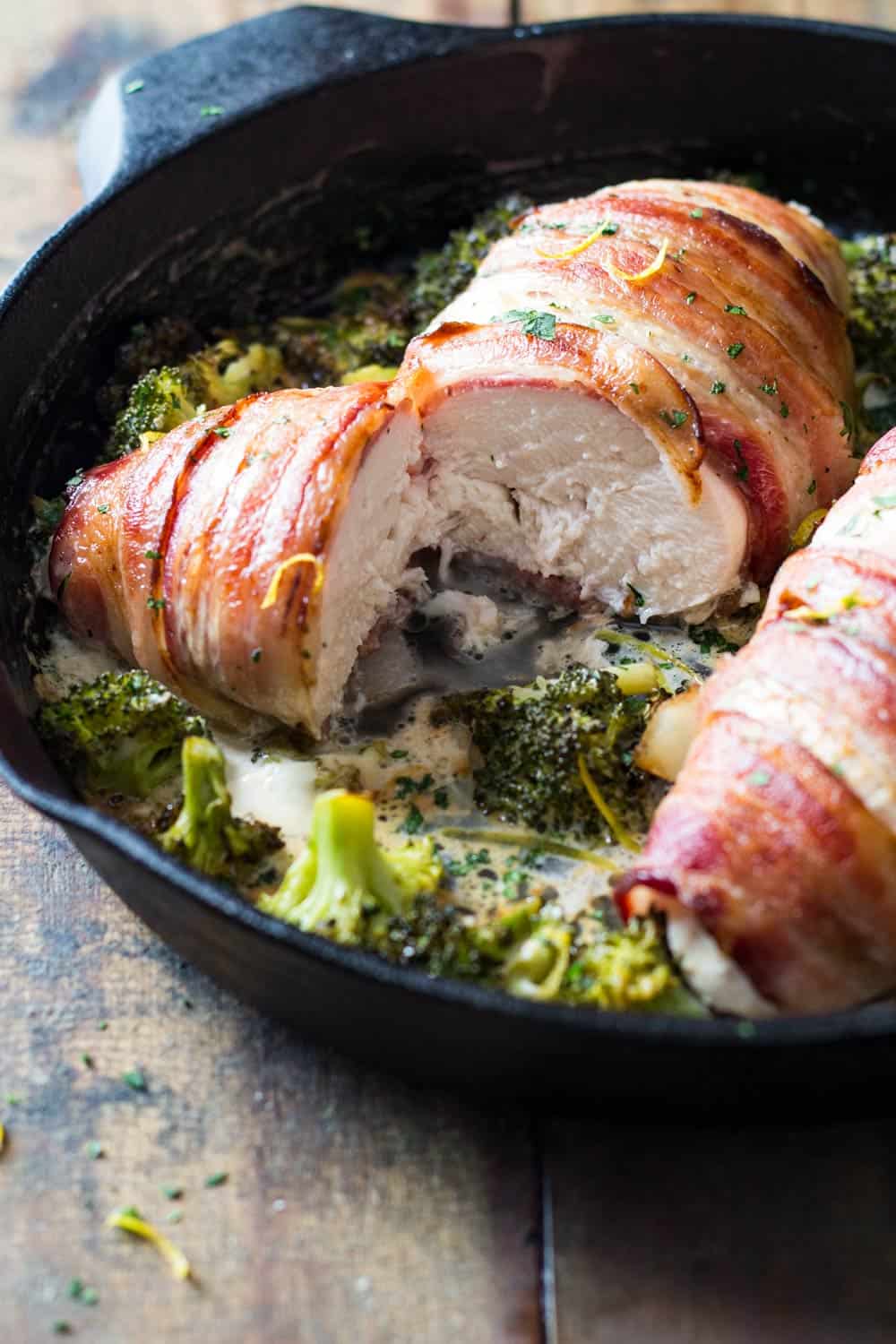 5 Reason this Baked Bacon Wrapped Chicken Breast is your best friend
No more than 5 minutes prep time.
30-35 minutes in the oven (while you don't have to do anything at all).
ONE dish!
Main dish and side dish both ready at the same time.
Five ingredients + salt and pepper.
If you try this bacon wrapped chicken breast and love it as much as I do, you are also going to love love love these Bacon Wrapped Green Beans and this Butternut Squash Pasta Sauce with Bacon.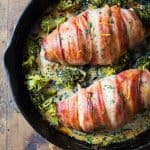 Bacon Wrapped Chicken Breast
A recipe for the most delicious Bacon Wrapped Chicken Breast of all times. Juicy chicken, crispy bacon, broccoli and a delicious sour cream sauce. Make it entirley in the oven to avoid the mess!
Print Recipe
Ingredients
2

boneless skinless chicken breasts

6-8

strips

bacon

Salt

Pepper

1

cup

broccoli florets

1/4

cup

creme fraiche

1/2

lemon

fresh parley

-

(optional)
Instructions
Preheat oven to 400F.

Salt and pepper chicken breasts.

Wrap bacon strips around chicken breasts and add to a cast iron skillet or other oven proof dish (ceramic or oven-proof glass dish).

But broccoli florets around chicken breasts making sure every floret touches the ground.

Put in the oven for 30-ish minutes (4.5min/oz).

Turn on broiler and broil until bacon is crispy and golden (3-5 minutes).

Carefully take out of the oven (skillet will be hot hot hot hot) and let rest for 8-10 minutes before serving and cutting into the breast.

Add creme fraiche and juice of half a lemon to juices in the skillet and use a small spoon or spatula to mix in well.

Sprinkle with freshly chopped parsley and lemon zest if desired.
Nutrition
Calories:
483
kcal
|
Carbohydrates:
7
g
|
Protein:
34
g
|
Fat:
35
g
|
Saturated Fat:
13
g
|
Trans Fat:
1
g
|
Cholesterol:
131
mg
|
Sodium:
607
mg
|
Potassium:
770
mg
|
Fiber:
2
g
|
Sugar:
2
g
|
Vitamin A:
527
IU
|
Vitamin C:
57
mg
|
Calcium:
69
mg
|
Iron:
1
mg
What's your clean eating vibe?
Take this fun QUIZZ and find out in 10 seconds!