YOU GUYS, there seems to be an important shift going on in my mouth. Am I starting to tolerate beets? For those of you who don't know me personally, I have a secret to lift: I HATE BEETS! I feel guilty for saying that out loud because beets are an incredibly nutritious vegetable and I feel kind of pressured into having to like them because I mean you are on a "healthy" food blog here, aren't you? The blogger behind this blog should love all things healthy and I DO love all things healthy except for this one extraordinarily healthy thing: beetroot. Why post a Watercress Salad with Basil Clementine Dressing that contains beets then, you ask?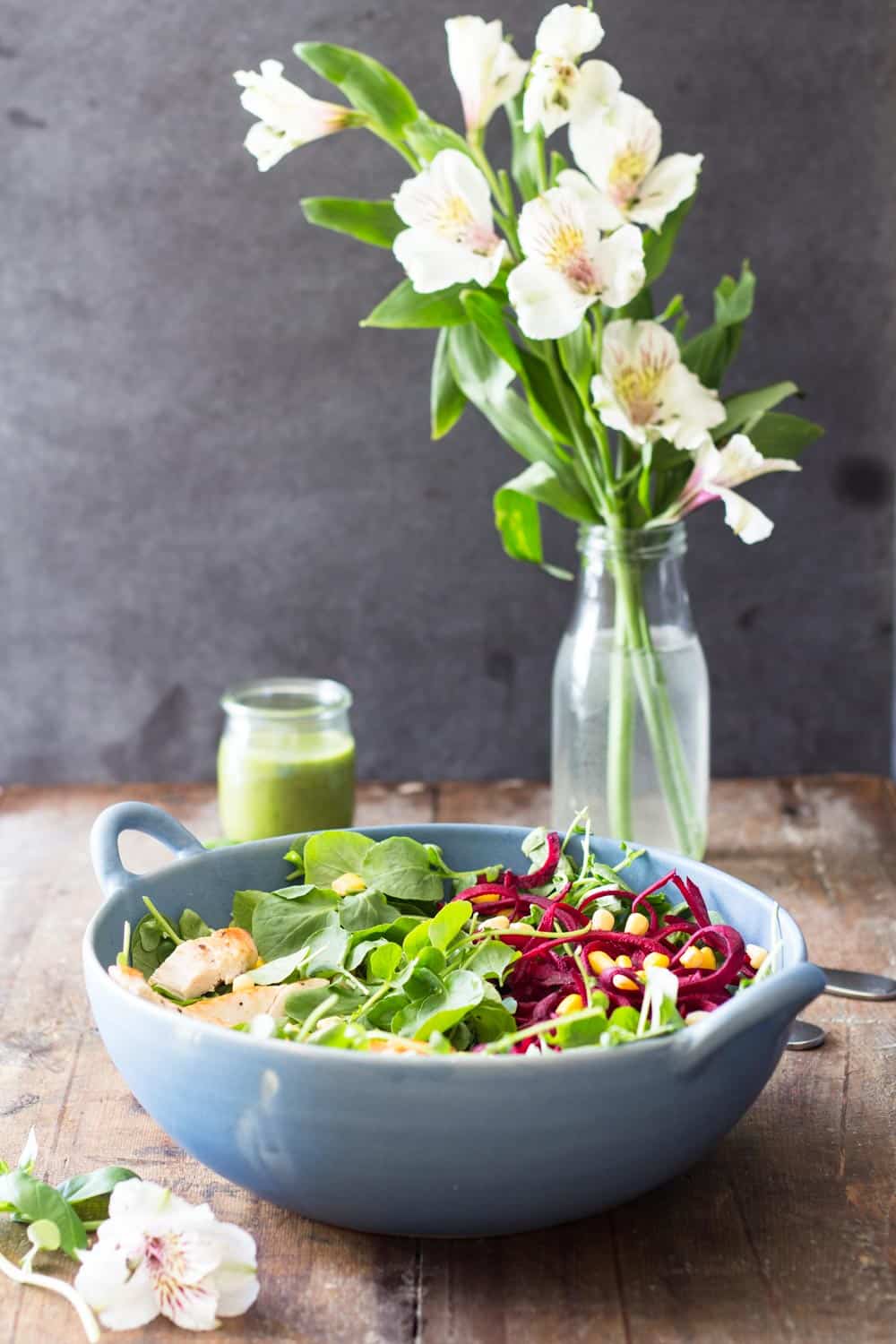 I'm not giving up on experimenting and hopefully one day liking beets ;) My mom used to say, there is nothing we don't like, there is only ways to prepare certain foods that we may dislike. Meaning, there is always a way to prepare a food that will make your taste buds happy and enjoy the food you "think" you don't like. I've tried a FAIR amount of recipes in the past 33 years!! And I haven't found one where I could at least tolerate beets, let alone like them. I do wonder though if my tongue is starting to get used to beets because I liked this salad. I mean, I had my kids and husband try it first to tell me if it's super good and great for the blog (I felt I was the most inappropriate person to evaluate that in this case) and they said it was absolutely delicious. Then I gave it a try, pretty much only to confirm that I still hate beets and that was the magical moment. I dug in, put a fork full of watercress, beets and a piece of chicken in my mouth and felt "joy"!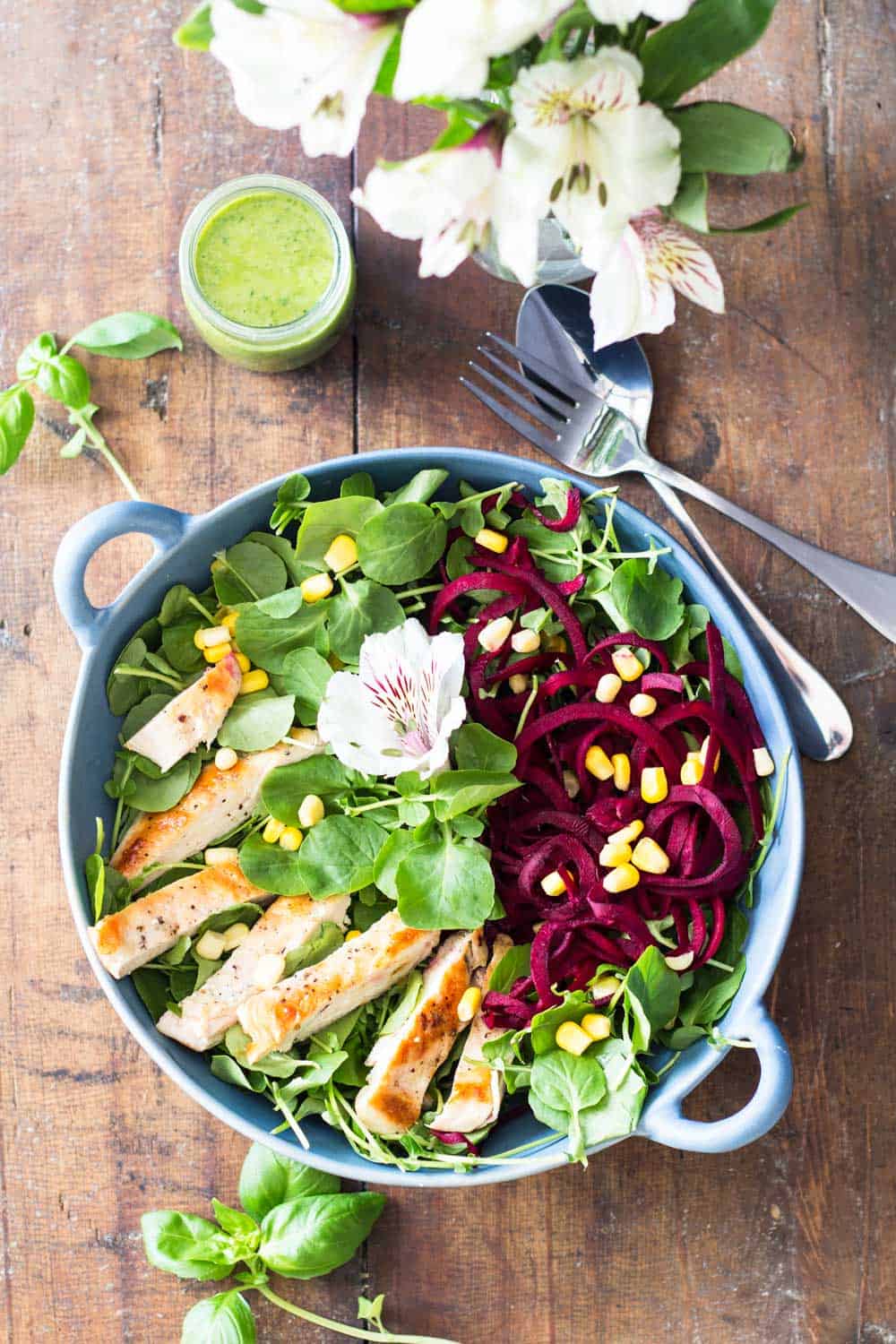 Is this really the revolutionary moment I will have discovered a way to not only tolerate but like beets? Imaginary fireworks appeared in front of my eyes, total happiness filled my heart. The secret has finally been lifted, the trick is to eat them RAW!!! Until only a few years ago I didn't even know they could be eaten raw. I thought they were like potatoes and had to be cooked. Just the thought of eating a gross vegetable even without cooking made me gag so I never really tried :S Now, the funny thing is, I thoroughly enjoyed this salad and after that I prepared a beet pesto (with cooked beets) as a guest post for another blog (stay tuned for that one coming out on Sunday) and…..wait for it….I liked that one, too!!! Is this a change in me? It would be an amazing change if it was true. I can still not really believe it and I don't trust all beets yet but I am hopeful at last….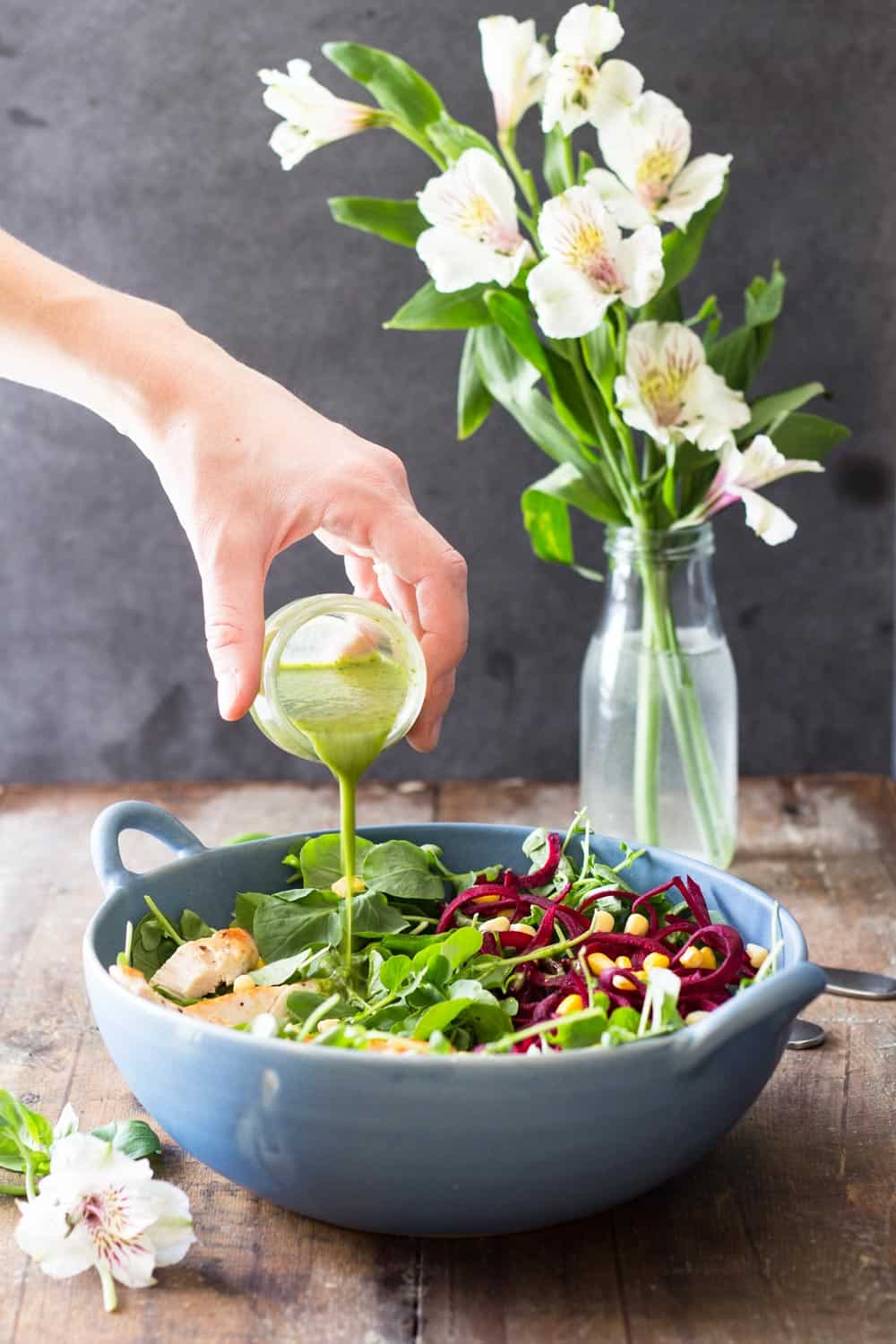 For now, I want to thank you Watercress Salad with Basil Clementine Dressing for your amazing powers to convert a beet hater into a beet lover for a couple of days at least. I couldn't be happier!!!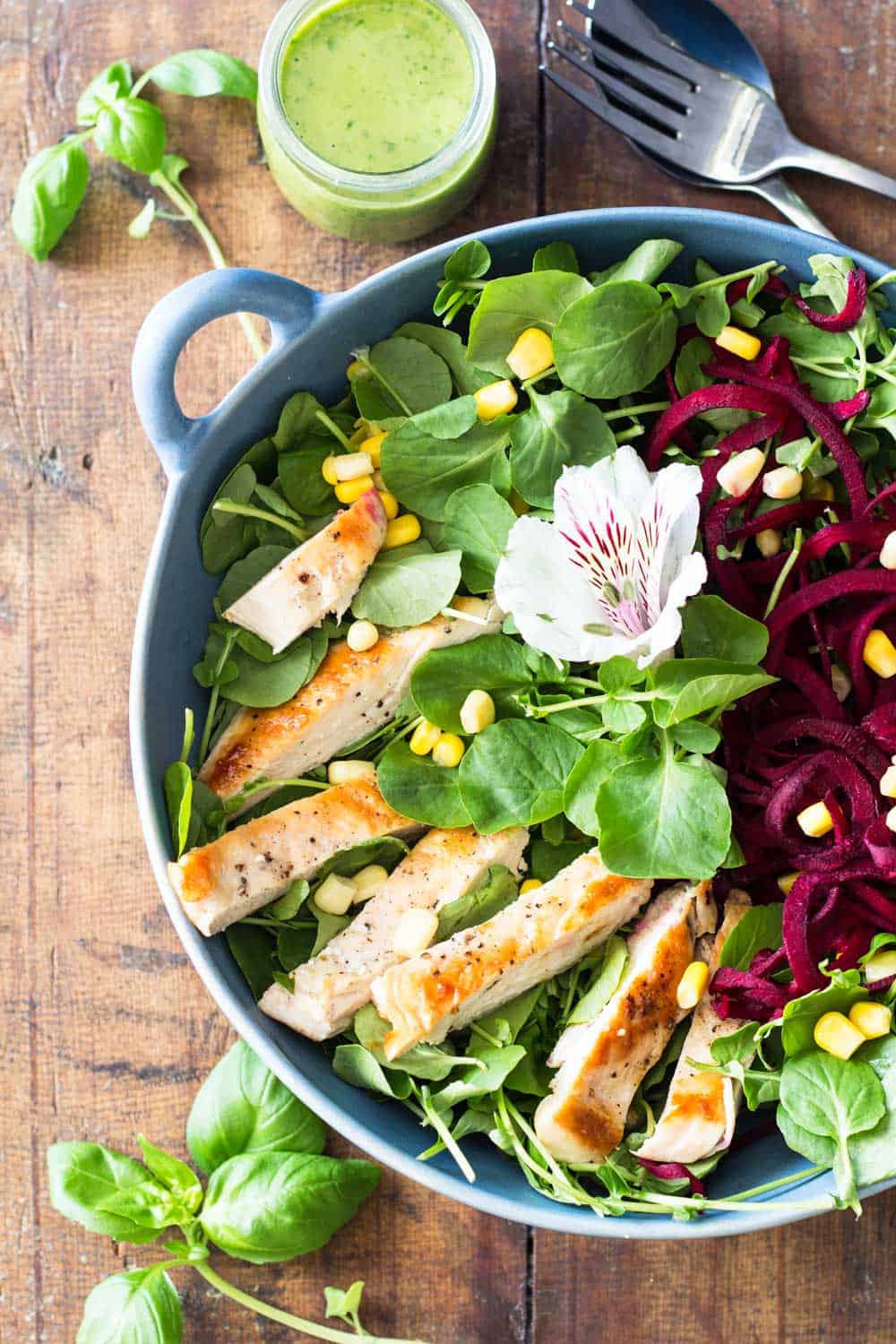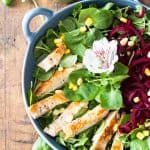 Watercress Salad with Basil Clementine Dressing
Print Recipe
Ingredients
4

oz

watercress

-

(113 g)

1

large

chicken breast

-

(10-ish oz/ 300-ish g)

1

large

beet

1/2

cup

cooked corn kernels

1

cup

basil

1

Tbsp

maple syrup

1

Tbsp

mustard

1

Tbsp

rice vinegar

3

Tbsp

clementine juice

-

(about 1 juicy clementine)
Instructions
Cook chicken breast in a pan until done (a great way to make perfect chicken breasts that I use and always works is

this

way)

Wash and spin-dry watercress.

Peel beet and spiralize or julienne or cut into very, very fine stripes.

Add watercress to salad bowl, top with spiralized beets, corn and chicken breast cut into stripes.

Add basil, maple syrup, mustard, rice vinegar and clementine juice to blender and blend until smooth.

Pour dressing over salad, seconds before serving.
What's your clean eating vibe?
Take this fun QUIZZ and find out in 10 seconds!