Today I'm sharing an unusual blog post with you. Accompanied by pretty photos but no recipe. I made my son an UNHEALTHY birthday cake (yes, all capitals and bold).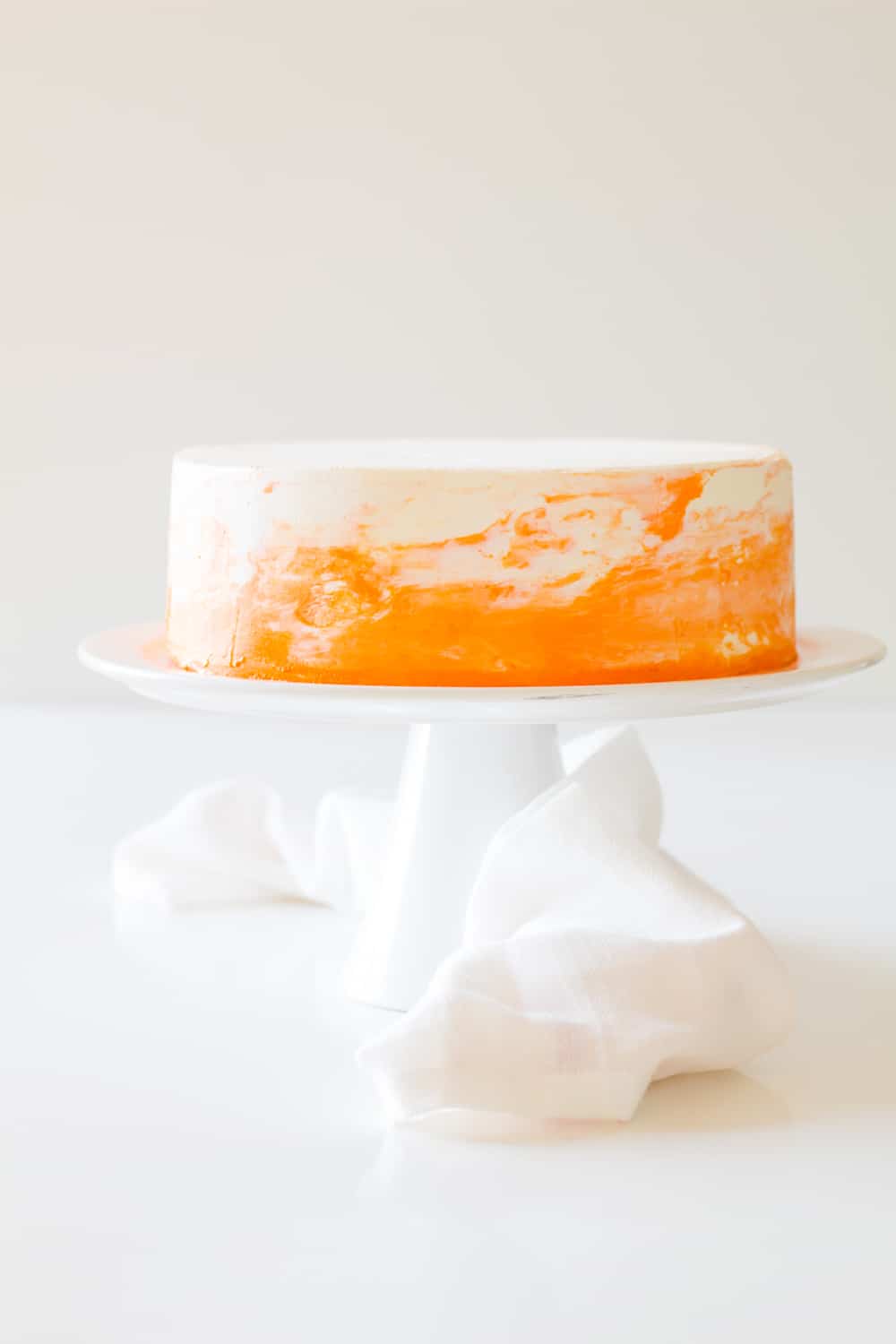 Last Friday it was my son's 6th Birthday and I really, really wanted to make the birthday cake of his dreams. He said he wanted a vanilla-flavored cake that's white and orange outside. At first I was thinking about experimenting to make him a healthy-ish cake with oranges but then I figured, my son doesn't even like cake. He probably won't even  want to eat much of it. It's all about the looks here. He is the most excited about blowing out the candles on top of a pretty cake. So I figured why not make a regular cake, an unhealthy birthday cake, which from the point of view of chemistry provides the best results to make it look pretty!
I mean, it's simply impossible to create a moldable buttercream frosting without sugar and butter. The two ingredients react to each other like no other. There is no replacement for it that works the same way. If you want an absolutely gorgeous buttercream frosting-like finish on a cake you have to use "buttercream". Coconut cream simply won't cut it. I've tried. Believe me!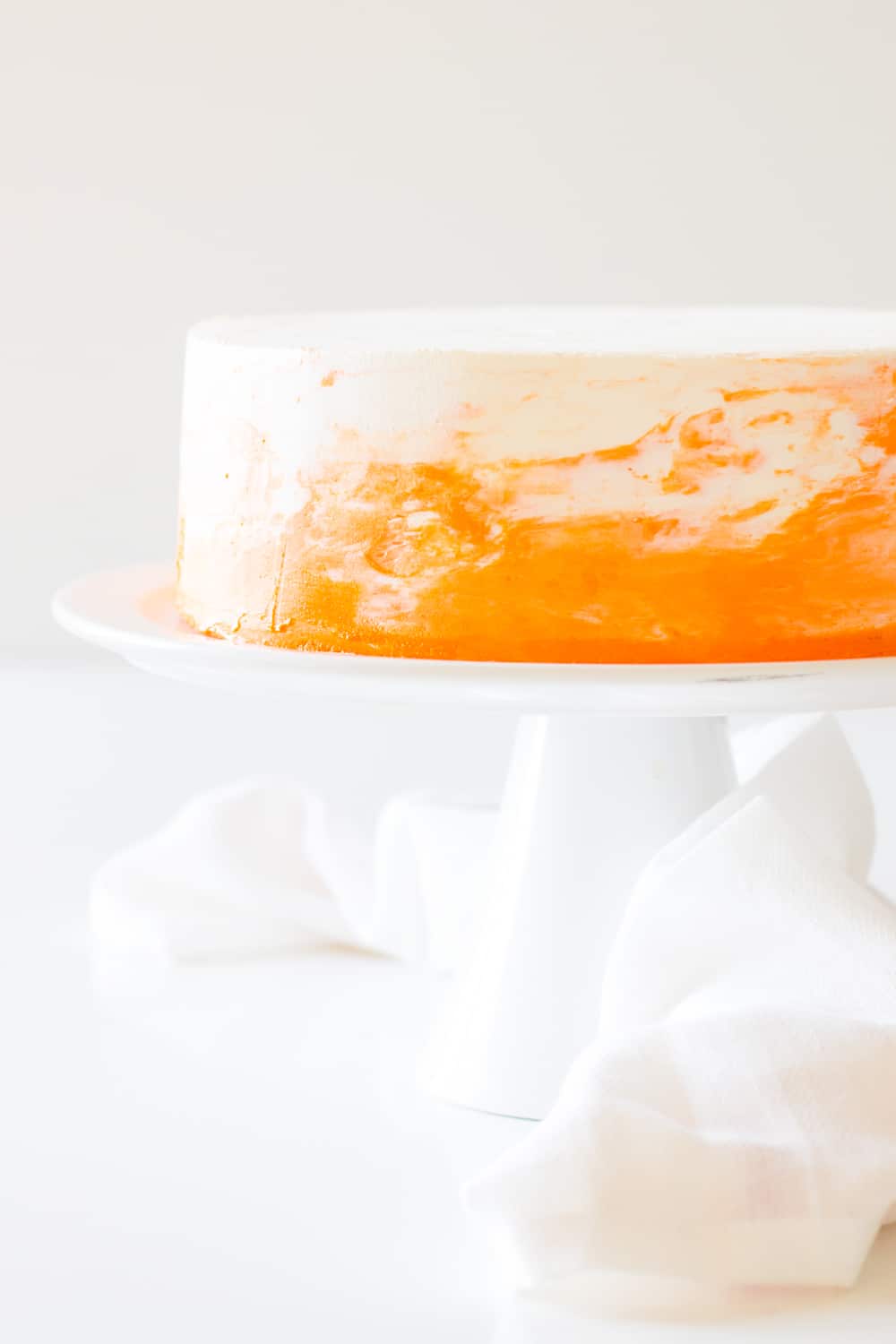 I searched the internet for the best vanilla sponge cake and followed instructions to the dot. Yes, I put all that sugar in there. Refined white sugar. And the taste was unreal. It was spongy and airy like it promises to be. I also followed the tips and tricks from Liv for Cake to achieve a flat top cake and you won't believe how flat they came out. I could have used a mechanic's level for cutting and it wouldn't have turned out as perfect.
Then I searched the internet for the best Swiss meringue buttercream so I could achieve the most amazing finish. This buttercream frosting is amazing to work with on a cake. It is moldable like no other I've worked with before. In addition, it is insanely delicious! Important note: I don't like frosting ever. All frostings grossed me out until I tried this one. I don't know if store-bought frostings are made with cheap ingredients or what but this homemade buttercream frosting was absolutely amazing.
Somewhere in between I stumbled on several different articles on how buttercream has to be colored with gel coloring or else it won't mix well or whatever. Anyway, I did go out and bought that gel food coloring to make sure it worked and it did. I separated about 1 cup of the buttercream and colored that cup to achieve that watercolor smear kind of side thingy on the cake. Can you tell I've got all that baking terminology down? I'm an expert now, ya know? Haha.
Aaaaanyway, I spent all of Friday evening preparing the vanilla sponge cake and buttercream to then crumbcoat (yes, that's a word) the cake. All so I could spend all of Saturday morning perfecting the finish. The buttercream has to be cold in order to get a smooth finish. In between all of the cake-making-process I finished preparing the regular party food which was healthy of course, I mean I'm still Madame Green Healthy Cooking, right?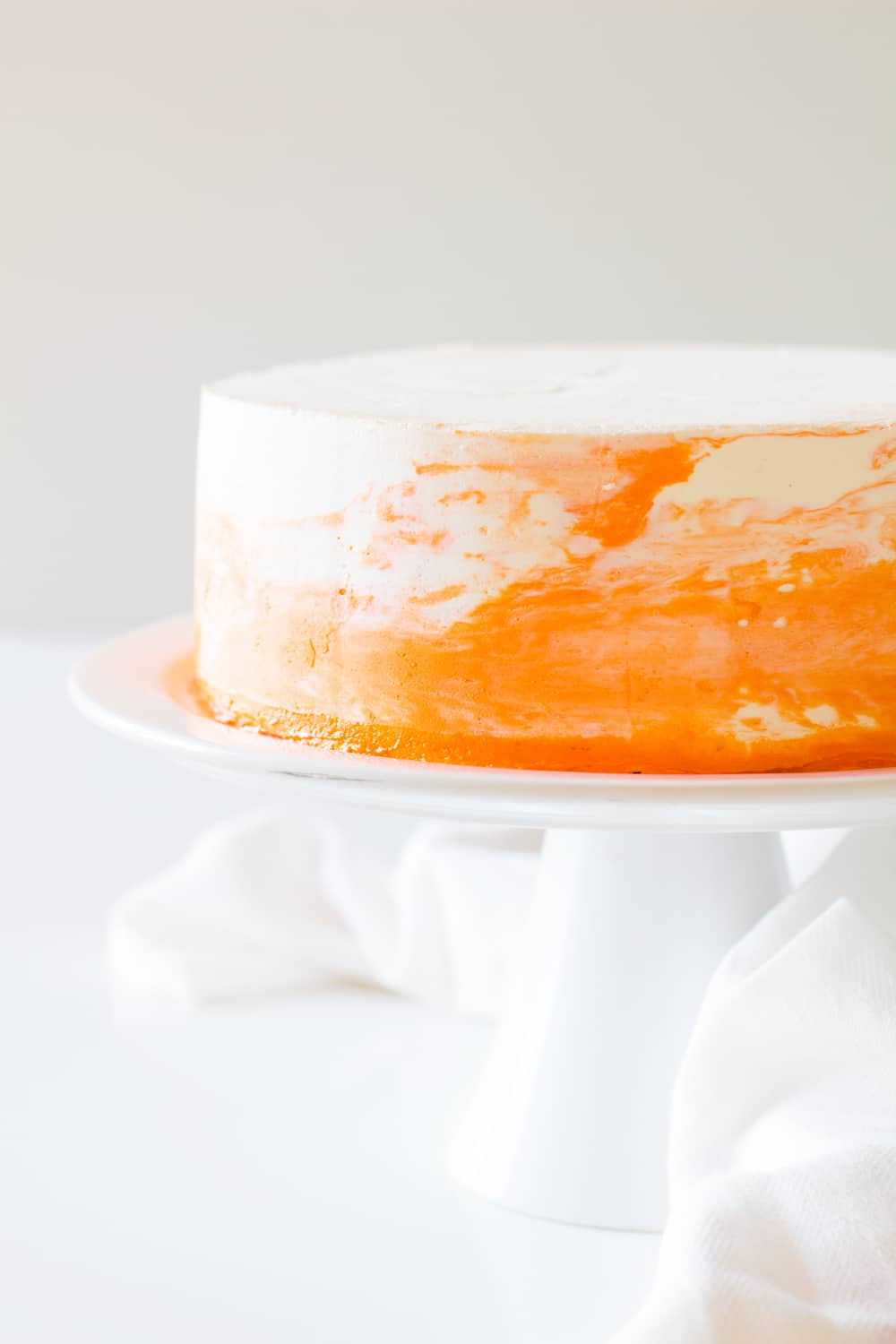 At 3 pm eight under 8-year-olds came over to celebrate my son. He had the time of his life! He was so so so happy. With his guests, with his gifts, with HIS CAKE! He had the biggest smile ever when I presented him his unhealthy birthday cake with 6 lit candles on top while everybody was singing happy Birthday just for him. He blew out the candles and off he ran. I asked him later if he wanted a piece of his cake and his answer: "no thank you mama, I'm not hungry." WHAT?!?! I mean, I know he doesn't like cake, but his OWN cake? The one he requested? Vanilla-flavored and white and orange on the outside? No, he didn't want a piece. He didn't even try it.
The cake still served its purpose. It was exactly what he wanted. It made him happy and the guests loved the taste. I mean, it really was absolutely delicious! How could't a cake with 20 pounds of butter and sugar taste out of this world? At least all ingredients were organic. That's better, right? Ha! We are back to eating exclusively healthy now and that was that. I often make exceptions with cakes because the results are just so much better. I do experiment with making day to day desserts healthy. With big birthday cakes I honestly can't be bothered. It's so rare that we eat unhealthy, I don't want to obsess.
Remember, it's good to eat healthy every meal, every day, but it's also important not to obsess about healthy eating. The mind can make you sicker than the food you eat and cheating every once in a while ….. simply isn't a big deal.
Happy Birthday my beautiful boy. I love you! I love you so much, I will make you an unhealthy birthday cake you won't even try for each and every one of your Birthdays, just, so you can blow out those candles you are so proudly counting on a "pretty cake" :)