Today I've got something so simple for you it feels weird to "write a recipe" for it but how else could I tell you all about it? If you are Mexican you know this beverage of course. You grew up with it and probably have drunk thousands of liters of it already. If you have nothing to do with Mexico you might never have heard of it though (like me before meeting that handsome tall Mexican guy that now happens to be my husband ;P ) If you've never heard about Agua de Jamaica, I can assure you you've missed out BIG TIME! This hibiscus ice tea is an absolutely delicious and refreshing drink and, if not loaded to the brim with refined sugar as the original unfortunately, can also be a healthy-ish drink.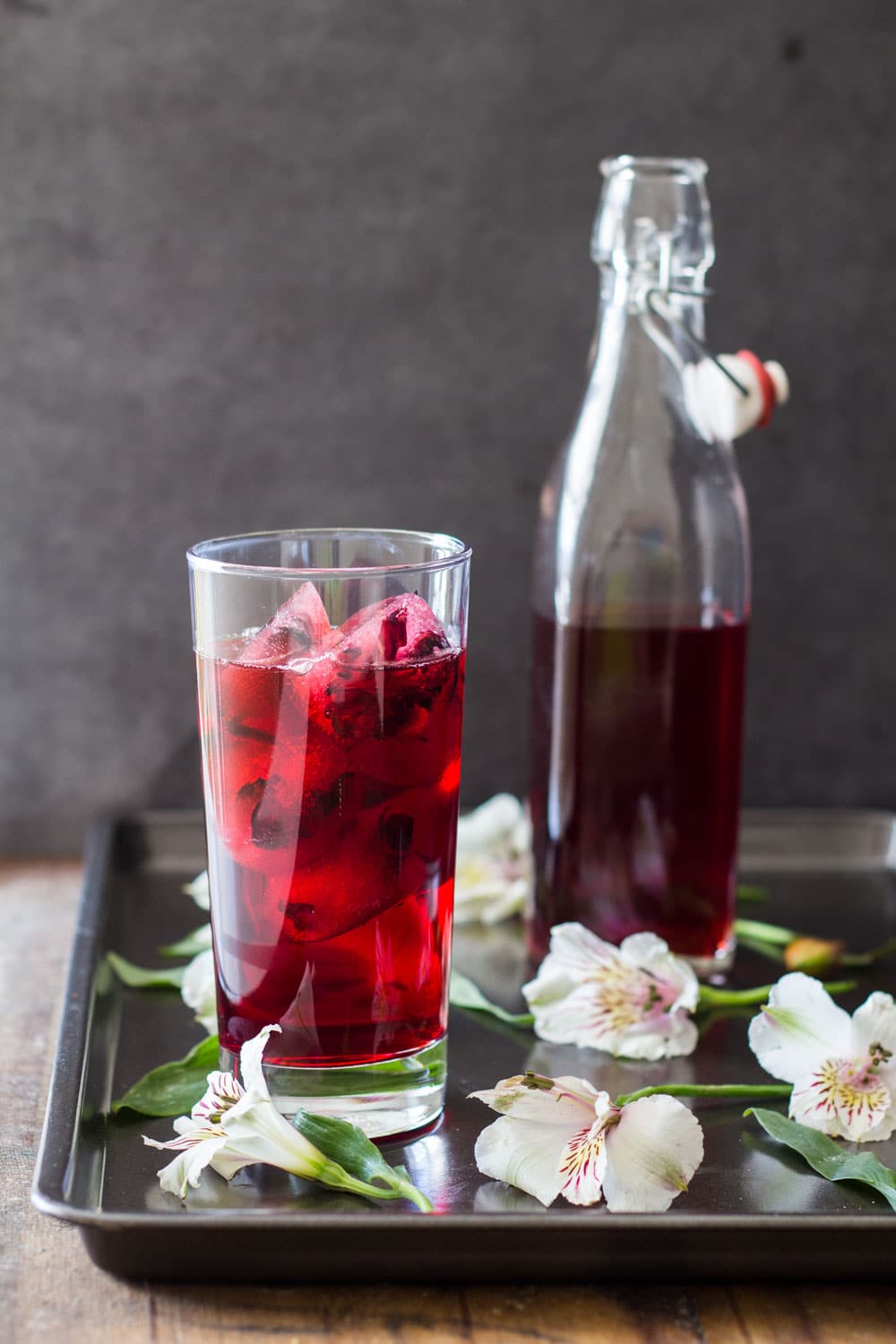 I've tried to "healthify" the original recipe by using unrefined sugar (turbinado sugar) and by reducing the amount to the absolute minimum needed to get rid of the flowers' tangy and bitter flavor while still imitating the deliciousness Mexican restaurants and street taco carts serve. I got it juuust right! Agua de Jamaica will be our go to treat drink for the summer which I can finally see coming you guys. It's right around the corner. I sense it, I KNOW it!
Let's get to our daily dose of weather talk because when in Rome do as the Romans do also applies to when in Montreal and London do as the Montrealers/Londoners do and spend hours upon hours talking about….the weather :D
The weather forecast says 14 C for Saturday and 20 (!) TWENTYYYY!!!! degrees Celsius (68F) for Sunday. I could not believe my eyes. Everybody on the street is smiling. Everybody is anticipating the amazing weekend. Everybody is talking about it. Please weather God, don't let us down now. Do your job and make us happy with beautifully sunny days to spend OUTSIDE at the park with some cool and refreshing Agua de Jamaica in our hands.
Agua de Jamaica
Ingredients
1/2

cup

dried hibiscus flowers

1

liter

water

(4 cups)

1/4

cup

turbinado sugar

ice cubes
Instructions
If you remember the night before, make some special flower ice cubes by placing one hibibiscus flour into each compartment of your ice cube tray, fill with water and let freeze overnight.

Bring water to the boil and once boiling remove from heat and add hibiscus flowers and turbinado sugar. Stir well to make sure the flowers get all wet and don't just sit on top of the water and the sugar dissolves.

Let sit for about 3-4 minutes, then strain or lift out the flours, pour into a glass bowl, container or bottle and let cool in the fridge for 15-20 minutes.

Pour into a glass filled with ice cubes.

Enjoy!
WHAT CAN BE PRESSURE COOKED WITH WHAT?
Get access to my FREE cheat sheet to help you mix and match ingredients + all of Green Healthy Cooking's new recipes directly into your inbox.