This post is sponsored by Natural Delights Medjool Dates.
Super easy, fun and healthy after-school snacks that your kids will love and will not ruin their dinner! Made with natural clean ingredients.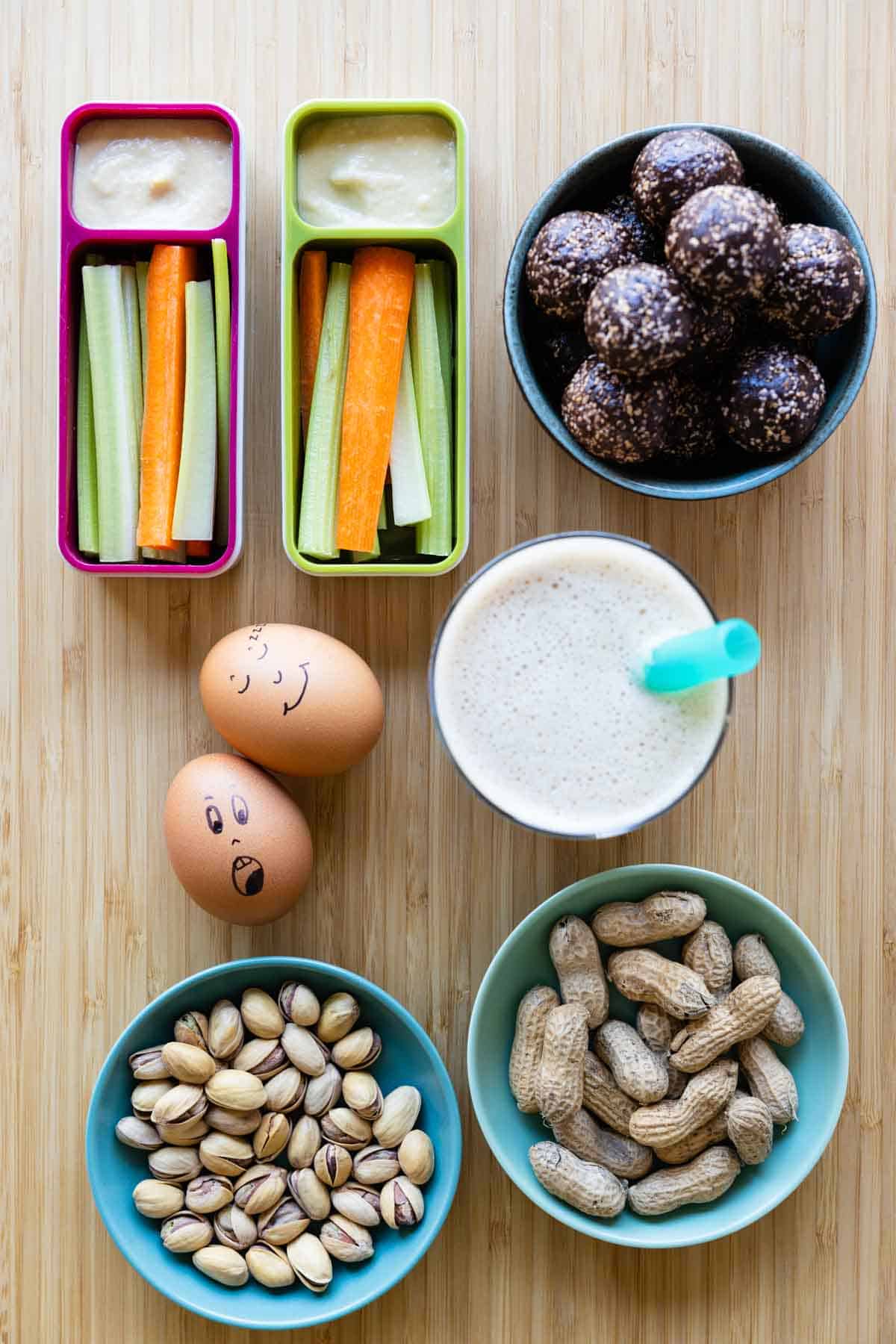 Hangry children are REAL, especially when they come home after a long day at school. We as moms have all been there at one time or another. Before throwing food at them and hiding, let me share with you a little secret that makes my after-school snacks so special and delicious.
Ready? Natural Delights Medjool Dates are the key ingredient I use to sweeten some of my favorite snacks in a healthy way. Medjool dates are actually fresh fruit, never dried, and they are available year-round in the produce section.
Natural Delights Medjool Dates are also nutrient-dense with 16 essential vitamins and minerals. Full of natural sugars and dietary fiber, Medjool dates will provide sustained energy to help you power through the day. How cool is that? That means happy kids until mealtime!
Now, let me share 5 of my kids' favorite after-school snacks.
Healthy Milkshake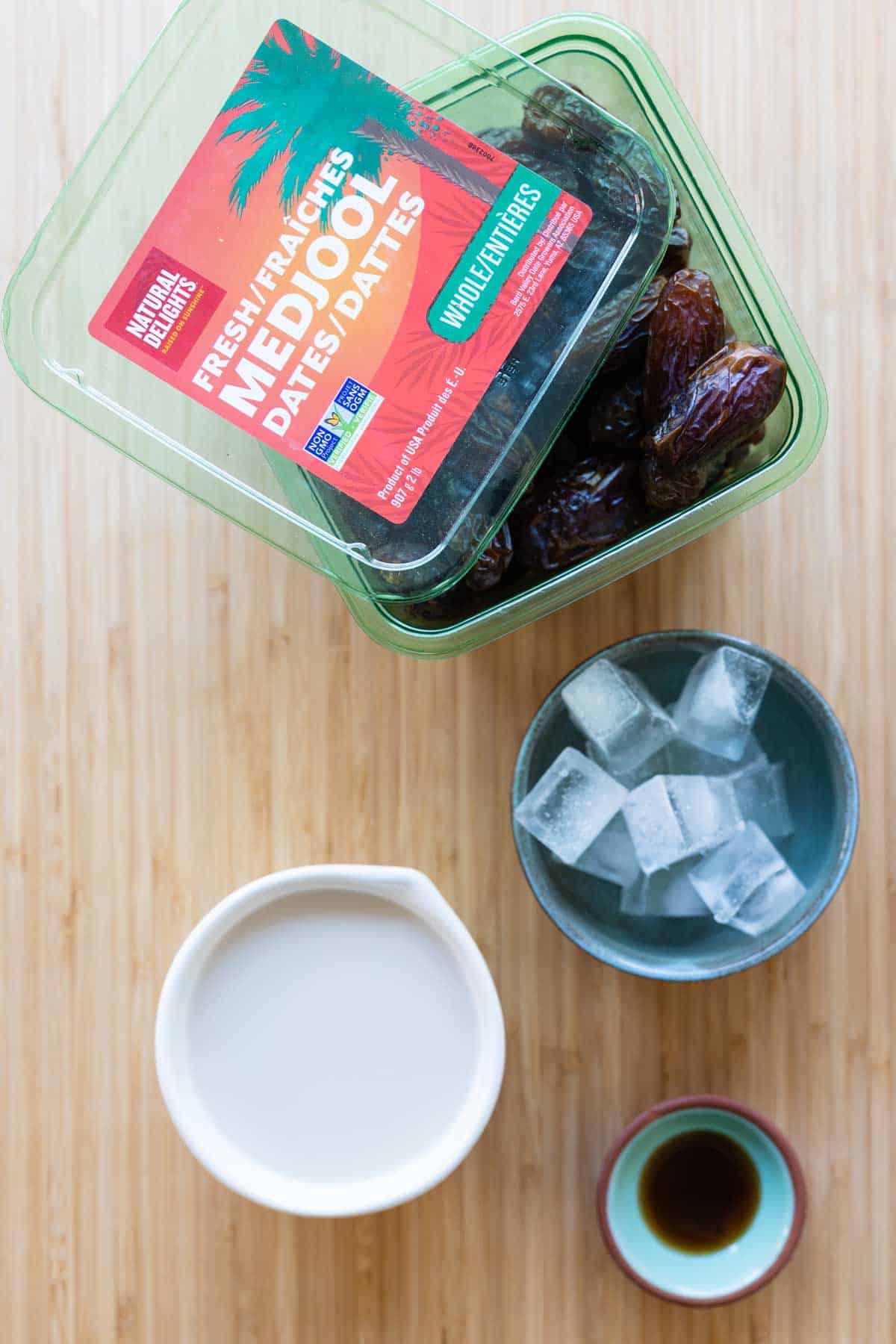 A mega-delicious and super special milkshake. A great after-school snack to sit down and chat with your little one about how their day went.
Simply pit 1-2 Medjool dates and add them to a blender. Then add a cup of ice cubes, a cup of your child's favorite milk (I used Macadamia milk here) and a splash of vanilla extract. Blend until super smooth.
Fun Fact: Medjool dates have 50% more potassium (by weight) than bananas! (USDA Nutrition Database).
Raw Veggies With Hummus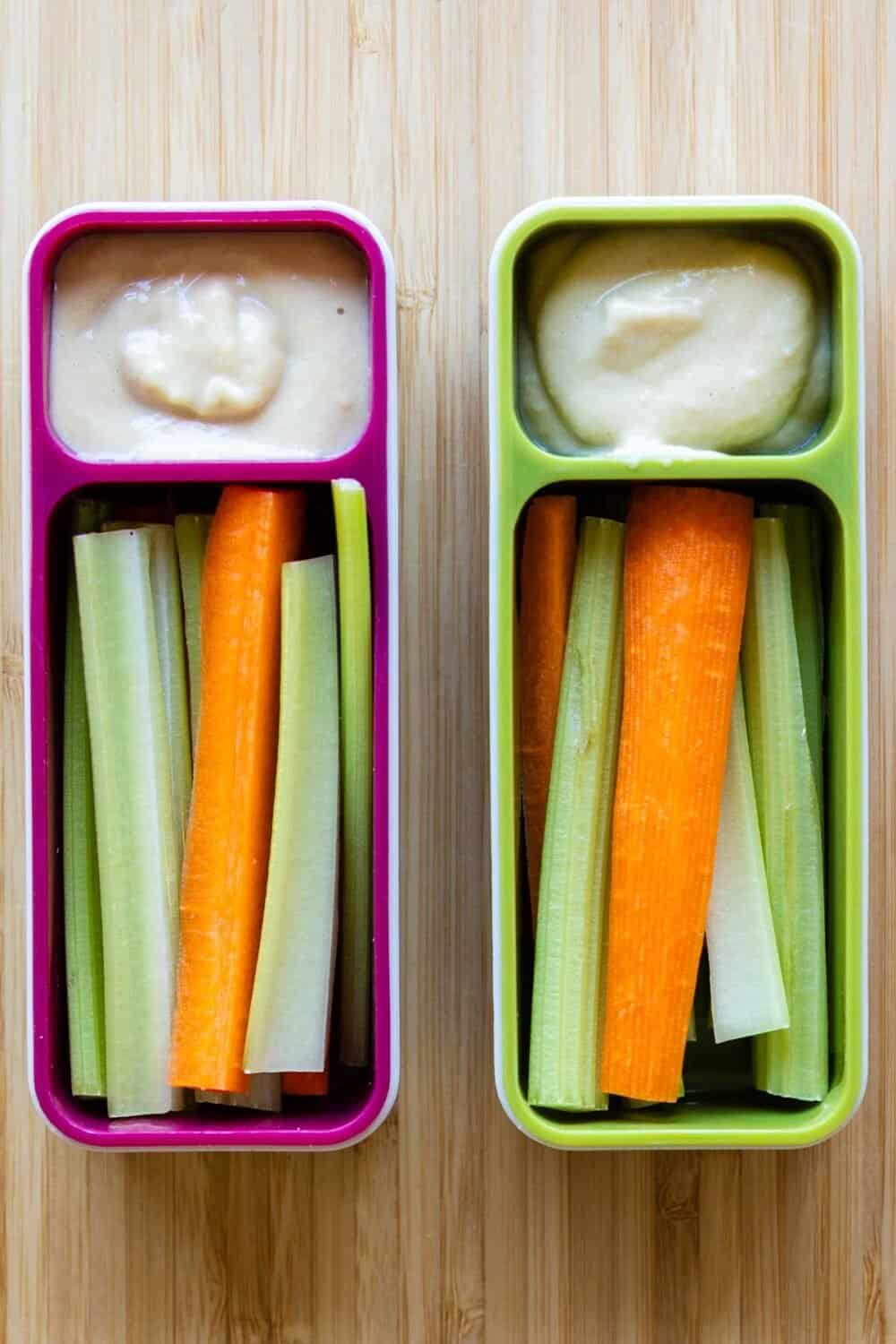 A great snack for a day packed with lots of school work is raw veggies, but sometimes they can be boring. Dipping veggies into something always makes it way more fun to eat. What better dip is there for raw veggies than hummus? Simply delicious!
Energy Balls
For days with sports activities, we need after-school snacks that will boost their energy pretty quickly. And for that, I love having ready-made energy balls in the fridge. They are delicious, easy and quick to eat. Kids get a nice burst of energy for lots of running and playing.
They are made in a few easy steps:
Get a tub of Natural Delights Medjool Dates and pick six big ones, make sure to remove the pits. Then add them to a food processor.
Add 1/2 cup of almond butter or peanut butter to the food processor, as well as 1/3 cup of almond flour and 1/4 cup of unsweetened cacao powder. Process all the ingredients until they are nice and sticky.
At this point add a puffed grain for some bite. My favorite is popped amaranth, but puffed quinoa works perfectly as well. Pulse a few more times to distribute well.
Remove the blades from the food processor. Then take about 1 Tbsp of the dough, press it in your hand a little and then roll it between your palms to form little balls.
You can store these energy balls in an airtight container in the fridge for up to a week. Careful though, they are addictive!
Hard-Boiled Eggs
A great snack when their school lunch missed some protein that day, is hard-boiled eggs. Yes, I know, most kids frown when they get handed a hard-boiled egg. But I'm going to show you a trick that works wonders! Simply draw a face on the egg and suddenly, hard-boiled eggs are super fun!
It's also fun to dip them into a little salt. Dipping makes everything better!
Nuts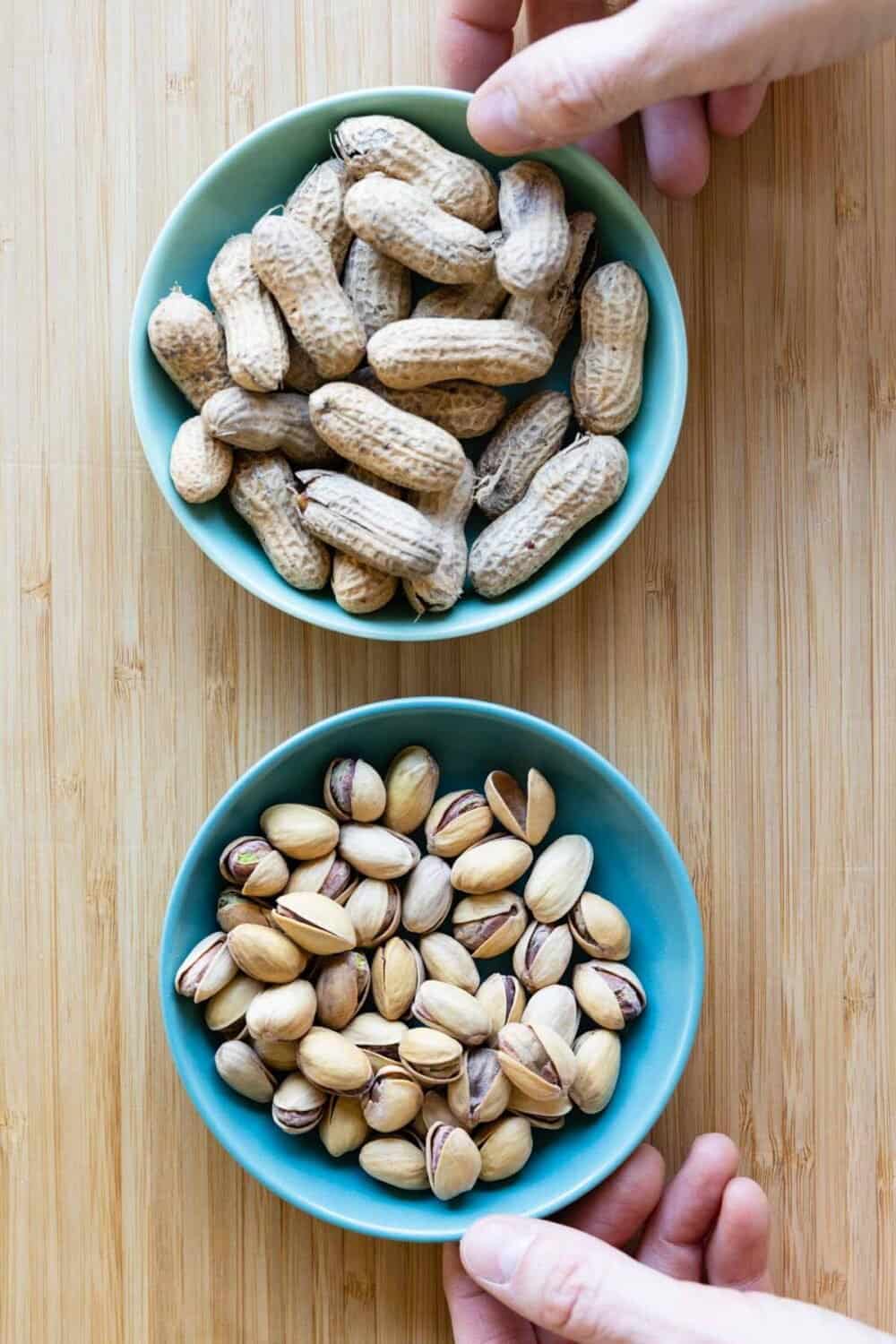 And lastly, the 5th after-school snack idea is nuts! Now, with nuts, I feel we have to be careful kids don't eat a bucket load of them because they are so delicious but also very very filling.
With nuts, there is a risk of ruining dinner, unless… they only get a handful of nuts still in their shell. Shelling them is not only fun but also time-consuming and tiring. That's a nice way to control the amount they eat. For older kids, I recommend pistachios, for younger kids peanuts, and for teenagers maybe even walnuts.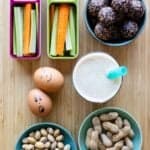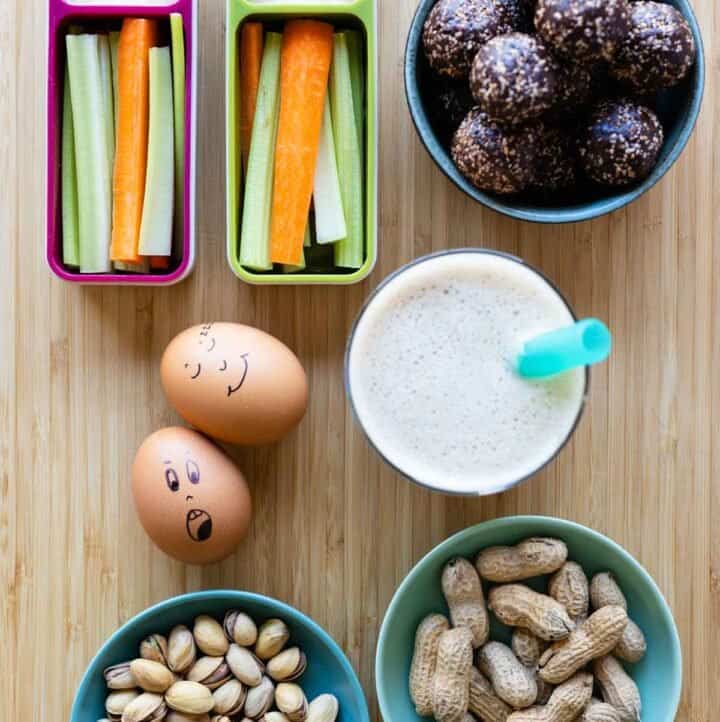 5 After-School Snacks
Super easy, fun and healthy after-school snacks that your kids will love and will not ruin their dinner! Made with natural clean ingredients.
Print Recipe
Pin Recipe
Ingredients
1/2

cup

unsweetened almond butter

-

or any other nut or seed butter

1/3

cup

almond flour

1/4

cup

unsweetened cacao powder

1/2

cup

puffed amaranth

-

or puffed quinoa
Instructions
Add pitted Medjool dates, almond butter, almond flour, and cacao powder to a food processor and process until well combined and sticky.

Add puffed grain and pulse a few times to distribute well.

Remove blades of the food processor and then take about 1 Tablespoon of dough into your hands, press, then roll in between your palms to form balls.

Store in an airtight container in the fridge.
Nutrition
Calories:
86
kcal
|
Carbohydrates:
10
g
|
Protein:
3
g
|
Fat:
5
g
|
Saturated Fat:
1
g
|
Polyunsaturated Fat:
1
g
|
Monounsaturated Fat:
2
g
|
Sodium:
1
mg
|
Potassium:
135
mg
|
Fiber:
2
g
|
Sugar:
6
g
|
Vitamin A:
12
IU
|
Calcium:
38
mg
|
Iron:
1
mg
What's your clean eating vibe?
Take this fun QUIZZ and find out in 10 seconds!