Deliciously tender whole roasted cauliflower topped with crème fraîche and melted cheese. Sprinkle some thyme on top and you end up with the most amazing low-carb side dish EVER!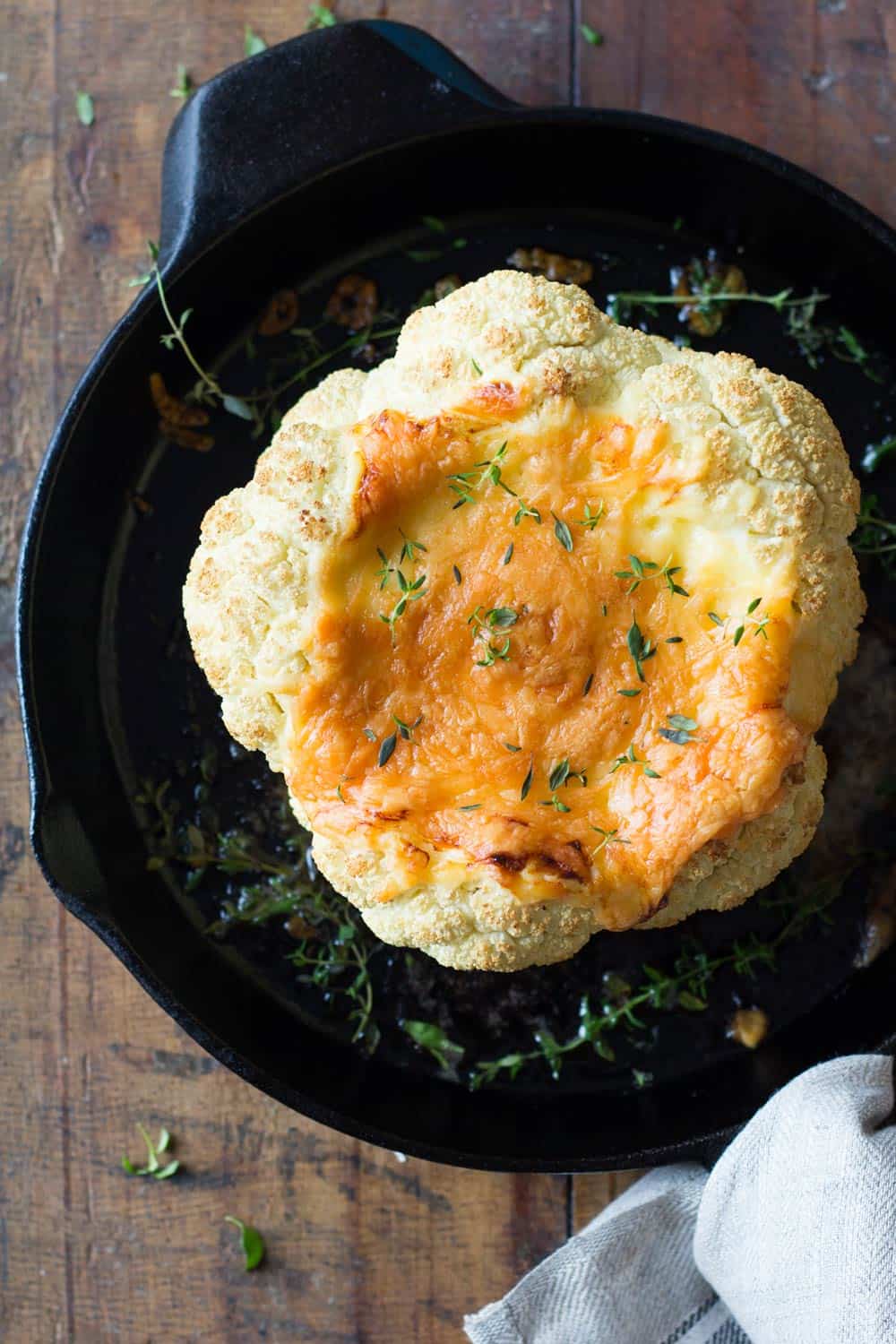 The Ingredients & Possible Substitutions
It's actually somewhat crazy that just a few simple ingredients make for the most amazing dish because they simply blend together wonderfully.
Cauliflower – even though it's obviously the main ingredient you can actually also use broccoli. You just have to cut off the stem and maybe use two because they are smaller.
Crème fraîche – I prefer crème fraîche over sour cream, however, both work of course. I do not recommend using yogurt as the water content of yogurt is too high and will just liquify completely.
Cheese – any type of cheese that melts works well. Parmesan gives a lot of taste but Parmesan alone doesn't melt that well. I recommend a mix of different cheeses and about 1/3 of it freshly grated Parmesan. I used a mix of Swiss, cheddar, and Parmesan.
Seasoning – I use salted butter to grease the cauliflower to prevent from burning and to season and I add nothing but black pepper to it. Since the Parmesan cheese has a salty tasty I feel like it's enough seasoning. However, the sky is the limit. You can add sweet paprika or some oregano to the butter and season the cauliflower more. You can also use olive oil instead of butter if you prefer.
Herbs – I love the combination of fresh thyme on this whole roasted cauliflower but any other herb works just fine of course. Sprinkle with chopped parsley or basil or even cilantro if you prefer. I don't recommend rosemary as it's overpowering.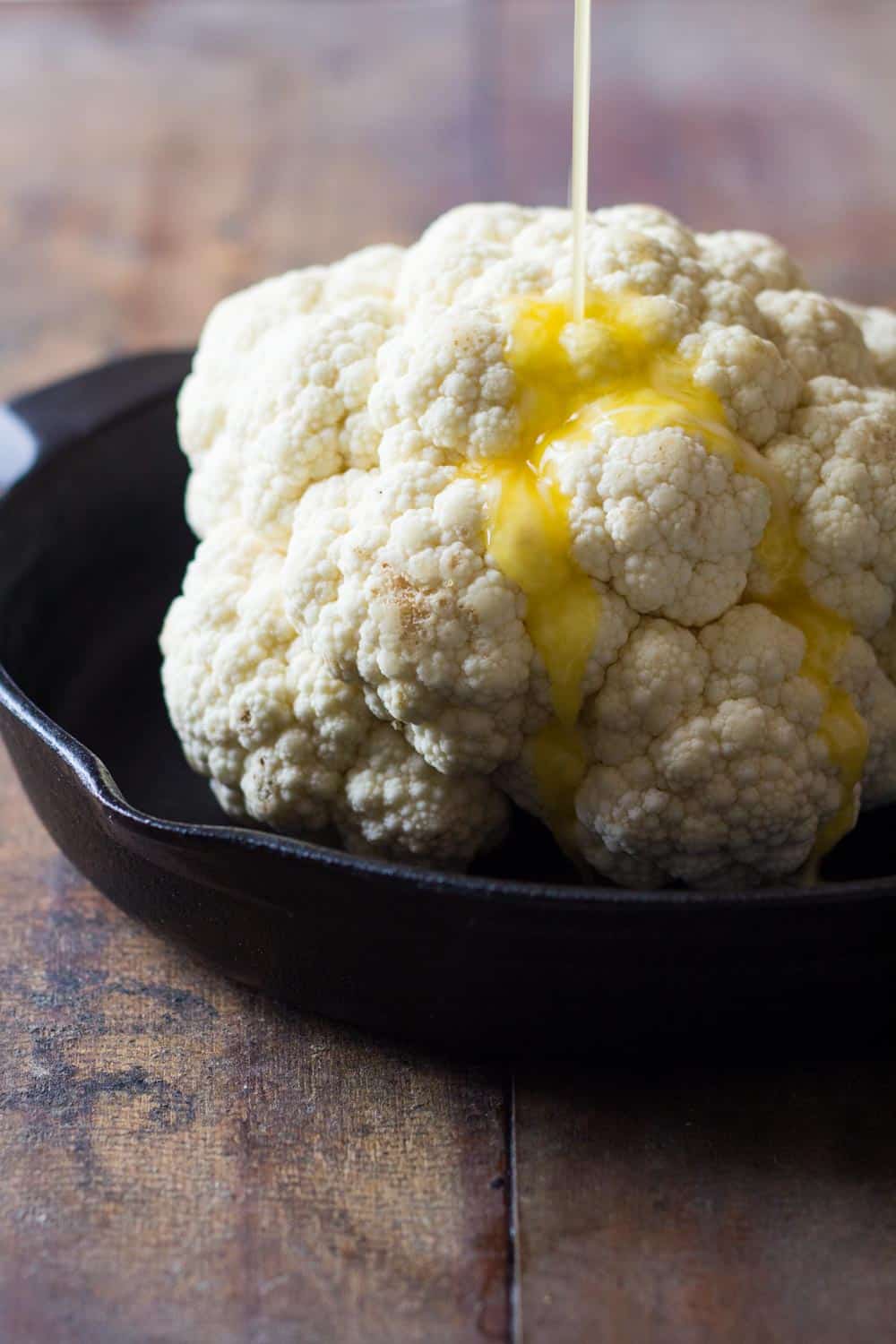 Special Tips To Make Whole Roasted Cauliflower
Blanch The Cauliflower Before Roasting
I've tested it both ways, roasting from raw and roasting from blanched and blanched you end up with a much softer stem and less burned florets.
My favorite way to blanch a whole cauliflower is to add it to the Instant Pot onto the trivet or steaming basket and pressure cook on high for ZERO minutes. What I mean by this is set it to 0 minutes, let come to pressure, then immediately as soon as it came to pressure manually release pressure and remove. No ice bath necessary.
Alternatively, add it to a large pot full of boiling water and submerge completely and cook for 5 minutes. Then remove from the pot and let drain for a few minutes.
Butter Or Oil The Cauliflower
With a whole roasted cauliflower instead of roasting individual florets, you risk the florets drying out because it simply takes longer to roast. You can avoid this by making sure every nook and cranny is well oiled or buttered.
Use your hands to work in the butter. Do not omit this step. If you want to reduce the fat content of the recipe, use less cheese but don't reduce the amount of butter.
Roast The Cauliflower Stem Side Up
The cauliflower stays juicier if you roast it stem side up instead of florets up. And the cavity is the perfect bowl for your crème fraîche and cheese.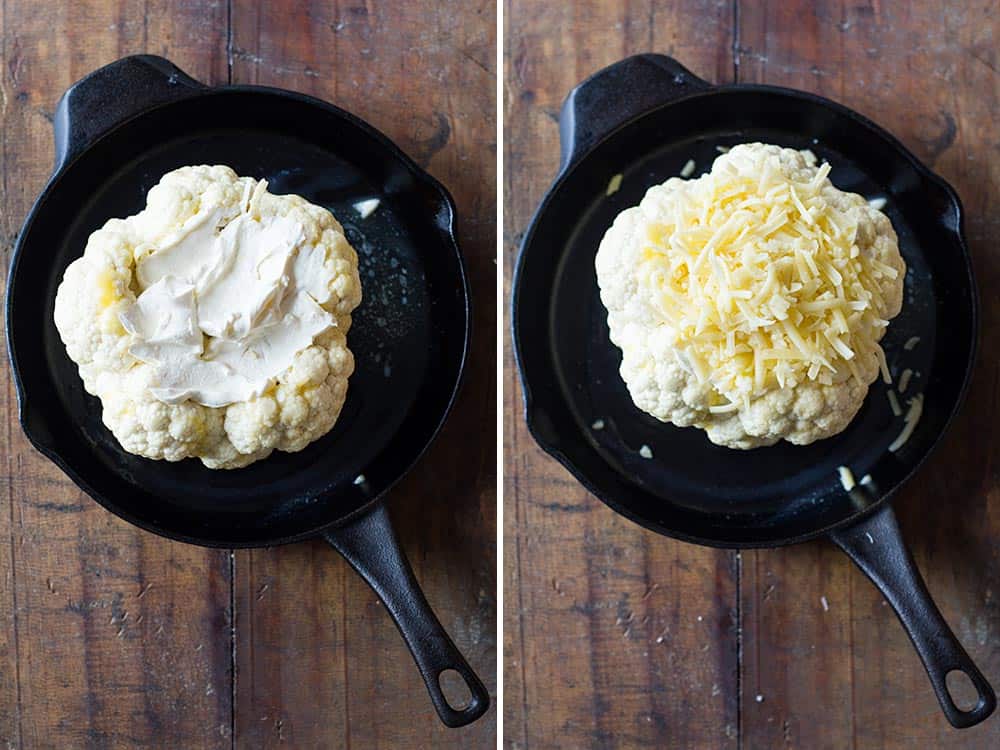 Frequently Asked Questions
Can this whole roasted cauliflower be made ahead of time?
You can blanch it ahead of time and then store it in the refrigerator for a day before roasting. I don't recommend preparing it all the way to the last step because to reheat it takes quite a while and you risk it burning in the oven. Also, melted cheese that has cooled down completely and stored in the refrigerator becomes somewhat "gummy" and doesn't remelt as nicely.
If you are looking for a complete prep-ahead side dish I recommend these bacon-wrapped green beans instead. They can be prepared a day ahead all the way to the end and are easy to reheat.
How do I store leftovers?
Simply store in an air-tight container in the refrigerator for up to 4 days. To reheat simply place in the microwave or add to a pan.
I do not recommend freezing.
How do I cut into a whole roasted cauliflower?
Be careful as it will be very hot, use a knife and fork and cut into it as you would into a cake and serve "slices" of roasted cauliflower.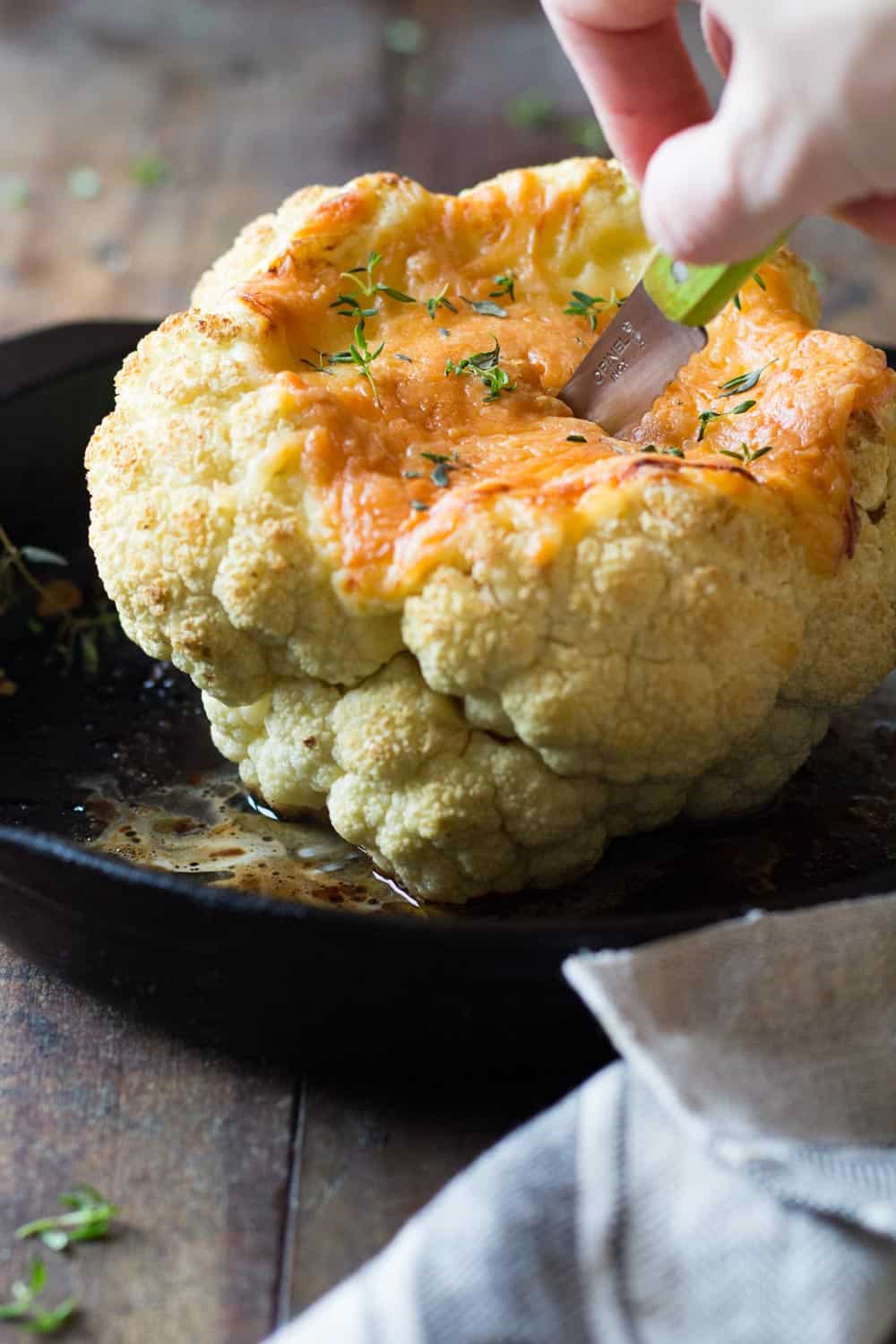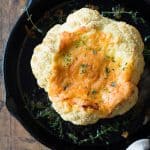 Whole Roasted Cauliflower with Cheese
Deliciously tender whole roasted cauliflower topped with crème fraîche and melted cheese. Sprinkle some thyme on top and you end up with the most amazing low-carb side dish EVER!
Print Recipe
Pin Recipe
Ingredients
1

head

cauliflower

1/4

cup

salted butter, melted

1/4

cup

creme fraiche

1

cup

grated cheese

-

(I used 1/3 Swiss, 1/3 old Cheddar, 1/3 Parmesan)

fresh thyme
Instructions
Preheat oven to 400 F (200C).

Cut off leaves and big part of the stem leaving the cauliflower as a whole.

Wash cauliflower under running cold water and shake out well.

Blanch the cauliflower by either adding 4-5 minutes to a large pot full of boiling water or easier, add to the steamer basket of the Instant Pot on top of a trivet with a cup of water and set to 0 minutes on high pressure, then release the pressure manually. No ice bath needed. This reduces the roasting time in half and ensures the stem is soft after roasting without the florets burning.

Put stem side down in an oven proof dish and pour melted butter over it. Use your hands to distribute in every nook and cranny of the cauliflower.

Turn the cauliflower stem side up, add crème fraîche to the center, season with some sea salt if desired, and then press in the cheese tightly.

Place in the oven and bake for 30 minutes or until tender (or 60 minutes if you didn't blanch the cauliflower). You can test the doneness by sticking in a knife all the way to the stem. Don't cut the cauliflower, just stick in the knife. If it runs in easily the cauliflower is ready. If it doesn't slide in, add another 10 minutes to the roasting time.

Top with fresh thyme and cut into it like you would in a cake to serve pieces of it. Drizzle with pan juices.
Nutrition
Calories:
186
kcal
|
Carbohydrates:
5
g
|
Protein:
7
g
|
Fat:
16
g
|
Saturated Fat:
10
g
|
Cholesterol:
45
mg
|
Sodium:
221
mg
|
Potassium:
319
mg
|
Fiber:
2
g
|
Sugar:
2
g
|
Vitamin A:
485
IU
|
Vitamin C:
46
mg
|
Calcium:
170
mg
|
Iron:
1
mg
What's your clean eating vibe?
Take this fun QUIZZ and find out in 10 seconds!