Let the popsicle season begin….
Ever since moving to Montreal I've learned to be thankful for every hot ray of sun and every single warm breeze hitting my face. The one thing I love the most about living in Eastern Canada is that due to it's harsh winters, Spring becomes a magical season that transforms not only the land but also its people. You see children, moms, dads, business people in their suits, teenagers in fashionable clothes, old grandmas and grandpas, puppies and old dogs on the street again, happily smiling and ready to socialize after long months of hibernation.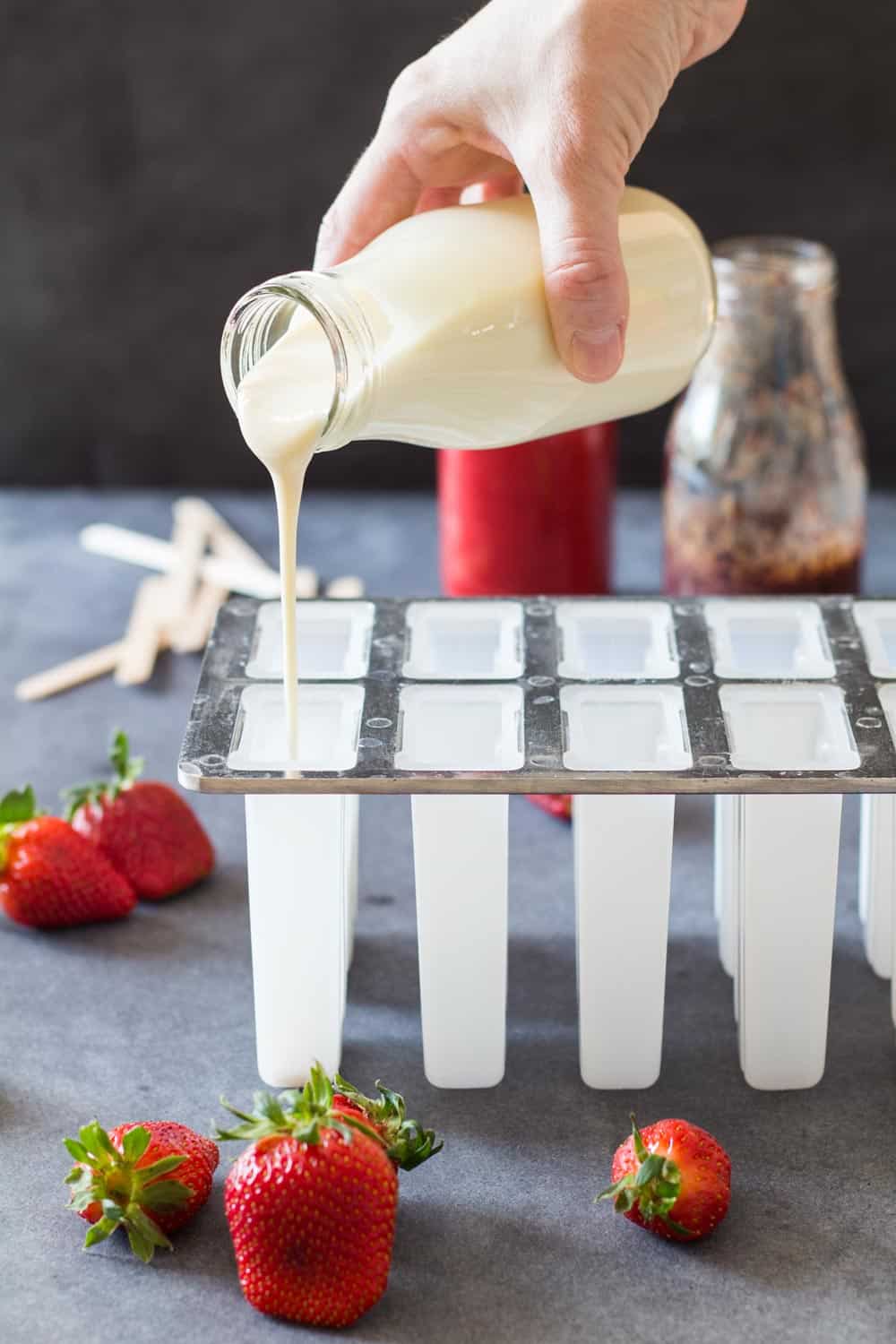 Ohh, and wait, you know what else is best about Spring in Canada? It's maple syrup season!!! Canada produces 85% of the world's maple syrup and over 90% of those are produced in Quebec. I am in mapely wonderland and I enjoy every drop of it. There are only very few
dessert recipes
of mine that call for a different sweetener because I really truly haven't found one yet fit to hold a candle to maple syrup. Real maple syrup rocks our world and makes these Greek Yogurt Berry Popsicles healthy and the very best you will have tried in your life. Popsicles are pretty awesome in themselves, but sweetened with maple syrup become absolutely addictive.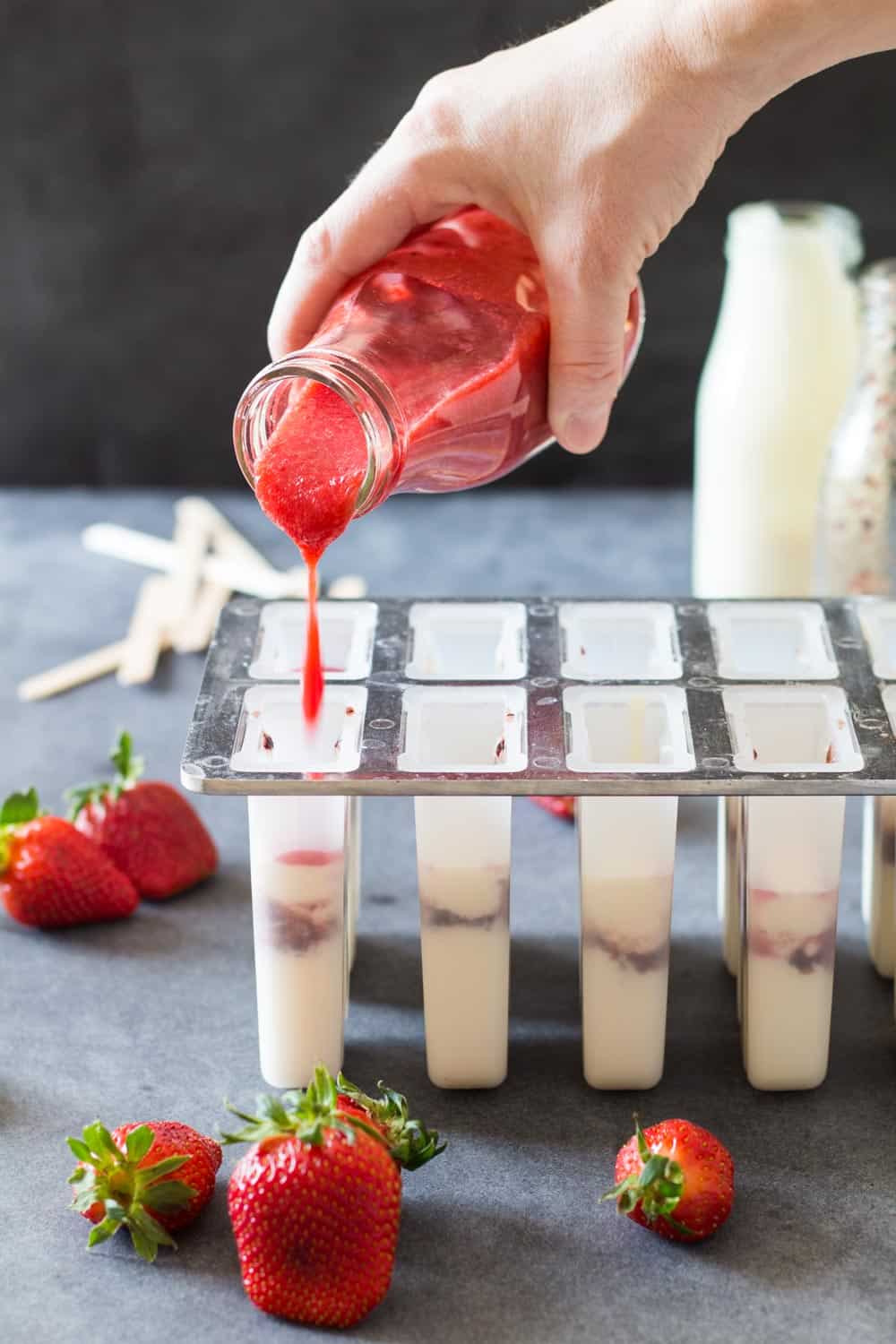 A few tips to get the pospsicles out of their mold in great shape:
I've been experimenting with popsicles a lot lately and apparently dairy and sweeteners other than refined sugar make the popsicle not hold its shape as well and at first I though that was true because I kept pulling out stick after stick…withOUT the popsicle attached to it…or, I had to put them in hot water and pulled out the whole popsicle on it's stick but had a totally mushy outer layer and had to eat them in like 10 seconds before they started running down my hand. Imagine the mess with the kids. Ahhhh! So here are a few tips to get perfectly shaped popsicles ON a stick and melting at regular pace even when made with dairy and withOUT refined sugar.
Stick the stick in quite far. Half way won't be enough. Only let about an inch of stick out of the mold.
Let the popsicle freeze over night to make sure they are completely deep deep deep frozen.
Fill your sink or a flat square big enough container with luke warm (not hot!) water to exactly 95% of the hight of your molds. Not more because the water will run into the popsicles and water them up.
Submerge the mold up to almost the brim into the water, count loudly to twenty and immediately remove from the water.
Press and squeeze the bottom of one mold and THEN gently pull on the stick. If it doesn't come out easily press and squeeze some more at the bottom.
Once the popsicle is out, let it slide back into its mold right away without pressing (it might stick out a bit, that's ok) and leave it like that. Continue pulling out the others and letting them slide into the mold as well until finished with all.
Put the pulled out but placed back in their mold popsicles in the freezer again for at least 30 minutes.
Now easily pull out the popsicles as wanted and enjoy!!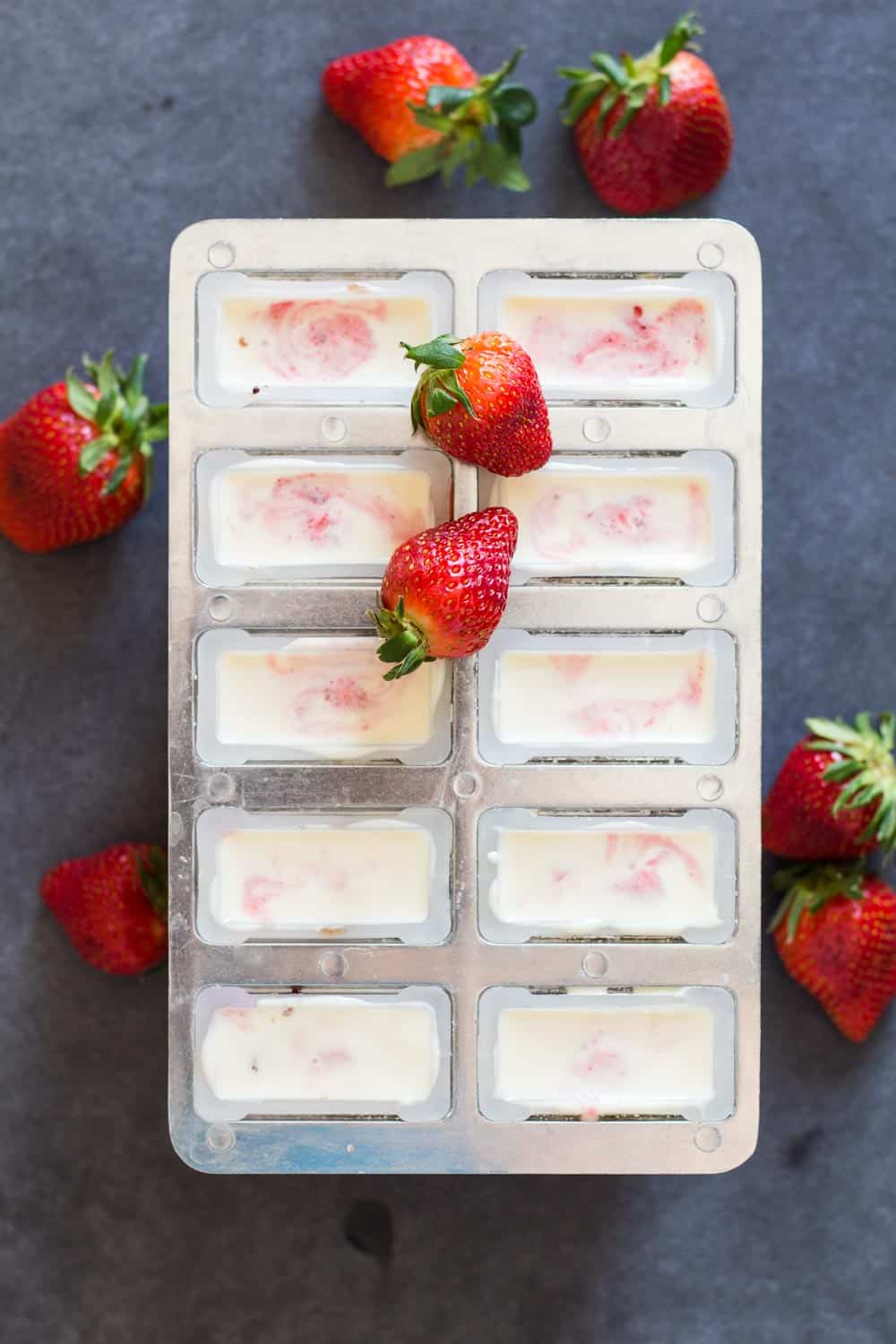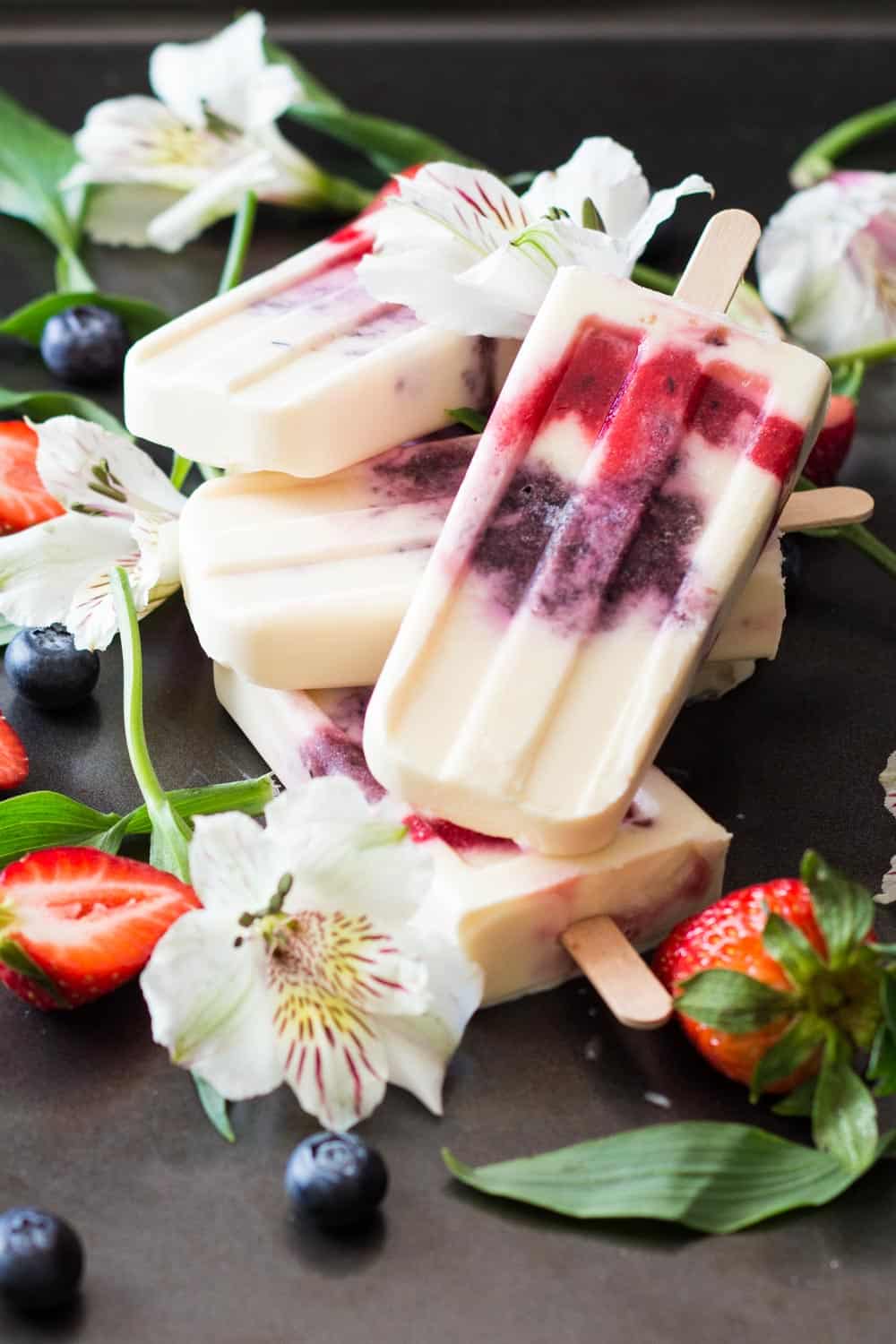 Now let's get to the Greek Yogurt Berry Popsicles recipe: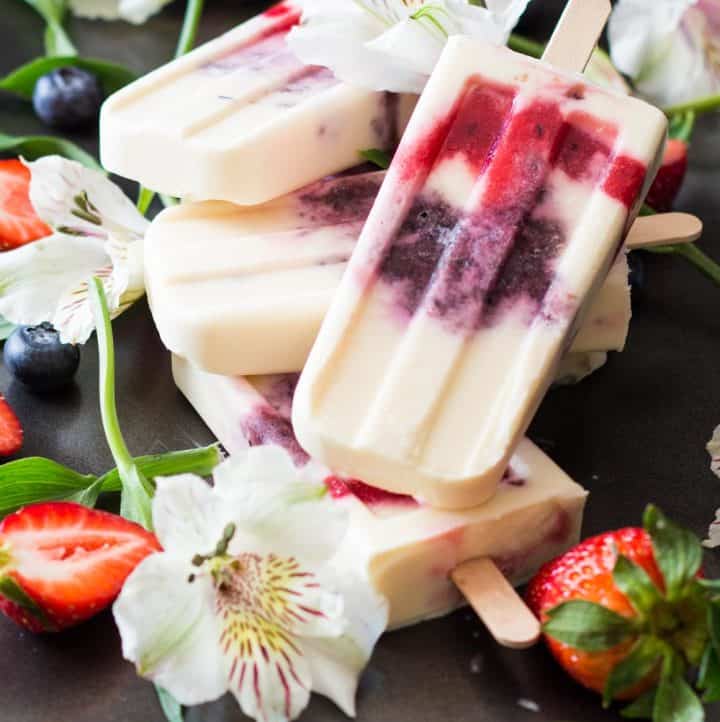 Greek Yogurt Berry Popsicles
Print Recipe
Ingredients
500

g

full fat greek yogurt

1/2

cup

real maple syrup

300

g

very ripe strawberries

150

g

blueberries
Instructions
Hull the strawberries, through in the blender and blend until very smooth, pour into a container with a spout.

Blend blueberries very very well until smooth, pour into a container with a spout.

In a small bowl whisk together greek yogurt and maple syrup until well combined and smooth.

Now, you can either pour the fruit sauce into the yogurt, whisk and then pour into the molds OR you can pour the yogurt and fruit sauces into the molds in layers as seen on the photos to create a pattern. I poured the ingredients in layers and then took the stick and gently stirred a little to mix it up.

Freeze for at least 4 hours, better over night.
What's your clean eating vibe?
Take this fun QUIZZ and find out in 10 seconds!