A colorful and refreshing Lemon Orzo Salad perfect for barbecues and potlucks. Flavorful herbs and lemon, crunchy veggies, and soft and delicious orzo pasta all in one bowl. Definitely, a recipe to add to your favorite healthy salad recipes collection.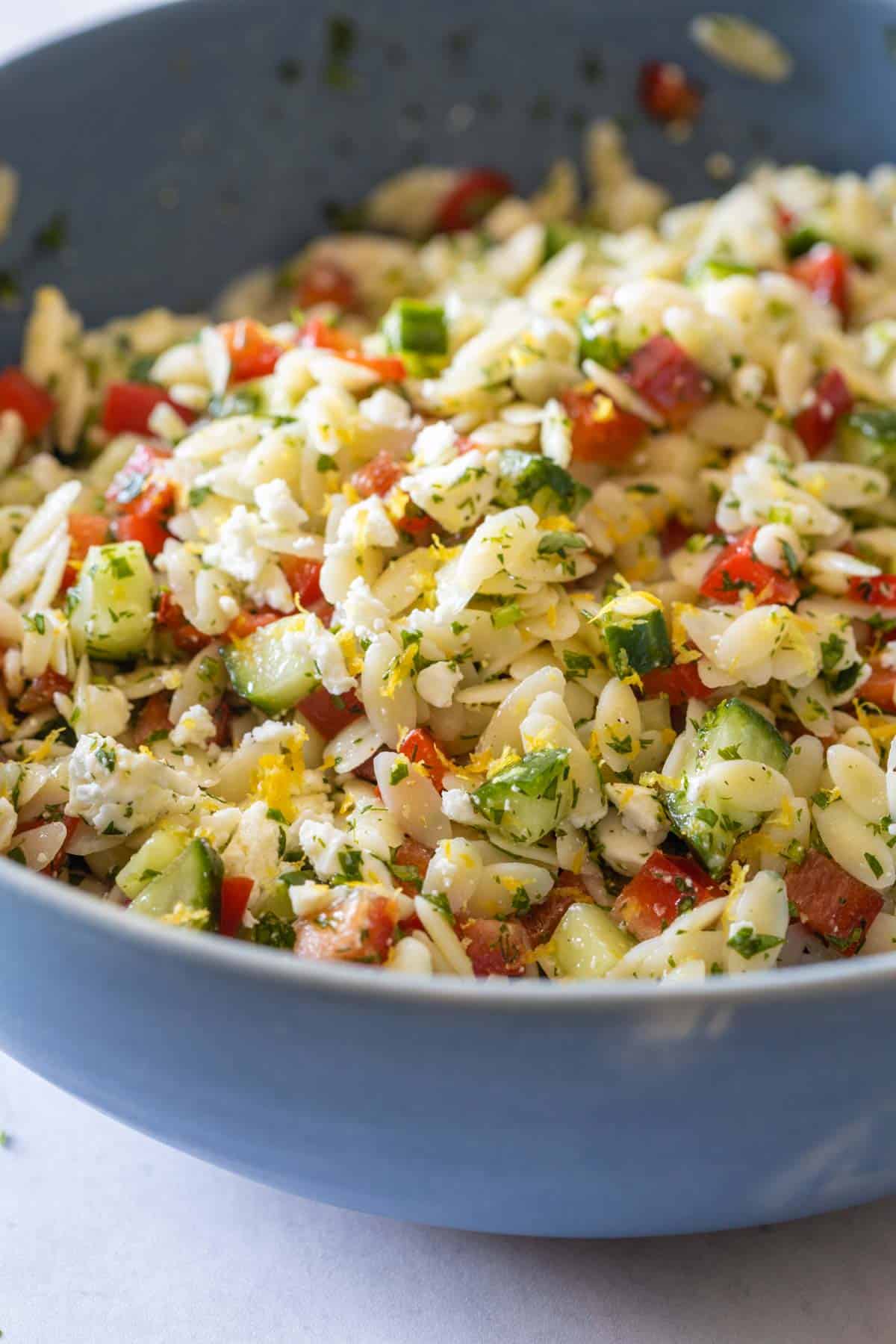 Lemon and orzo pasta simply go together wonderfully. You all loved my Lemon Orzo Soup in fall in winter so now I made a summer salad version of this delicious flavor combination.
The simplicity of the 9-ingredient salad while still bursting with flavor is what makes it so special and worth sharing.
The Ingredients And Substitutions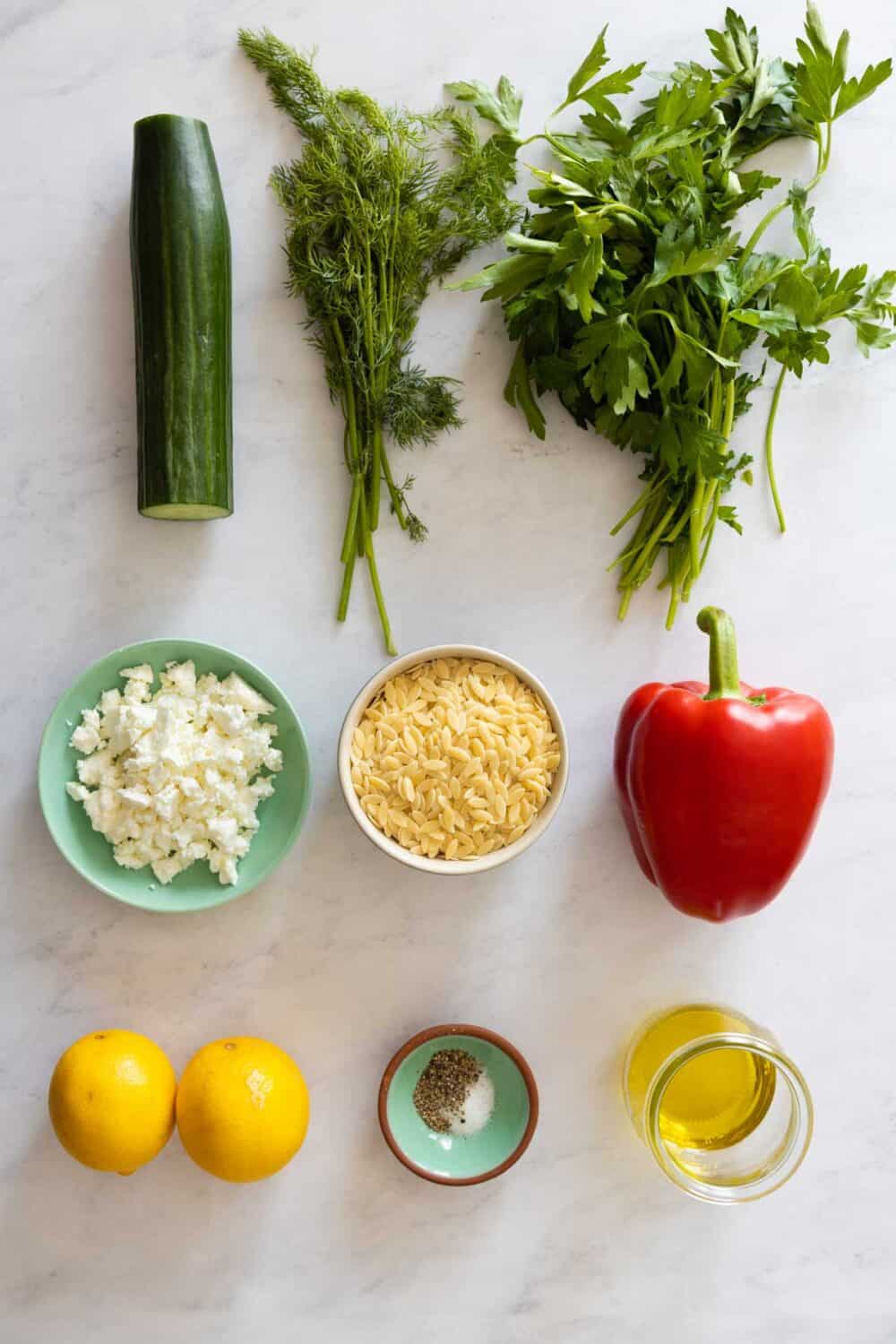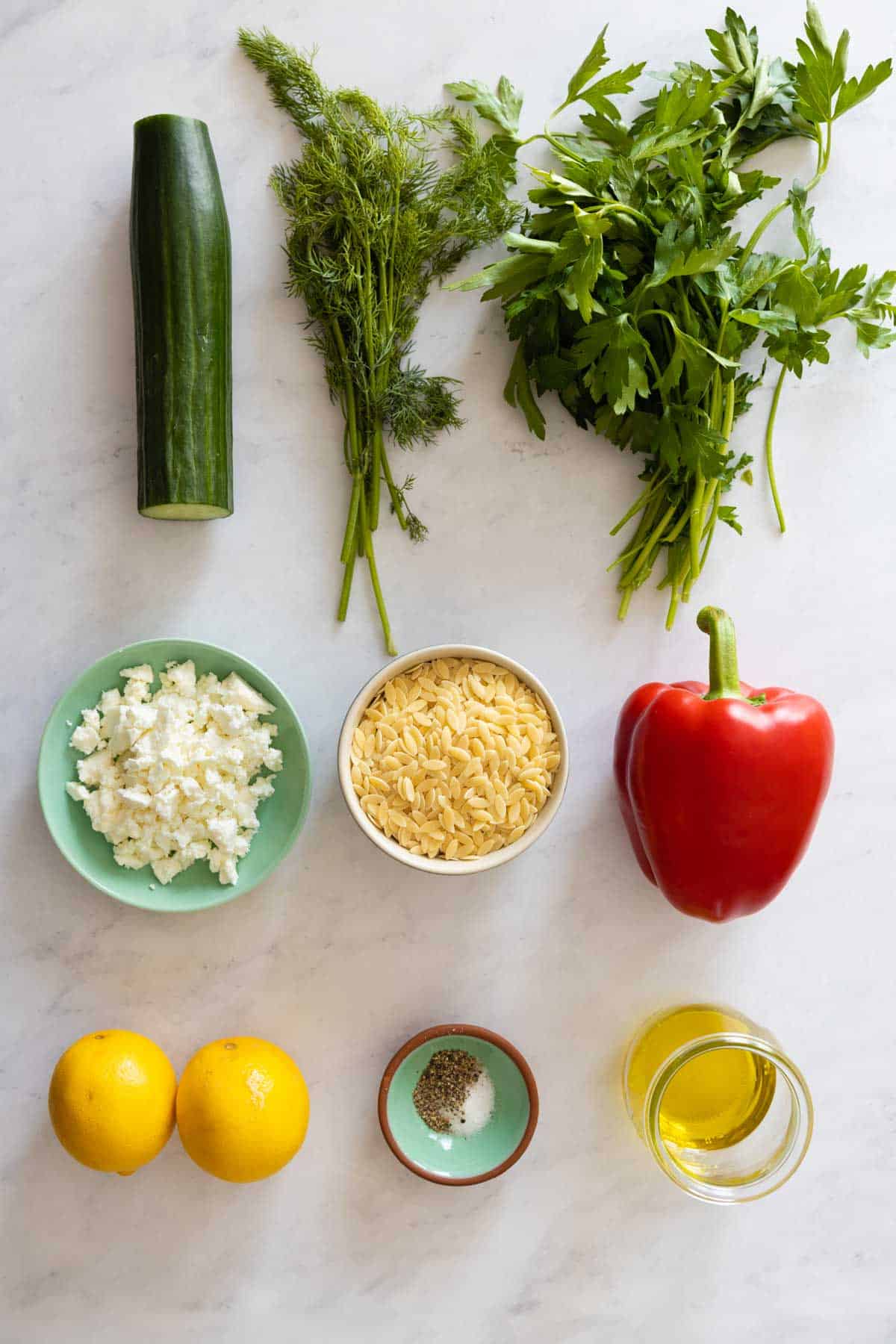 Orzo Pasta — any other wheat pasta works of course, Orzo pasta is simply special because it's so small and mixes in well with the other ingredients as opposed of having the other ingredients kind of sink to the bottom of the bowl. To make the salad gluten-free you can also use brown rice instead, that pairs just as well with lemon as Orzo.
Herbs — the best herbs for the orzo pasta and lemon combo are parsley and dill. If you're not a fan of dill because it certainly is pretty strong, basil will work well as a replacement.
Feta — I love love love feta in summery/lemony salad recipes but I know a lot of people find it pretty strong. You can always replace it with a cow's milk-based similar cheese like queso fresco. If you need your salad to be dairy-free simply omit the cheese or add a few chopped nuts or a few seeds instead. Cashews would be nice in this or sesame seeds.
Veggies — I use cucumber and red bell pepper for two reasons: pop of color and crunchiness. Other veggies that work well, too are carrot, sugar snap peas, zucchini, and tomato.
Lemon — so so delicious in this! Lime can work but I really recommend Lemon over lime for Orzo Salad. It definitely tastes better in the salad. Make sure to really scrub the lemon before zesting it to get rid of the bitter flavor of the skin.
Olive Oil — use high-quality extra virgin olive. Good quality olive oil is not bitter or overpowering. Alternatively, if you don't have or don't want olive oil use a flavorless oil like avocado oil so the lemon shines through more.
Sea Salt & Pepper — keep it simple and season with sea salt and pepper only to let the herbs and lemon shine through.
How To Make Lemon Orzo Salad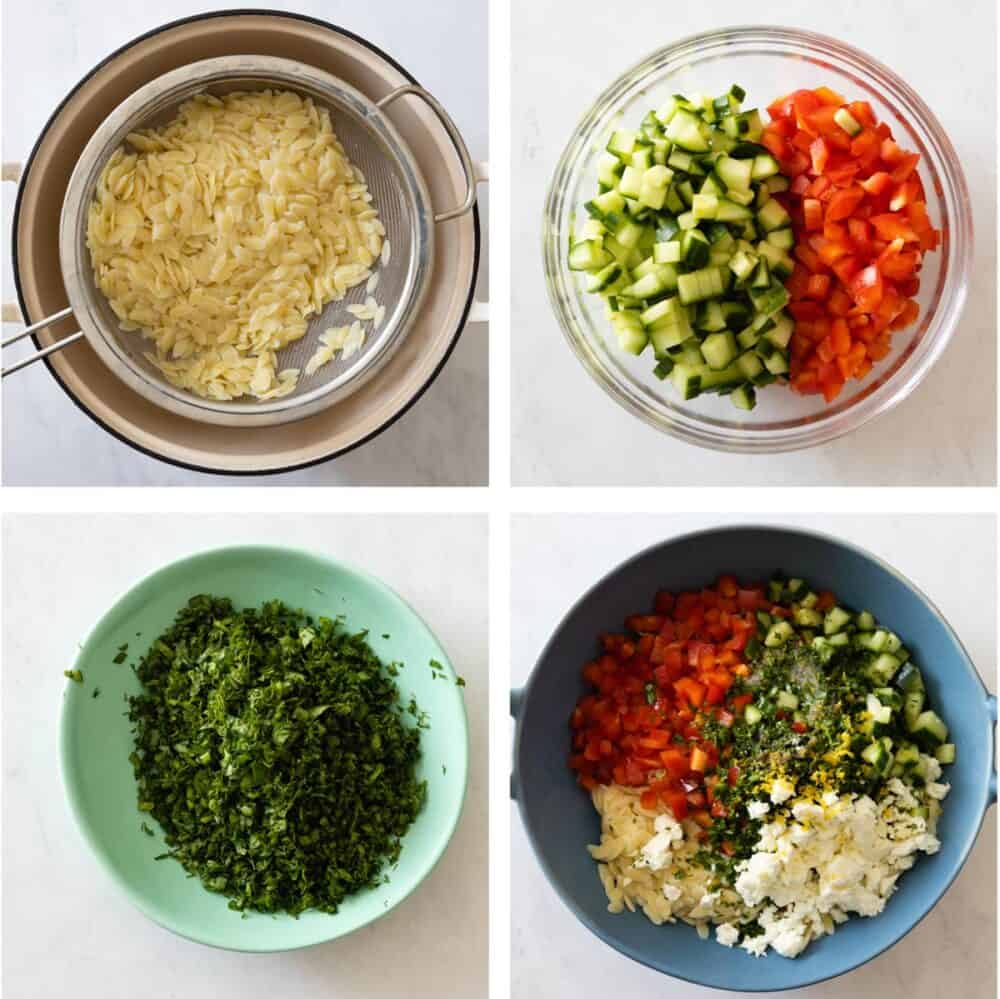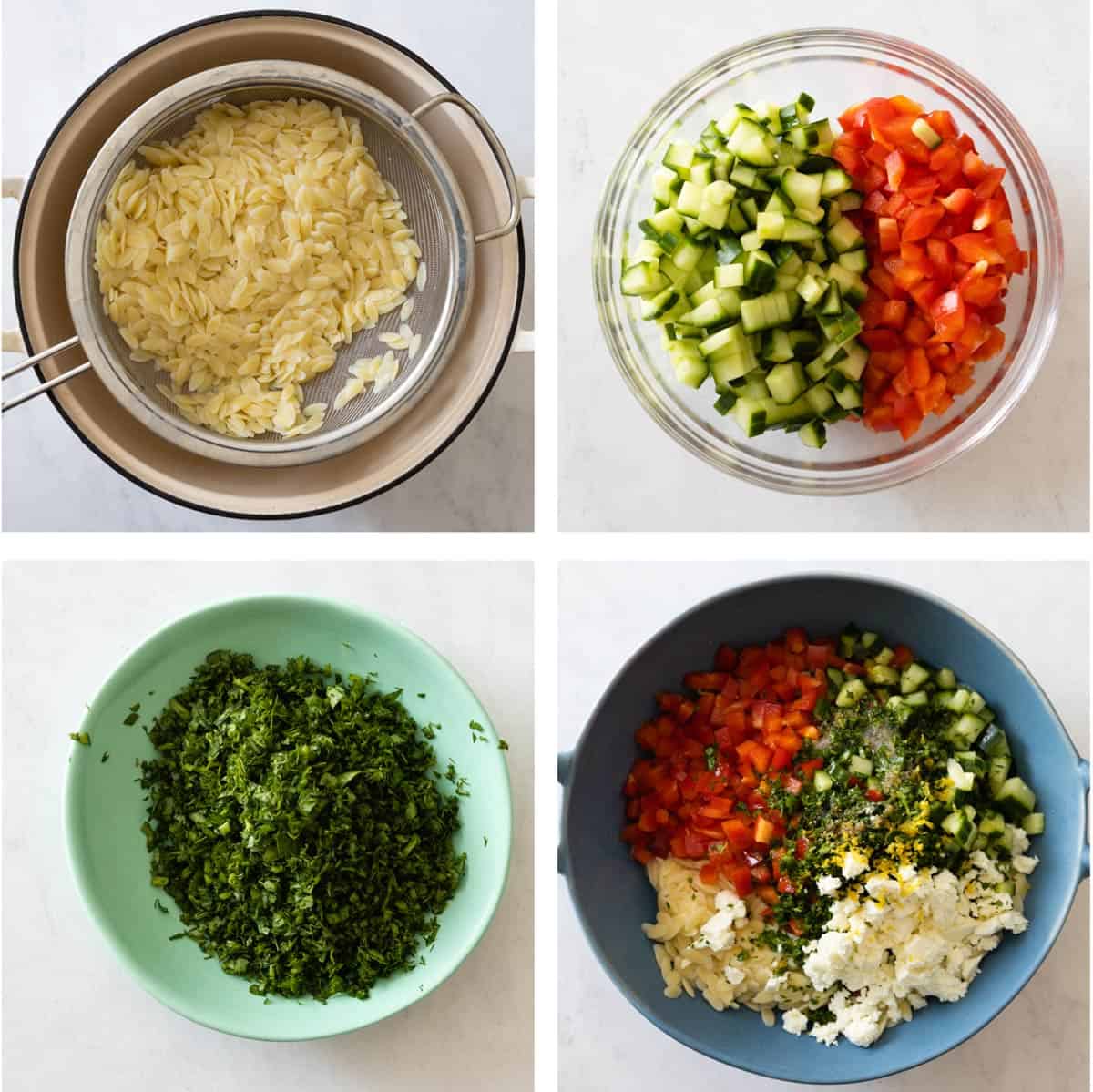 Cook Orzo Pasta — cook the Orzo Pasta as instructed on the packaging. Mine suggested boiling for 6 minutes in salted water then drain. I stir the pasta at least 3 times during the cooking time to avoid it from sinking and sticking to the bottom. For pasta salads, I always rinse pasta with cold water to make it less sticky for the salad.
Chop veggies — while waiting for the water to boil to cook the orzo pasta, use that time to dice the cucumber and bell pepper.
Chop herbs — water takes quite a while to get to a boil so there should be enough time to also chop the herbs during this time.
Assemble and mix — add the cooled down orzo pasta, diced cucumber and bell pepper, chopped herbs, and crumbled feta to a large salad bowl. Top everything with zest of one lemon, drizzle with lemon juice, and olive oil, and season generously with sea salt and pepper. Mix the salad well and serve.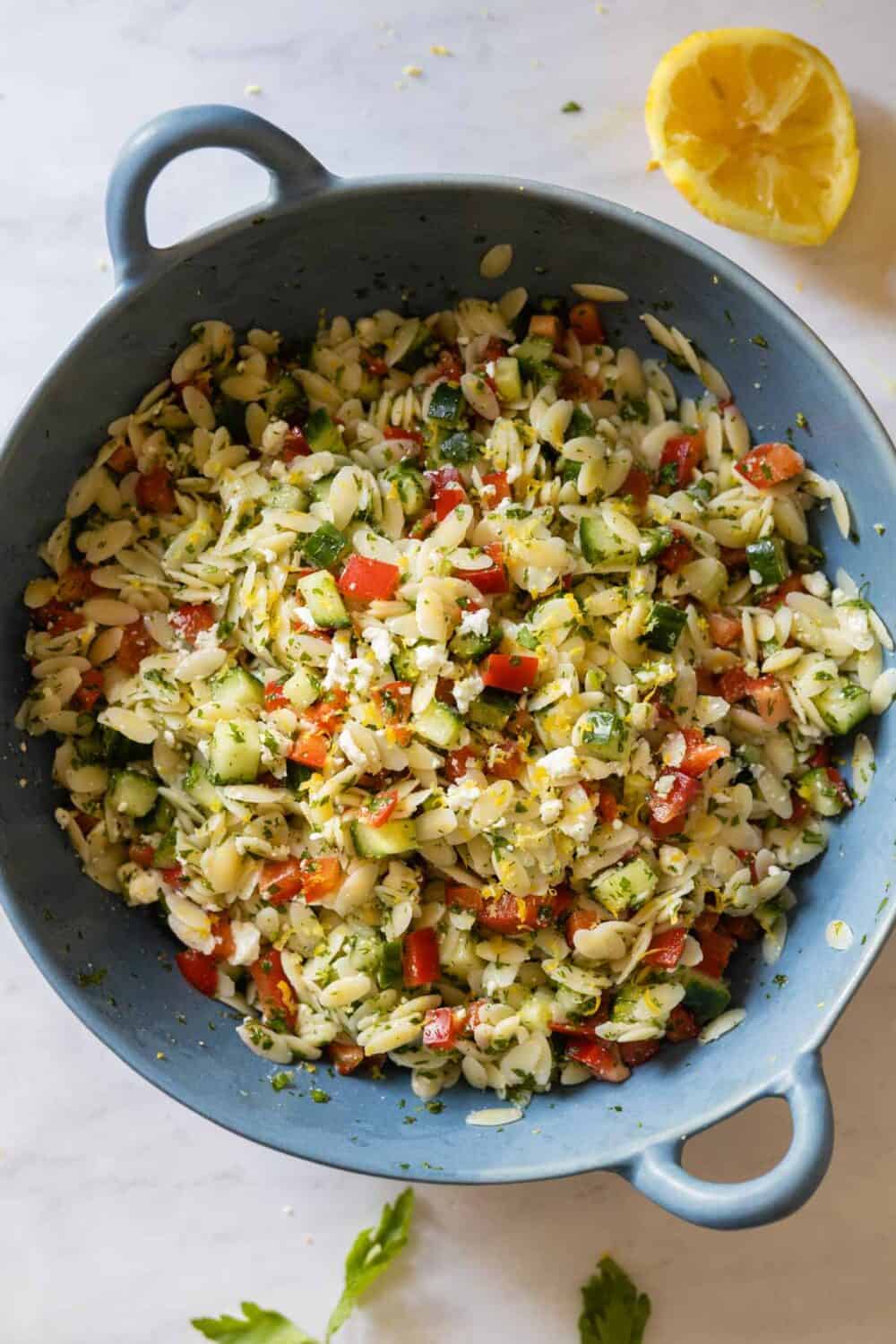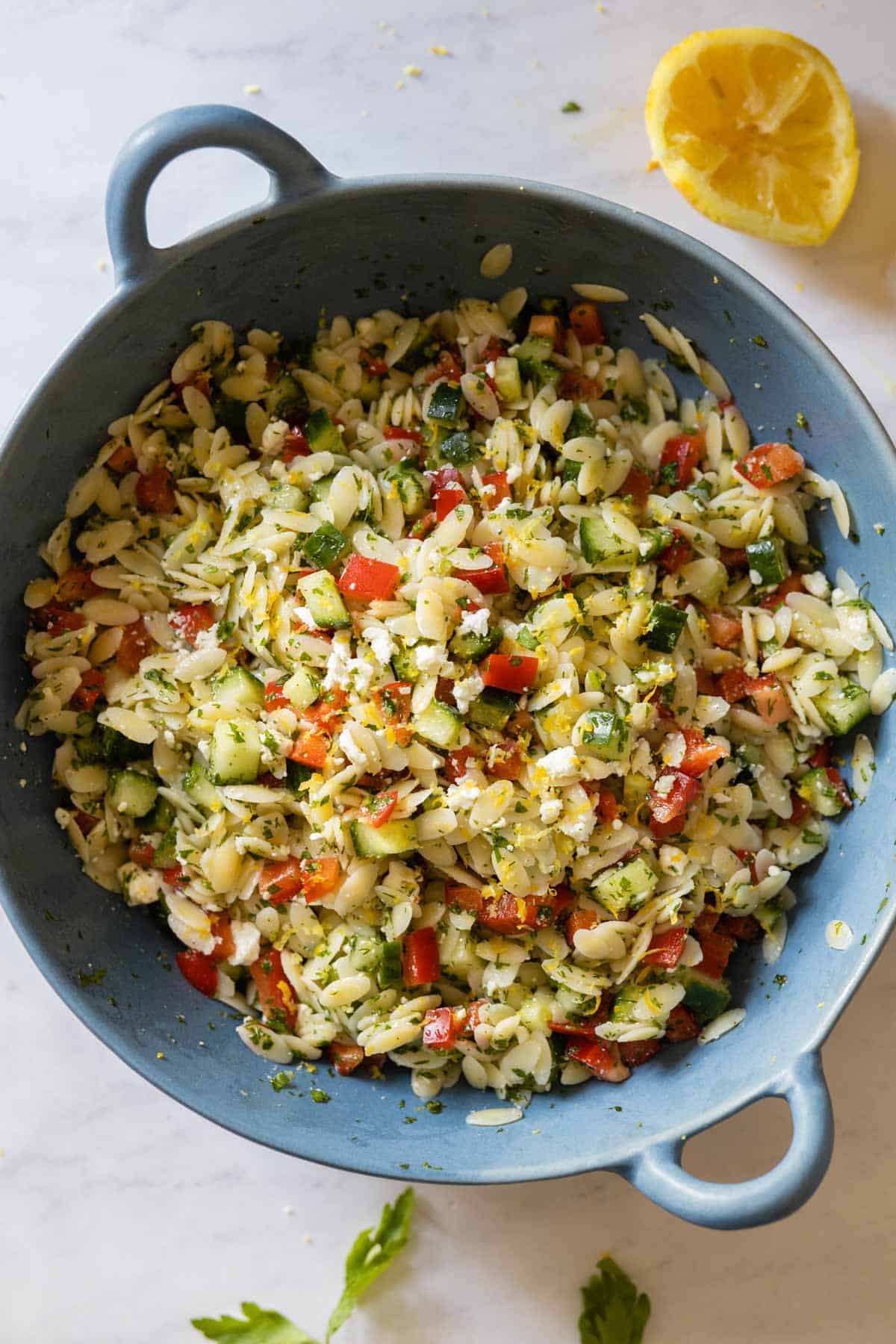 Storing And Serving Instructions
This Lemon Orzo Salad is great for meal prep because it stores well in the refrigerator for up to 4 days. Simply store in an airtight container.
This salad does NOT freeze well because of the raw vegetables and herbs. To make it freezable you would have to completely change the recipe and add vegetables that can be blanched, blanch them. The herbs freeze ok but become soggy when defrosted so you might also want to use dried herbs instead of fresh.
The best protein to serve with this salad:
Else you could also simply add some chopped up hard-boiled eggs to it and you have a full balanced meal.
Frequently Asked Questions
Do you rinse orzo after cooking?
For salad I rinse orzo with cold water to stop the cooking process and keep them al dente. For soup or hot meals I do not rinse it.
How long does orzo last in the fridge?
Cooked pasta in general lasts for up to 5 days if stored individually. Once you mix it with other things you have to consider whatever ingredient lasts the shortest. For this Lemon Orzo Pasta the diced cucumber is the ingredient with the shortest lifespan of 4 days.
Is orzo eaten hot or cold?
In salad cold or warm. In soups, stews, or as a side or main dish hot.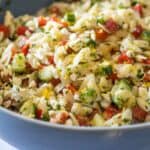 Lemon Orzo Pasta
A colorful and refreshing Lemon Orzo Salad perfect for barbecues and potlucks. Flavorful herbs and lemon, crunchy veggies, and soft and delicious orzo pasta all in one bowl.
Print Recipe
Pin Recipe
Ingredients
1

cup

orzo pasta

-

(7oz/200g)

1/2

English cucumber

1

red bell pepper

1

large hand full parsley

-

(about 1/3 cup chopped)

1

small hand full dill

-

(about 1/4 cup chopped)

2

oz

(low fat) feta cheese

-

(60g)

1

lemon

3-4

Tbsp

olive oil

sea salt

pepper
Instructions
Cook Orzo pasta as instructed on the packaging, then drain (and rinse with cold water if desired — I do).

Dice cucumber and bell pepper and finely chop herbs and set aside.

Add cooled cooked orzo pasta, diced veggies, chopped herbs, and crumbled feta to a large salad bowl.

Season everything with lemon zest, lemon juice, olive oil, sea salt and pepper, then mix well and serve.
Nutrition
Calories:
289
kcal
|
Carbohydrates:
35
g
|
Protein:
9
g
|
Fat:
13
g
|
Saturated Fat:
3
g
|
Cholesterol:
8
mg
|
Sodium:
137
mg
|
Potassium:
302
mg
|
Fiber:
3
g
|
Sugar:
4
g
|
Vitamin A:
1835
IU
|
Vitamin C:
66
mg
|
Calcium:
40
mg
|
Iron:
2
mg
What's your clean eating vibe?
Take this fun QUIZZ and find out in 10 seconds!