Eat in season, eat fresh and eat healthy by indulging in this Summer Salad with Orange Basil Dressing, a 15-min recipe full of flavor and nutrition.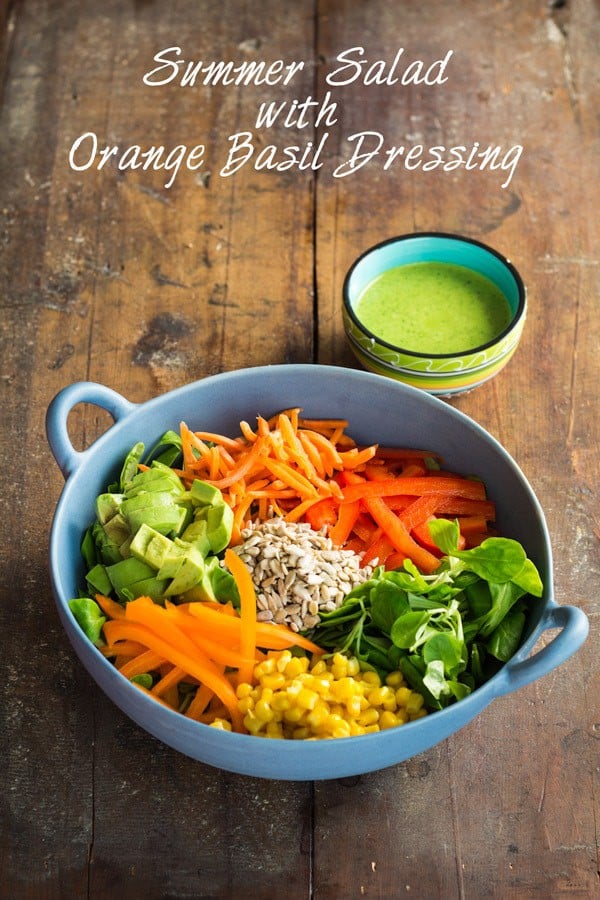 What exactly is a summer salad?
To me, it's simply a salad made with ingredients that are in season in summer! As opposed to a winter salad that may contain roasted root vegetables and overall warm ingredients.
A summer salad screams crunchy veggies, fresh and cold ingredients. An herb-loaded vinaigrette. The perfect side dish for any barbecue!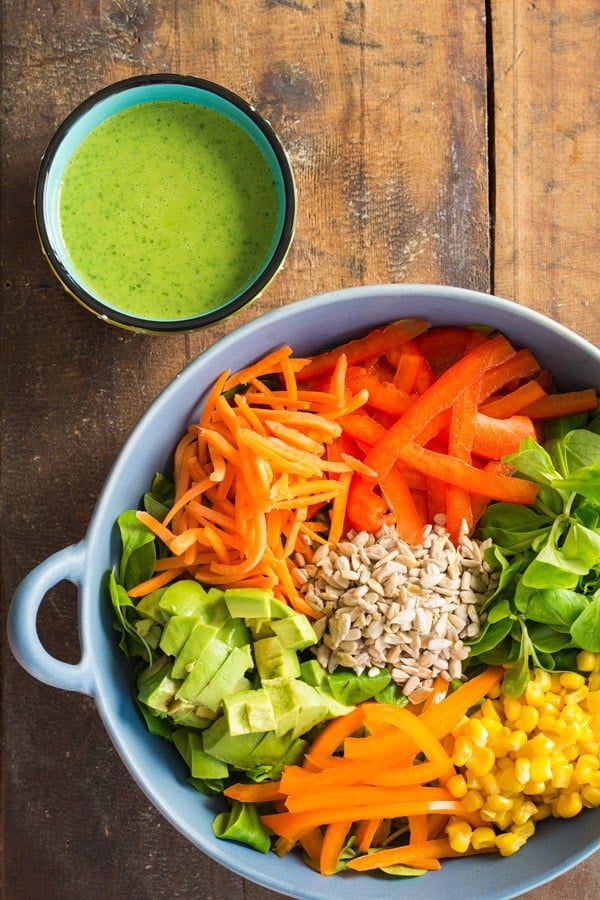 What is the base of a summer salad?
The base of any summer salad is some sort of leafy green. Any lettuce of your choice will do or baby spinach for example, then add at least 4 different colored summer salad veggies to it. Summer salad veggies I define as any vegetables you like eating raw or just slightly sautéed, such as:
bell peppers
tomatoes
carrots
radishes
corn
cabbage
celery
cucumber
jicama
Try to always add avocado for fat and to fill up and keep you satisfied for longer and never forget some sort of protein.
What can I serve this summer salad with?
Good sources of protein for salad are either grilled chicken, steak, shrimps, chickpeas, lentils, nuts or seeds.
You can either barbecue or grill a piece of chicken breast or a flank steak in a cast iron skillet. Alternatively, defrost some frozen shrimps in the refrigerator overnight, rinse the next day, dry super well with a paper towel and then either barbecue or grill in a pan.
If you prefer legumes, you can speed up the cooking process by buying sprouted lentils or chickpeas. Sprouted lentils cook in less than 10 minutes and sprouted chickpeas in as little as 20 minutes. Drain and add a cup of them to your salad.
The easiest of course will be nuts or seeds. Just toss half a cup or so raw into your salad. Then make your dressing and don't forget to store the dressing apart from the salad in a separate container and only mix minutes before eating your salad to keep it crunchy.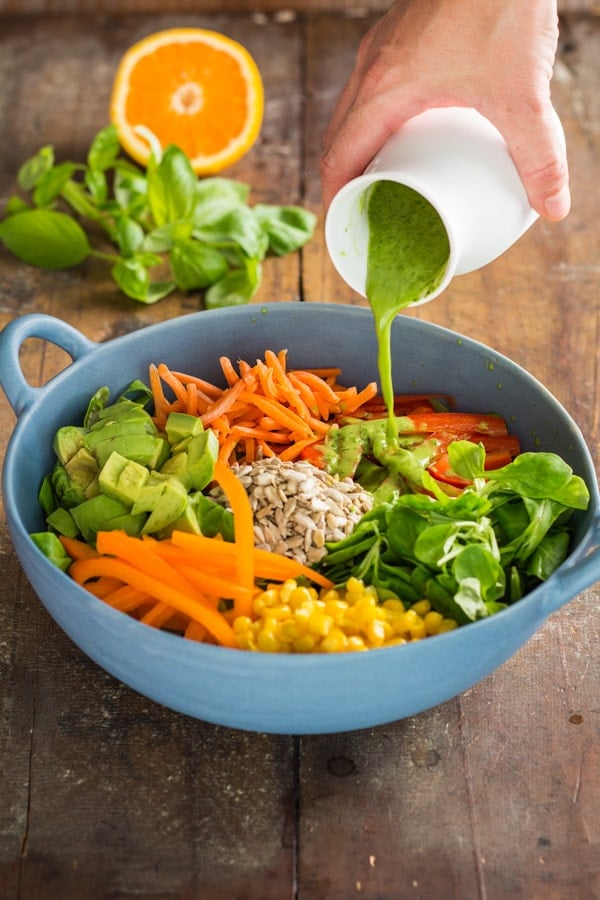 Here is the recipe for this specific salad and dressing but to keep it interesting you can also make a Maple Mustard Balsamic Dressing or Honey Lemon Vinaigrette. Both made in about 30 seconds.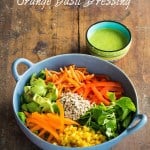 Summer Salad with Orange Basil Dressing
Eat in season, eat fresh and eat healthy by indulging in this Summer Salad with Orange Basil Dressing, a 15-min recipe full of flavor and nutrition.
Ingredients
2.5

oz

lettuce

(70g)

1/2

cup

carrots

(shredded)

1/2

cup

frozen corn

1/2

orange bell pepper

1/2

red bell pepper

1

avocado

2

Tbsp

sunflower seeds

1

Tbsp

mustard

1

Tbsp

avocado oil

3

Tbsp

orange juice

1

Tbsp

rice vinegar

1

Tbsp

honey

1

cup

basil leaves
Instructions
Wash and dry lettuce in salad spinner.

Wash, peel and shred about 2-3 carrots.

Wash, deseed and thinly slice peppers.

Defrost corn by putting it in a colander and pouring hot water from the tap over it for about 20 seconds.

Peel, remove stone and cut avocado in pieces.

For the vinaigrette add mustard, avocado oil, orange juice, rice vinegar, honey and basil leaves to the blender and blend until smooth.
Nutrition Facts
Summer Salad with Orange Basil Dressing
Amount Per Serving
Calories 410
Calories from Fat 243
% Daily Value*
Total Fat 27g 42%
Sodium 124mg 5%
Potassium 1037mg 30%
Total Carbohydrates 40g 13%
Protein 7g 14%
* Percent Daily Values are based on a 2000 calorie diet.
Get Green Healthy Cooking's NOURISHING NEWS straight to your inbox!