I am probably high high up in the sky flying to Germany while you read this. Counting nights has come to an end. The day has arrived. We finally made it! A summer full of exciting moments is waiting for us, a summer full of adventures, loved ones around, old friends and new friends…every summer has a story and ours will have a wonderful one! I can't wait to show my kids my hometown. The town I grew up, the town I learned to ride a bicycle!!! My sister organized a bike in my son's size and he will most likely learn to ride it on the exact same supermarket parking lot I did on a Sunday (in Germany all shops are closed on Sundays and thus the large parking lots are deserted and thus make an excellent space to learn how to ride a bike). How awesome is that?!? My son and nephew will probably even climb the same trees my sisters and I did as children. Isn't this amazing? Can you tell I'm excited? I'm excited guys! So excited [insert a million exclamation marks]!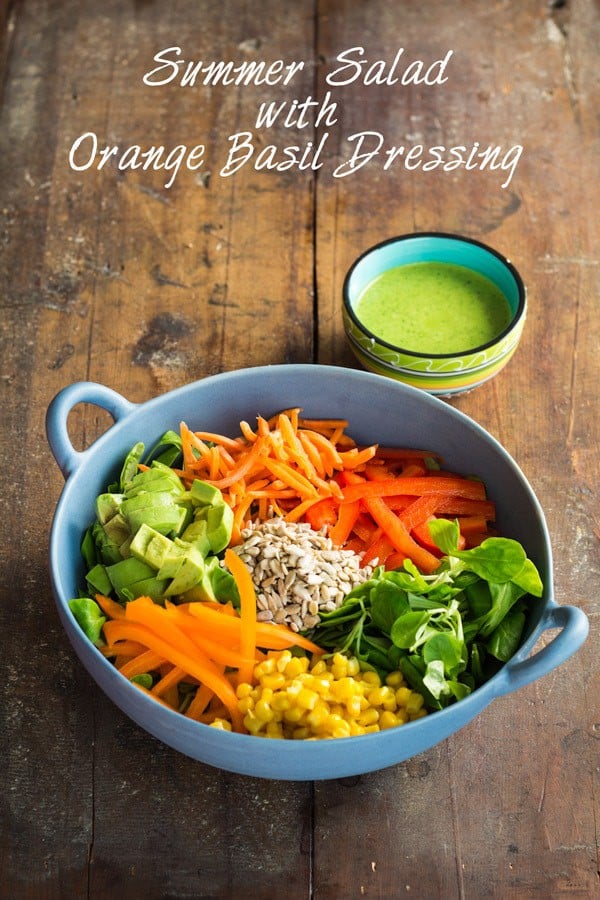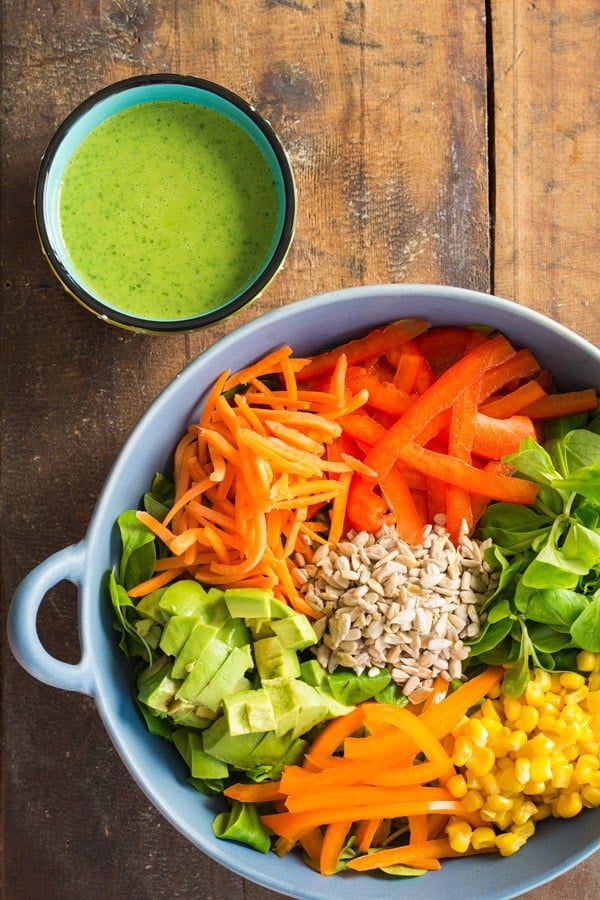 This post is all about my love's lunch for the next weeks that we will be gone and he won't until the end of our Germany stay. A couple of months ago he started rock climbing during his lunch break at work because there is a rock climbing gym literally 3 steps away from his office and he has been requesting lighter lunches because after exercising eating a heavy meal kind of doesn't make much sense. I have been sending him a lot of salads and he doesn't want to break the habit just because I'm gone and won't pack his lunch anymore so here my love are instructions to your super healthy, crunchy, yummy salad!!! The base will be some leafy green. Any lettuce of your choice will do or baby spinach for example, then add at least 4 different colored salad veggies to it. Salad veggies I define as any vegetables you like eating raw or just slightly sautéed, such as:
bell peppers
tomatoes
carrots
radishes
corn
cabbage
celery
cucumber
jicama
Try to always add an avocado for fat and to fill up and keep you satisfied for longer and never forget some sort of protein. Good sources of protein for salad are either grilled chicken, steak, shrimps, chickpeas, lentils, nuts or seeds. You can either grill a piece of chicken breast or a flank steak (instructions on how to make Perfect Flank Steak here) in a cast iron skillet, or defrost some of the cooked frozen shrimps in the freezer over night in a bowl in the fridge (just rinse the next day and add as is to your salad). If you prefer legumes, make sure to buy sprouted and cook lentils in water for about 10 minutes or chickpeas for about 20 minutes. Drain and add a cup of them to your salad. The easiest of course will be nuts or seeds. Just toss half a cup or so raw into your salad. Then make your dressing and don't forget to store the dressing apart from the salad in a separate container and only mix minutes before eating your salad to keep it crunchy.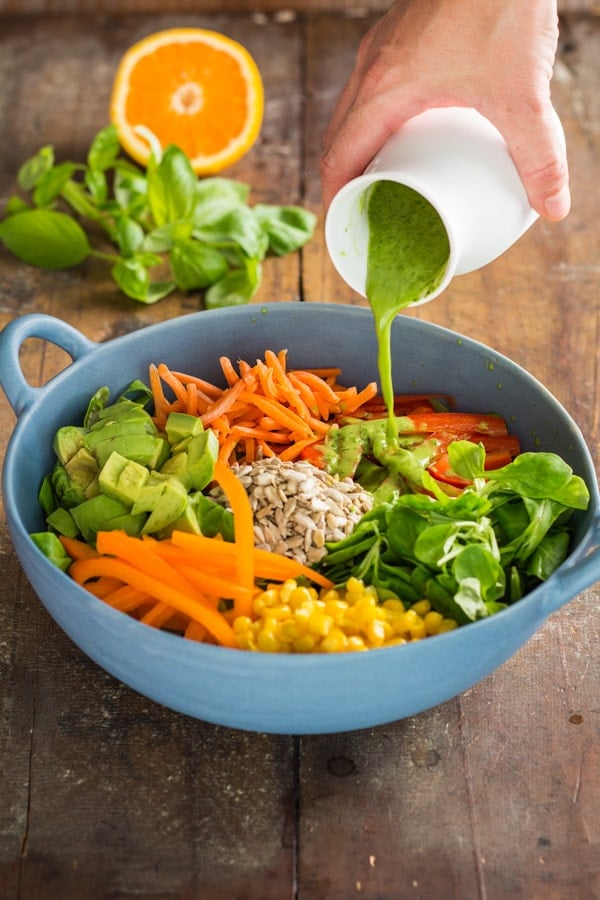 Here is the recipe for this specific salad and dressing but to keep it interesting you can also make a Maple Mustard Balsamic Dressing or Honey Lemon Vinaigrette. Both made in about 30 seconds.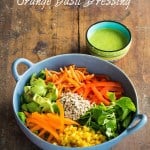 Summer Salad with Orange Basil Dressing
Ingredients
2.5

oz

lettuce

(70g)

1/2

cup

carrots

(shredded)

1/2

cup

frozen corn

1/2

orange bell pepper

1/2

red bell pepper

1

small

avocado

1/2

cup

sunflower seeds

1

Tbsp

mustard

2

Tbsp

avocado oil

4

Tbsp

orange juice

1

Tbsp

rice vinegar

1

Tbsp

honey

1

cup

basil leaves
Instructions
Wash and dry lettuce in salad spinner.

Wash, peel and shred about 2-3 carrots.

Wash, deseed and thinly slice peppers.

Defrost corn by putting it in a colander and pouring hot water from the tap over it for about 20 seconds.

Peel, remove stone and cut avocado in pieces.

For the vinaigrette add all ingredients to blender and blend until smooth.
We love you to the moon and back and will miss you like CRAZY!!!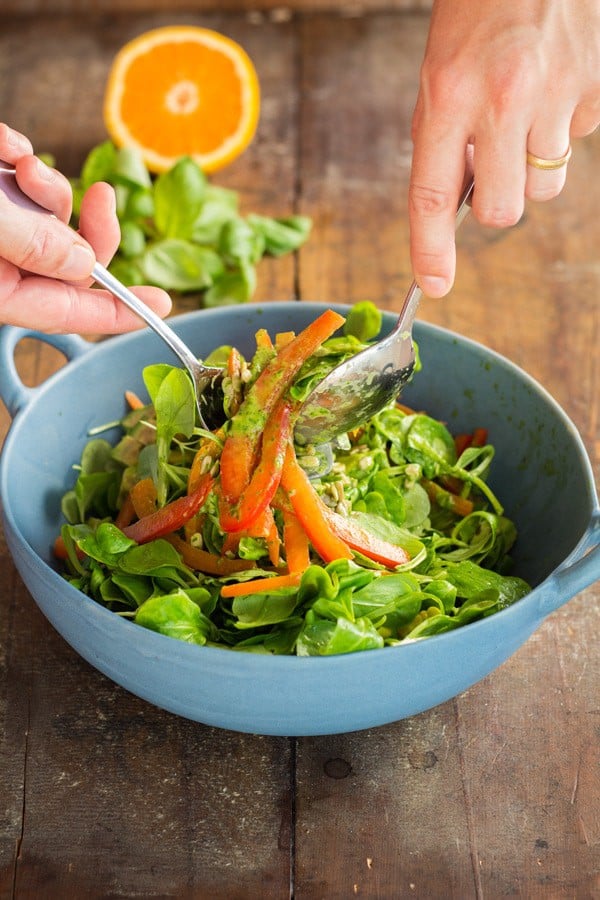 WHAT CAN BE PRESSURE COOKED WITH WHAT?
Get access to my FREE cheat sheet to help you mix and match ingredients + all of Green Healthy Cooking's new recipes directly into your inbox.