A 6-ingredient Vegan Sweet Potato and Chickpea Curry prepared in only 30 minutes. Does the world need anything else to be happy?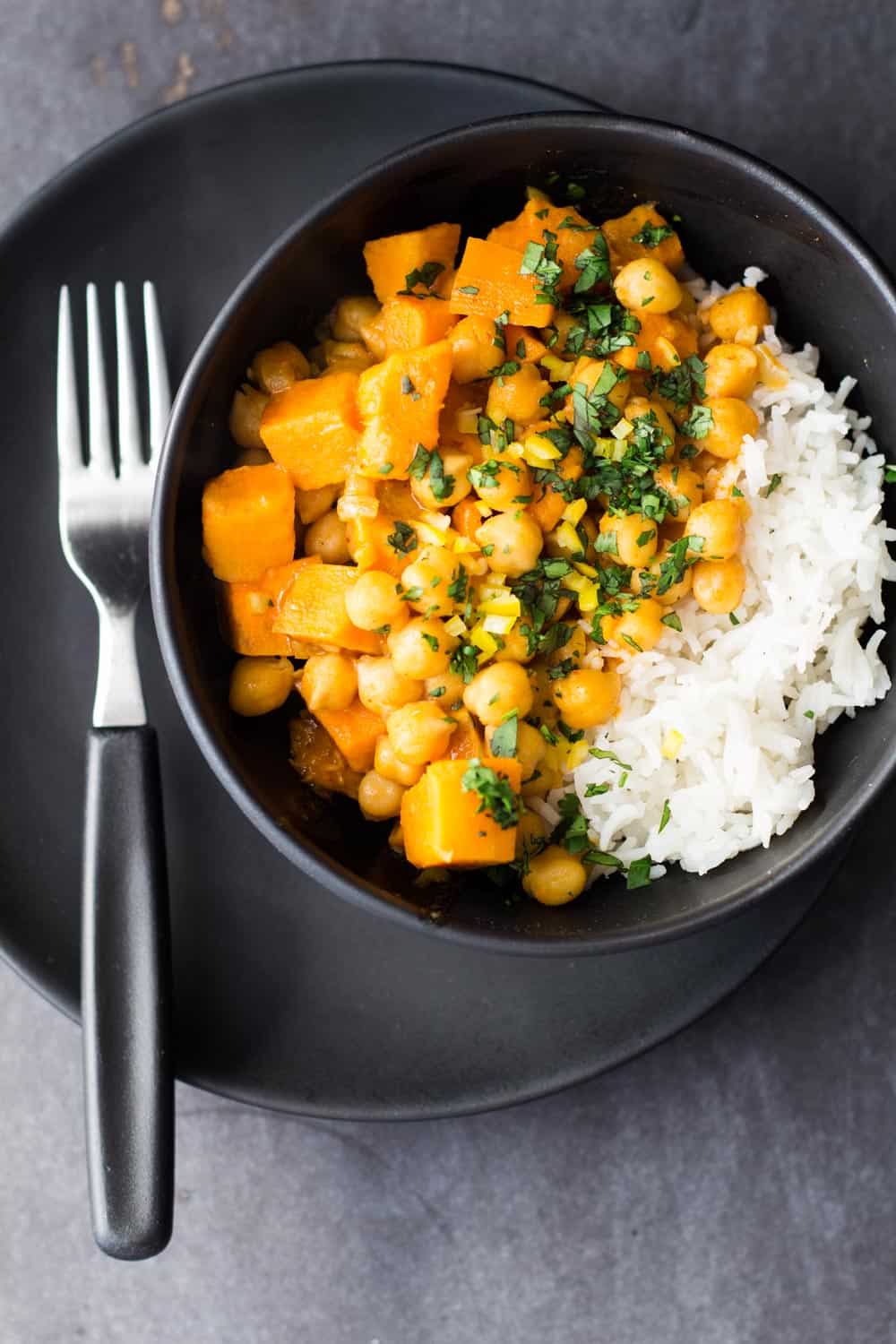 If you've been following along for a while you might have noticed that I have a slight obsession with Thai curries. They are quick to make, include loads of healthy ingredients and taste absolutely amazing! I have both, vegan curries and omnivore curries on the blog and I simply cannot pick my favorite.
There is this Vegan Chickpea Spinach Curry because Chickpeas rock! Then there is this Thai Chicken Cauliflower Curry for all the chicken lovers amongst us and lastly there is this Coconut Shrimp Curry I made waaaay back when Green Healthy Cooking was still a baby. All of them are out.of.this.world! See? I told you I was a bit obsessed with curries. So much I figured I can't possibly post yet another one on the blog this year. I mean we're not on thethaicurryblog.com here, are we?
To give in to my curry craving yesterday I simply made this Vegan Sweet Potato and Chickpea Curry again. I mean, every recipe on the blog needs a video, now that I know how to make those, right? Right?!? So here you go my lovely readers:
Vegan Sweet Potato and Chickpea Curry Video
See how easy this is? It's not only a quick and easy recipe but also one with about 20 minutes passive time, during which you do absolutely nothing. Well, I did the dishes, booo! You could in theory however, sit down, put up your feed and read. Don't forget to set an alarm for the occasional stirring though. We don't want your dinner to burn to the pan, do we?
Now, I'm pretty sure, if you've read this far and watched the video, that you will want to make the recipe but in case you needed more reasons to be convinced: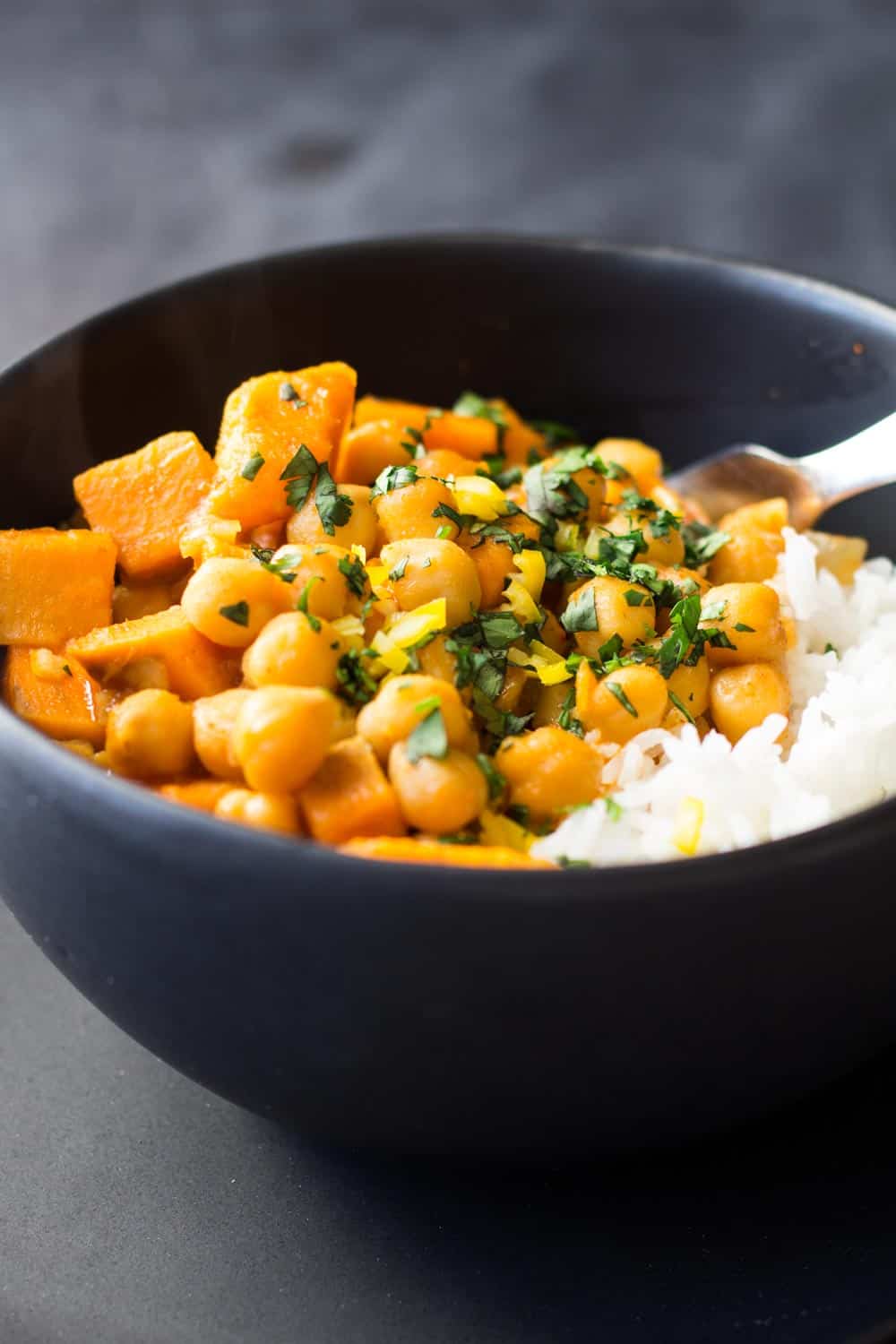 5 reasons to love Vegan Sweet Potato and Chickpea Curry
it is a soy-free and gluten-free protein-rich bowl of deliciousness: thank you chickpeas.
the creamy Thai red curry sauce is full of flavor and has the exact right amount of spice: coconut milk you rock!
it contains a vegetable so sweet it could be mistaken for fruit: I love you sweet potato!
you only really need 6 ingredients to make it taste delicious. No need to run to the store if you don't have coriander or chilli.
the curry freezes well, so you can cook a double batch and freeze for another night with less than 30 minutes time to prepare food ;)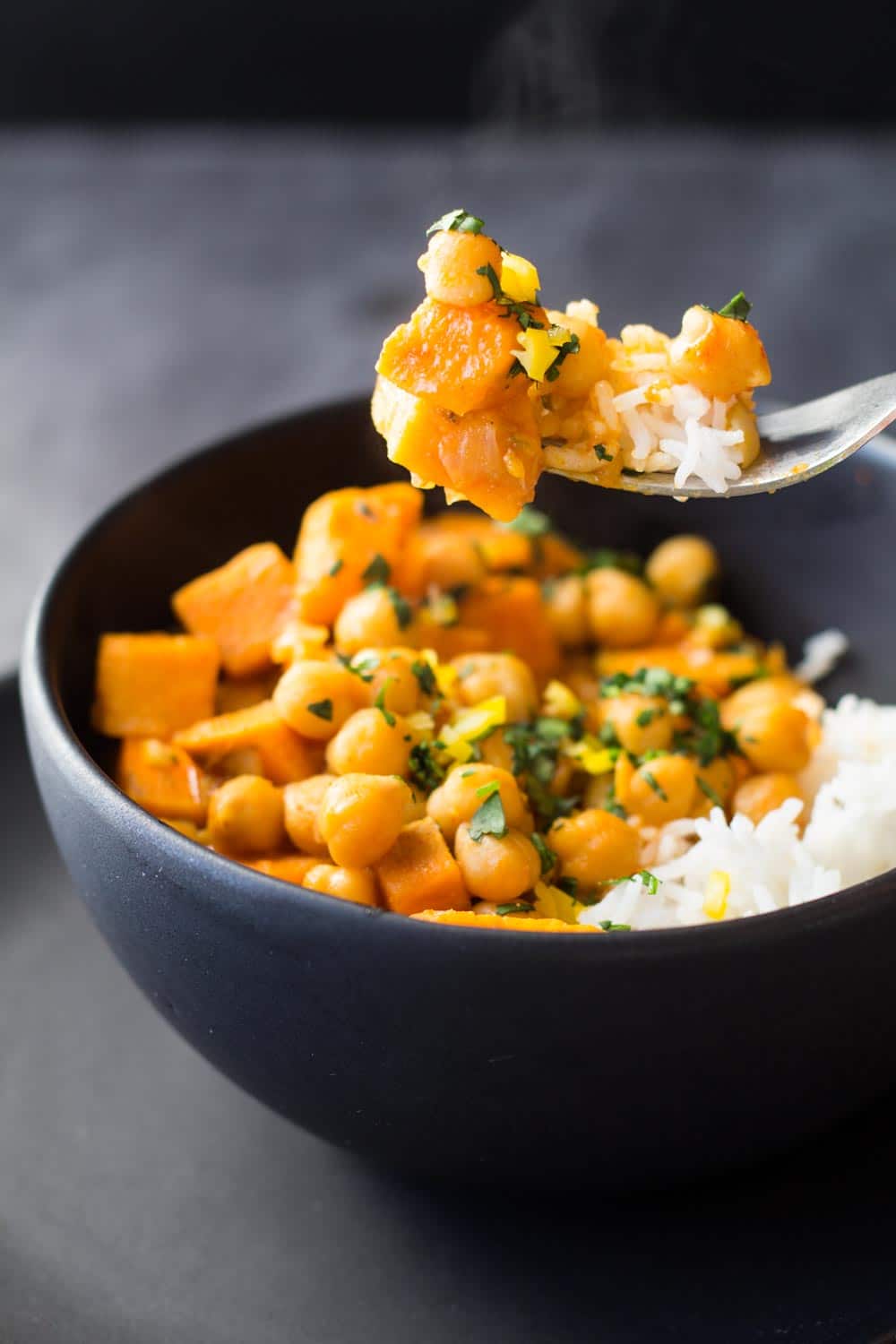 Vegan Sweet Potato and Chickpea Curry
A 6-ingredient Vegan Sweet Potato and Chickpea Curry prepared in only 30 minutes. Does the world need anything else to be happy?
Ingredients
1

small

onion

1

clove

garlic

2

cups

cooked chickpeas

(preferably home cooked)

1

large

sweet potato

1

can

coconut milk

(400ml)

2

Tbsp

red Thai curry paste

Salt

(if necessary)

Pepper

(if necessary)

fresh coriander

(optional)

chilli

(optional)
Instructions
Heat a large sauce pan over medium heat.

Peel and finely chop onion and feel and crush garlic.

Peel sweet potato and cut into about 3/4" (2cm) cubes, the bigger the cubes the longer they take to cook. Make sure they are no bigger than 3/4".

Once hot, add a splash of flavorless oil to the pan and then add chopped onion and garlic. Sauté until onion is translucent.

(If serving over freshly steamed rice, now is a good time to start preparing that)

Add curry paste and mix well.

Add coconut milk, sweet potato and chickpeas and stir well. Make sure all sweet potato cubes are well submerged in liquid so they cook fast.

Bring to the boil and once boiling reduce heat to constant simmer (medium low).

Let simmer uncovered until sweet potato is cooked through and sauce has thickened (20-30 minutes), stirring mid through and making sure again all sweet potato pieces are submerged in liquid at all times.

Salt and pepper to taste if necessary, then serve over steamed white rice, sprinkle with fresh chopped coriander and a little bit of chopped chilli for extra spice.
WHAT CAN BE PRESSURE COOKED WITH WHAT?
Get access to my FREE cheat sheet to help you mix and match ingredients + all of Green Healthy Cooking's new recipes directly into your inbox.