A special twist on our beloved healthy overnight oats. Raspberry White Chocolate Overnight Oats with healthy cacao butter and sweetened with maple syrup.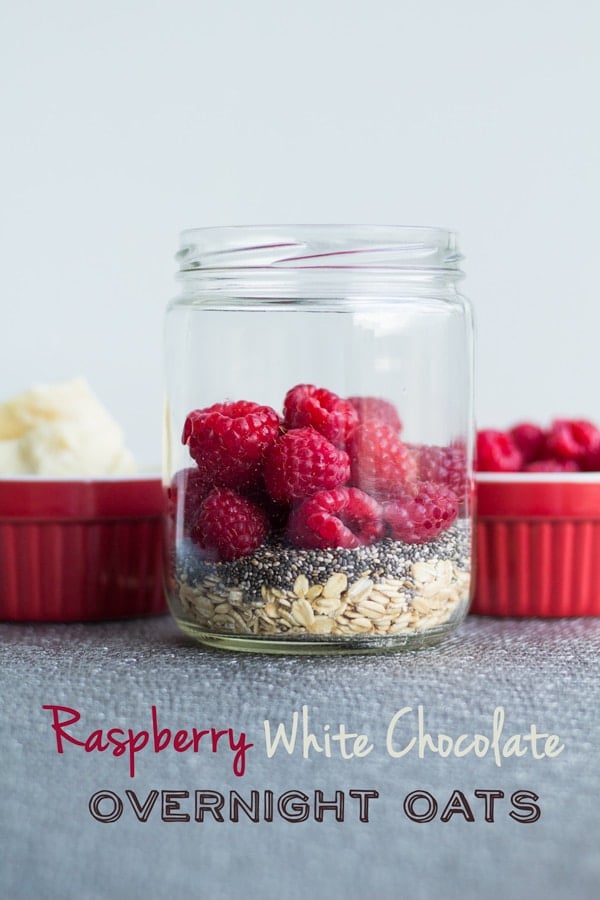 I often get asked what we eat for breakfast because avoiding processed foods like refined sugar-loaded cereal or sugary spreads on toast is obviously not really an option for us. Just as anybody else we are under extreme time pressure in the morning. It's not like I've got an hour to leisurely cook some nutritious breakfast. I don't even have half an hour unless obviously I became a martyr and get up half an hour before anybody else. Ya! Like that's ever gonna happen. Tsss.
In real life mornings are mostly like this: my daughter wakes up and shouts: HUNGRY! EAT! I tell her to lie down and be quiet because she will wake her brother and in response she pumps up the volume to full blast and makes sure the whole building knows what she wants: EEEEEEEAAAAATTT!!! By then, my son woke, too and joins in (thankfully less loud): Yes! Hungry! Can I have overnight oatmeal please?
Now, it is important to mention that my kids don't eat hot and their definition of "hot" is basically anything that is warmer than room temperature. Sometimes even room temperature is too "hot". If I cooked oatmeal in the morning (15-20 minutes) I would have to calculate an extra 20-25 minutes cooling time and that makes cooking oatmeal in the morning an impossible mission. Unless, as I mentioned above I'd become a martyr which I am not planning on doing…like…ever.
So, what real food do we eat for breakfast then? My son eats healthy overnight oatmeal seven out of seven days a week. If I forget to prepare the oats the night before I'm in serious trouble. Melt down in 3, 2, 1….
There are a gazillion ways to prepare healthy overnight oats but our very favorite are these Rapsberry White Chocolate Overnight Oats or this Banana Peanut Butter Overnight Oat Recipe. Old fashioned rolled oats (not the untasty quick oats), chia seeds, cacao butter, maple syrup and your favorite milk. It requires zero point zero seconds morning prep time.
My Raspberry White Chocolate Overnight Oats take about 5 minutes to prepare in the evening and in the morning all you do is take them out of the fridge, open your container and dive in your spoon.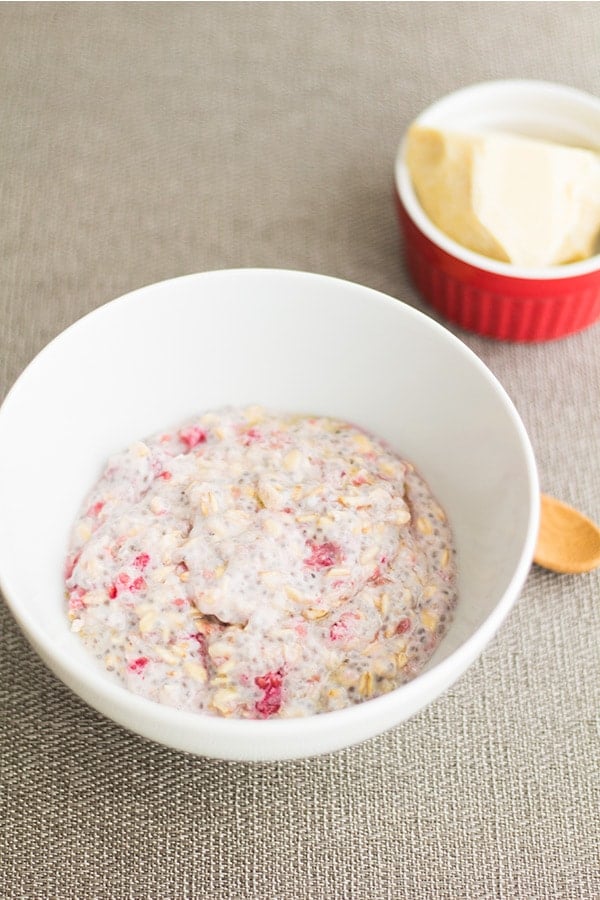 Cacao butter is fairly easy to find in Montreal but if it's hard to find where you are just try use regular white chocolate. If using white chocolate reduce or omit the maple syrup because the white chocolate will already be sweetened.
For this specific recipe I love using light coconut milk because I feel its taste blends so well with the raspberries. Absolutely delicious! Feel free to use any kind of milk, simply what you have on hand. Overnight Oats taste great with any kind of milk.
As a sweetener I love using maple syrup or honey because they are liquid and mix themselves better than any kind of granulated sugar. Again, if you prefer say coconut sugar, you can absolutely do that. It'll still taste great.
Raspberry White Chocolate Overnight Oats are just a suggestion of flavor combination. Overnight Oats are delicious with all sorts of combinations though.
Here a few ideas:
Dark Chocolate Cherry Overnight Oats
Banana & Almond Butter Overnight Oats
Fig, Tahini & Honey Overnight Oats
Nectarine & Coconut Overnight Oats
The possibilities and combinations are ENDLESS!
For another overnight oats flavor combo check out these Dark Chocolate Cherry Vegan Overnight Oats.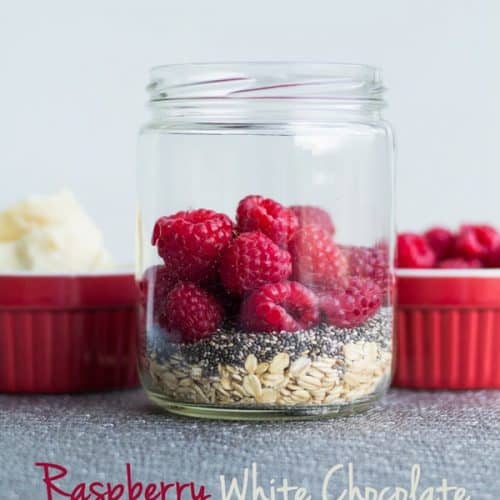 Raspberry White Chocolate Overnight Oats
A special twist on our beloved healthy overnight oats. Raspberry White Chocolate Overnight Oats with healthy cacao butter and sweetened with maple syrup.
Print Recipe
Ingredients
1/2

cup

old fashioned rolled oats

2

Tbsp

Chia Seeds

1/2

cup

Raspberries

20-25

g

cacao butter

-

(aprox. 1 Tbsp)

2

Tbsp

maple syrup

milk of choice

-

(if using canned coconut milk use light or water it down for creamy oatmeal)
Instructions
The evening before your oatmeal breakfast day: find a waterproof sealable glass container such as a 500 ml mason jar (I used an almond butter jar) and add oats, Chia seeds and raspberries.

In a heavy bottomed saucepan melt the cacao butter on the lowest heat possible.

Once melted, add maple syrup and mix well.

Pour cacao butter maple syrup mix over raspberries.

Fill jar up with milk and seal very well.

Shake for about 30 seconds or until al ingredients are evenly distributed in the whole jar and place in your refrigerator for minimum 6 hours.
What's your clean eating vibe?
Take this fun QUIZZ and find out in 10 seconds!