This Instant Pot Chili is perfect for either feeding a crowd, meal prepping, or freezing. In under an hour you have a big pot of nourishing, delicious chili con carne that makes everybody happy!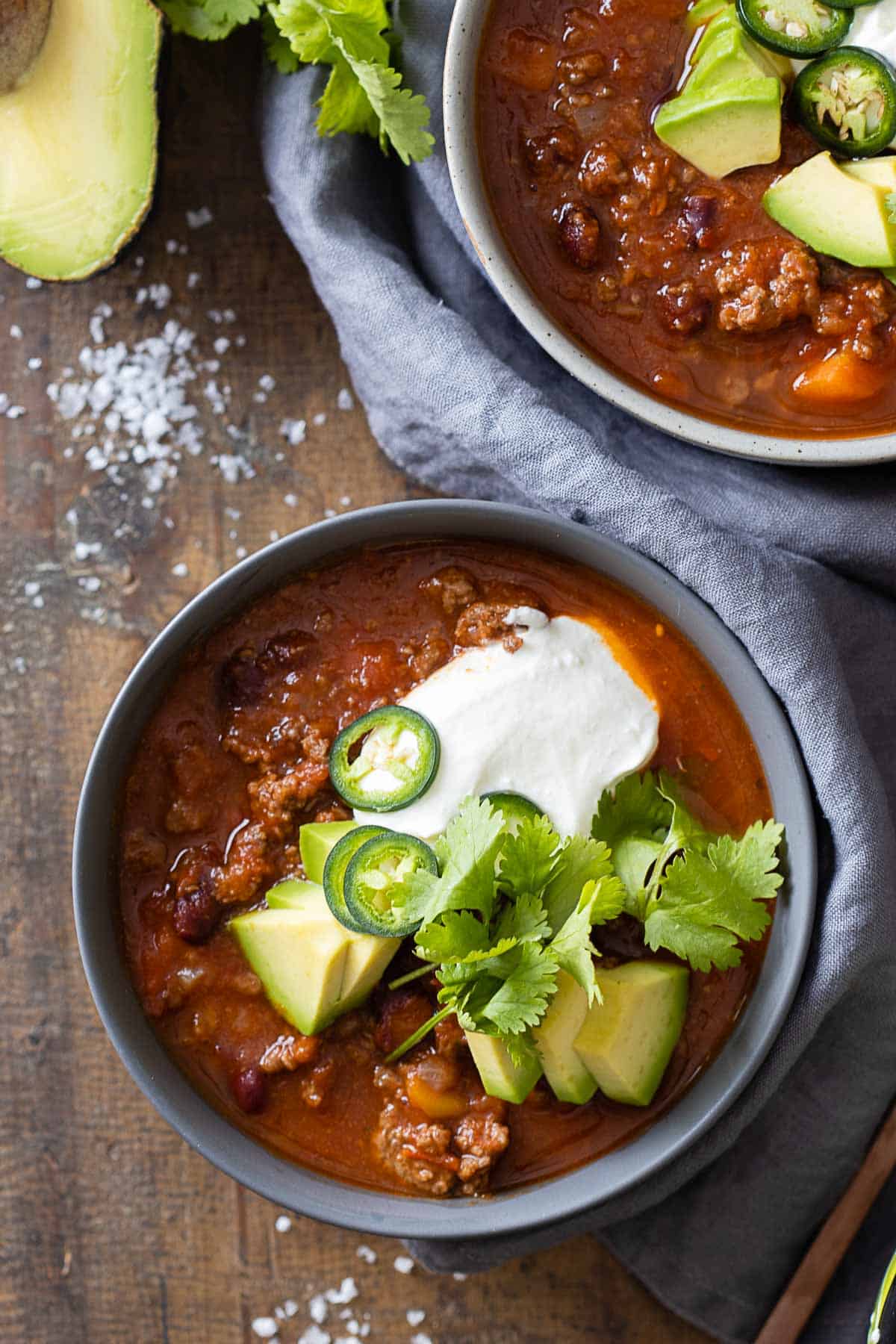 Where Does Chili Come From?
For those who didn't know. Chili is a staple of Tex-Mex cuisine. It is not as many believe a typically Mexican dish. It originates in the US and is Texas' official dish.
There are different variations of this famous dish. Some with beans, some without. Some with tomatoes, some without … The one thing most of the different chilis have in common is that their main ingredients are ground beef and of course chili powder.
My recipe is fairly "classic" if one can say that about a recipe. Ground beef, kidney beans, canned tomatoes, chili powder.
However, my version has two interesting twists. First of all, I added tons of vegetables so it fits the Green Healthy Cooking crowd. Second, I made it in my Instant Pot to speed up the process.
Spend 20 minutes prepping, set your Instant Pot, and off you go relax while the Chili cooks itself!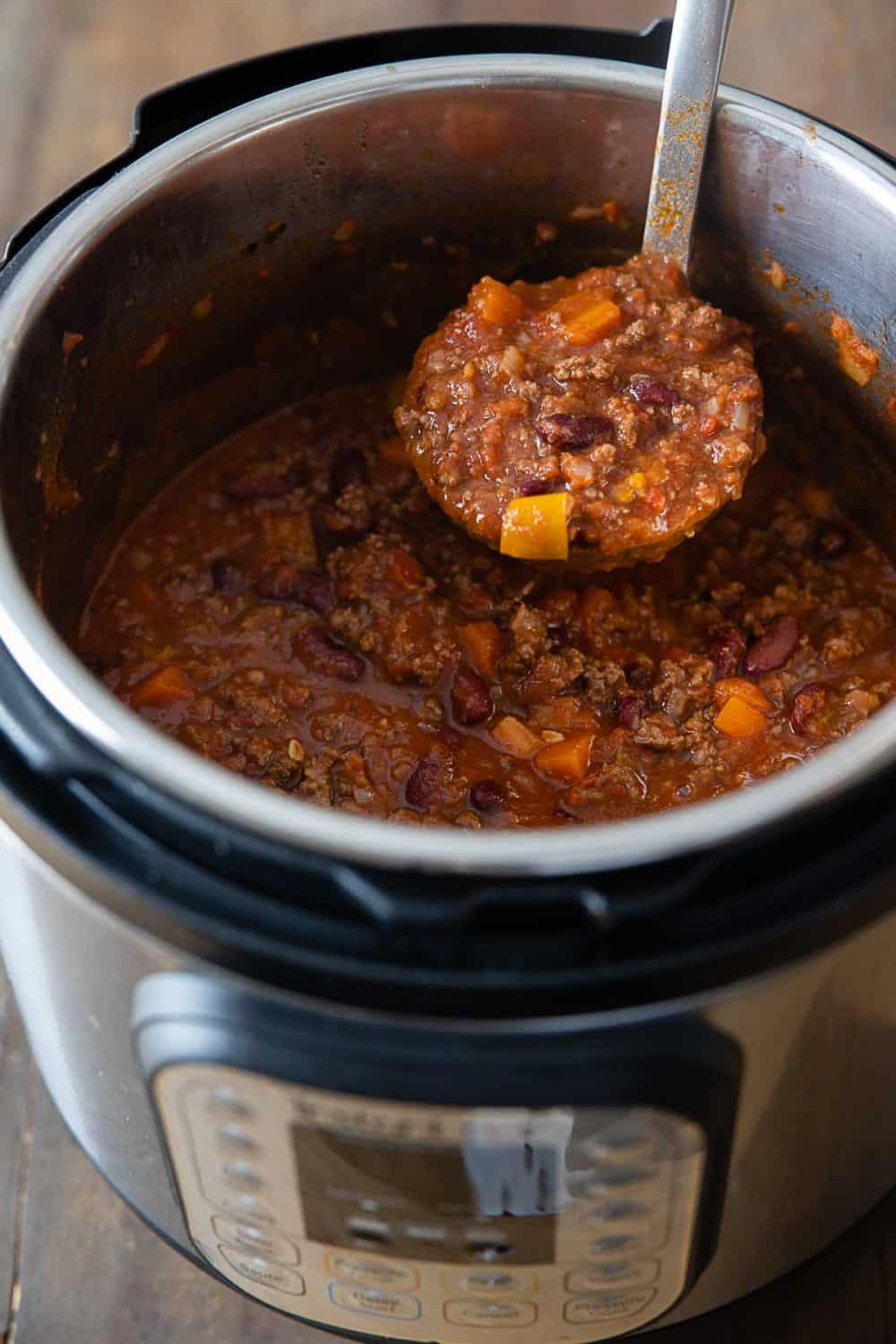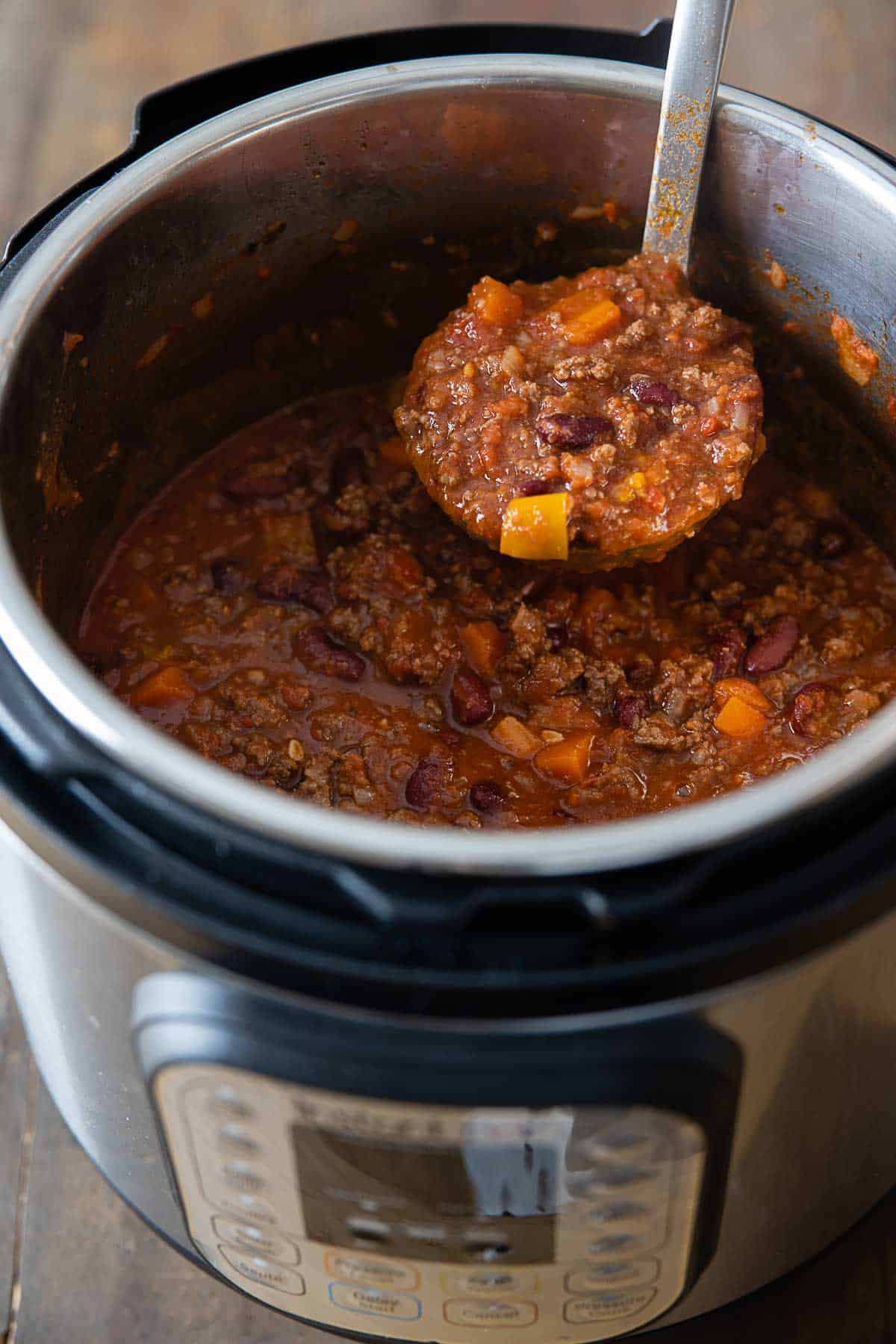 Instant Pot Chili with dried beans vs canned
I am a huge fan of cooking with dried beans as opposed to canned because I think they are easier to digest. I always soak my beans overnight and then add them soaked to any kind of recipe.
For this chili recipe, however, you cannot use dried (soaked or unsoaked). Beans don't cook in tomato-based sauces because of the tomatoes' acidity. You can cook them as long as you want, they'll always taste somewhat raw.
You have two options. Either use canned or cook your dried beans first and add them already cooked to the chili. I have a full tutorial on how to cook beans in the Instant Pot.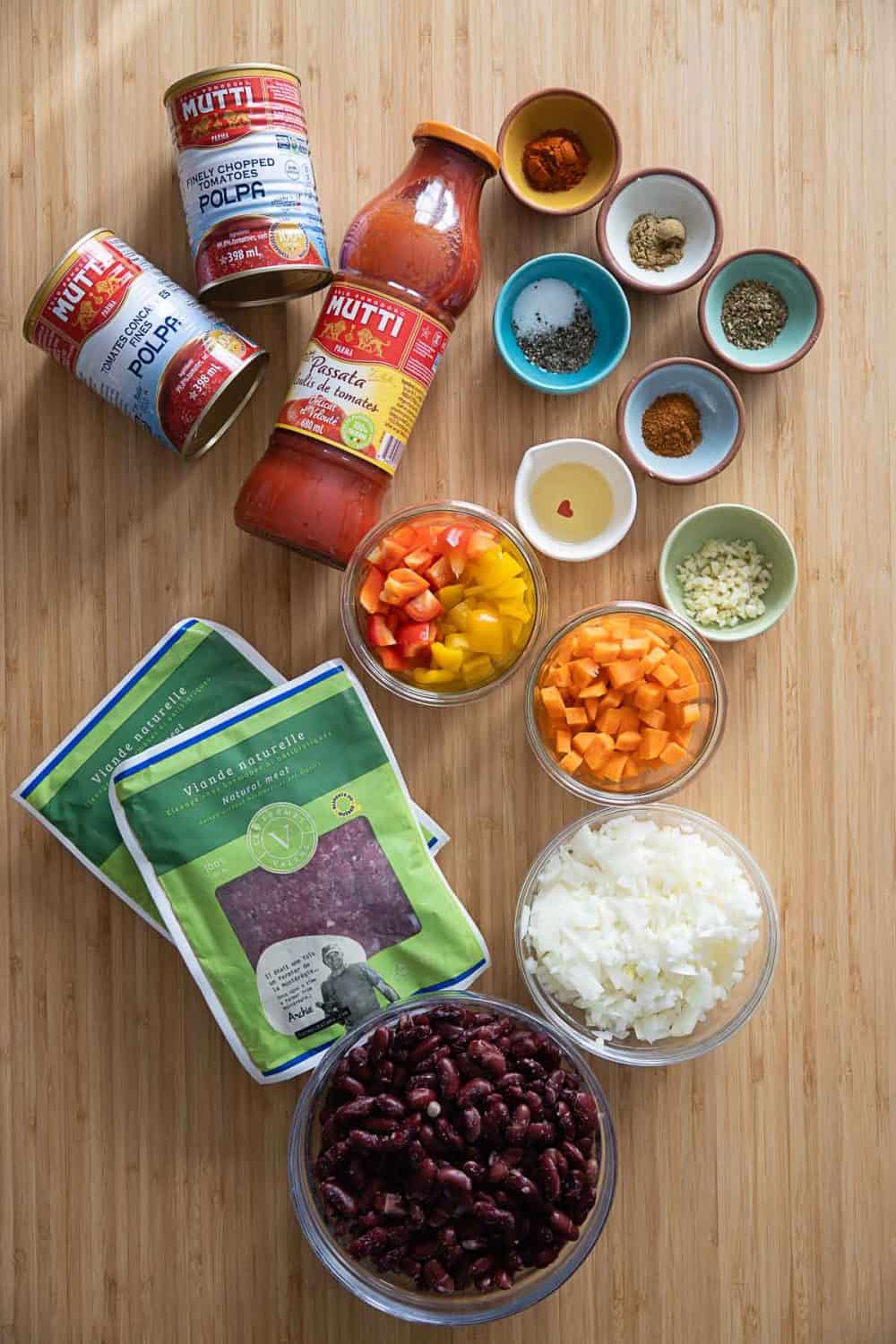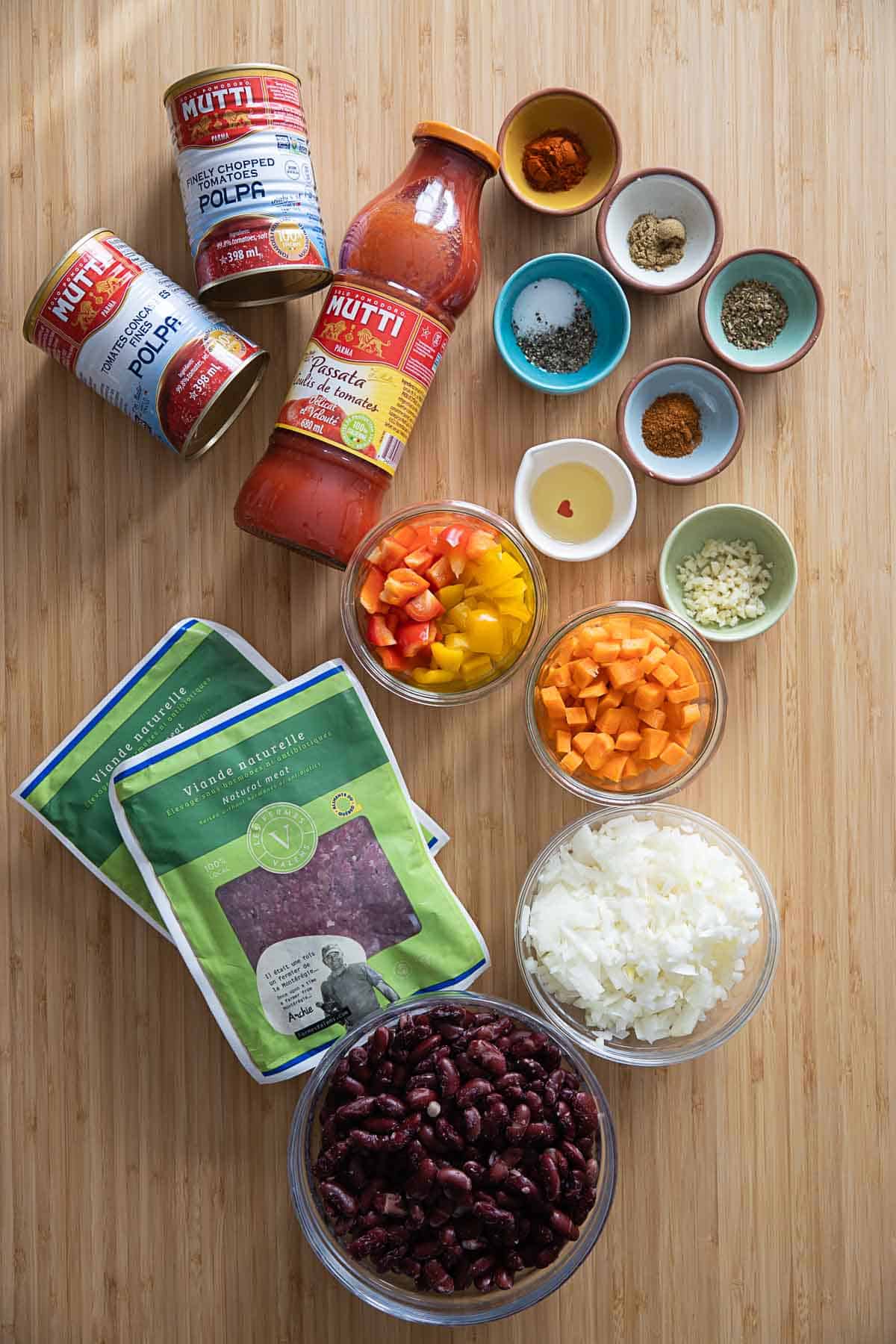 What's the secret ingredient for an amazing chili?
The answer is simple: spices and time.
Be generous with sea salt and pepper and add at the very least chili powder, cumin, and paprika.
Make sure you take your time browning the onion. Take your time browning the meat. And most importantly give the Instant Pot time to really cook the chili to perfection.
Don't rush it.
How To Avoid The Burn Warning
Chili is based on tomatoes and we all know tomatoes and the Instant Pot don't love each other. Tomatoes are notorious for causing the Instant Pot to show the burn warning on the display.
To avoid this warning and be successful with this chili recipe I recommend not mixing in the tomato ingredients but instead have them sit "on top" of all the other ingredients.
Make sure the meat, beans, and vegetables cover the bottom and are fairly compressed and level and then add the chopped tomatoes and tomato sauce on top and don't mix in.
During the high-pressure cooking time, everything will come to a rolling boil inside the Instant Pot and the tomato sauce will slowly seep down and cover all the other ingredients but not burn to the bottom.
This little trick is what makes this Instant Pot chili recipe failproof.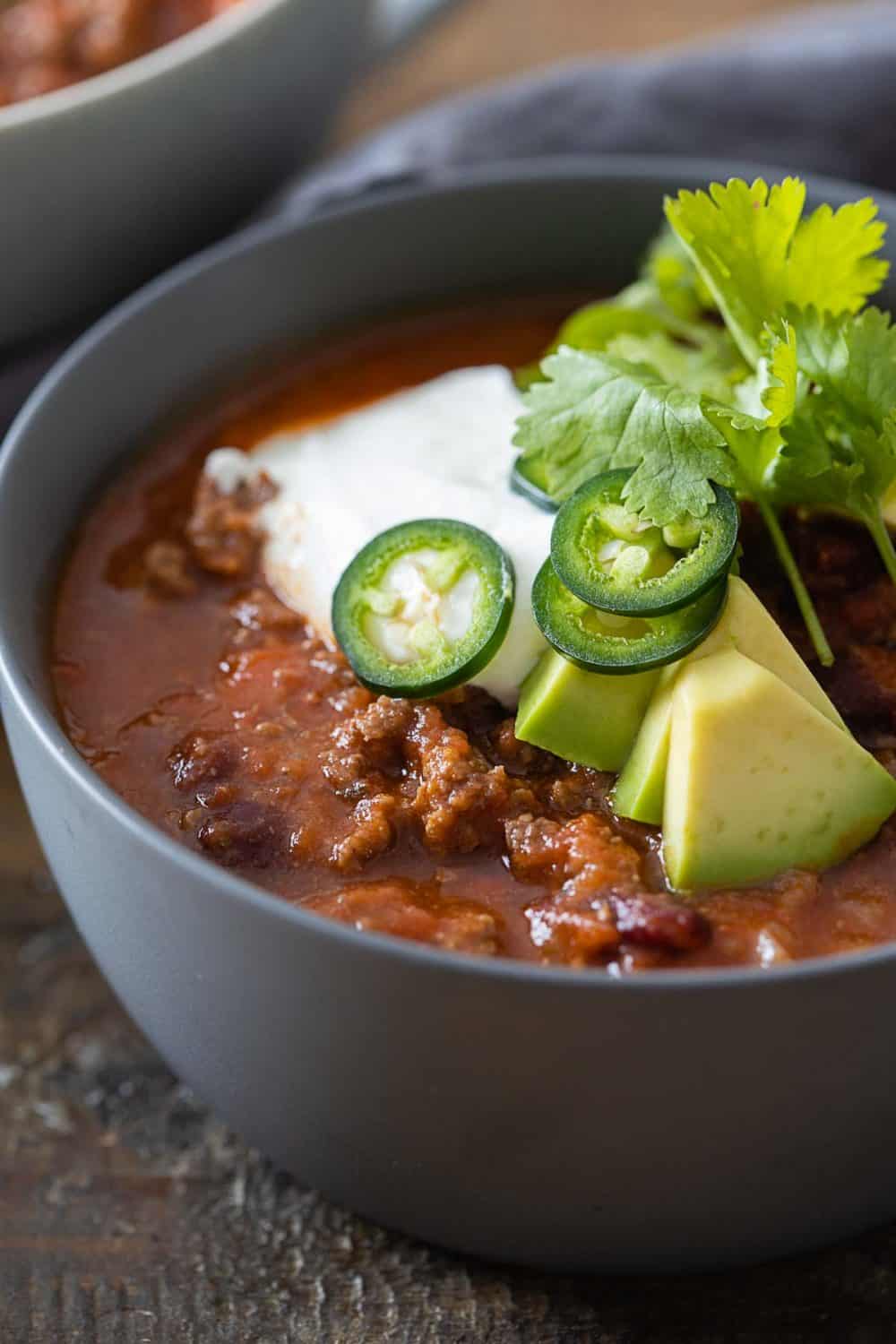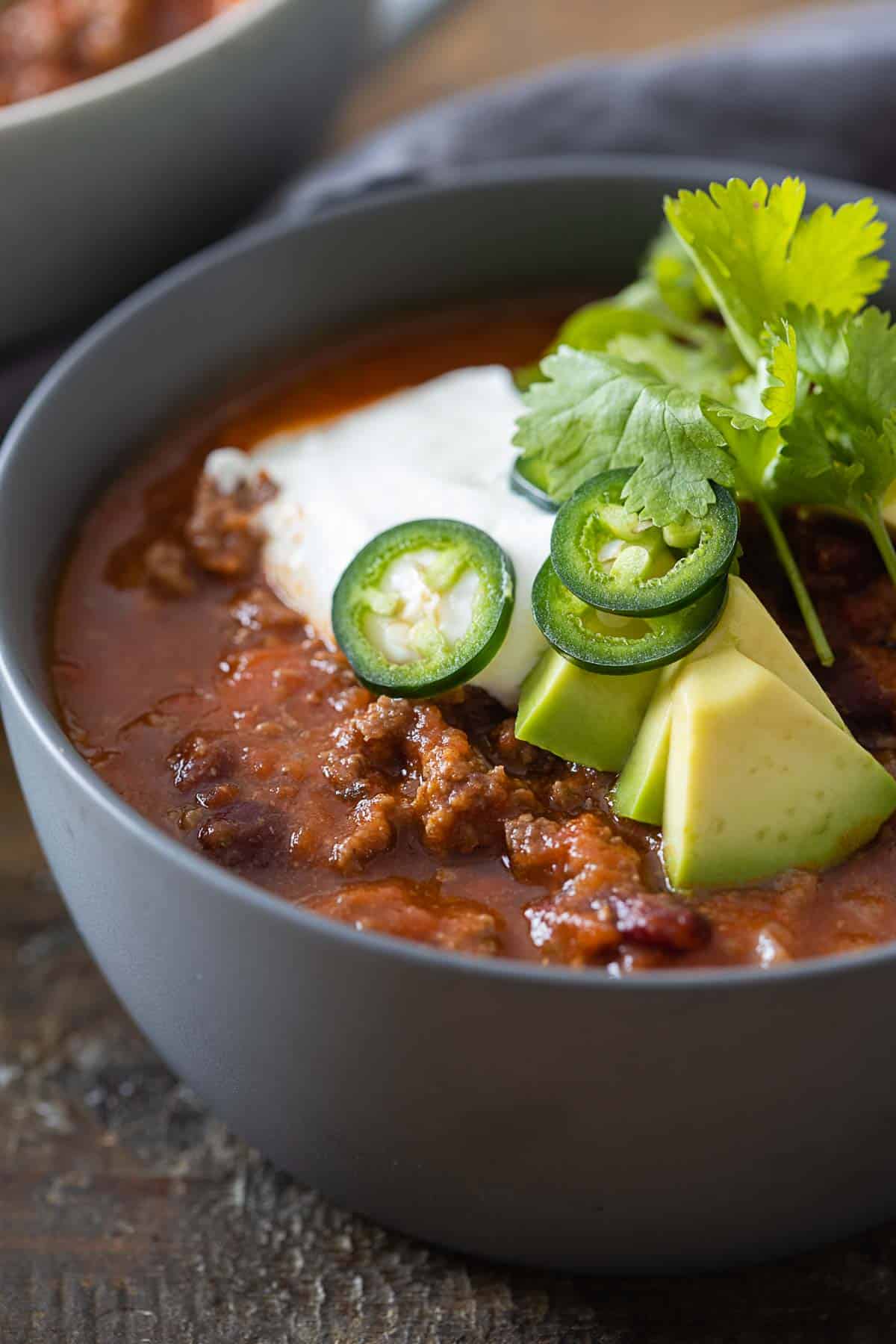 What To Serve With Chili Con Carne
First of all you need some toppings to make it EXTRA delicious! Avocado, a dollop of sour cream or yogurt, chopped fresh cilantro, a few sliced of jalapeño, and a couple squeezes of lime juice if you like.
The side can be anything from white rice, to brown rice, to quinoa, or simply a piece of bread. It all depends on how many more pots you want to get dirty ;)
I love to eat it with just the toppings and no sides but a few times I have made a side dish. My favorite side for chili is rice and ever since I have my Instant Pot I exclusively make Instant Pot Rice. I couldn't be more in love with this awesome machine!!!
* Frequently Asked Questions
Can I freeze Chili?
Yes! Chili con carne is perfect for freezing. Simply let cool completely and freeze in an airtight container. To defrost, place in the fridge for 12 hours.
How long does Instant Pot chili last in the fridge?
Chili lasts in the fridge for up to 4 days. That makes it perfect for meal prep.
What if I get the burn warning?
Release pressure manually, give everything a good stir, and try again. If you still get it. Release pressure manually again and press the saute button and cover with a regular lid and simmer for 1 hour on low.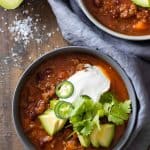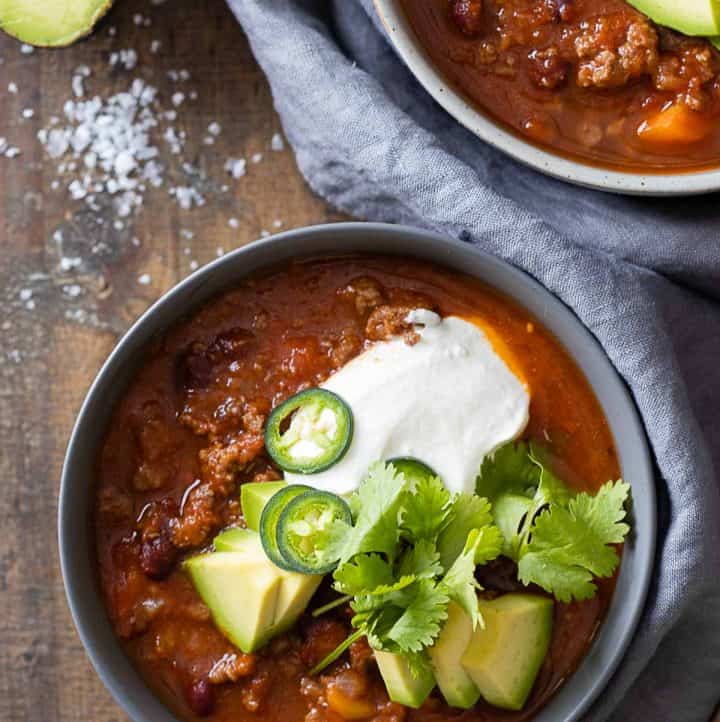 Failproof Instant Pot Chili
This Instant Pot Chili is perfect for either feeding a crowd, meal prepping, or freezing. In under an hour you have a big pot of nourishing, delicious chili con carne that makes everybody happy!
Print Recipe
Pin Recipe
Ingredients
1

Tbsp

avocado oil

1

yellow onion, chopped

3

cloves

garlic, chopped

sea salt

pepper

1

tsp

chili powder

1

tsp

paprika

1

tsp

cumin

1

tsp

oregano

2

lbs

lean ground beef

1

cup

diced carrots

1.5

cups

diced bell pepper

-

any color works

3

cup

cooked kidney beans

28

oz

canned chopped tomatoes

2

cups

tomato sauce (passata)

1

avocado

1/2

cup

sour cream

2

jalapeno

1

cup

cilantro

2

limes

-

(optional)
Instructions
Preheat the Instant Pot by pressing the saute button.

Once hot, add oil and chopped onions and saute until translucent.

Add chopped garlic and spices and sauté for another minute.

Add ground beef and use a wooden spoon to break up and brown until there are no more pink bits to see.

Add diced vegetables and cooked kidney beans and give everything a good stir. Then flatten everything and make sure there a no big holes where the tomato ingredients could easily seep to the bottom quickly. (see notes)

Add the chopped tomatoes and tomato sauce and do NOT mix in.

Put on the lid, turn the valve to the sealing position and set the Instant Pot to 20 minutes on high pressure. Then wait for full natural pressure release.

Serve alone or over rice topped with sliced avocado, a dollop of sour cream, chopped cilantro, sliced jalapeno, and a squeeze of lime juice if you like.
Notes
* It is crucial that you do not mix the tomato into the meat. When tomato touches the bottom of the Instant Pot before reaching a rolling boil you risk getting the burn warning and then you'll have to simmer the chili for an hour instead of pressure cooking for just 20 minutes.
Nutrition
Calories:
356
kcal
|
Carbohydrates:
27
g
|
Protein:
31
g
|
Fat:
15
g
|
Saturated Fat:
5
g
|
Trans Fat:
1
g
|
Cholesterol:
78
mg
|
Sodium:
741
mg
|
Potassium:
1287
mg
|
Fiber:
9
g
|
Sugar:
10
g
|
Vitamin A:
4467
IU
|
Vitamin C:
64
mg
|
Calcium:
115
mg
|
Iron:
6
mg
What's your clean eating vibe?
Take this fun QUIZZ and find out in 10 seconds!