An incredibly flavorful Coconut Curry Soup prepared in 20 minutes! Rice Noodles, shrimps, and veggies in a delicious broth with Thai curry and coconut milk!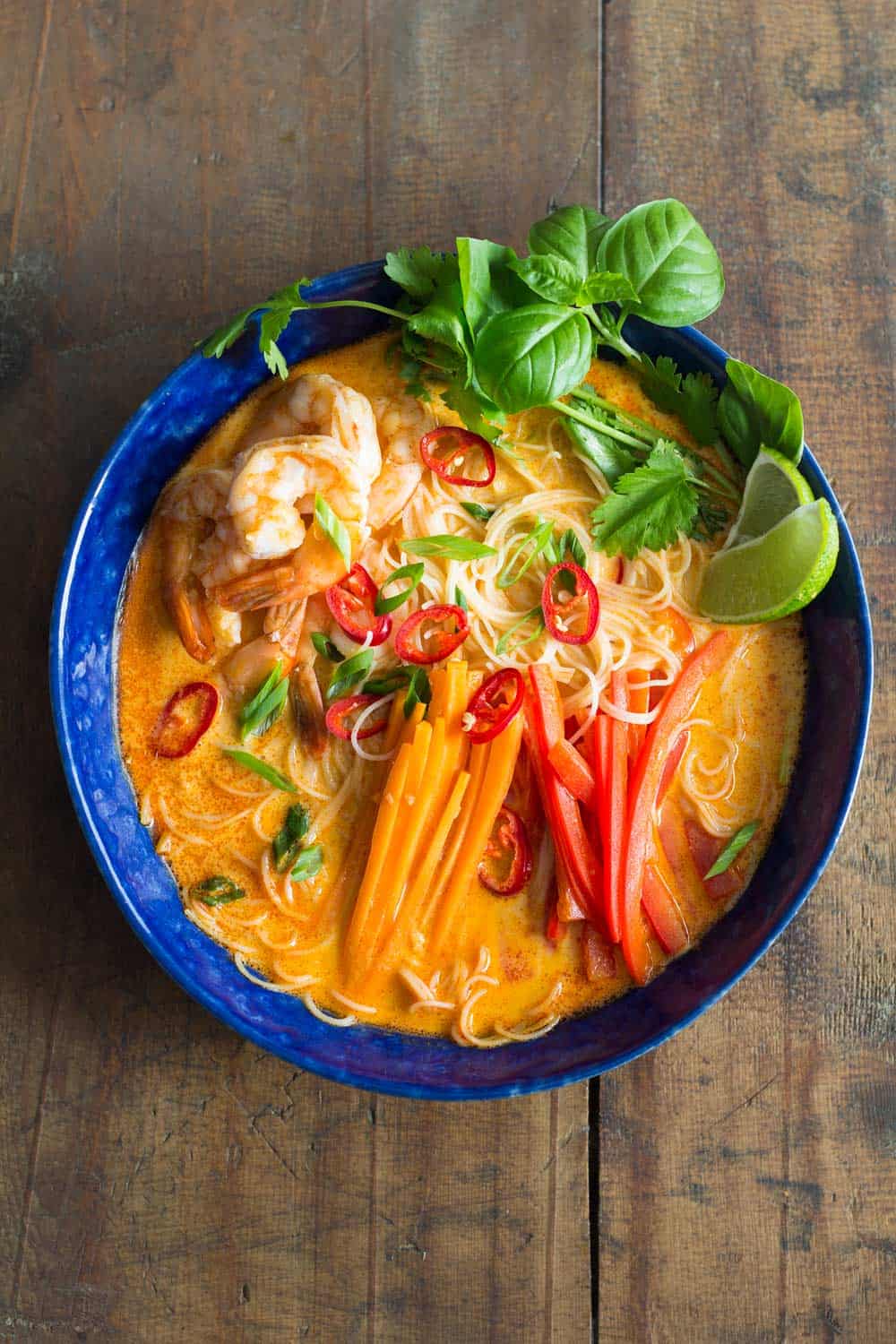 This recipe was inspired by Heather Christo's Spicy Thai Curry Soup. It looked so delicious to me that I had to have a go on my own version. And tadaaaa, this is how this Coconut Curry Soup came into life! It tastes beyooond amazing and it's warm and spicy and extremely flavorful.
Green Healthy Cooking has its fair share of Thai curry recipes, so it actually surprises me that I've never posted a Thai curry SOUP recipe here yet. I mean, remember this amazing Sweet Potato and Chickpea Curry? Or this Thai Chicken Cauliflower Curry? Sooo good! Now I've got a soup to add to my "Obsessed with Thai Curry Recipes"-List.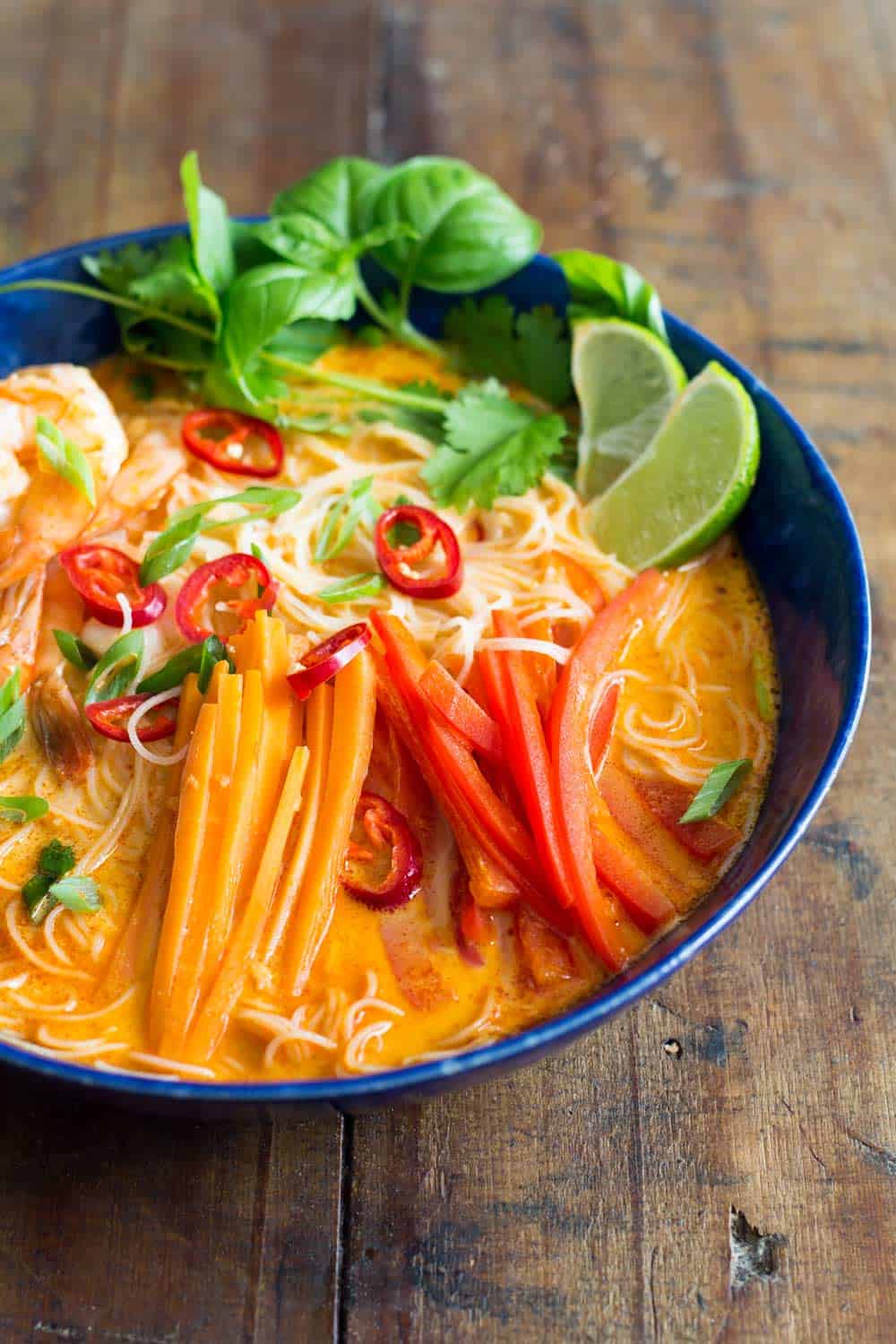 Coconut Curry Soup with Shrimp
The great thing about this soup is you can serve it with different kinds of protein. It tastes great with shrimps, with white fish filets, with cubed chicken breast, with scallops.
Use vegetable broth and add the boiled egg on top and make it vegetarian. Or use vegetable broth, add some chickpeas and make it vegan. The broth is extremely versatile.
Make a big batch of Coconut Curry Soup broth and sliced veggies and use it to make many different soups throughout the week. One day with shrimp, one day with chicken, one day with egg and one day with chickpeas.
4-day meal prep dinner done in 10 minutes + 10 minutes each evening to cook your protein and assemble.
This brings us to our next question.
Can you freeze coconut curry soup?
Absolutely! Without the protein though if you plan on defrosting in a pot.
If you freeze it with the shrimps/chicken etc. you have to let it defrost in the fridge overnight. Defrosting in a pot by cooking it until it's not frozen anymore overcooks the protein and it becomes all dry or chewy.
If you are an uber-organized person then, by all means, freeze the complete soup. Put in the fridge the night before, then reheat in a pot only until it starts to boil and immediately remove from heat and eat immediately.
If you are a mess (hello my friend), freeze only the Coconut Curry Soup Broth with the vegetables. Take out of the freezer and dump in a pot and heat on medium-low while preparing protein in a separate pan to then mix together.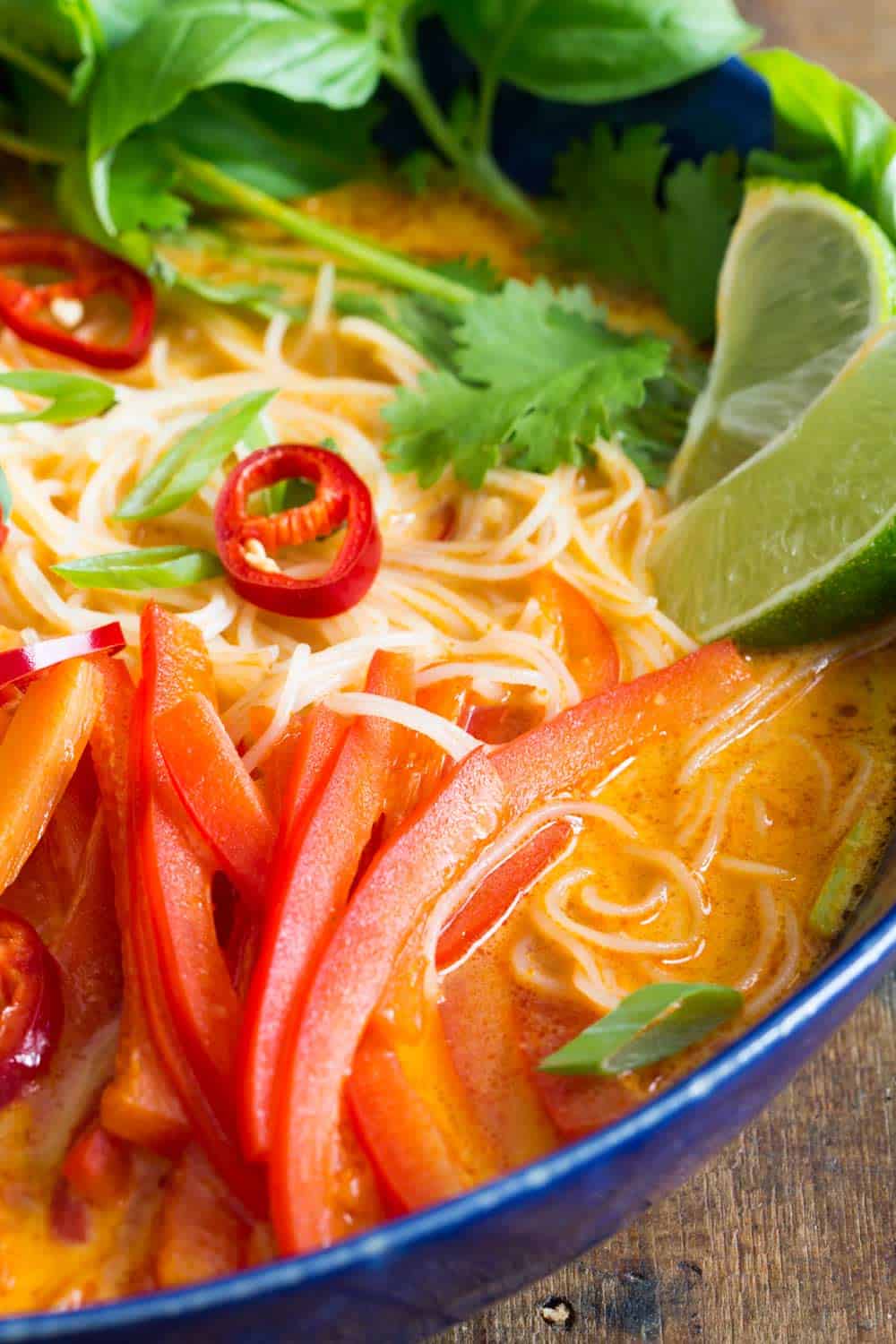 Important things to consider when cooking shrimps or scallops
Shrimps and scallops tend to be super expensive when you buy them fresh though you live far from the sea. You can easily use frozen. They defrost super easy and fast. Put in cold water for 20-ish minutes or until completely defrosted. Rinse and drain! Then lay individually on a paper towel to absorb water and pat dry with more paper towels from the top to ensure they are completely dry.
Here is the reason why this is important. If you fry them in a pan they get beautiful color and texture. If you "cook" them in water or "steam" them in their own juices they become small and chewy and yucky. Take the time to pat them dry.
Heat a pan over medium heat and wait until it's really really hot. Add some oil and wait for that to be really really hot, too. THEN add the shrimps or scallops. Fry for about 1 minute on one side, another minute on the other, and immediately remove from the pan so they don't overcook.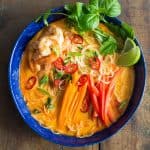 Coconut Curry Soup
An incredibly flavorful Coconut Curry Soup prepared in 20 minutes! Rice Noodles, shrimps, carrot, bell pepper in a delicious broth with thai curry and coconut milk!
Print Recipe
Pin Recipe
Ingredients
10

shrimps

1

Tbsp

coconut oil

1

square inch

fresh ginger

2

cloves

garlic

2

Tbsp

red Thai curry

4

cups

chicken or vegetable broth

400

ml

canned coconut milk

-

(light or full fat, both work, choose depending on how many calories you've had that day)

sea salt

Pepper

5.5

oz

rice vermicelli

-

VERY THIN rice noodles* (see note section) (160g)

1

large

carrot

1

large

red bell pepper

2

scallions

1

red

Thai chili

1

lime

basil

-

(optional but recommended)

coriander

-

(optional but recommended)
Instructions
(if you are a slow veggie slicer then start by washing and thinly slicing veggies before starting the cooking process otherwise, start with this step:) Preheat large pan over medium heat.

Rince, drain and pat dry shrimps.

Add 1/2 Tbsp coconut oil to hot pan, wait until oil is hot and add shrimps. Salt and pepper and fry for 1 minute on one side, then turn and fry for another minute or until nice and orange. Remove from pan and set aside in a bowl.

Heat a large pot over medium heat. In the meantime, grate ginger with a cheese grater and peel and crush garlic.

Add 1/2 Tbsp coconut oil to the pot, wait until oil is hot and then add grated ginger, crushed garlic, and Thai curry paste. Stir fry until fragrant (about 1 minute).

Add broth and coconut milk, stir to combine, salt and pepper to taste (make it a little bit too salty, the rice noodles will absorb saltiness later) and get to a boil.

In the meantime, peel and julienne (very thinly sliced) carrot and wash and julienne bell pepper.

Add a square of rice noodles to a large bowl, add half of the julienned carrot and half of the julienned bell pepper and cooked shrimp to a bowl and pour BOILING broth over all ingredients. Repeat with the second bowl.

Let sit for 3-4 minutes, then use a fork to break noodles apart a little. Squeeze some lime juice over them.

Add a couple slices of the green part of scallion and a couple slices of red chili on top and add a string of basil and a string of coriander to the bowl.

Enjoy!
Notes
This recipe calls for rice vermicelli - a very thin type of rice noodles - which cook perfectly fine if soaked 3-4 minutes in initially boiling broth. If your rice noodles are thicker you'll have to cook them in constantly boiling broth for a couple of minutes, i.e. add the noodles to the broth in the pot and boil, then transfer to bowl.
Nutrition
Calories:
651
kcal
|
Carbohydrates:
90
g
|
Protein:
20
g
|
Fat:
23
g
|
Saturated Fat:
17
g
|
Cholesterol:
75
mg
|
Sodium:
560
mg
|
Potassium:
808
mg
|
Fiber:
5
g
|
Sugar:
7
g
|
Vitamin A:
11065
IU
|
Vitamin C:
123.5
mg
|
Calcium:
140
mg
|
Iron:
3.4
mg
What's your clean eating vibe?
Take this fun QUIZZ and find out in 10 seconds!