I keep experimenting with dark photography and it's getting a little better, isn't it? For the next couple of weeks I guess you are going to have to focus more on the recipes themselves and less on the photography while I practice ;) The recipe for this Arugula Tomato Prosciutto Salad is amazing. It takes only a couple of minutes to prepare but it serves as a full lunch because the Prosciutto and Parmesan are super filling. There is no need to prepare a dressing in a separate container, it's all sprinkled and drizzled right on top of the salad and that saves on dishes of course, which is obviously an awesome side effect of one bowl/pot/pan dishes. I cut up the tomatoes in my hands and didn't even use a cutting board, that's how much I love doing dishes, I'd rather risk cutting into my hand than gliding a sponge down a cutting board, haha.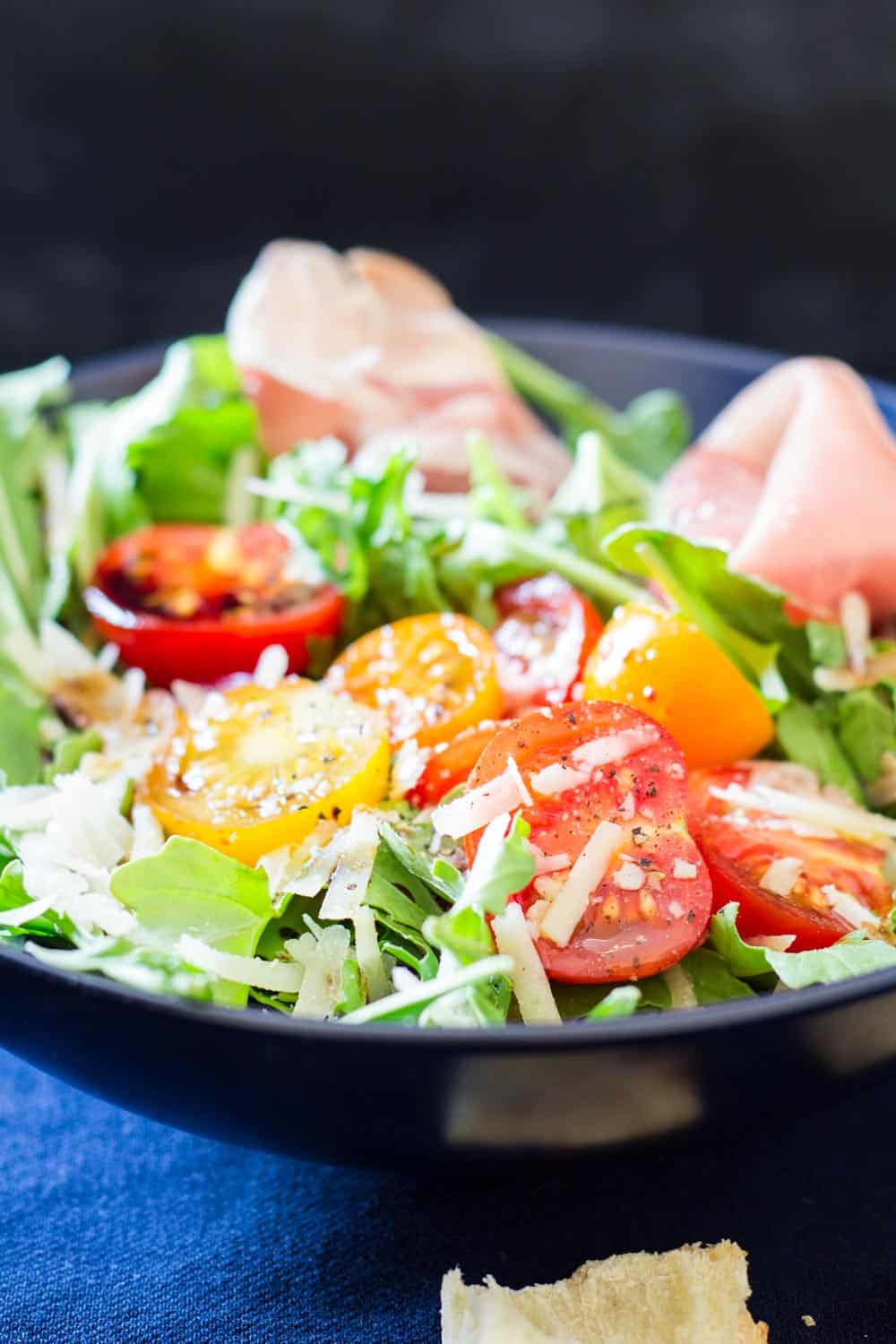 I absolutely love prosciutto but I don't like it on bread because whenever you give the piece of bread a bite you end up with a small piece of bread and the whole slice of prosciutto in your mouth. Or am I the only one incapable of biting through this ham? Teared up in half and placed in salad, that's how I love it! Besides, I love how it tastes together with Parmesan but both are a bit dry so it needs fresh and moist crunchiness in combination….a.k.a. saaalaaaad!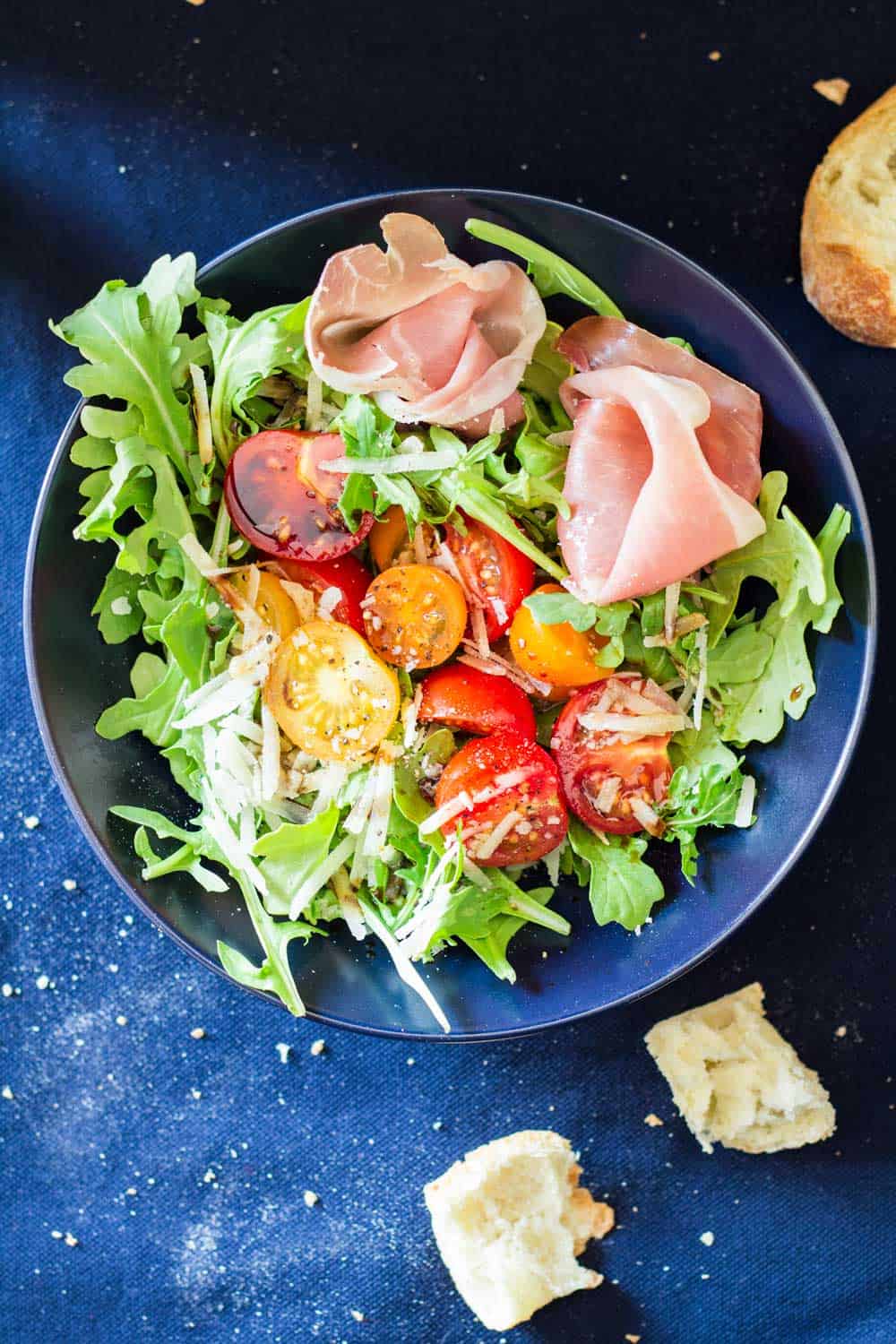 We've had 3 absolutely gorgeous days in Montreal and I've taken the kids to the park right after school until close to dinner time. My plan was to get home by 5, prepare dinner and then get them ready for bed, but of course after 4.5 hours at the park they were still begging for "5 more minutes" for an entire hour and we ended up being home more around 6-ish which calls for EXPRESS dinner preparation. This Arugula Tomato Prosciutto Salad is prepared in less then 5 minutes and the kids l0ve it. Will this become our all summer dinner? I wouldn't mind :)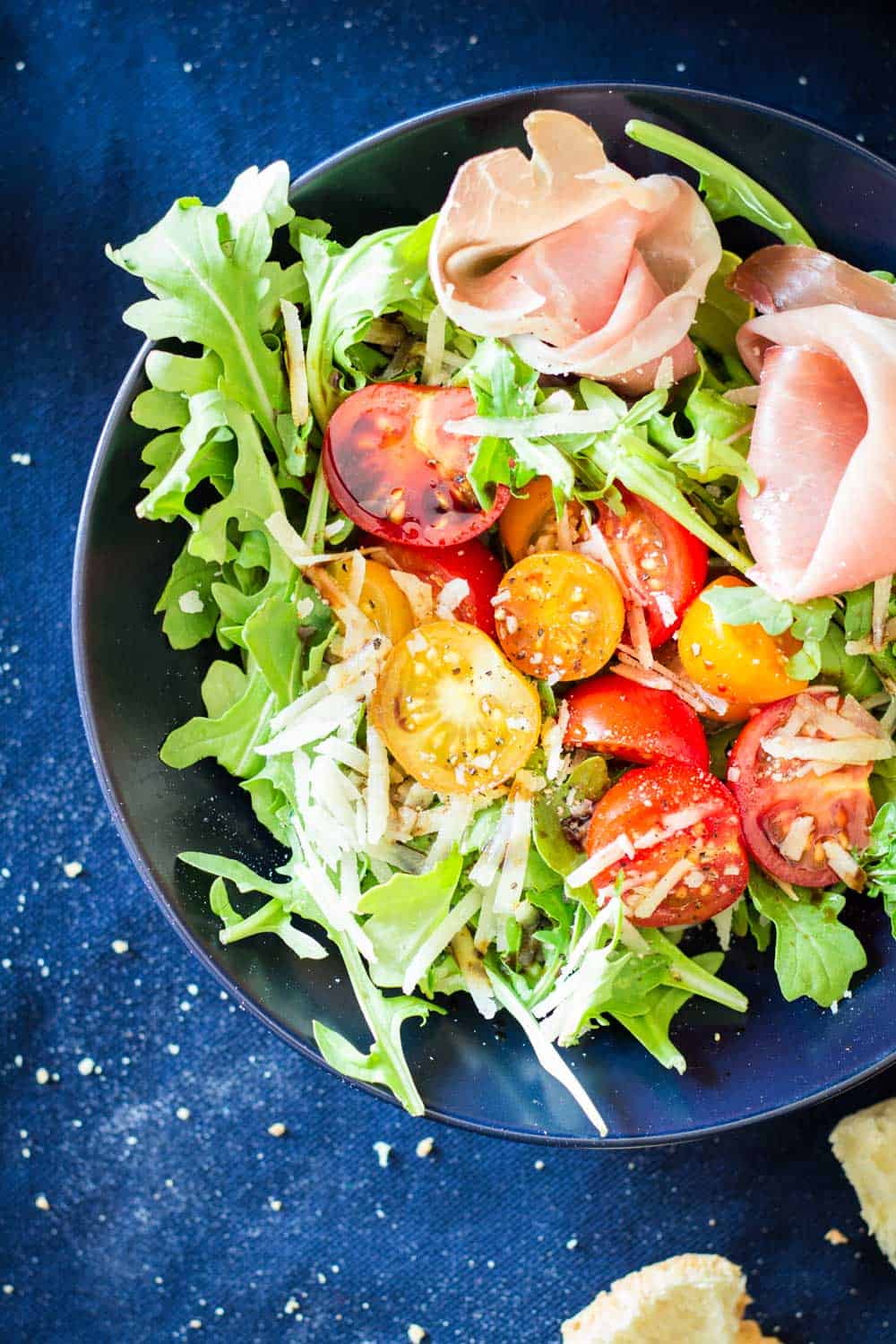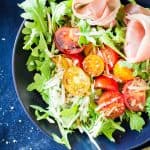 Arugula Tomato Prosciutto Salad
Print Recipe
Ingredients
2

hands full

arugula

5

cherry tomatoes

2-3

slices

Prosciutto

1

hand full

freshly grated Parmesan

pinch

salt

pepper

2-3

tsp

Balsamic vinegar

1

Tbsp

olive oil
Instructions
Add arugula to bowl.

Cut tomatoes in half and add to bowl.

Tear Prosciutto in bite sized pieces and add to bowl.

Grate Parmesan over bowl.

Sprinkle a little salt and pepper and drizzle balsamic vinegar and olive oil over salad.

Toss. Try. Adjust for salt and pepper.

Enjoy with bread.
What's your clean eating vibe?
Take this fun QUIZZ and find out in 10 seconds!