This Maple Mustard Balsamic Dressing in a couple of different variations is the number one salad dressing I use for my salads. I make it at the very least three times a week and sometimes I even use it as a sauce for dry fish or chicken.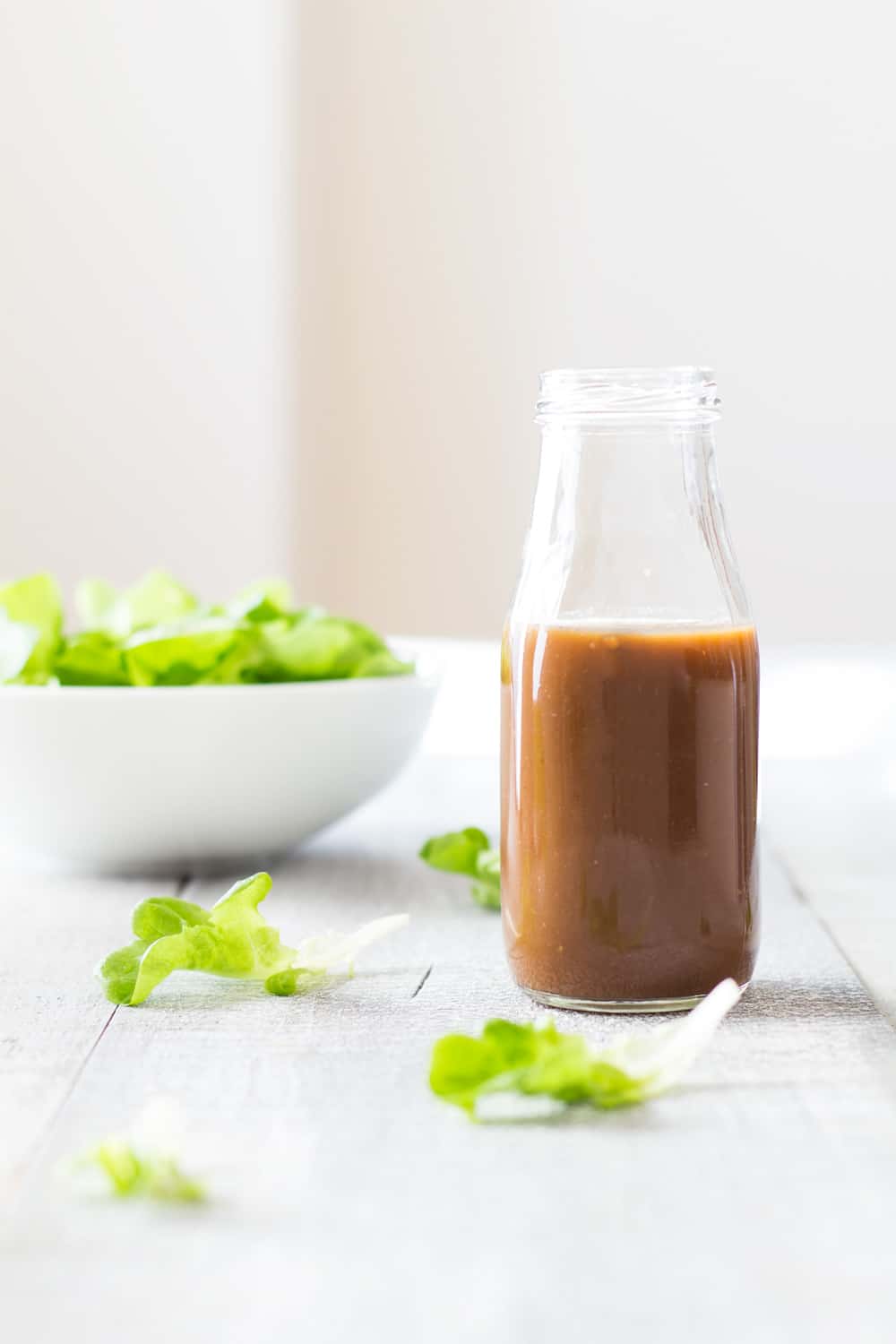 It takes literally 2 minutes to make and tastes H.E.A.V.E.N.L.Y.!! I've heard from many people that they either don't like salad and don't eat it or that they don't like salad and force themselves to eat it. They know it's healthy for them but don't enjoy eating it and that, in my honest opinion, isn't healthy either. Why force yourself to eat a salad that tastes like rabbit food when you can make it taste like an ultimate 100 star international restaurant salad? YES! This Maple Mustard Balsamic Dressing is THAT good! If my 2-year old and 4-year old attack the salad bowl and eat an adult portion each that pretty much proves that this dressing is out.of.this.world!
To show you how quick and easy it is to make this dressing I've now finally made a recipe video for all of you :)
Maple Mustard Balsamic Dressing Video
(*)
I've been wanting to post the recipe quite a while ago, I didn't know how to present it properly though. I mean, dressing doesn't look very nice unless it has a ton of herbs in it, so I had to think of a way to make the dressing look as good as it tastes. I never really managed to do that but I couldn't just NOT post the recipe, could I?
Update 1 year later (March 2016): I finally had time to reshoot this recipe and am much happier with the result now. Learning food photography is quite a long process but I'm getting there folks, I'm getting there ;) I hope you like the new photos. 
Maple Mustard Balsamic Dressing tastes fantastic on any kind of salad and even chicken and fish. J all my recipes…it is healthy! Yay! I do believe that the maple, mustard, balsamic and olive oil combo are the most delicious but if you don't happen to have one of the ingredients, don't run to the store late in the evening.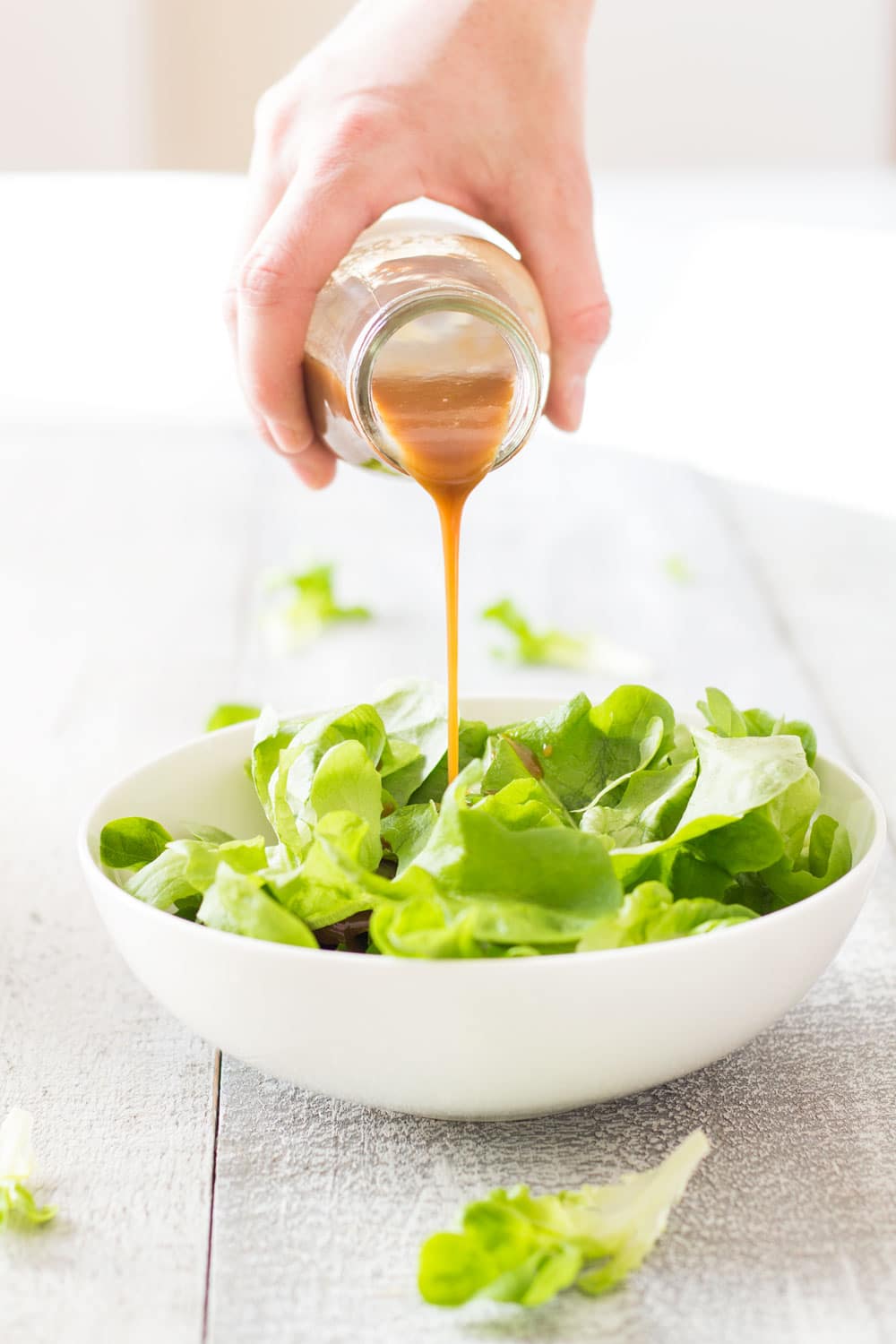 Each ingredient of this Maple Mustard Balsamic Dressing can be easily replaced in equal amounts by the following:
Maple Syrup: Raw Honey, Agave Nectar, Coconut Nectar, Any thick liquid sweetener
Dijon Mustard: Any other mustard
Balsamic Vinegar: Lemon Juice, Apple Cider Vinegar, Any other vinegar
Flavorless Oil: Avocado Oil, Sunflower Oil, Any other oil
Mix all ingredients in a tight sealable container and shake really really well. THAT'S IT!!!! Triple the recipe and you'll have salad dressing ready to grab in the fridge for a whole week.
Salads on this blog that call for either exactly this dressing or a slight variation of it are: Roasted Butternut Squash Salad, Mexican-Style Side Salad, and Turmeric Quinoa Salad.
Can you tell I LOVE this salad dressing? If you are a salad hater you have to try a salad with this dressing!! If you then still don't like salads, there is no way to help you…. :P
(*) Recipe Video Music: Cold Funk – Funkorama by Kevin MacLeod is licensed under a Creative Commons Attribution license (https://creativecommons.org/licenses/…) Source: http://incompetech.com/music/royalty-… Artist: http://incompetech.com/
Maple Mustard Balsamic Dressing
Ingredients
2

Tbsp

maple syrup

2

Tbsp

dijon mustard

2

Tbsp

balsamic vinegar

8

Tbsp

flavorless oil

(I used avocado oil) (8 Tbsp are very close to 1/2 cup)
Instructions
Put all the ingredients in a bowl and whisk well together or put them in a sealable glass jar and shake until well combined.
Get Green Healthy Cooking's NOURISHING NEWS straight to your inbox!