Are your ready for a refreshing summer drink? This Passion Fruit Lemon Infused Water will make everyone in the family beyond happy to drink liters upon liters of water!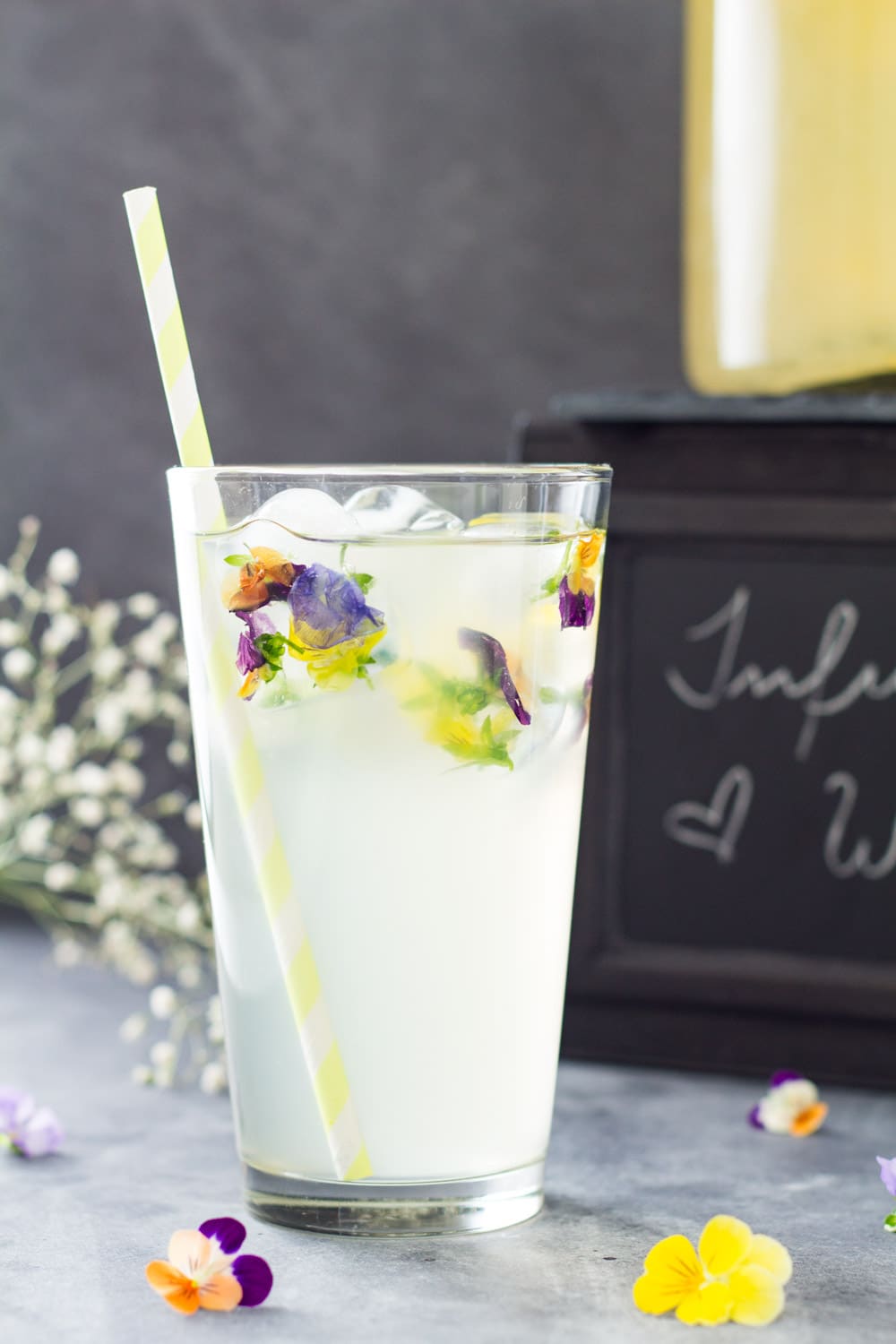 I've never particularly had trouble to get my kids to drink a lot of water but I've heard from many parents that they do struggle hydrating their kids appropriately in summer because the kids are busy playing and totally forget to fuel the tank.
Hydration is key for a healthy living lifestyle though. I've noticed that if you make water easily available in a fun way such as with this refreshing summer drink, everybody, not only kids, will drink a lot more.
A glass beverage dispenser like this
one is great to get everybody to drink loads and loads of lemon infused water or any kind of infused water for that matter because it's easy to serve yourself. Most of all, it looks so pretty you remember to drink more. In case you have very small children you may want to put the dispenser on a silicone mat so it doesn't slip forward and off the counter. 
Now, if you take it up a notch you can make edible flower ice cubes to increase the fun effect. I don't recommend adding edible flower ice cubes to the dispenser itself though because once the ice melts you will have tons of wilted flowers in the dispenser. Those will be really hard to fish out and start looking more and more gross over time. Ewww.
I didn't take any photos of my dispenser with my lemons and passion fruit in it because I took a video of the lemon infused water preparation process to show exactly how to make lemon infused water. However, I didn't realize I had forgotten to TURN the camera!!! Ugh! It's a vertical video now instead of horizontal *sigh* I will reshoot eventually and then add the good one instead of adding the super unprofessional one, ok? *pinky finger promise*
#1 thing on tomorrow's to-do-list: video on "How to Make Lemon Infused Water" – check!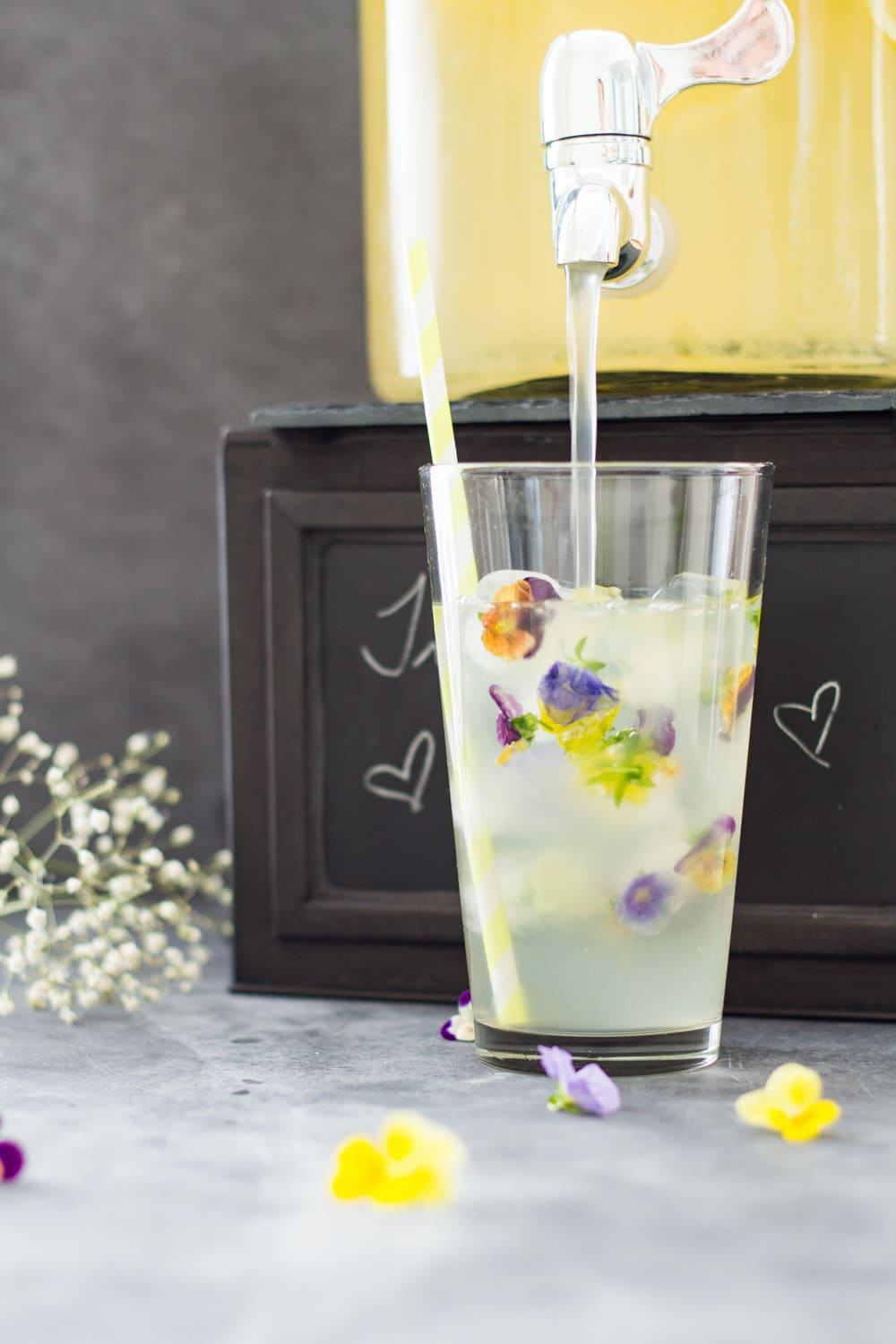 I recommend fishing the lemon out of the dispenser with a slotted spoon after a maximum infusion time of 4 hours because otherwise the water becomes very bitter. If you don't like lemon infused water (huh?!?!) you could also make this Blood Orange Lemonade or this Agua de Jamaica and serve it in the dispenser, GREAT alternatives :)
Lemon Infused Water
Ingredients
4

lemons

4

passion fruits

4

litres of water
Instructions
Cut the passion fruits in half and use your fingers to scoop out the slimy seeds and add them add to a blender.

Add 1/2 cup of water to the blender and blend on low for about 30 seconds. This is to separate the seeds from the fruit's delicious slimy flesh.

Strain out seeds from passion fruit water and add to glass dispenser.

Cut up 4 lemons into thin slices and add to glass dispenser.

Add up to 4 litres of water to the dispenser, give it a quick stir and let infuse for a minimum of 1 hour before serving, spooning out the lemons after a maximum of 4 hours of infusing to avoid water from becoming bitter.

If not emptied the same day, store in the refrigerator for one additional day.
Disclosure: This post may contains affiliate links, which means that if you click on one of the product links and end up buying it, I'll receive a small commission. The price is the same for you, though! Thank you for your support.
Get Green Healthy Cooking's NOURISHING NEWS straight to your inbox!