These incredibly flavorful Stuffed Zucchini Boats are the best low-carb dinner recipe you'll ever try. Simple ingredients you can find at any grocery store combined in a way that makes them different from any other zucchini stuffing you've ever tried.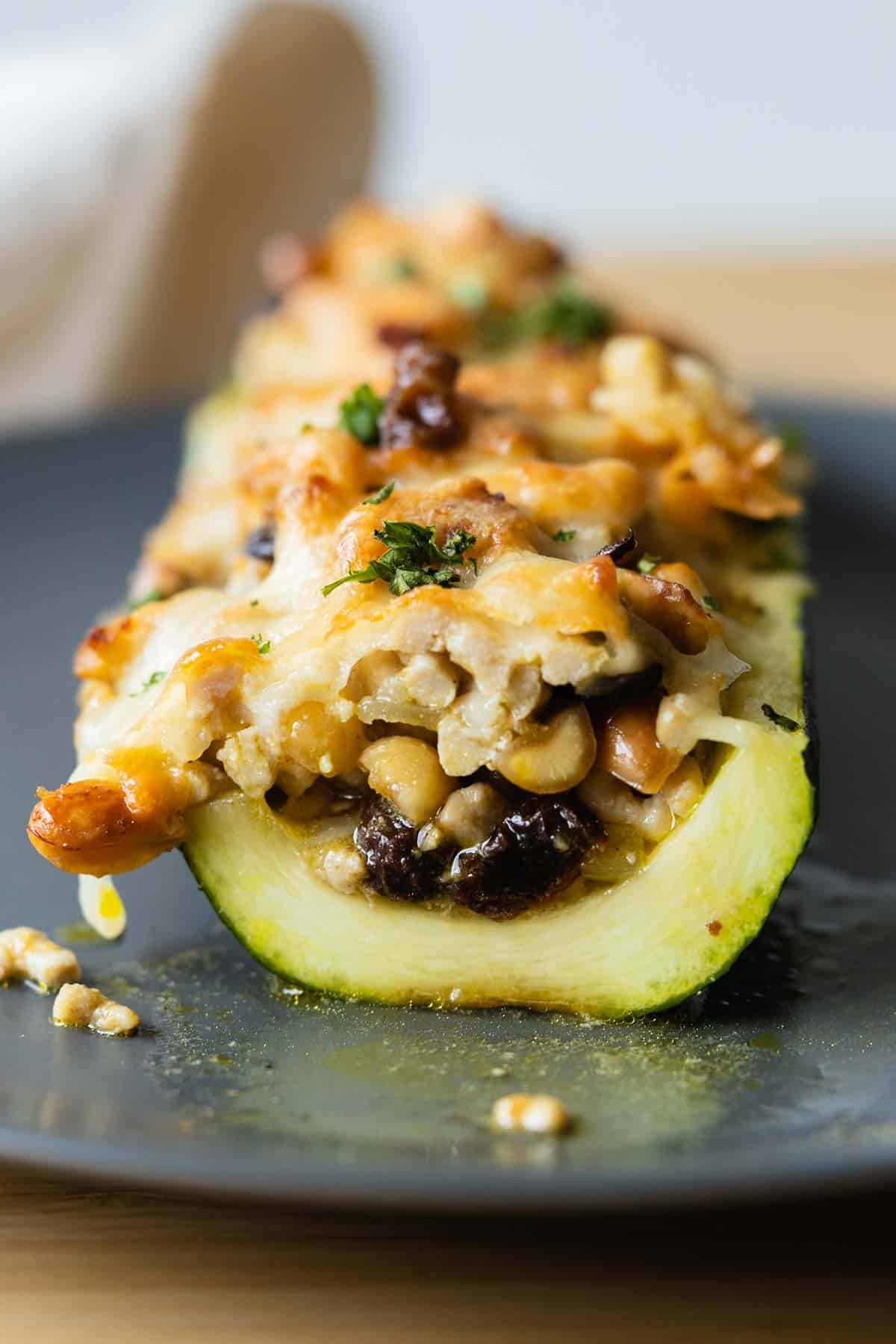 Last week was my birthday and I went completely overboard with cake and dessert. My carbohydrate intake for the week was over the ROOF! Whenever something like this happens my body craves balance. The best way to balance out a day filled with sugar is to have a high-protein and low-carb dinner for several days in a row. This low-carb stir-fry is another go to.
Ingredients and Substitutions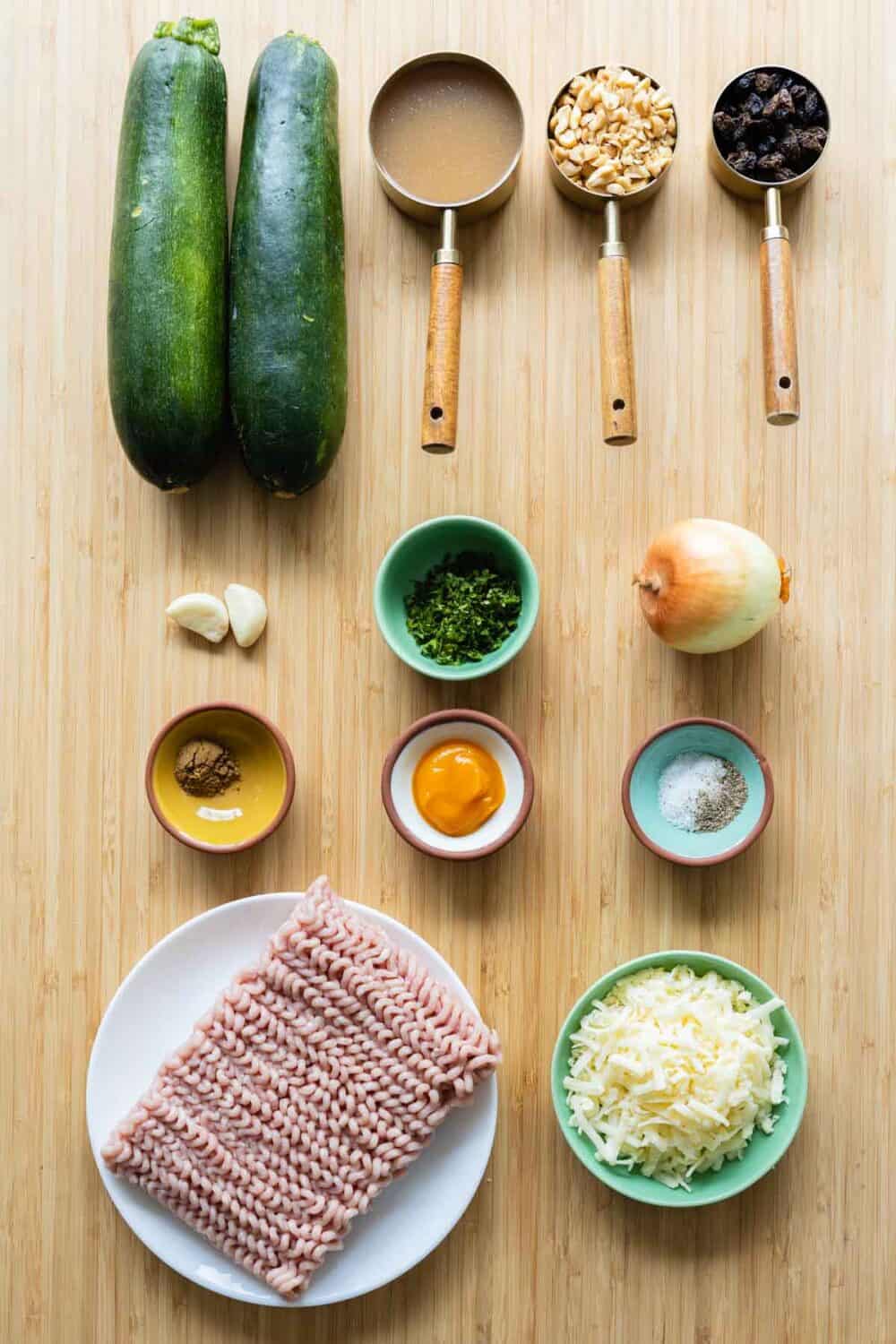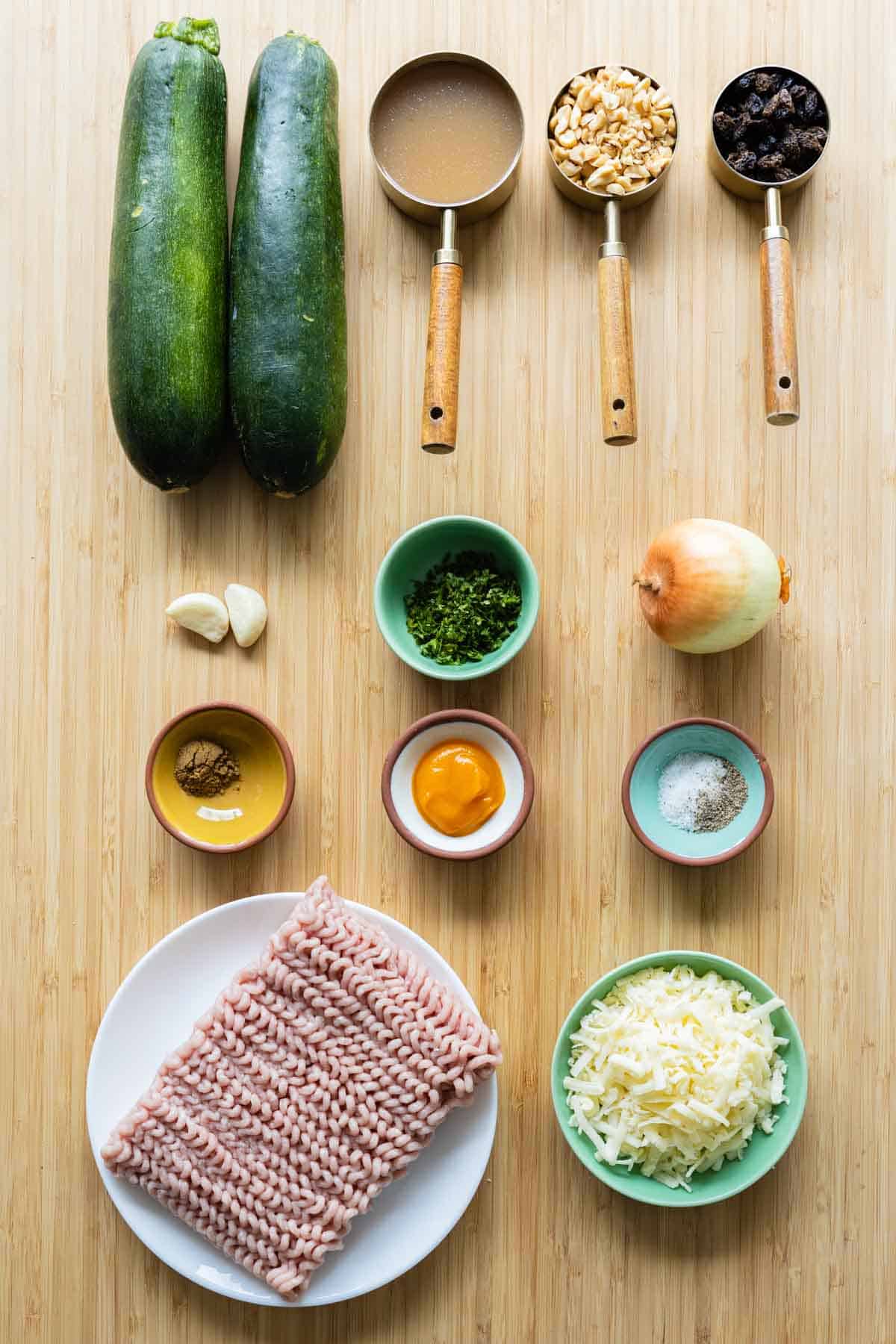 Zucchinis – any type of zucchini will work but the most popular varieties sold in North America are green bush or black beauty zucchini. Both are particularly great for making stuffed zucchini boats.
Onion & Garlic – I highly recommend using fresh onion and garlic but in a pinch, you can also use dried. Use 1 tsp dried ground onion and 1/2 tsp ground dried garlic.
Ground meat – for this particular recipe my favorite is lean ground pork. However, literally any other ground meat will work perfectly: chicken, turkey, beef, lamb, or even sausage.
Ground cumin – cumin gives a lot of flavor and depth to the ground meat. If you're not a fan of cumin ground coriander is a good alternative.
Chili paste – my favorite chili paste as you all know is Ají Amarillo. However, any other chili paste such as Sambal Oelek works great, too. You could even use a bit of ground chili powder instead of the paste.
Peanuts & Raisins – I know, I know, this may sound weird to some of you but please please trust me on this one. Just trust me. If you're allergic to nuts use sunflower seeds but if you're not allergic please simply trust me. If you need the dish to be extra low carb then leave out the raisins. From a culinary perspective, they are a must though.
Broth – any broth works: chicken, beef, vegetable, mushroom. Use your favorite.
Cheese – this is optional but strongly recommended even if it's just a little bit. Use any melty cheese such as Edammer, Swiss, Gruyère, Parmesan, Gouda, Cheddar, or a combination of two or more. I love the mix of Swiss and Parmesan.
Parsley – this is for garnish and you can replace it with chopped cilantro or basil as well if you prefer.
How To Make Stuffed Zucchini Boats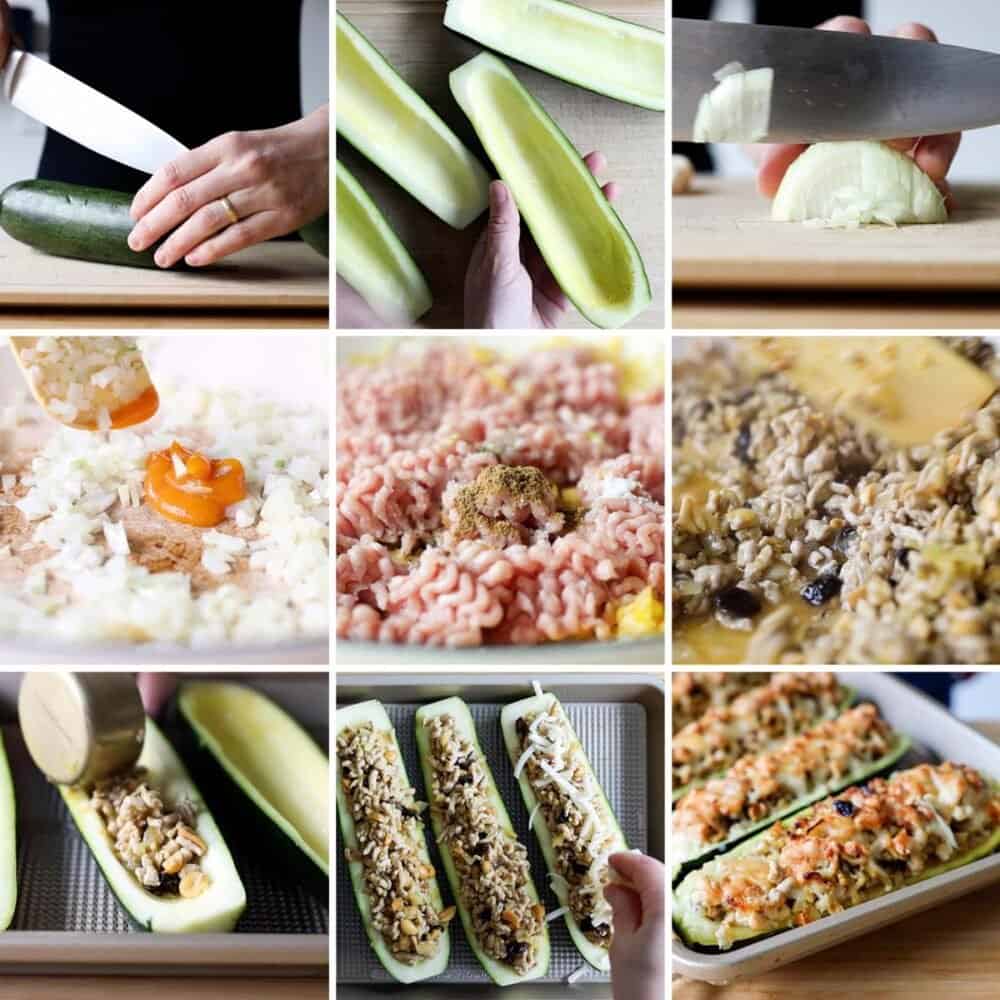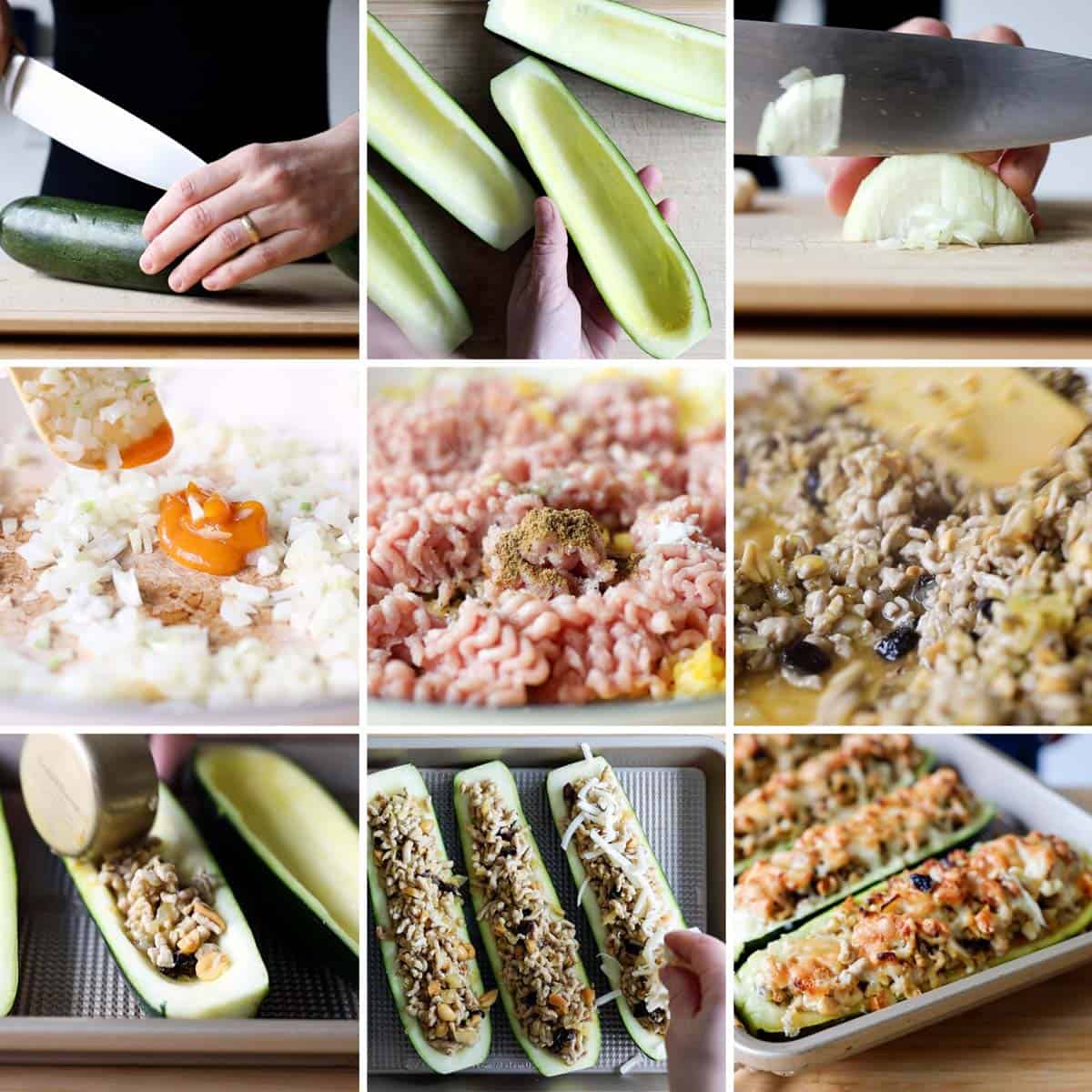 Cut zucchini – cut off the ends of the zucchini and then cut it lengthwise.
Make boats – form boats out of the zucchini by using a spoon to scoop out all the seeds. The zucchini should be fairly hollow so you can fill it nicely. You can store the seeds in a container in the fridge and add it to your next Zucchini Soup. Then lightly oil the boats inside and out and place on a baking sheet.
Chop onion & garlic – peel and finely chop one small yellow onion and 2-3 cloves of garlic. They give every recipe a ton of flavor.
Fry – fry your chopped onion, garlic, and chili paste in a little oil in a large pan. To avoid any onion or garlic ever sticking to your pan, make sure you preheat it really well over medium heat. Only when really hot, add a drizzle of oil, and then immediately add onion and garlic.
Add meat & spices – it's always a good idea to take your ground meat out of the fridge 20-30 minutes before it hits the pan. Very cold meat will release a lot of its juices instead of searing them in. Break the meat up constantly and stir constantly so no steam gets trapped and starts cooking the meat instead of frying and searing it.
Add rest – add chopped peanuts, raisins, and broth to the meat to finish it off and make it special. Stir until the broth thickens a bit.
Stuff zucchini – ladle the meat mixture into your hollow zucchini boats as best you can.
Sprinkle with cheese – make sure the cheese is pressed into the stuffed zucchini boats so it doesn't fall off while baking.
Bake – bake at 400F for 20 minutes.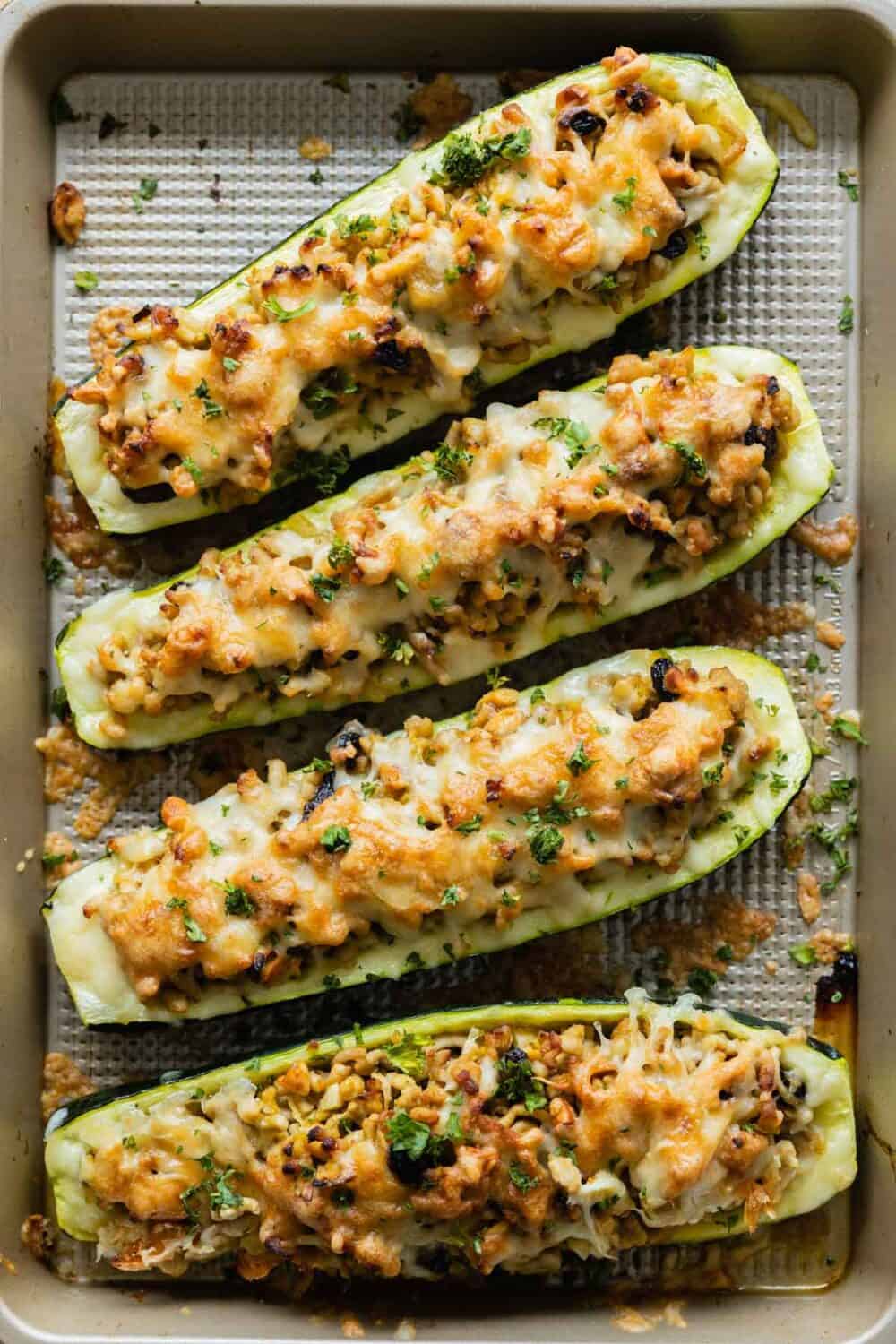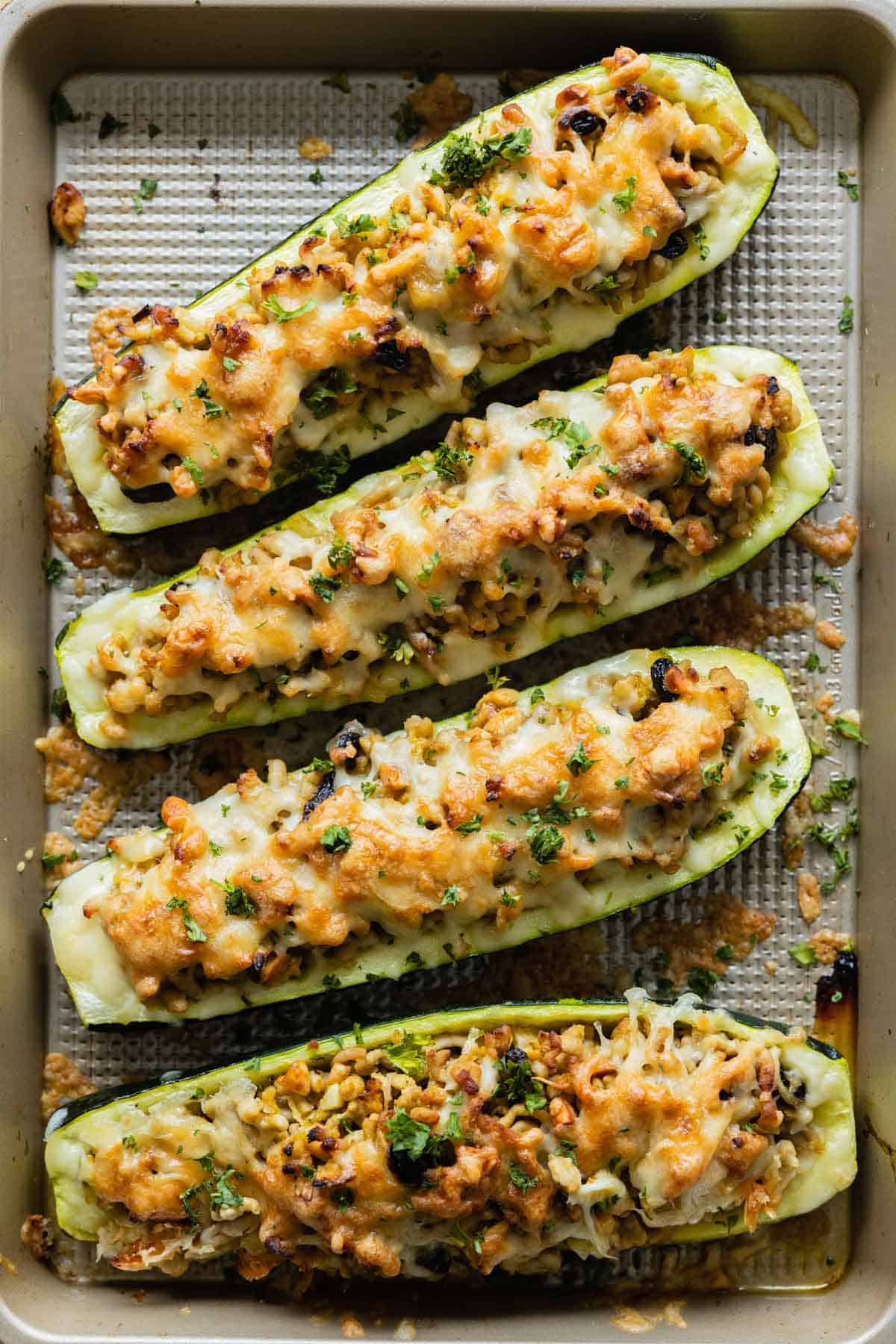 Frequently Asked Questions
How can I make this recipe faster? I'm in a rush!
You don't have to fill the zucchini boats. You can also just cut the zucchini into small pieces and add it to the pan once the meat is browned, and sauté for about 10 minutes. Then add the cheese in and stir well and serve.
How do I store leftovers and reheat them later?
Simply store in an airtight container in the fridge for up to 4 days. To reheat, place in the microwave or put under the broiler for 5-6 minutes.
Can I freeze the ready-made zucchini boats?
The filling freezes really well so you can freeze that separatley. The zucchinis don't freeze as well so I recommend to freeze only the filling and buy fresh zucchinis for leftover filling.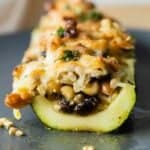 Low-Carb Stuffed Zucchini Boats
These incredibly flavorful Stuffed Zucchini Boats are the best low-carb dinner recipe you'll ever try. Simple ingredients yet super unique.
Print Recipe
Pin Recipe
Ingredients
2

large straight zucchinis

1

small yellow onion

2

cloves garlic

14

oz

lean ground pork

-

or any other ground meat

1/2

tsp

cumin

2

tsp

Ají Amarillo

-

or any other type of chili paste

1/3

cup

peanuts, lightly chopped

1/4

cup

raisins

1/3

cup

chicken broth

-

or any other type of broth

1/2

cup

melty cheese

-

I use a mix of Swiss & Parmesan

1

Tbsp

parsley, chopped

sea salt

pepper
Instructions
Cut off the ends of the zucchinis, cut lengthwise, and use a spoon to make them hollow. Oil the hollow halves inside and out with your hands with a few drops of oil. Place on a baking sheet and set aside.

Peel and finely chop onion and garlic.

Preheat the oven to 400F and preheat a large pan over medium heat.

Once the pan is hot add a drizzle of oil and fry the chopped onion, garlic, and ají in it until the onion is translucent. Then add the ground pork, cumin, and sea salt and pepper to taste. Break up the meat and stir constantly until it's all browned.

Add chopped peanuts and raisins as well as broth and stir until the broth thickens a little.

Ladle the meat filling into the zucchini boats, sprinkle with cheese, and place in the oven for 20 minutes.

Sprinkle with chopped parsley if desired.
Nutrition
Calories:
394
kcal
|
Carbohydrates:
16
g
|
Protein:
22
g
|
Fat:
28
g
|
Saturated Fat:
9
g
|
Polyunsaturated Fat:
4
g
|
Monounsaturated Fat:
12
g
|
Cholesterol:
71
mg
|
Sodium:
77
mg
|
Potassium:
783
mg
|
Fiber:
3
g
|
Sugar:
4
g
|
Vitamin A:
212
IU
|
Vitamin C:
22
mg
|
Calcium:
58
mg
|
Iron:
2
mg
What's your clean eating vibe?
Take this fun QUIZZ and find out in 10 seconds!