A quintessential comfort food, super easy, nutritious and delicious. This Chicken Soup gives you kisses from the inside of your belly!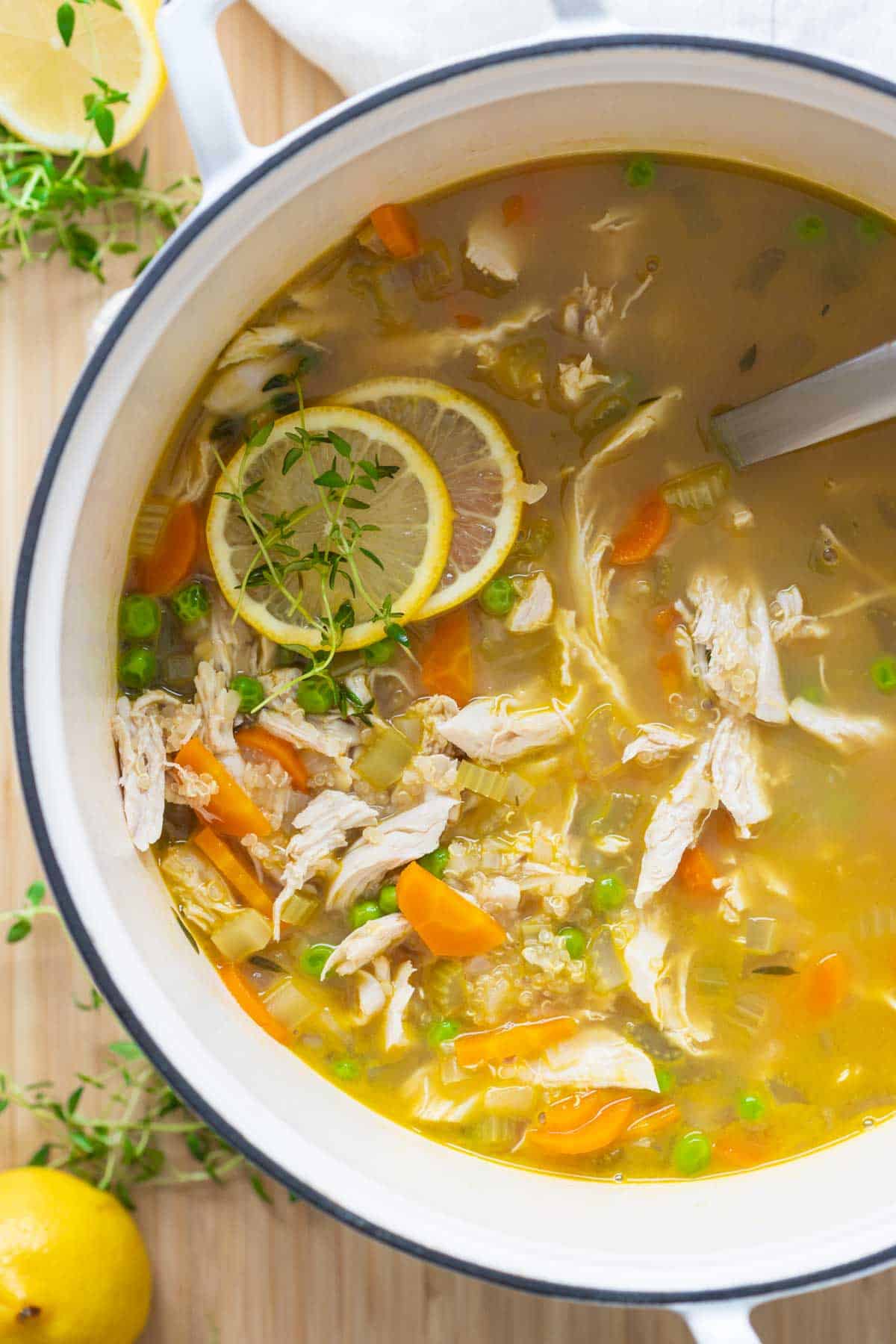 Chicken soup has been a form of love for centuries. I love to pamper my family by cooking, and a bowl of hot soup almost always hits a sweet spot. Whether is a Creamy Asparagus Soup or a hearty Crockpot Lentil Soup, it always brings out a smile.
Talking about pampering, how about some tasty desserts to satisfy their sweet tooth?
Now, let's get to the point and make this delicious chicken soup!
Ingredients & Substitutions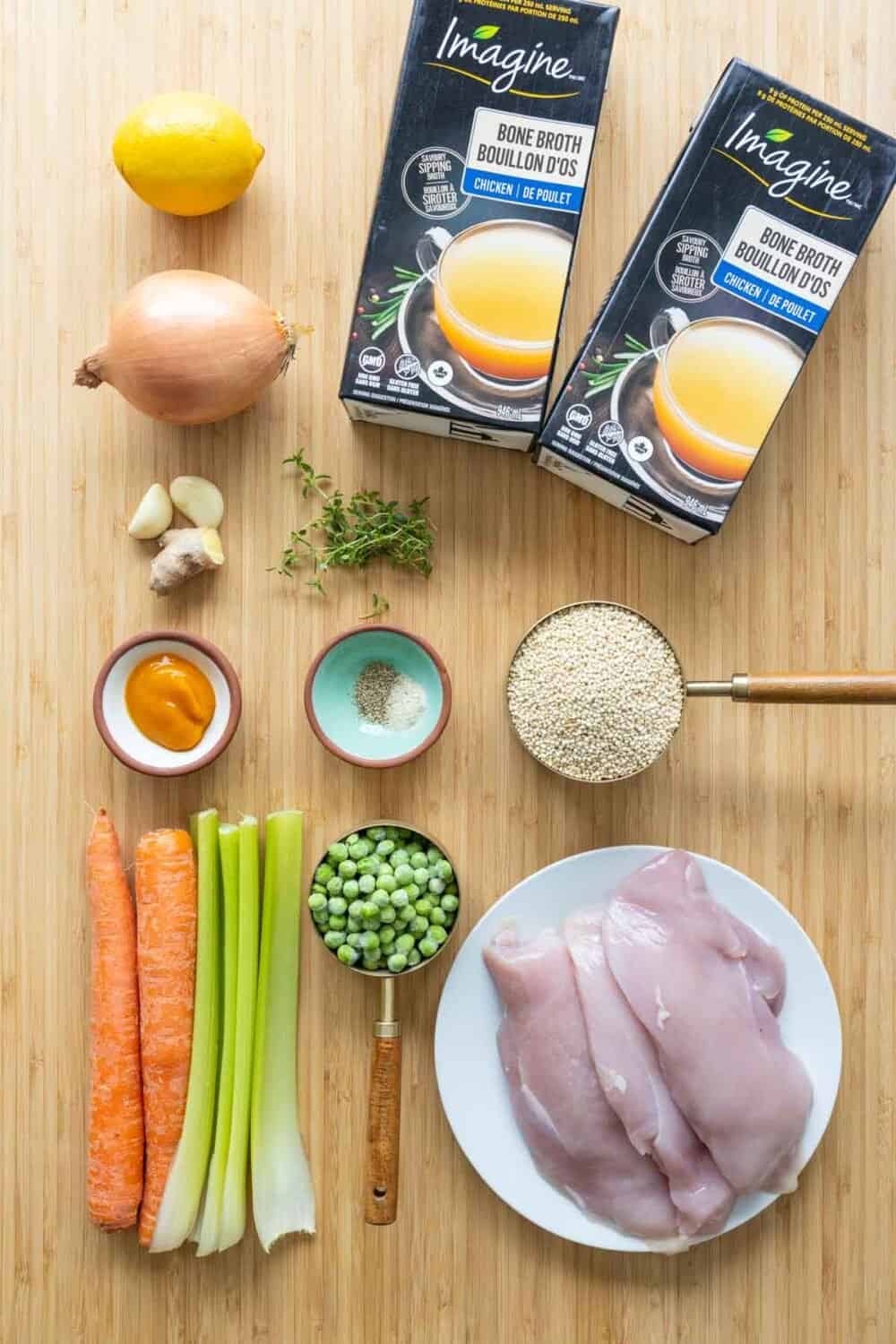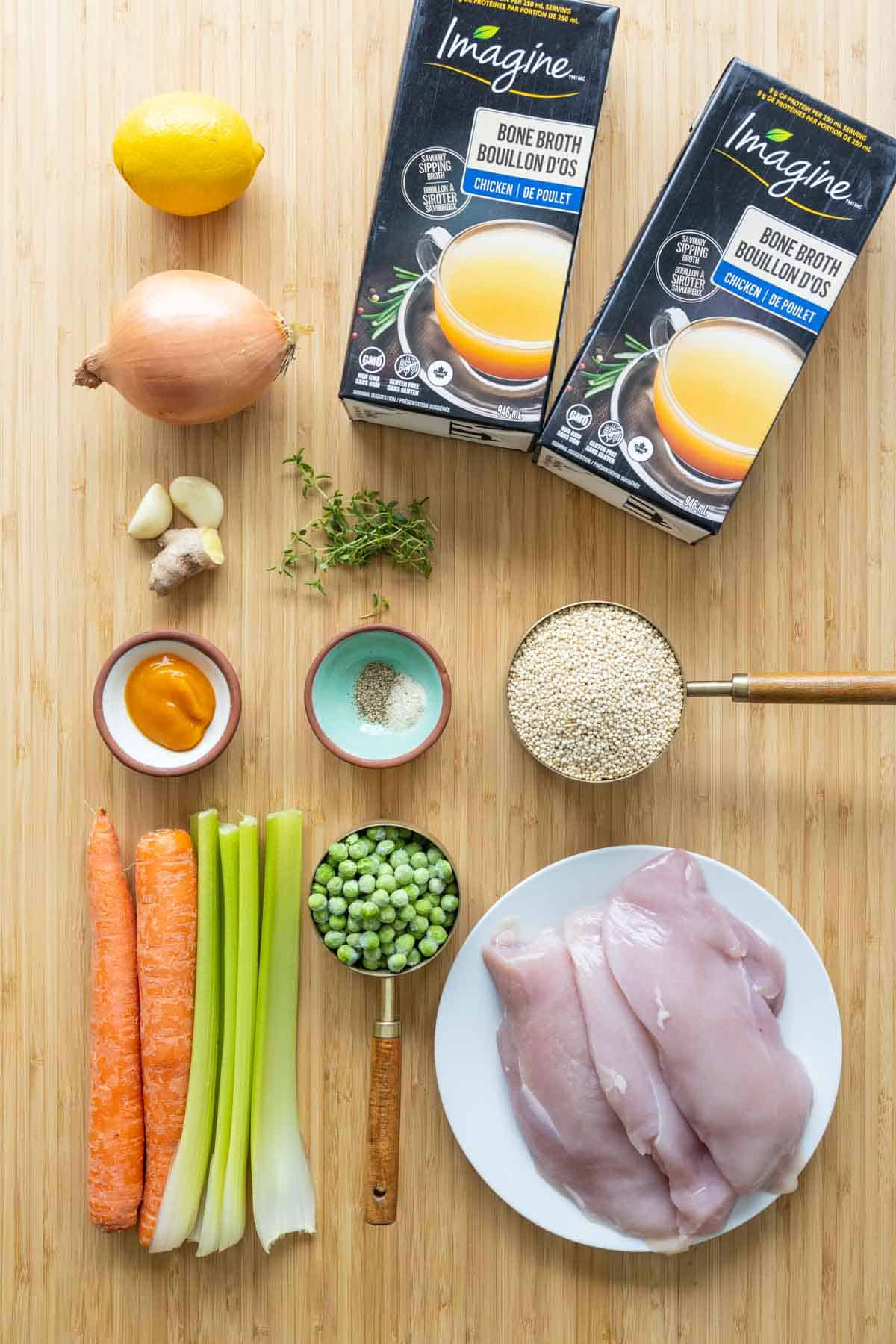 Onion – I prefer using yellow onion for sautéing, but white onion works great too.
Garlic – use fresh garlic for maximum flavor, you'll need 2 or 3 cloves.
Ginger – an amazing antioxidant, ginger also gives this chicken soup a delicious taste.
Celery – is one of my favorite veggies for a soup base. If you need to replace it, green bell pepper has a similar texture and flavor.
Carrots – are another soup base and pantry staple. If you don't have any on hand, squash, turnip and parsnip can be used instead.
Frozen Peas – they work great in a pinch, but if you have fresh or canned ones you can use them too.
Chicken – for this recipe I'm using chicken breast, but if you prefer the flavor of darker meat, use boneless skinless chicken thighs instead.
Chicken Broth – I'm using chicken broth since we are making chicken soup, however you can use vegetable broth if you prefer.
Quinoa – I love using quinoa to make this soup heartier, and it is super easy to make it at the same time as the rest of the soup. You can also use rice if you prefer.
Chili Paste – this is completely optional but I recommend you use it. My favorite is ají amarillo but any other chili paste works great too.
Thyme – use fresh sprigs of thyme if you have them. Fresh oregano, marjoram or rosemary can be used as well.
Lemon – fresh lemon juice brings out the flavor of this soup. You could also fresh lime juice or bottled juice if necessary.
How To Make Chicken Soup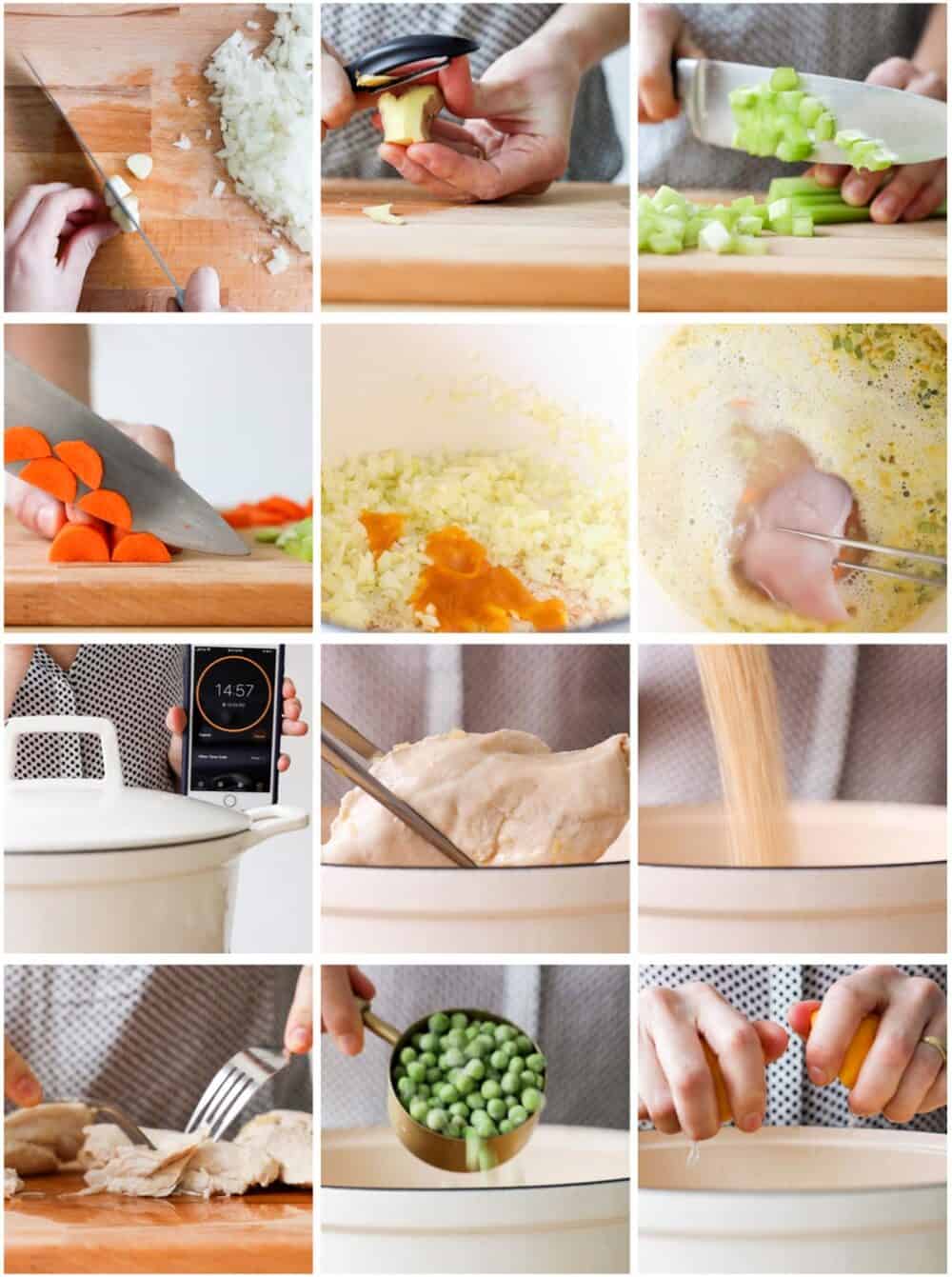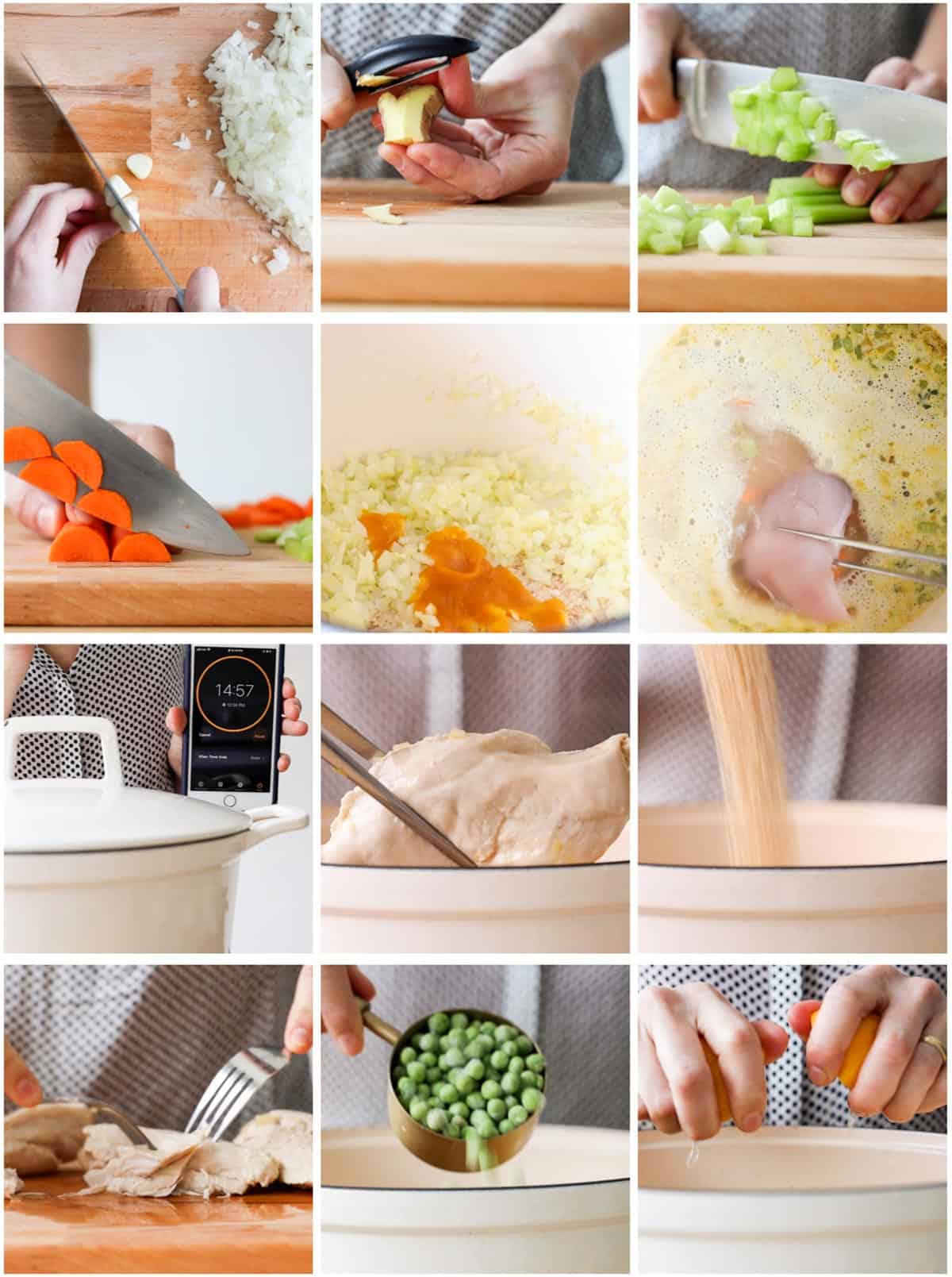 First, grab a chopping board, peel and then finely chop an onion. Next, get 2-3 cloves of garlic and finely chop those as well.
Grab about 1 inch of fresh ginger, peel it and use a microplane to grate it super finely. If you don't have one, use a knife to mince it.
Get 2-4 celery stalks, cut them first lengthwise and then into small pieces.
Grab 2 medium carrots, peel them and then chop them finely as well.
Pull out a large pot and preheat it over medium-low heat. Once hot, drizzle a little olive oil and then add the chopped onion, garlic and ginger. Stir-fry until the onion is transluscent. At this point, I love adding some chili paste, but this is completely optional. Stir until well combined.
Add the chopped veggies, a few sprigs of fresh thyme, and 6 cups of chicken broth. Stir well and bring it to a boil. Once it's boiling, add 1 pound of chicken breast. If the breast is too thick, cut it in half horizontally so it can cook evenly and no parts remain pink.
Add some sea salt and pepper to taste, depending on how salty your broth is. Cover the pot, reduce heat to low and set a timer for 15 minutes.
Once the timer goes off, take out the chicken breasts and place them on a cutting board.
Add 1 cup of quinoa to the broth, cover again, and set a timer for another 15 minutes.
In the meantime, take two forks and shred the chicken breasts.
Five minutes before the timer goes off again, add the shredded chicken and 1/2 cup of frozen peas to the soup and stir well. Let it simmer until the timer goes off.
Turn the heat off and drizzle the juice of one lemon into the soup. Serve into a bowl and enjoy!
Important Tip
If you know you won't eat the whole pot of soup in one sitting and want to store some in the refrigerator, cook the quinoa separately and mix only in the serving bowl. That way the quinoa does not absorb all the broth over time and get all soggy.
How To Store Chicken Soup
You can store the soup in an air-tight container in the refrigerator for up to 4 days. As mentioned above, keep the quinoa and soup separate.
To freeze, wait for the soup to cool down completely, then add it to a freezer-friendly container or freezer bag and freeze for up to 3 months. To defrost, simply place in the refrigerator for 12-24 hours then reheat and consume right away. Do not refreeze!
Frequently Asked Questions
Can you cook raw chicken in soup?
Absolutely! The important part is that you cook the chicken to a minimum of 165F internal temperature.
Which chicken part is best for soup?
Both chicken thighs and breasts work well in soup. Just make sure to remove the skin so the soup doesn't become too fatty.
Is chicken soup healthy?
This particular chicken soup is packed with macro and mico nutrients. The more vegetables you add the better it is for you.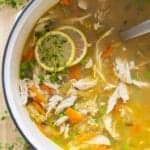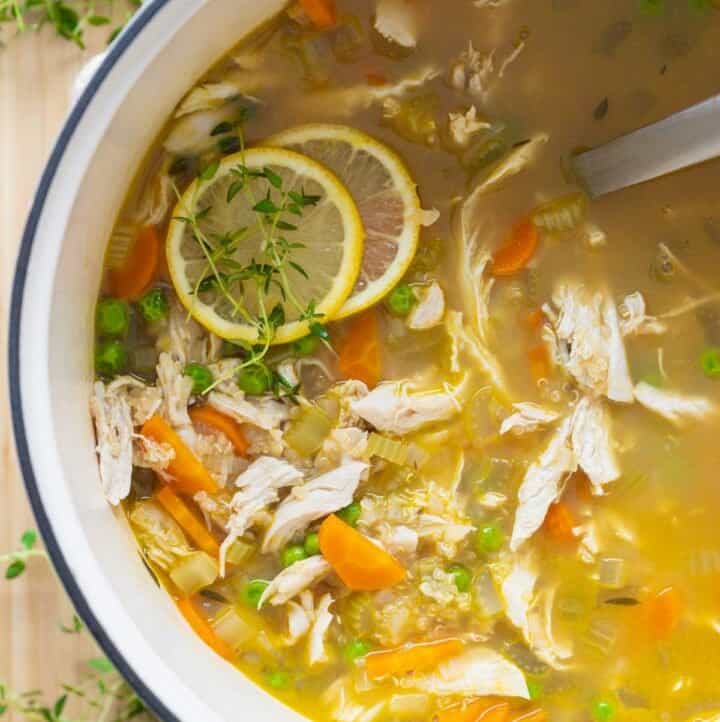 The Most Delicious Chicken Soup
A quintessential comfort food, super easy, nutritious and delicious. This Chicken Soup gives you kisses from the inside of your belly!
Print Recipe
Pin Recipe
Ingredients
1

onion

2-3

cloves garlic

1

inch fresh ginger

1

Tbsp

chili paste

-

ají amarillo is my favorite

3-4

stalks celery

2

carrots

2-3

sprigs thyme

6

cups

chicken broth

1

lbs

chicken breast

1

cup

quinoa

1/2

cup

frozen peas

1

lemon

sea salt

pepper
Instructions
Peel onion, garlic, and ginger. Chop onion and garlic, and grate ginger.

Peel carrots and thinly slice. Cut celery into small pieces.

Preheat a large pot over medium-low heat and once hot, add a drizzle of olive oil and fry onions, garlic, and ginger in it until the onion is translucent. Then add chili paste and stir-fry for a few more seconds.

Add carrots and celery, thyme, and chicken broth, as well as sea salt and pepper is needed, and bring to a boil. Once boiling, add chicken breasts, reduce heat to low, cover and simmer for 15 mintues.

Remove the chicken and place on a cutting board, add quinoa to the pot and cover again and set a timer for 15 minutes.

In the meantime, use two forks to shred the chicken.

When there are 5 minutes left on the timer, add the shredded chicken back into the pot and also frozen peas. Stir often.

Turn off heat and drizzle juice of one lemon into the pot, give one last stir and serve immediately.
Nutrition
Calories:
397
kcal
|
Carbohydrates:
44
g
|
Protein:
39
g
|
Fat:
8
g
|
Saturated Fat:
2
g
|
Polyunsaturated Fat:
2
g
|
Monounsaturated Fat:
3
g
|
Trans Fat:
1
g
|
Cholesterol:
73
mg
|
Sodium:
267
mg
|
Potassium:
1221
mg
|
Fiber:
6
g
|
Sugar:
5
g
|
Vitamin A:
5326
IU
|
Vitamin C:
29
mg
|
Calcium:
75
mg
|
Iron:
4
mg
What's your clean eating vibe?
Take this fun QUIZZ and find out in 10 seconds!