There was a time I ate hardly any fish and I don't know why because I've always loved fish! Does one simply forget it exists? I'm not sure. I found the best way to make sure we eat it at least once a week is to buy a big bag of frozen fillets and place it at the very front of the freezer. That way, whenever I don't know what to cook and open the fridge and freezer for inspiration I always get reminded. Fish fillets defrost in only a couple of hours, they cook suuuuper fast and provide you with a lot of important nutrients, such as protein and vitamin D (<– very important when it's the middle of April and where you live it's STILL SNOWING!!). Besides, fish is the best source of omega-3 fatty acids you can possibly find so dig into Baked Haddock with Herb Couscous today!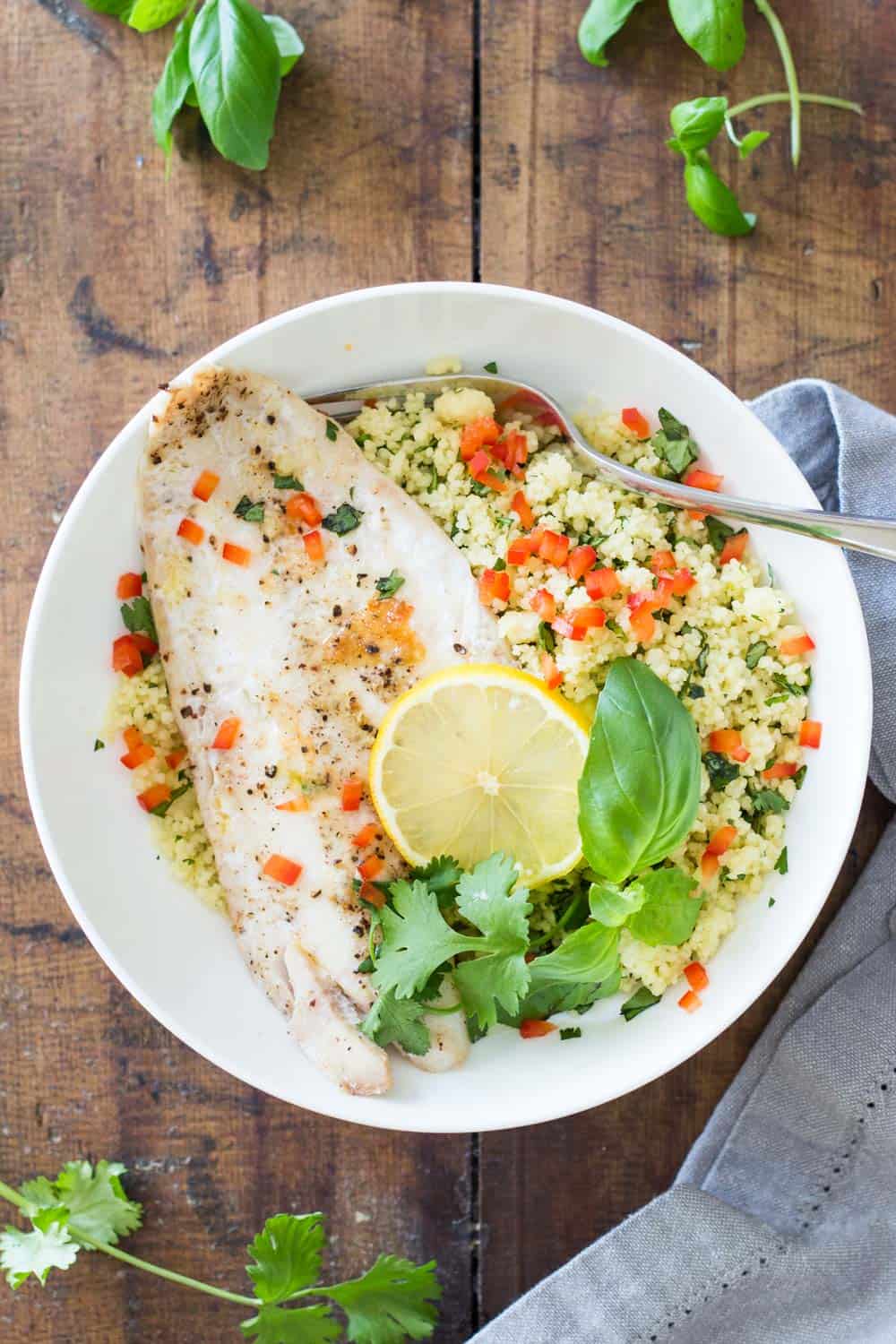 I wanted to create a recipe that takes only 20 minutes to prepare but still manages to be filling and highly nutritious. Healthy fast food so to speak ;) and that's how I came up with the recipe for this baked haddock and herb couscous. Couscous cooks extra fast as well and doesn't even require a pot. Just a bowl that can be covered with a plate for example. The instructions for cooking couscous tend to say to put couscous and liquid in a pot, bring to the boil, cover, then remove from heat and set aside for about 10 minutes but I never involve the stove for couscous and it turns out every time. So, what I do is I boil water in the kettle, pour my couscous in a small bowl which I can cover with a small plate, crumble a vegetable stock cube with my fingers and mix it into the granules with my hands, pour the boiling water over the couscous, shake back and forth once or twice to make sure the couscous is even, immediately cover the bowl with a plate and let stand until I'm finished chopping herbs/veggies for it, add some oil and fluff with a fork, add whatever herbs/veggies I prepared while waiting for the couscous to cook. Ready!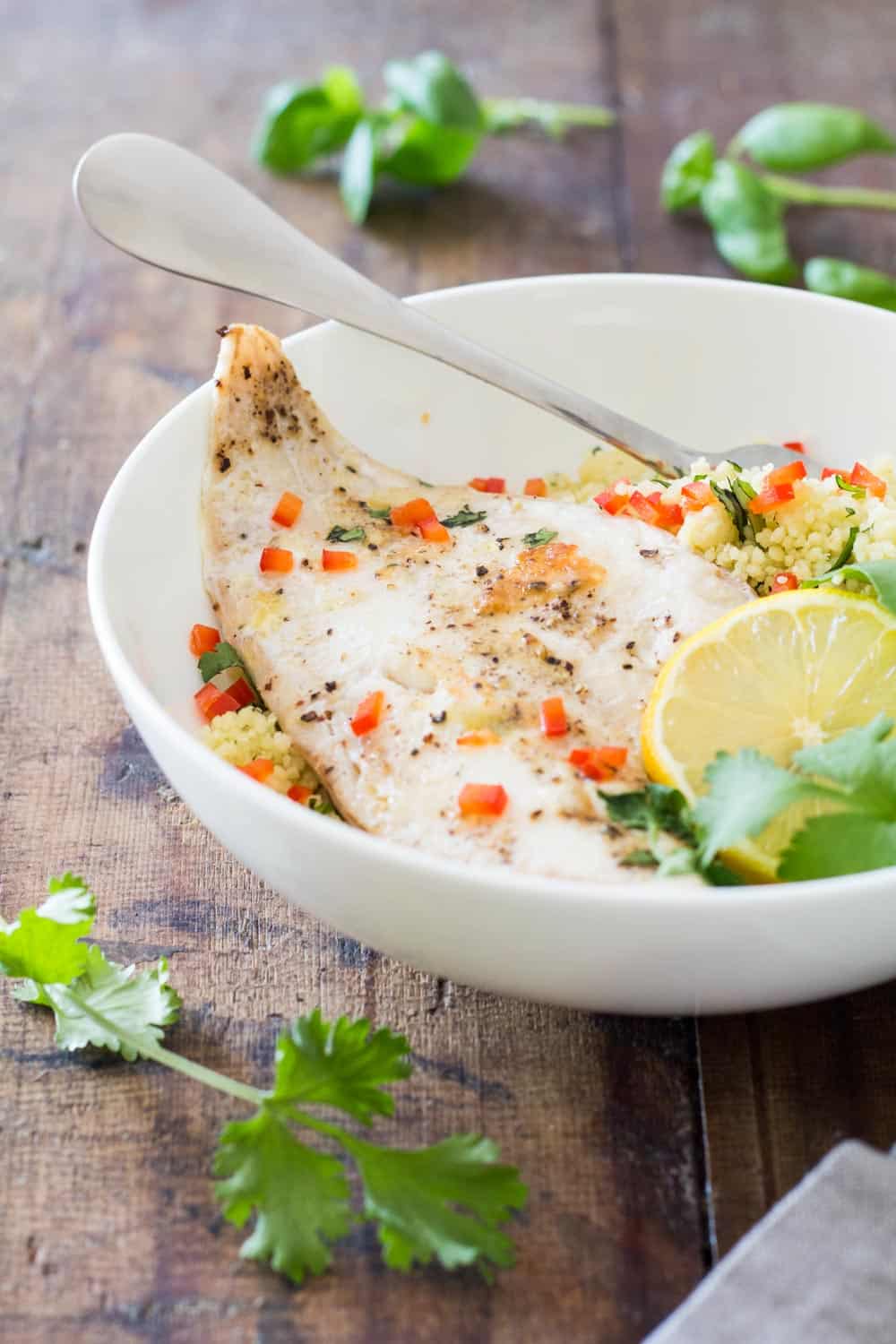 In a hurry? Dinner needs to be ready in the blink of an eye? Just turn on the oven, bring water to the boil in your kettle and be ready to chop herbs and vegetables in ninja speed because your fish and couscous will be cooked so fast you won't have time to fool about :)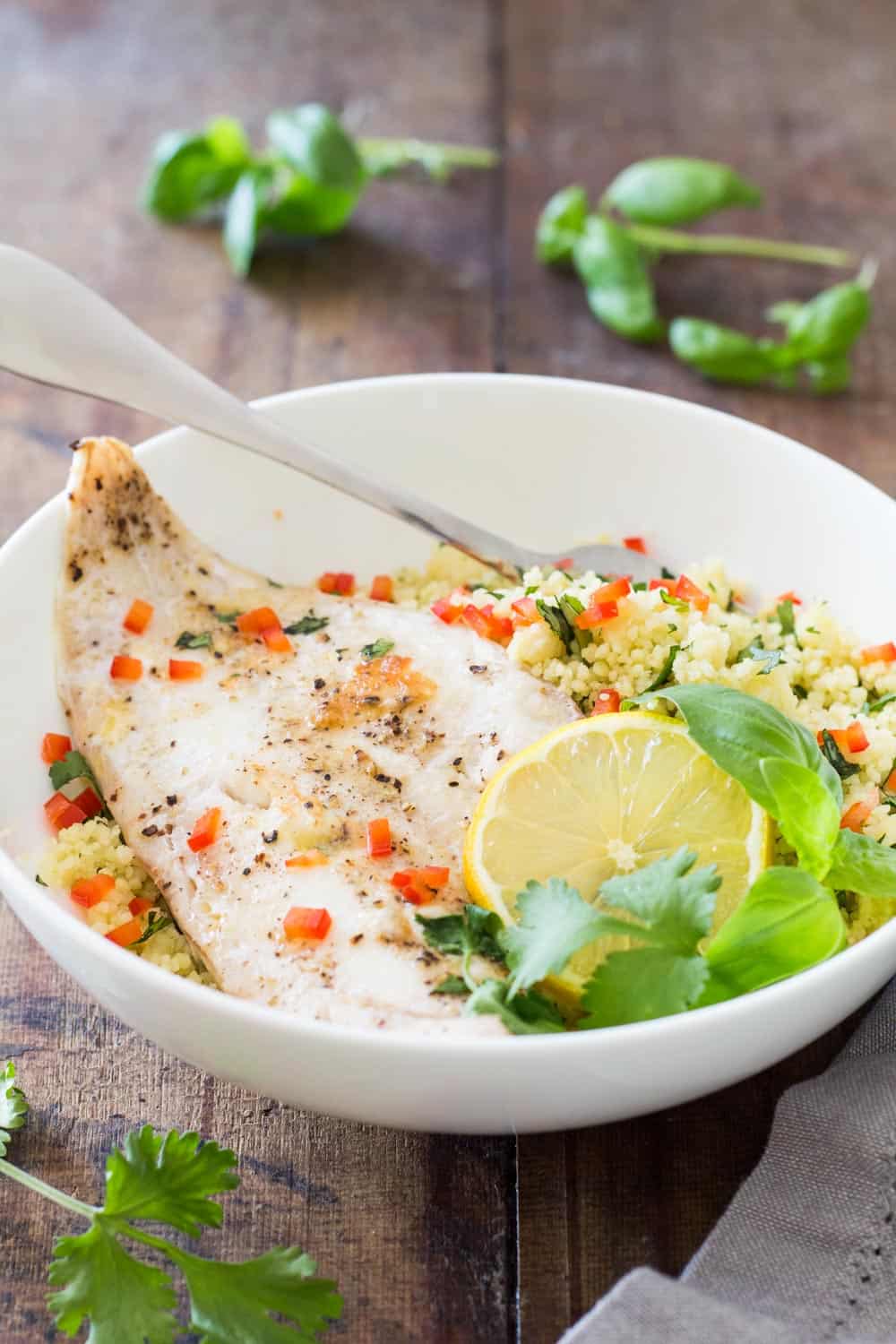 Baked Haddock with Herb Couscous
Print Recipe
Ingredients
2

haddock fillets

1

Tbsp

butter

1.5

cups

couscous

1 3/4

cups

chicken or vegetable broth

1/2

cup

fresh coriander leaves

1/2

cup

fresh basil leaves

1/2

cup

dill

1

red bell pepper

1

lemon

1/2

Tbsp

olive oil

salt

pepper
Instructions
Preheat oven to 350F (180C).

Line a baking sheet with parchment paper, wash and dry fish fillets (I dab them dry with a napkin), salt and pepper the fillets on both sides and place on the lined sheet.

Cut the butter into thin stripes and place on top of the fillets.

Once oven is hot, add the fish and bake for 12-15 minutes (depending on thickness).

While fish is baking, bring a little over a cup of water to the boil in a kettle or pot.

If using a pot, add a vegetable stock cube and whisk, once water is boiling, stir in couscous, remove from heat, cover with lid and let stand for 10 minutes.

If using a kettle, add couscous and crumbled vegetable stock cube to a small bowl, pour water over couscous, shake once or twice to make sure couscous cooks evenly, immediately cover with a plate and let sit for 10 minutes.

In the meantime, wash and dry basil and coriander leaves and wash and deseed bell pepper.

Chop herbs and bell pepper finely.

Remove lid/plate from couscous, add 1 Tbsp olive oil and fluff with a fork then add herbs, bell pepper, juice of half a lemon and season with salt and pepper if necessary.

Fish should be ready by now, serve over a bed of herb couscous.
Nutrition
Calories:
780
kcal
|
Carbohydrates:
112
g
|
Protein:
52
g
|
Fat:
12
g
|
Saturated Fat:
4
g
|
Cholesterol:
114
mg
|
Sodium:
529
mg
|
Potassium:
794
mg
|
Fiber:
9
g
|
Sugar:
4
g
|
Vitamin A:
3585
IU
|
Vitamin C:
116.7
mg
|
Calcium:
108
mg
|
Iron:
3.6
mg
Have you tried this recipe?
Take a picture and tag @greenhealthycooking Can't wait to see your version!