Thank God it's Friday! Every weekend is pretty awesome but this one will be extraordinarily special, the weather forecast says 12ºC (53ºF) for Saturday. This will be our first snow-free, snow-boot-free, winter-jacket-free weekend of the year. Wohoooooo! I've done my spring cleaning yesterday, I've washed the bed sheets (which I haven't in a way too embarrassingly long time to admit), I've washed the bathroom rug and those kinds of things, and I've mopped the floors with lemon essential oil and everything smells delicious and spring-y and I'm tooootally ready for spring and sneakers and light jumpers and afternoons at the park and loads of fresh fruits and vegetables and dinners like this Shrimp and Pea Risotto with the dining room windows wide open to feel the spring breeze. Ahhh, wonderful!
 I went grocery shopping yesterday, too and found sooooo much fresh fruit and vegetables I don't have space for even a grape in the fridge anymore. I have so many recipes planned to make today and on the weekend, you won't know what to choose to make! I have popsicles, a special lemonade, and a quiche in mind but wait and see what magic will happen to that full fridge. I'm so excited to get started already. For now, a Shrimp and Pea Risotto is the best way to jump into spring. It is creamy and cheesy and has wonderfully sweet green peas and deliciously salty shrimps. Ohhh, wait, and the risotto is not only cooked in broth but also white wine and that's what gives the dish the wonderful spring flavor.
On a totally different note, I've asked my son several times in the morning if he had a nice dream and he would just look at me weirdly not knowing what I was talking about but today, he told me about "a story" that he "saw" behind his "eye lids" when he was sleeping and I absolutely loved his way of explaining a dream. I could finally tell him, that THAT is what we call a dream and that all people dream every night and that sometimes we remember our dreams and sometimes not but that we can practice and tell dreams in the morning and learn to remember more often. I hope that from now on I'll have my son tell me loads and loads of dreams. I will have to start practicing telling dreams right away in the morning, too, to train my brain to remember :)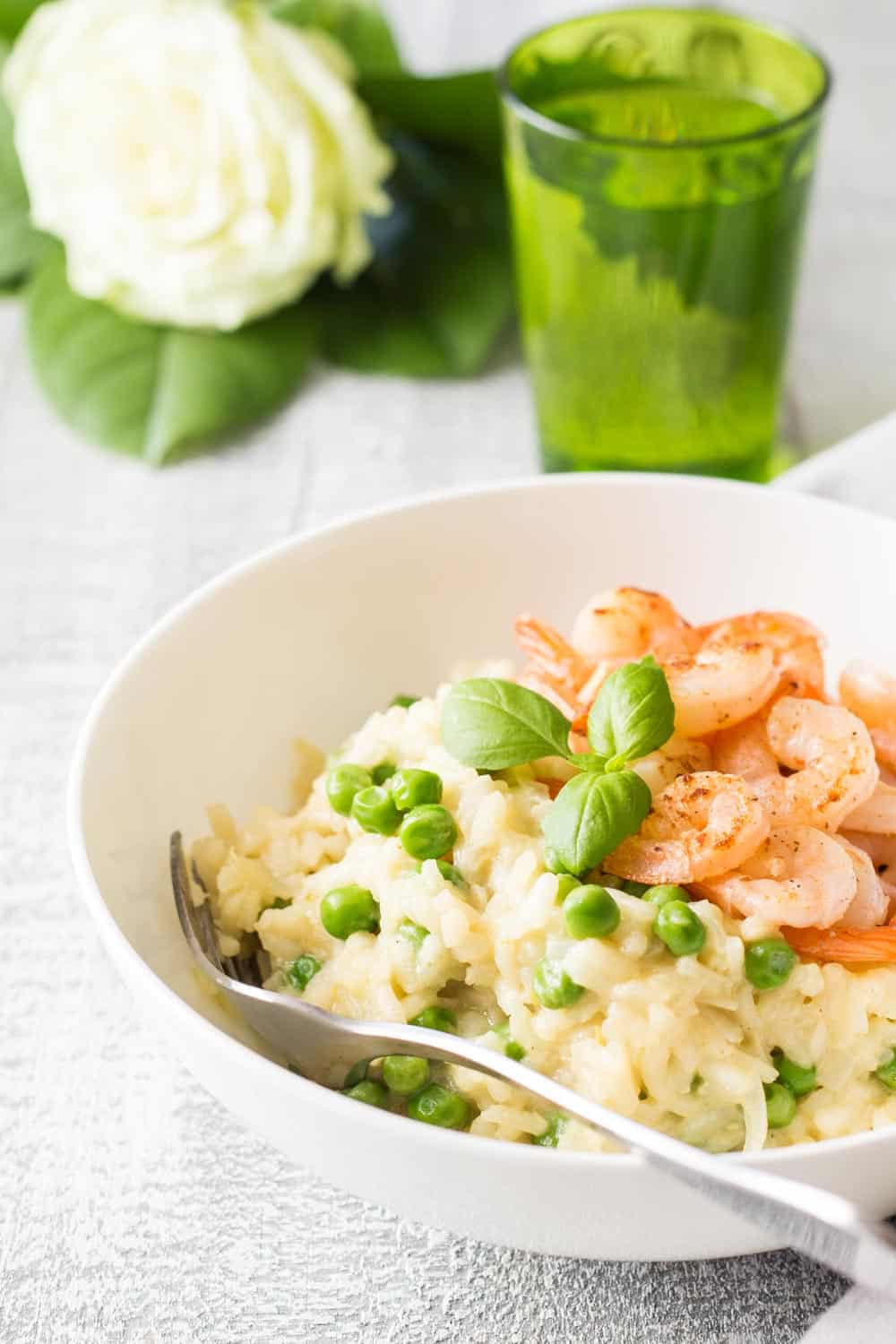 Shrimp and Pea Risotto
Print Recipe
Ingredients
1

snall

onion

1

clove

garlic

1.5

cups

arborio rice

1/2

cup

white wine

4

cups

chicken broth

1

cup

freshly grated parmesan cheese

1

Tbsp

butter

1

cup

green peas

1

lbs

cooked shrimps

-

(450g, rinsed and drained)

salt

pepper
Instructions
Heat a heavy bottomed large sauce pan over medium heat.

Peel and chop onion.

Peel and crush garlic.

Add a dollop of olive oil to hot pan, reduce heat to medium low then add chopped onion and garlic and move around to avoid from burning.

Add rice and 1/2 cup white wine. Stir until all liquid is absorbed.

Add 1 cup chicken broth and stir until all liquid is absorbed. Repeat this step 4 times. (Do NOT dump the whole 4 cups of broth into the pan at once, do it a cup at a time, stirring and making sure the rice absorbs all the liquid before adding more. Otherwise the rice will not cook properly.)

Remove from heat and add 1 cup freshly grated Paremsan, 1 Tbsp butter and 1 cup green peas and stir to mix well. Salt and pepper if necessary. Cover and set aside.

Heat a pan over medium high heat (use the same burner you used for the risotto because it's already hot), wait at least 5 minutes for it to be really hot.

Add a dollop of olive oil to hot pan and then immediately add cooked shrimps (make sure they were rinsed and well drained) to pan, add salt and pepper and move around quickly to heat up evenly. Heat for about 1-2 minutes, then serve over Risotto.
What's your clean eating vibe?
Take this fun QUIZZ and find out in 10 seconds!
P.S. If you want to serve your Shrimp and Pea Risotto with a delicious salad on the side, check out this Strawberry Bacon Spring Salad. Those two make a PERFECT combo!
If you like this recipe and want more the like, make sure to subscribe to my blog, receive a free one week breakfast/lunch/dinner e-mealplan and lots of healthy recipes directly into your inbox:
[mailchimpsf_form]