This week I had vegan lunch guests over and I have been wanting to create an egg-free quiche for an egg-hating friend (Hi Erika!) since forever already so I embraced the challenge to not only make it egg-free but completely animal protein-free and thus vegan. By not wanting to use butter for the crust, and flour without butter simply doesn't form a nice crust, I came up with this quinoa crust that happens to be naturally gluten-free. Most vegan quiche recipes out there use tofu for the filling to get the egg-like consistency but since soy and tofu are not my favorites to eat, MY filling is also soy-free and of course dairy-free because it's vegan. Ok, now let's put that all in one sentence so you know what this is you are seeing in the picture. This is the recipe for a gluten-free, egg-free, dairy-free, soy-free Flourless Vegan Vegetable Quiche! WOW!! I know this doesn't sound very promising in the taste department BUT look at the picture guys!!! Don't be deceived by all the x-free but rather scan the ingredients list below and you'll immediately understand that this quiche tastes AMAZING! I loved it! I am so happy with how this came out I am dancing right now (literally!)
On the taste barometer, this quiche comes close to my mom's quiche (sorry mom!) and I will definitely, definitely make this again one day. This has a lot of meaning, because I rarely make something twice. Sad reality of a food blogger, lol.
Once the quiche was finished I felt like there was only one thing missing. CHEESE! Ugh! Cheese is not vegan and cheese is not dairy-free and cheese is delicious but NOT ok for this quiche. So I browsed Pinterest and found this amazing Vegan Parmesan Cheese recipe by vegan food blogger Angela from oh she glows. It was the perfect fit for my Flourless Vegan Vegetable Quiche and gave it that little extra something. Her Vegan Parmesan Cheese tastes wonderful and I will use it for other recipes as well, for sure.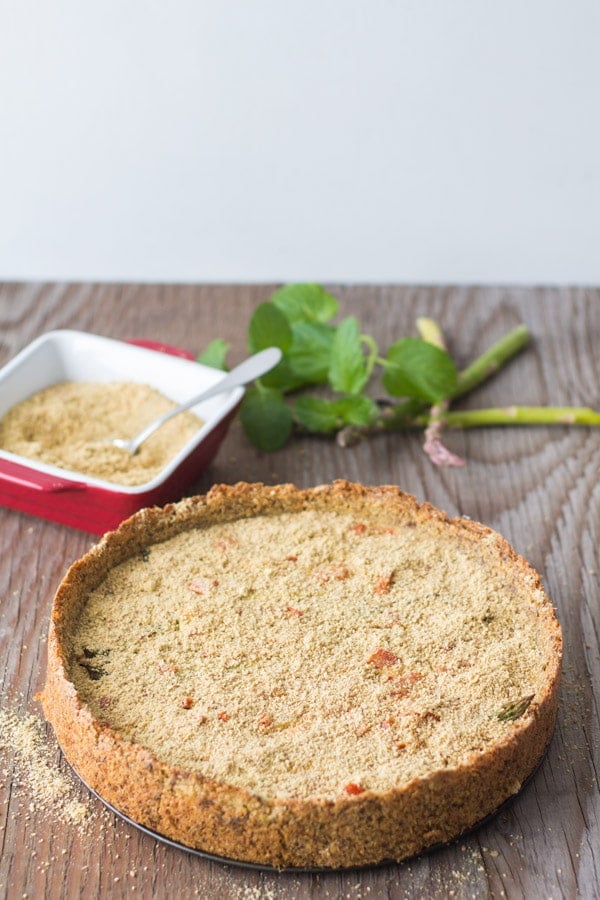 Coming to the filling, how did I manage to reach an egg like consistency without tofu and without eggs you ask?
Well, the secret ingredient is: chickpea flour! I have never used it before and was curious as to what it would be like to work with it. I bought it and then stored it for a couple of weeks forgetting about it in the pantry until I stumbled over an Italian recipe for a pancake like bread called "socca". In pictures it looks like a doughy bread (I have never tried) it and I figured I would give it a try as quiche filler, hoping it wouldn't be too dry. The chickpea flour – water mixture gives the absolute PERFECT consistency for a quiche filling (vegan or not) and it gives it incredible taste! Chickepea flour has so much more taste than egg that I am seriously considering using it even in my vegetarian quiches. I think I might have just started a love relationship with chickpea flour. You'll soon find out….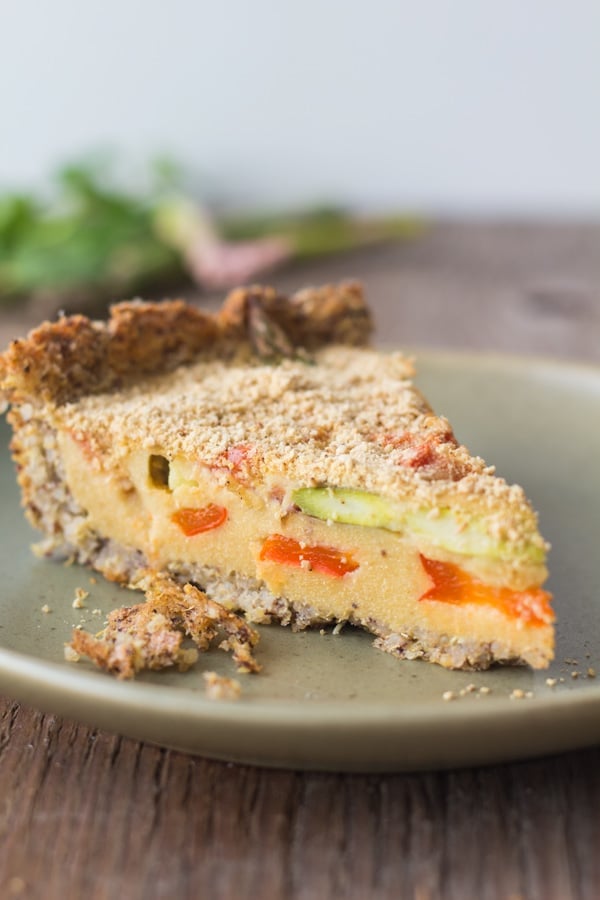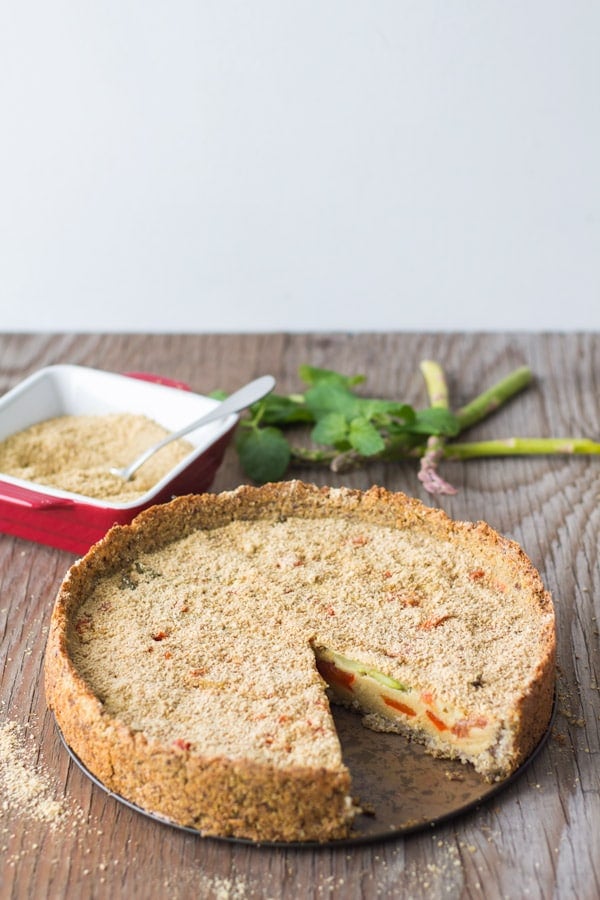 Flourless Vegan Vegetable Quiche
Print Recipe
Ingredients
3

Tbsp

flax seeds

3

Tbsp

water

1.5

cups

quinoa

3

cups

vegetable broth

Salt

1.5

cups

chickpea flour

2

Tbsp

tapioca starch

2

tsp

Salt

1

t

cumin

1/2

tsp

coriander

Pepper

1

Tbsp

olive oil

2 1/4

cups

water

1

clove

garlic

1

onion

1

red bell pepper

1

tomato

-

(very large)

10

green asparagus

1/2

cup

sesame seeds

2

Tbsp

nutritional yeast
Instructions
Cook the quinoa in the vegetable broth until soft and fluffy (as instructed on package). Once cooked, fluff up with a spoon and try for saltiness. Depending on the vegetable broth's saltiness you may or may not have to add some salt to the quinoa. Let cool a little.

Grind the flax seed in a coffee grinder or food processor or blender and mix he ground flax seed with water and let sit until quinoa is cooked.

Peel and crush garlic put in a bowl.

Peel and chop onion put in same bowl.

Wash and deseed bell pepper, chop and put in same bowl.

Wash and chop tomato and put in same bowl.

Cut a good part of the asparagus' dry ends off, wash the asparagus and peel them (yes, peeling them is important, only the stems, not the tips). Do not cut but put as one in same bowl.

Set bowl aside.

In another bowl, whisk together chickpea flour, tapioca starch, spices, oil and water and set aside.

Preheat oven to 400F (200°C).

Line the bottom of a spring form with parchment paper and oil the sides.

Once quinoa is cooked and cooled to a temperature that you can touch, mix soaked flaxseed with quinoa and form a dough with your hands, making sure the flaxseed is well incorporated into the quinoa dough.

Spread the quinoa dough on the bottom and sides of the spring form using your fingers to press everything into place.

Once oven is hot, bake the quinoa dough alone for 12 minutes.

While the quinoa dough is baking, give the chickpea flour mix another good whisk and then mix in garlic and onions.

Once quinoa crust is finished baking for 12 minutes, take out of the oven and arrange cut up vegetables and whole asparagus evenly in the crust. Pour chickpea flour mix over all and bake for 45 more minutes.

Take out of the oven and let cool for at least 10-15 minutes in the spring form before opening it.

While letting cool prepare Vegan Parmesan Cheese by toasting sesame seeds over medium heat for about 2 minutes constantly stirring and then process in food processor or coffee grinder or blender together with the nutritional yeast.

Enjoy with freshly prepared salad!
What's your clean eating vibe?
Take this fun QUIZZ and find out in 10 seconds!