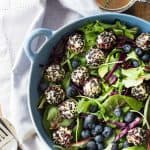 Seeded Warm Goat Cheese Salad
Ingredients
5

oz

baby leaf lettuce such as baby kale

(142g, baby spinach, baby romaine etc.,)

1

hand full

sliced red cabbage

1/2

cup

blueberries

250

g

goat cheese

2

Tbsp

black sesame seeds

2

Tbsp

hemp seeds

2

Tbsp

dried cranberries

1

Tbsp

olive oil

1/2

Tbsp

honey

1

Tbsp

sesame oil

1

Tbsp

tahini

1

Tbsp

honey

1

Tbsp

balsamic vinegar

2

Tbsp

olive oil
Instructions
Finely chop dried cranberries and add to a small bowl. Add sesame seeds and hemp seeds and mix well.

Take about 2 tsp of goat cheese into your hands and roll between your palms until a ball forms, then roll goat cheese ball in seed mix and place on a plate. Repeat until all goat cheese is in balls.

Heat a non stick pan over very low heat.

For the dressing, add sesame oil, tahini, 1 Tbsp honey, balsamic vinegar and 2 Tbsp olive oil to a mason jar and shake until well combined.

Wash salad leafs if necessary and finely slice cabbage if not done already.

Once pan is very hot, add 1 Tbsp olive oil and 1/2 Tbsp honey, stir well, then add seeded goat cheese balls. Constantly move around with a silicone spatular and when they start to deform remove from pan immediately and place on a plate.

Add salad leafs and cabbage strings to salad bowl, scatter blueberries on top and add goat cheese balls on top.

Add salad dressing right before serving.
Hello gorgeous! I'm talking to my salad but I'm sure you're just as gorgeous ;) Oh man, this is again one of those recipes that deserve a deliciousness award. Holy goat! It tastes A.M.A.Z.I.N.G! Yes! All capitals and with pauses between the individual letters kind of amazing. It does look gorgeous but sometimes the looks deceive. I've eaten so many things that looked gorgeous but ended up tasting either meh or plain gross (just think about all those fondant cakes, ewww, or is it just me who thinks they look super pretty but taste super bad?). This Seeded Warm Goat Cheese Salad tastes even better than it looks!! It's funny, I've always been a big fan of goat cheese but don't eat it often. Why?? It's one of those things that I eat and think, man, I should buy this and eat this more often and then I forget again. I should constantly have some goat cheese in my fridge and have that with some honey smeared on a piece of toast for breakfast! Why don't I do that? My mornings would start off so much better if I did.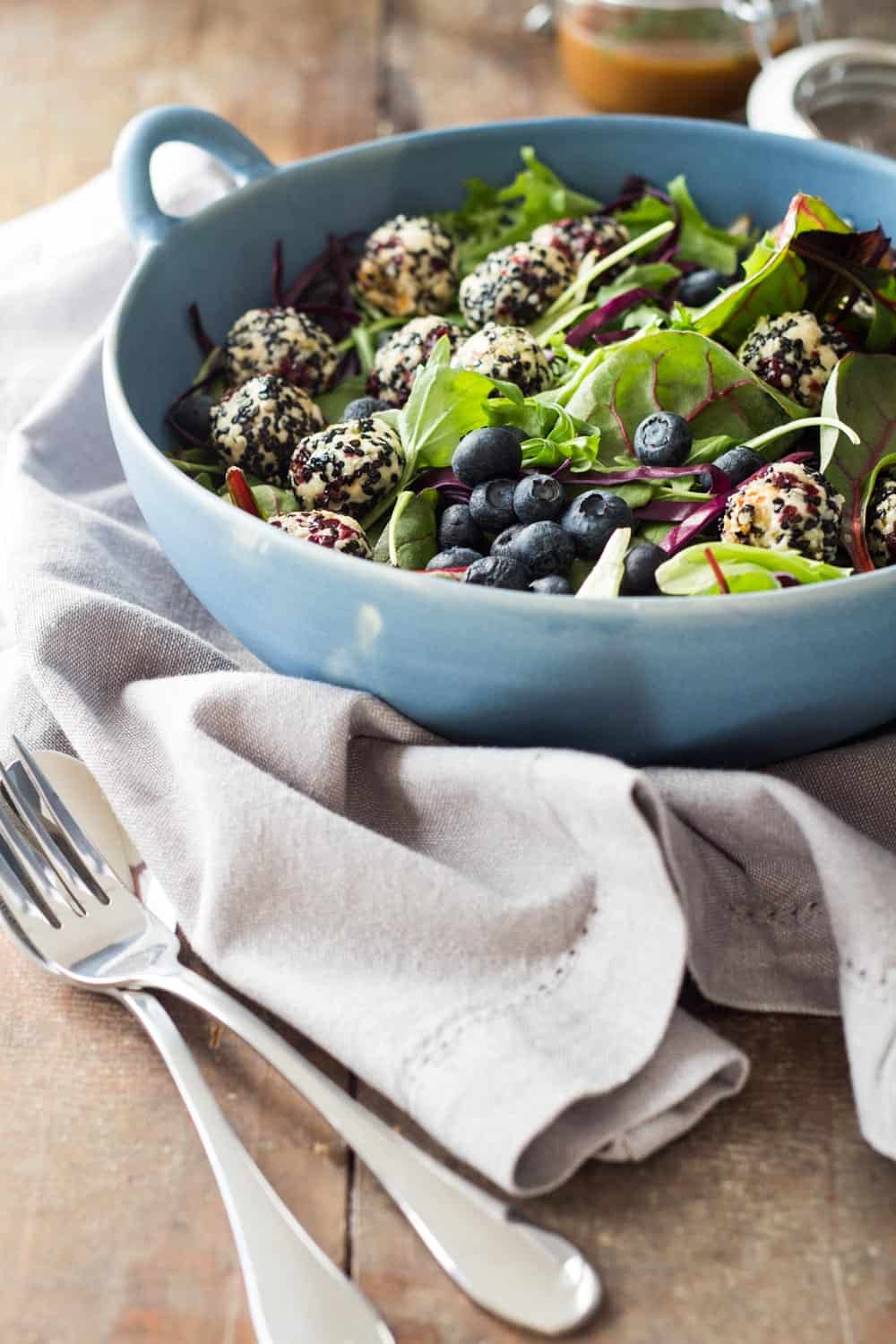 Did you know that goat's milk is the milk that resembles human milk the most? It would obviously be ideal if we just drank mama's milk forever or stop drinking milk all together once we don't need it anymore but if you're not vegan and want to include a dairy product in your diet that provides you with sufficient Vitamin D, K, thiamine and niacin, vitamin A and the B vitamin riboflavin, goat's milk and/or its cheese are your best friend forever!! It certainly is mine and I will make sure to work more on our friendship and invite it over more often ;) I don't like the taste of goat's milk but I LOVE the taste of goat cheese, so goat cheese it is for me.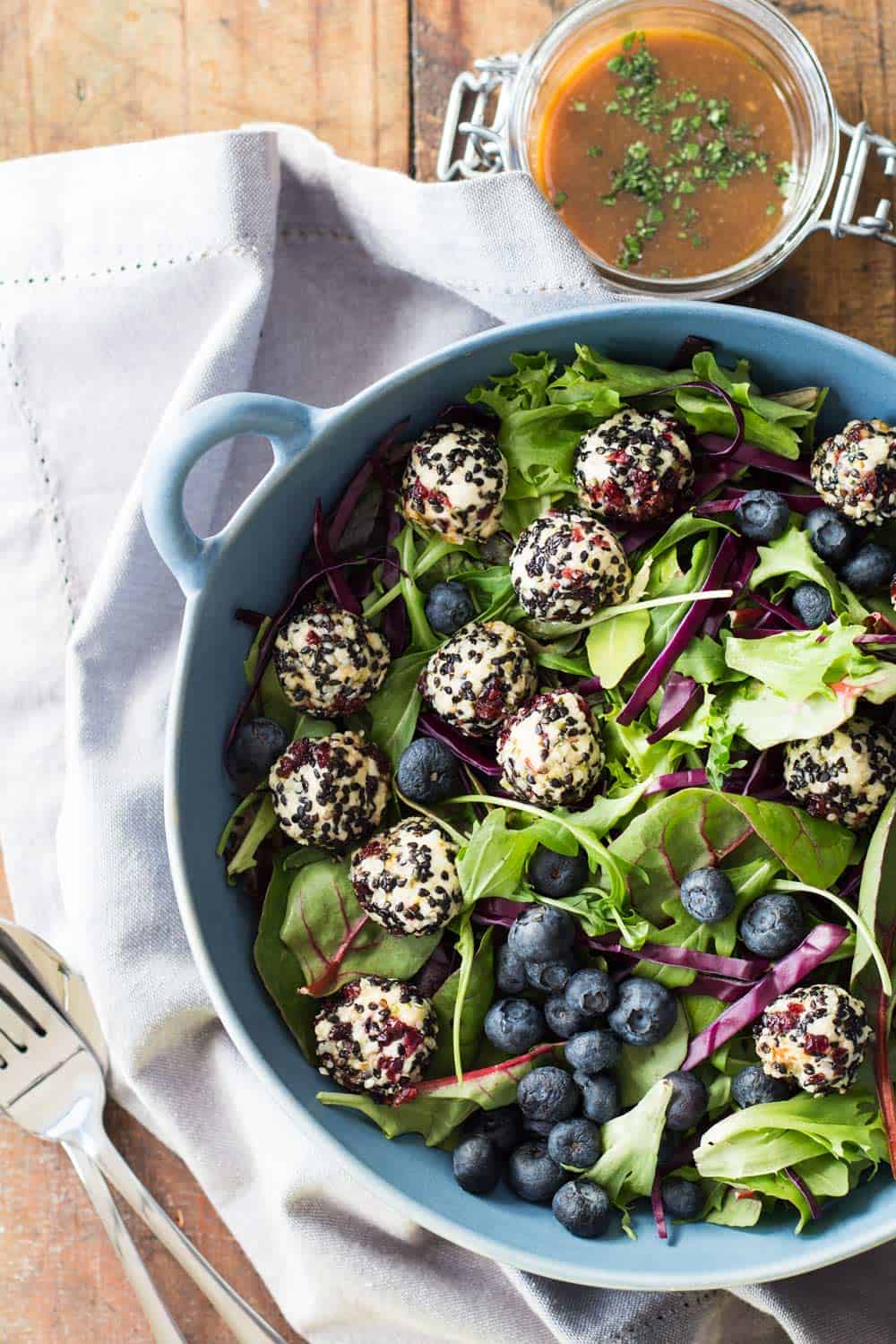 The Seeded Warm Goat Cheese Salad can be eaten as a full vegetarian meal with some (preferably homemade) bread. It contains everything you need in a meal. The cheese provides you with protein, the seeds with iron and the cranberries and blueberries and greens give you the vitamin C your body needs in order to absorb the much needed iron from the seeds and greens itself. Besides, the salad dressing contains a tablespoon of tahini which gives you even more seed power protein and iron and how about the fact that it tastes equally as amazing as the salad itself? *hearts_in_my_eyes*
You can also just eat the salad without warming the goat cheese for faster preparation. It is kind of tricky to warm it without the balls kind of melting away. I personally thought it was totally worth it to warm them up though. Warm goat cheese makes you hum while you eat it. You know what I mean?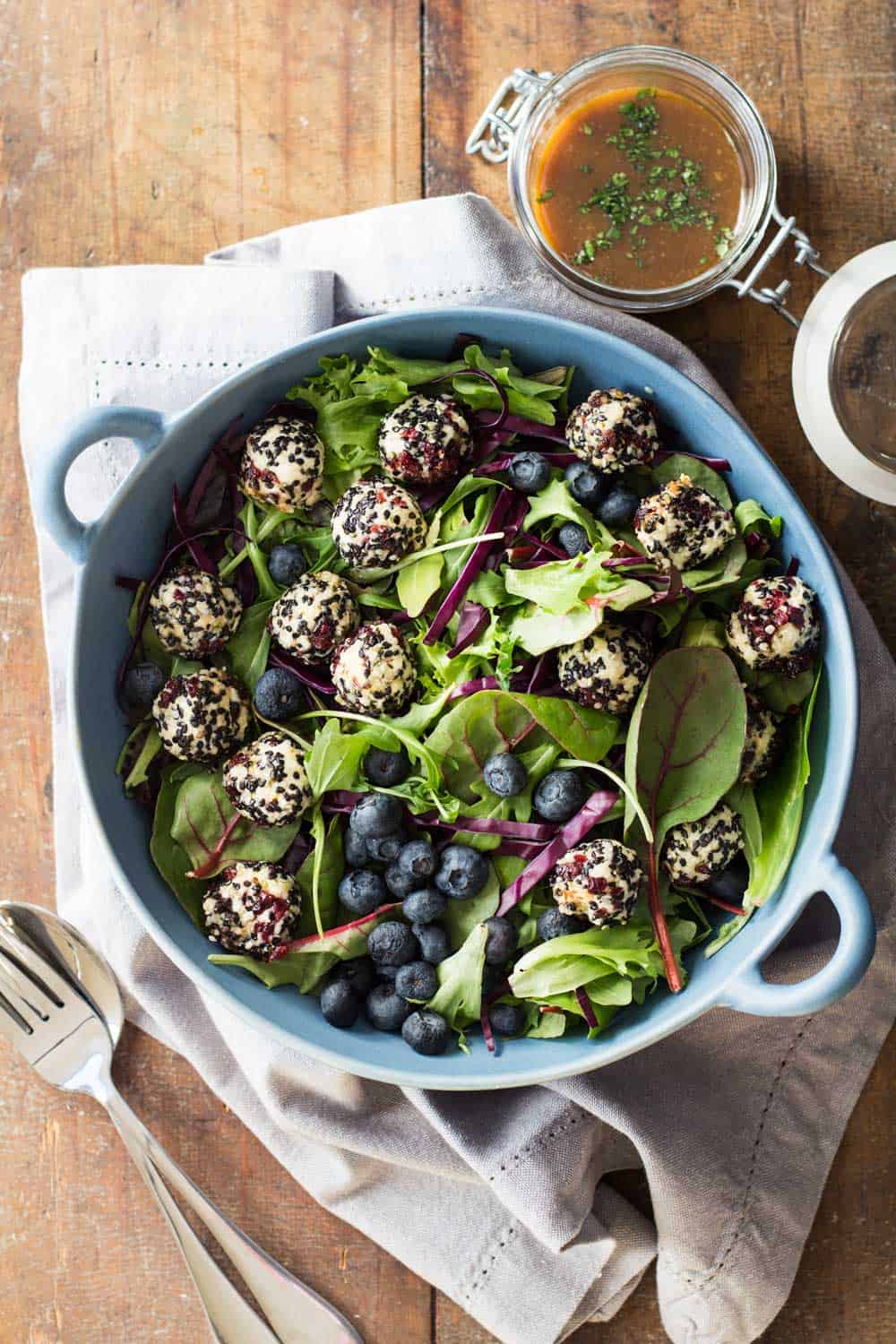 If you like this recipe and want more the like, make sure to subscribe to my blog, receive a free one week breakfast/lunch/dinner e-mealplan and lots of healthy recipes directly into your inbox:
[mailchimpsf_form]
Get Green Healthy Cooking's NOURISHING NEWS straight to your inbox!