A 10 minute prep and 4 ingredient Easy Goat Cheese Appetizer suitable for any party! Dried cherries as the secret ingredient of this deliciousness!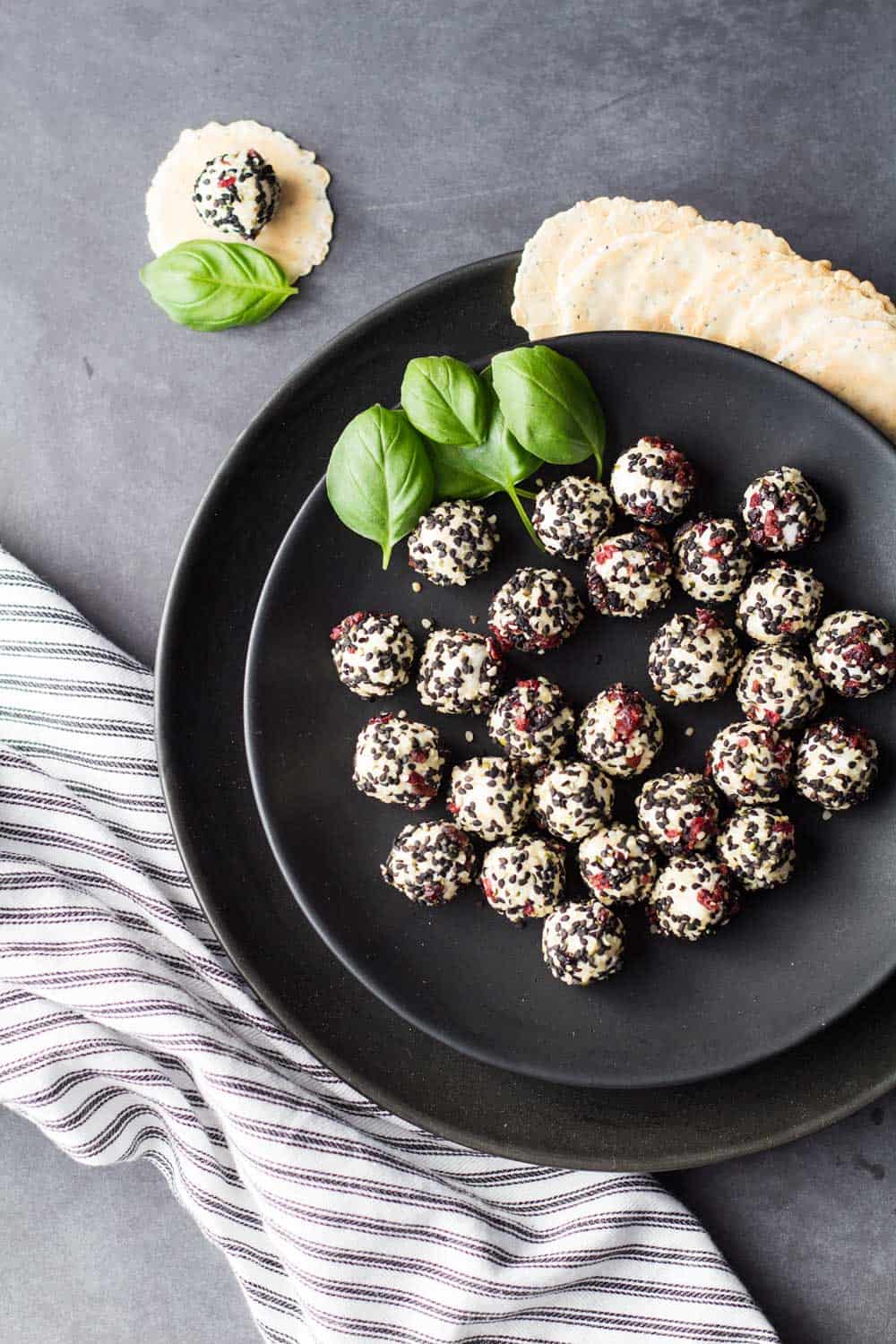 A couple of weeks ago I hosted a preschool parent meeting at my place and I wanted to serve something special to all the parents concerned about my kids' preschool closure. If you haven't read about that issue you can do so here. We needed at least a little something to still feel joy and I served these Easy Goat Cheese Appetizers, wine for the sad ones and vodka for the very sad ones…. :( We still haven't found a solution to the problem. The school will have to leave its current premises and we haven't been able to find a suitable new place for it. If only I were rich you guys. I would buy that school a building!!! They do such incredible work with all these children it would be a shame to have it disappear forever this summer.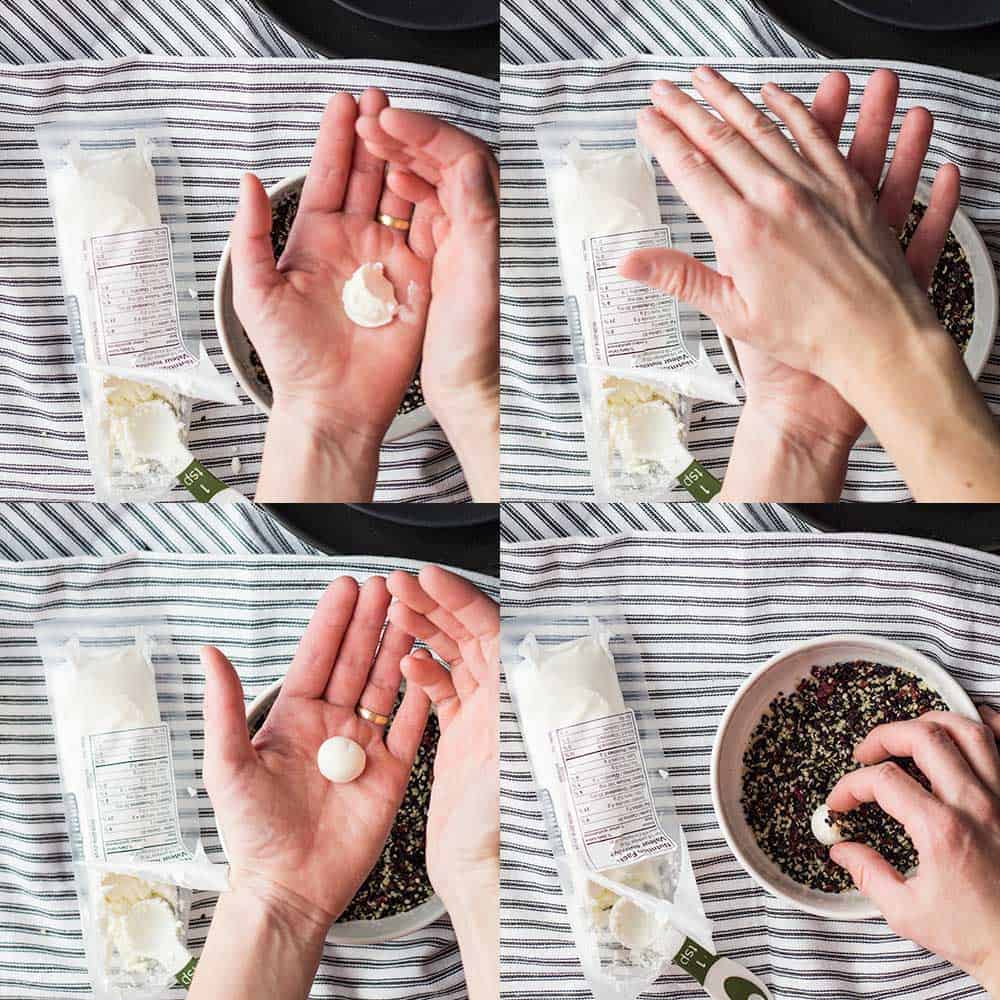 Now to get to the Easy Goat Cheese Appetizer itself. It's really simple. Pure goat cheese rolled into little balls and dipped into a mix of black sesame seeds, hemp seeds, and chopped dried cherries. I made those little balls for my Seeded Warm Goat Cheese Salad as well but with cranberries that time and I've got to say that I like the cherry version better. The idea of making these into an appetizer came from a friend who happened to come over for lunch the day I made them in the salad. She suggested to make them served on crackers and so I did. Serve the little balls together with a fresh basil leave on your favorite cracker and impress your guests with this delicious appetizer. They will be an absolute hit!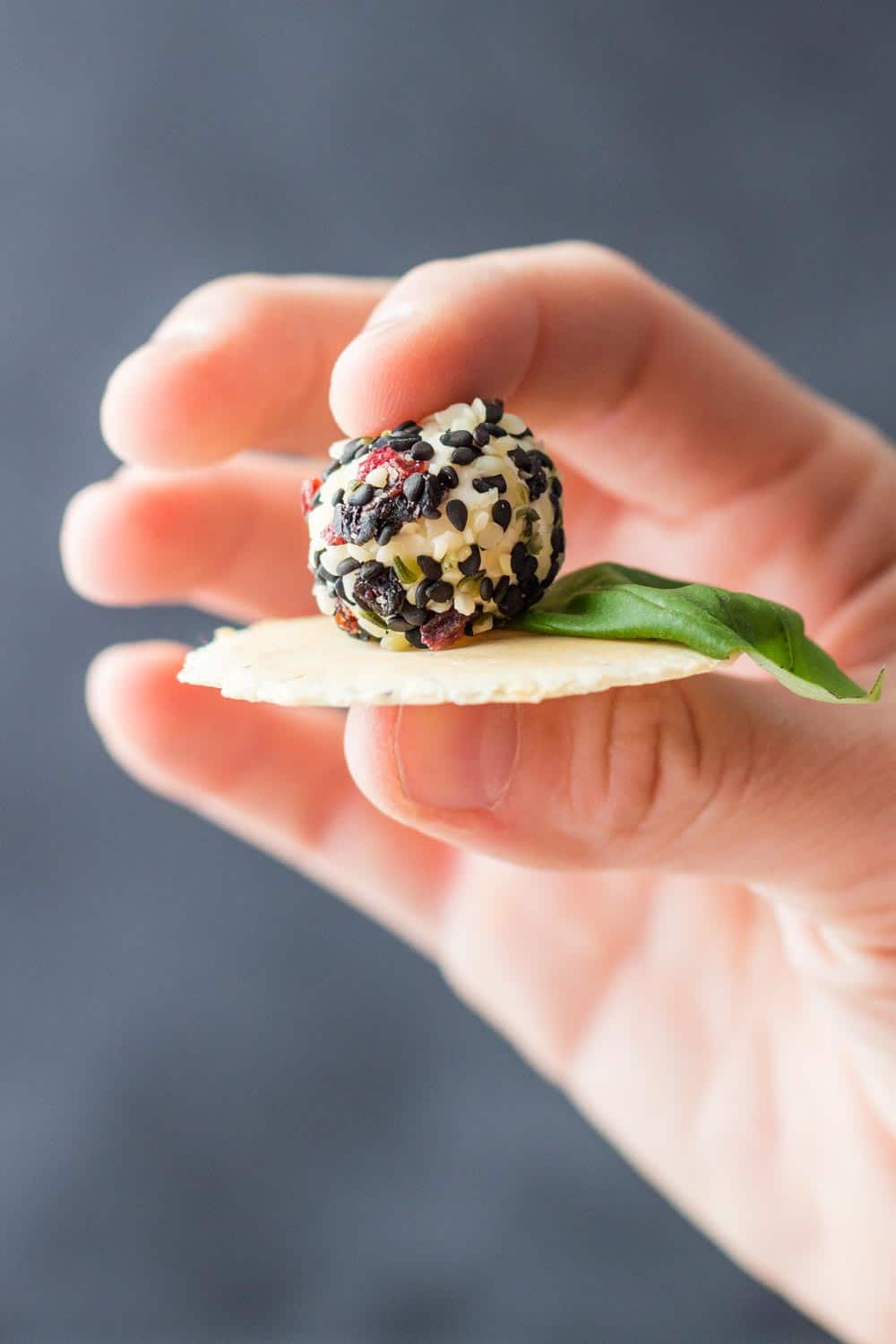 I love how they turned out and I love that they're prepared super quickly and with very few ingredients. The seeds and dried cherries make it easy to pick them up and keep your hands clean despite the goat cheese's stickiness. Serve with wine or vodka, depending on the occasion :P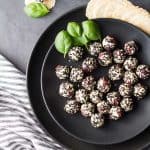 Easy Goat Cheese Appetizer
Print Recipe
Ingredients
125

g

goat cheese

2

Tbsp

black sesame seeds

2

Tbsp

hemp seeds

2

Tbsp

dried cherries

fresh basil

-

(optional)

crackers

-

(optional)
Instructions
Chop dried cherries finely and add to a bowl together with black sesame seeds and hemp seeds and combine.

Use a 1 teaspoon measuring spoon and use it like an ice cream scoop to take out about 1.5 tsp of goat cheese from the package and try to keep the balls size uniform.

Roll the goat cheese between the palms of your hands until round.

Roll the balls in the seeds and fruit and either place all on a plate with crackers and basil leaves on the side OR place on a cracker right away and give it a bite!
What's your clean eating vibe?
Take this fun QUIZZ and find out in 10 seconds!