THIS POST CONTAINS AFFILIATE LINKS AND IS SPONSORED BY NOOM    Two different healthy meal prep recipes that yield 8 meal prep bowls. Make these in about 1 hour to cover lunch and dinner during the week. Or share with a loved one for more variety.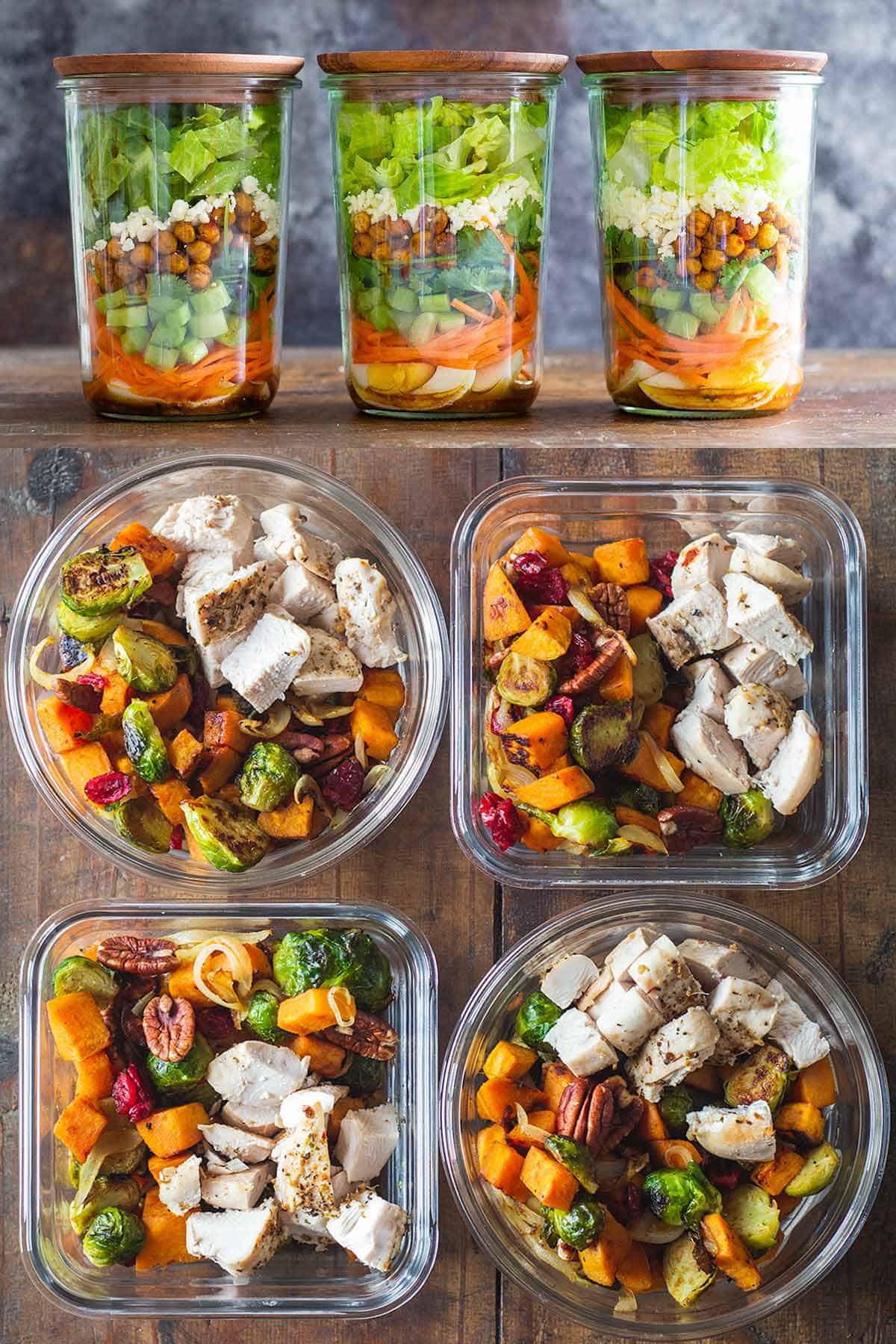 How To Be Consistent
The easiest way to be consistent when it comes to staying on a healthy diet is meal prep and tracking your health goals with an app like Noom! You can test the app for 14 days and I promise you will fall in love with the easy meal logging. The best part: you have a personal goal specialist to chat with. How amazing is that?!
Will-power alone can be…..risky. I for one have a really hard time eating consistently healthy when it's late, I'm super hungry, I don't even remember what I ate hours ago and there is nothing prepped in the fridge waiting for me.
Consistency is key though when you want to reach any goal in life. Be it changing your eating habits, exercise habits, or anything else health-related really. And learning how to meal prep is one of the best tools for consistency.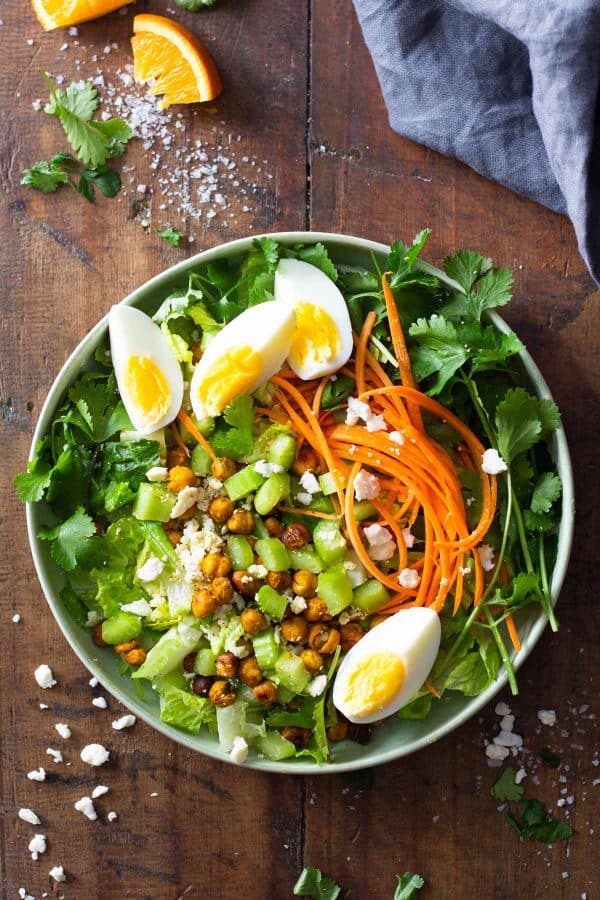 Meal Prep to Be Prepared
Be prepared for breakfast, lunch, and dinner and don't fall into the lazy and hungry mind's traps. 
Here I've got two super delicious healthy meal prep recipes for you that make lunch and/or dinner easy peasy grab-and-go situations. You can make all 8 meal prep bowls in about an hour or 4 of either in about 30 minutes.
Ready-made meals give you so much more control over your eating habits and help you stay on track with your health goals.
You have two options with these 8 meals. You can either eat one for lunch and the other for dinner 4 days in a row OR you can share with a loved one so you can switch out days.
I pinky promise these healthy meal prep bowls are so delicious you won't mind eating the same several days in a row.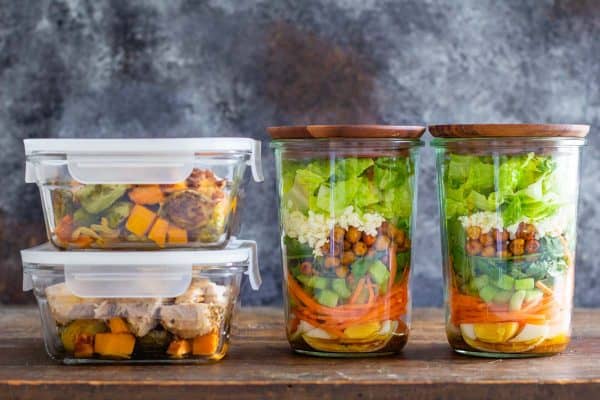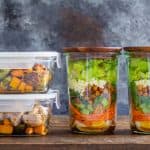 8 Healthy Meal Prep Bowls
Two different healthy meal prep recipes that yield 8 Meal Prep Bowls. Make these in about 1 hour to cover lunch and dinner during the week. Or, share with a loved one and switch out lunches to keep it interesting.
Print Recipe
Pin Recipe
Ingredients
1.5

Tbsp

olive oil

2

Tbsp

dijon mustard

0.5

Tbsp

maple syrup

1

cup

sliced onion

1.5

lbs

sweet potato

1.5

lbs

Brussels sprouts

18

oz

chicken breast

1

Tbsp

poultry seasoning

8

pecans

2

Tbsp

dried cranberries

2

cups

cooked chickpeas

0.5

Tbsp

avocado oil

2

tsp

Ras el Hanout (Moroccan spice mix)

-

or 1/4 of ginger, cardamom, cinnamon, all-spice, Curcuma, nutmeg, black pepper, cayenne, and 1/2 tsp sea salt

4

eggs

1

head Romaine lettuce

2

carrots

4

stalks celery

2

Tbsp

lemon juice

1

Tbsp

orange juice

2

Tbsp

olive oil

1

clove garlic, crushed

1/2

tsp

cinnamon

1/2

tsp

sweet paprika

1/4

tsp

cumin

1/2

tsp

honey

4

mint leaves

1

bunch cilantro

8

Tbsp

crumbled feta cheese
Instructions
Add 1.5 Tbsp olive oil, 2 Tbsp dijon mustard, and 0.5 Tbsp maple syrup to a large bowl and whisk until well combined.

Peel and slice onion, peel and cube sweet potato(s), wash and halve Brussels sprouts and add all three to the large bowl with mustard oil maple sauce. Use your hands to mix everything together and ensure all veggie pieces are well coated in the sauce.

Add vegetables to a large baking sheet and spread out in one layer. (If you don't have a large enough baking sheet, use two baking sheets, it's important to spread out a lot or else the veggies will steam instead of roast). Place in the oven for 25 minutes or until roasted to your liking.

Add two large chicken breasts to a separate baking sheet and season with poultry seasoning on both sides. Then add to the veggies into the oven for 20 minutes or until they reach an internal temperature of 165F. (if you are making both meal prep recipes, now is a good time to get started on the Moroccan Meal Prep Salads)

Remove veggies and chicken breasts when done and let cool for about 10 minutes. Then add pecans and cranberries to veggies and toss to combine. Cut the chicken breasts into slices or cubes and divide veggies and chicken into 4 meal prep containers.

For the Moroccan Meal Prep Salads:

Add 2 cups of cooked, rinsed, and drained chickpeas to a clean kitchen towel and tap and rub until very dry. Remove the skins that came off and add to a large baking sheet.

Add 0.5 Tbsp avocado oil to the chickpeas and mix with your hands to ensure they are all well coated in oil. Then add Ras el Hanout spice mix and mix with your hands again. Place in the oven for 25 minutes or until golden and crispy.

In the meantime, hard-boil 4 eggs. Hard-boil by bringing enough water to the boil to cover the eggs in a small pot, and once boiling add the fridge-cold eggs to the water for 8 minutes. After the 8-minute cooking time, remove the eggs from the water and let cool on the kitchen counter. No ice-bath required.

Cut romaine lettuce into 1" stripes, then wash and spin dry. The dryer the leaves, the longer they will last crispy and fresh.

Peel and julienne (or grate) carrots and wash and slice celery. Wash and spin-dry cilantro.

Prepare the dressing by adding lemon juice, orange juice, olive oil, crushed garlic, cinnamon, paprika, cumin, and honey so a sealable container and shake.

Now it's time to prepare the meal prep salad jars. Add in this order: 1.5 Tbsp dressing to the bottom of the jar, then 1 hard-boiled egg quartered, then 1/4 of the julienned carrots, 1/4 of the sliced celery, 1/4 of the crispy chickpeas, 2 Tbsp crumbled feta cheese, 1/4 of a bunch of cilantro, and 1/4 of the romaine lettuce.

Both meal prep recipes last in the fridge for up to 4 days.
Notes
Nutrition Values are for the Maroccan Salad. Here is the info for the Maple Dijon Chicken Meal Prep Bowls Nutritional Information:
Calories: 485kcal | Carbohydrates: 62g | Protein: 37g | Fat: 12g | Saturated Fat: 2g | Cholesterol: 82mg | Sodium: 372mg | Potassium: 1787mg | Fiber: 13g | Sugar: 19g | Vitamin A: 25479IU | Vitamin C: 153mg | Calcium: 155mg | Iron: 5mg
Nutrition
Calories:
298
kcal
|
Carbohydrates:
19
g
|
Protein:
15
g
|
Fat:
19
g
|
Saturated Fat:
7
g
|
Cholesterol:
194
mg
|
Sodium:
696
mg
|
Potassium:
338
mg
|
Fiber:
5
g
|
Sugar:
5
g
|
Vitamin A:
6320
IU
|
Vitamin C:
8
mg
|
Calcium:
247
mg
|
Iron:
3
mg
What's your clean eating vibe?
Take this fun QUIZZ and find out in 10 seconds!