This super delicious Chicken Quinoa Bowl is bursting with flavor, perfect for meal prep, and the recipe comes together in just 35 minutes. How cool is that?!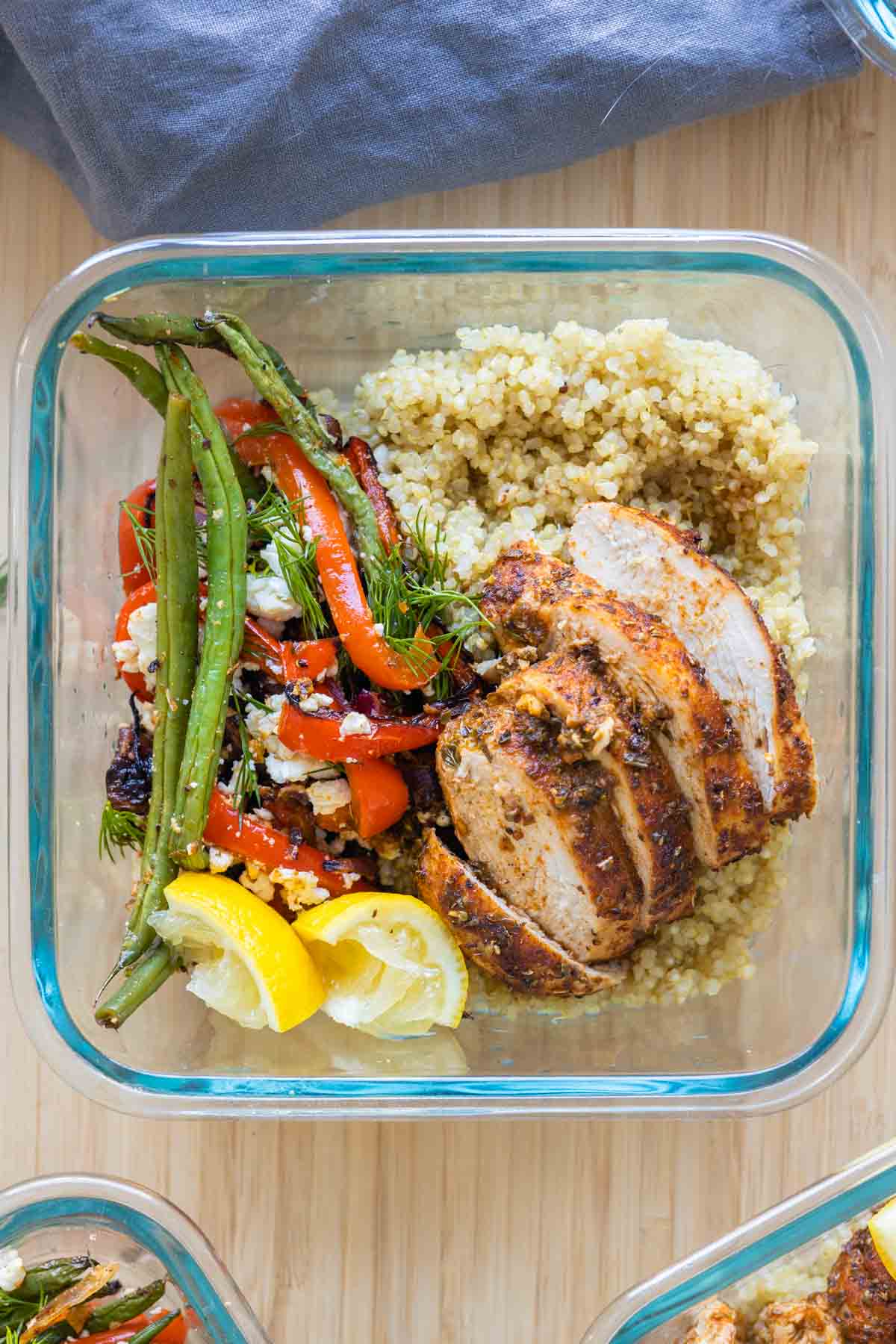 Meal Prep is a gazillion times more effective than willpower alone when it comes to sticking to a healthy diet. When you have a delicious healthy lunch in the fridge, ready to eat,  you simply aren't as likely to fall off the bandwagon. I've got plenty of meal prep recipes on my website but I will never stop adding more.
Ingredients & Substitutions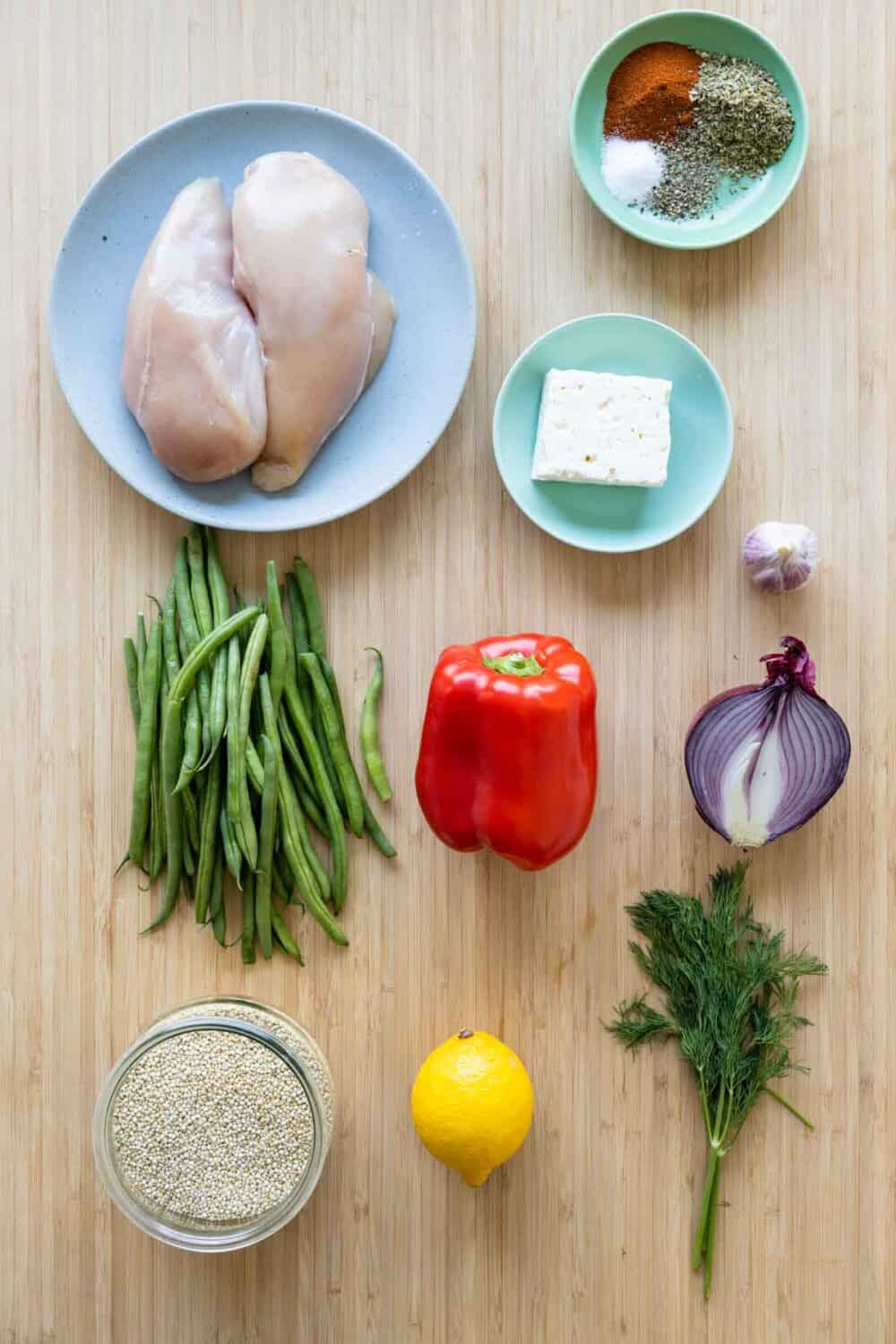 Red Onion – roasted red onion is absolutely delicious and the best choice in combination with the vegetables used in this Chicken Quinoa Bowl. You can, however, use other onions if you don't have red onions in your pantry. Shallots for example would be the best alternative.
Garlic – garlic gives every dish a boost in flavor. Fresh garlic is always best but in a pinch, you can also use a teaspoon of dried garlic instead.
Veggies – choose veggies that roast as quickly as large chicken breasts bake. My favorite for these meal prep bowls is green beans and red bell pepper. Great alternatives would be carrots, celery, and cauliflower. Stay clear from zucchini, tomatoes, and asparagus which roast much faster or Brussels sprouts and potatoes or sweet potatoes which take much longer. Make sure your vegetables are all dry after washing as excess water will create steam in the oven.
Chicken Breasts – I'm usually more of a chicken thigh lover but for whatever reason, I found this Chicken Quinoa Bowl better with chicken breast somehow. Both works though.
Quinoa – White quinoa cooks the fastest but red quinoa or black quinoa works great in this recipe too of course. I have a full tutorial on how to cook quinoa in all kinds of different ways. Alternatively, you could also cook rice in your instant pot.
Spices – lately I'm obsessed with the mix of sea salt, pepper, paprika, and oregano. You could add cumin to that mix as well, or a bit of coriander.
Toppings – hands down feta, dill, and lemon juice were my favorite. I've tested the recipe with all kinds of toppings. Avocado is awesome, too but it browns so quickly so not the best for meal prep. You could add it right before eating. Parmesan and parsley were also very nice.
How To Make A Chicken Quinoa Bowl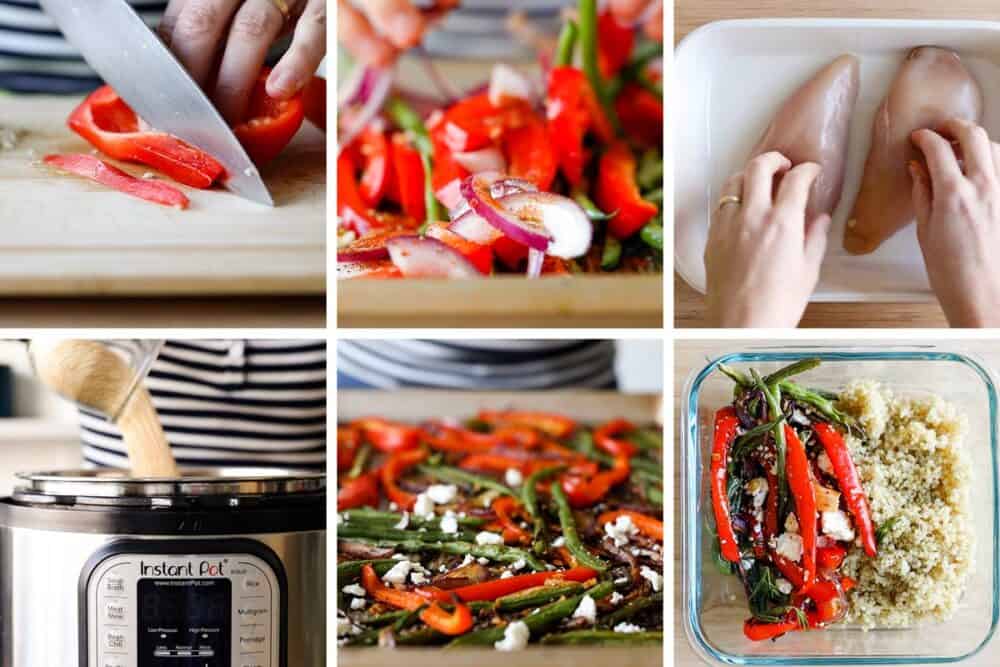 Prep all the veggies then place them on a large baking sheet and season.
Add your chicken to a separate baking dish. Do not add the chicken to the baking sheet as the liquid it releases during the baking time would make the vegetables steam instead of roast. 
I like working oil and seasoning into vegetables and chicken in with my hands. When using spoons you can't ensure all pieces of veggies are well coated for example and a piece of vegetable without oil will dry out and burn instead of nicely roast.
I like baking chicken and roasting vegetables for short amounts of time at high temperatures. That results in the best flavor. So crank the heat up to 400F and roast/bake for only 25 minutes. Don't overbake your chicken. The internal temperature at the thickest part of the chicken breast should only reach 165F.
Top your Chicken Quinoa Bowl with feta, dill, and lemon juice to make it extra flavorful and bright. 
Is Quinoa Good For Losing Weight?
I always get these types of questions when I make a recipe with what today is often known as a "super food". It's so important that you stop thinking one specific food will make you gain or lose weight. 
Healthy nutrition has close to nothing to do with individual foods but rather with your overall food intake throughout a day, week, and month. The more nutrient-rich ingredients you eat on a consistent basis the better. 
If you want to go in-depth about learning how to eat nutritionally balanced check out my 6-Week Clean Eating Program. It's the best way to truly understand what it means to eat "well". It includes a lot of meal prep which helps stick to a healthy diet.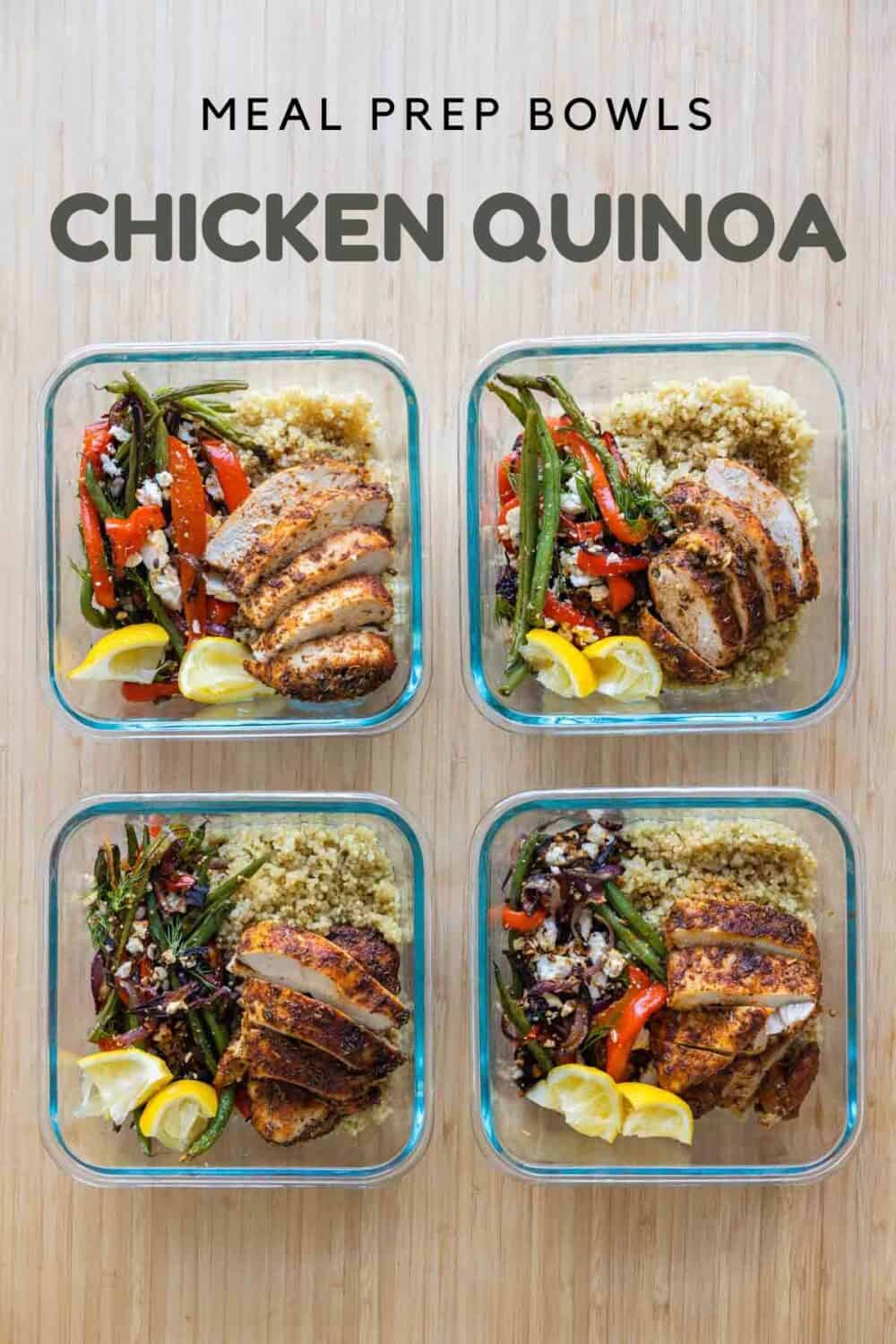 Are Chicken Quinoa Bowls Healthy?
This particular chicken quinoa bowl recipe is, yes! It is nutritionally balanced providing plenty of protein, complex carbohydrates, healthy fats, and plenty of fiber. This is what eating healthy is all about.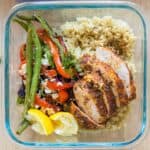 Chicken Quinoa Bowl
This super delicious Chicken Quinoa Bowl us bursting with flavor, perfect for meal prep, and the recipe comes together in just 35 minutes.
Print Recipe
Pin Recipe
Ingredients
1

red onion

3

cloves garlic

7

oz

French green beans

1

large red bell pepper

1

lbs

chicken breasts

3

tsp

paprika

3

tsp

oregano

sea salt

pepper

1

Tbsp

olive oil

1.5

cups

quinoa

1.5

oz

feta cheese

2

Tbsp

fresh dill

1

lemon
Instructions
Preheat the oven to 400F.

Peel and slice the red onion, peel and chop the garlic, deseed and slice the red bell pepper and if necessary remove stems of French green beans.

Add all vegetables to a large baking sheet and season with 1/3 of the paprika and 1/3 of the oregano and also season with sea salt and pepper to taste. Drizzle with a little olive oil and work oil and seasoning in with your hands.

Add chicken to a separate baking dish and season with remaining paprika and oregano and add sea salt and pepper to taste. Drizzle with olive oil and work oil and seasoning in with your hands.

Place both, the vegetables and chicken, into the oven for 25 minutes or until the chicken reaches an internal temperature of 165F.

In the meantime, prepare quinoa either in a pot on the stove following the package's directions or in the Instant Pot by adding 1.5 cups quinoa, 1.5 cups water, and a little sea salt and then setting it to 1 minute on high pressure and letting pressure release naturally.

Once the baking and roasting time are over, remove the baking sheet and dish from the oven and let rest for a few minutes. Sprinkle crumbled-up feta and fresh dill over the veggies and give them a quick stir. Fluff the quinoa with a fork.

Assemble the meal prep bowls by dividing the quinoa, the roasted vegetables, and the chicken breasts among four bowls and drizzle with fresh lemon juice
Nutrition
Calories:
477
kcal
|
Carbohydrates:
54
g
|
Protein:
37
g
|
Fat:
13
g
|
Saturated Fat:
3
g
|
Polyunsaturated Fat:
3
g
|
Monounsaturated Fat:
5
g
|
Trans Fat:
0.01
g
|
Cholesterol:
82
mg
|
Sodium:
264
mg
|
Potassium:
1094
mg
|
Fiber:
9
g
|
Sugar:
5
g
|
Vitamin A:
2148
IU
|
Vitamin C:
63
mg
|
Calcium:
154
mg
|
Iron:
5
mg
What's your clean eating vibe?
Take this fun QUIZZ and find out in 10 seconds!