Full instructions for fail-proof roast lamb shoulder! The best boneless lamb shoulder roast recipe out there with tips and tricks to ensure success in the kitchen!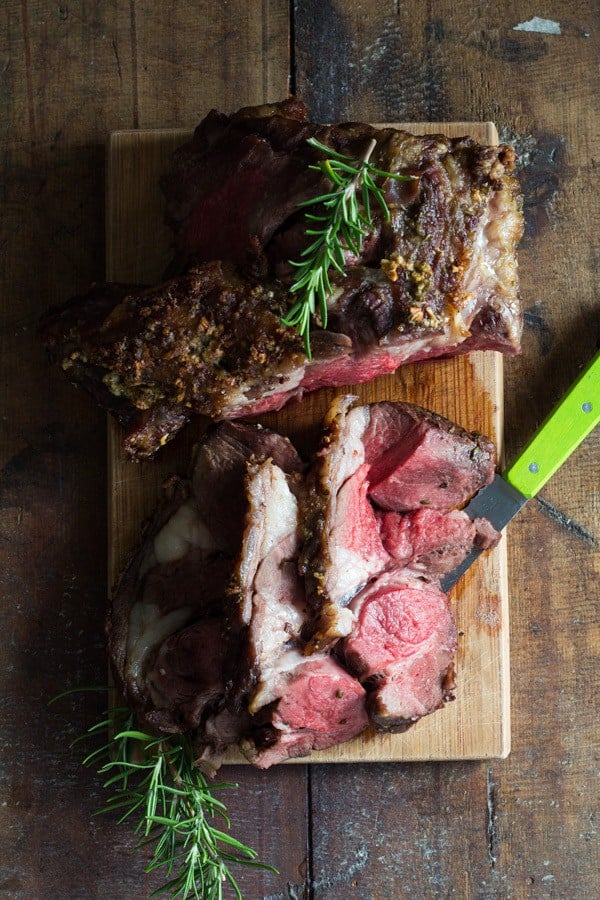 At first my kids made a disgusted face when they saw the very pink piece of meat. Even though they eat skirt steak like that without a problem, huh?! Once they tried the lamb they couldn't stop eating. It was hard to save some for my husband.
The thing about big pieces of meat is that if cooked the wrong way they taste gross, however, if cooked the right way they become a glorious gourmet experience.
It's scary to cook a big piece of meat. If done the wrong way, it's ruined and it's ruined all at once. There is no second try with a second piece of steak. This is why I wrote this post.
I want you to feel confident that you can do it. This is a failproof recipe for Roast Lamb Shoulder. There is nothing to loose.
Here are all the tips and tricks on how to achieve the BEST roast lamb shoulder: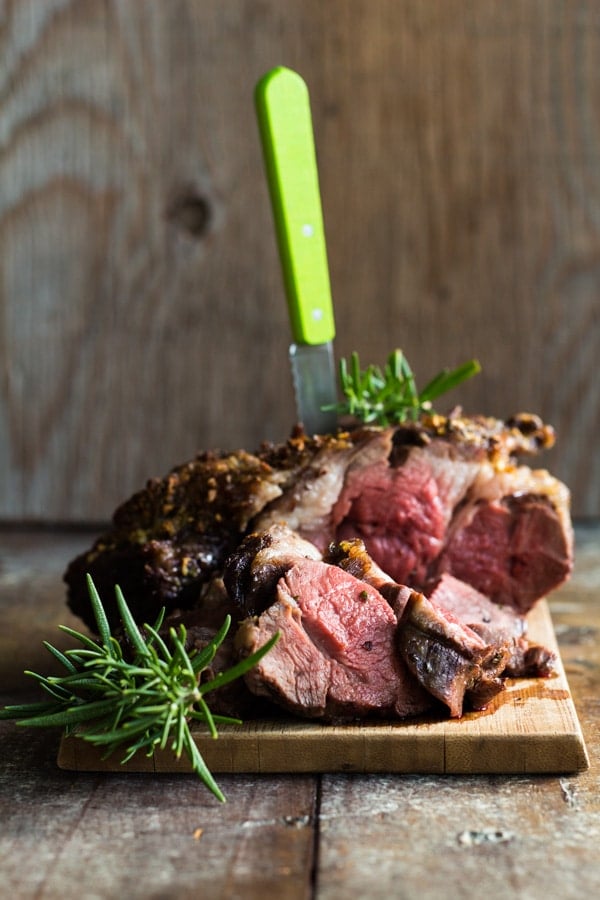 Where to buy lamb shoulder
Like with any piece of meat, the quality is crucial for successful cooking. If you plan to buy your lamb shoulder at any regular supermarket store, be warned it might not turn out that delicious.
You don't know how exactly the piece has been cut, how much cartilage they left in (probably a lot to increase weight and thus price) or what they fed that lamb.
If your regular supermarket leaves in tons of cartilage, which you have to tediously remove, you end up with much less meat and in the end didn't even save that much money per pound of edible meat.
It's best to go to local farms and buy directly from them or at least go to a small butcher that knows where his meat comes from and how it's been raised. They will be able to guarantee high quality cuts which result in a high quality lamb shoulder roast.
How much lamb shoulder per person
Ok, so here I am suggesting a 2.5 lbs lamb shoulder for 4 people, that's 10 oz per person. There is no exact amount though of course.
It all depends on what you will serve as a side dish, how many women/men will eat. How much the dinner guests usually eat.
As a rule of thumb you can calculate 10-11 oz per person in case served with a light side dish such as a salad and 7-8 oz per person in case served with side dishes high in carbohydrates such as potatoes that are very filling.
How long to roast lamb shoulder and at what temperature
I hate searing meat before putting in the oven because it's such a mess. What I like to do is preheat the oven to much more than needed for roasting and then immediately reduce heat when I put the cut of meat into the oven.
In this case, for the lamb shoulder I preheated the oven to 450°F (230°C) and then immediately turned the heat down to 350°F (180°C).
In general, with a preheated oven to 450°F and then heat reduction to 350°F you can calculate 17-19 minutes per pound for your meat to be rare, 21-23 minutes per pound for your meat to be medium-rare, 25-27 minutes per pound for your meat to be meat to be medium and 28-30 minutes per pound for your meat to be done.
I never recommend to cook red meat to absolute doneness. It should always be at least medium to not be all dry.
To what internal temperature to roast lamb shoulder
The best way to roast your lamb to absolute perfection is to use a meat thermometer. With a meat thermometer you can check the internal temperature.
No need to cut into the meat and risking the juices run out instead of redistributing. The safe temperature to cook lamb is apparently 145F.
Now that I've told you what is "safe", I'm "safe" to say I never cook it to that temperature. Way too done for me. I live a risky life filled with unsafe but deliciously juicy meat instead ;)
It is important to note that the temperature of big pieces of meat will rise another 5-ish degrees after taking out of the oven. The temperatures I am commenting below are for right-out-of-the-oven-measured temperatures.
To give you an idea about temperature and doneness I've roasted this piece of meat 3 times to different temperatures.
The lamb shoulder on the photos was cooked to 115F right out of the oven. The lamb shoulder in the recipe video was roasted to 125F right out of the oven. The third time I roasted it to 160 right out of the oven and it was completely done but not dry. If you like your meat done but still a bit juicy aim for 160F.
How to please dinner guests who all like their meat at different tastes of doneness
What I like to do when I cook roasts for several people with different meat doneness tastes, is to make it rare and then fry each individual slice in a cast iron skillet to the doneness each person desires .
That way everybody can eat their meat the way they like without much fuss. My kids and I like it pink, my husband likes it more rosy for example.
Since he doesn't usually come home for dinnertime and eats dinner way later than us I can just fry it in the pan later when he comes home. Perfect, right?
Why not cut the shoulder and fry each "steak" individually right from the beginning? Because it would a) take forever and b) become all dry.
Lamb shoulder is a tough piece of meat and needs to be cooked over low heat for a long time instead of high heat for a short time.
Now let's get to the recipe. I really hope you give this one a try. It is so so so easy to make and uuuuuuuh-maaaaaaay-zingggg!!!
Your butcher doesn't have lamb shoulder? Ask for boneless pork shoulder instead ;)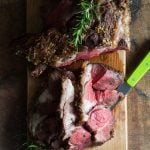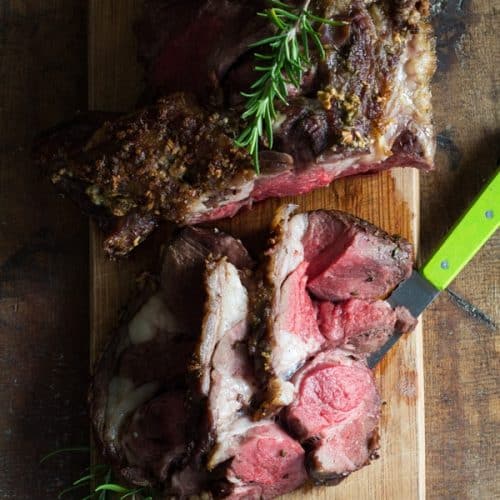 Roast Lamb Shoulder
Full instructions for fail-proof roast lamb shoulder! The best boneless lamb shoulder roast recipe out there with tips and tricks to ensure success in the kitchen!
Print Recipe
Pin Recipe
Ingredients
2.5

lbs

lamb shoulder

-

(1200g, out of fridge at least 1 hour before starting to preheat oven!!)

2.5

oz

butter

-

(70g, room temperature!!)

1

sprig

rosemary

zest of 1 lemon

2-3

cloves

garlic

sea salt

Pepper
Instructions
Preheat oven to 450 F (230°C).

Wash and destalk rosemary and chop finely.

Wash and zest lemon.

Peel and crush 3 cloves of garlic.

With your fingers mix butter, rosemary, crushed garlic, lemon peel, salt and pepper together until very well combined.

Cover the lamb shoulder with rosemary lemon butter all over. Make sure all sides are covered in butter. I used my hands. Then place it in a ovenproof dish.

Place in the oven and reduce heat to 350 F (180°C) and roast for 50-75 minutes depending on desired doneness (more explanation in recipe post).

Once roasted, take out of the oven and let it rest for at least 10 minutes without cutting into it. This is to ensure the meat sucks up all its released juices again.
Nutrition
Calories:
546
kcal
|
Carbohydrates:
3
g
|
Protein:
56
g
|
Fat:
33
g
|
Saturated Fat:
11
g
|
Polyunsaturated Fat:
2
g
|
Monounsaturated Fat:
8
g
|
Cholesterol:
225
mg
|
Sodium:
617
mg
|
Potassium:
827
mg
|
Fiber:
1
g
|
Sugar:
0.4
g
|
Vitamin A:
650
IU
|
Vitamin C:
11.6
mg
|
Calcium:
60
mg
|
Iron:
4.9
mg
What's your clean eating vibe?
Take this fun QUIZZ and find out in 10 seconds!