Nothing can beat a tender, juicy and extremely flavorful Pork Shoulder Roast!  This is by far my favorite roasted piece of meat. If I could get married to a piece of meat, ummm, you know what I want to say…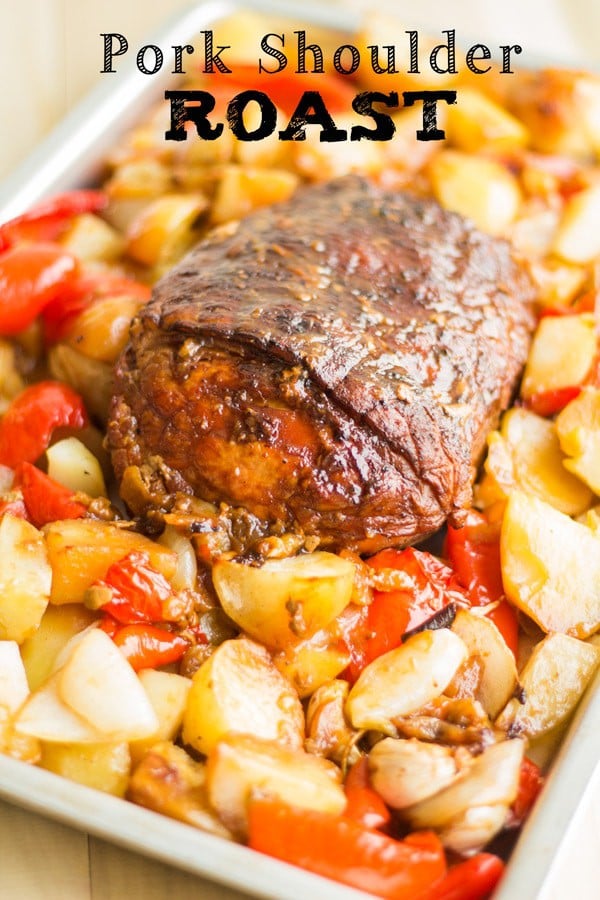 I am not usually a big fan of pork because it tends to be quite dry meat but this piece is slow roasted and this makes it extremely tender and juicy. Don't be afraid because it takes quite a while to make, it is very easy and there is hardly anything you can make wrong as long as you have an alarm set on your phone for whenever you have to do something.
This recipe was inspired by many people. Growing up as the granddaughter of a butcher you might imagine how many times I've eaten things like this. My grandfather died when I was quite young but his knowledge was handed down and remembered forever. My father learned from him how to butcher animals and how to choose the best animals and best cuts for certain dishes and even though I never learned this I guess it's simply in my DNA. So you have a couple questions about this cut? Let me give you some answers here.
Where to buy pork shoulder
The better quality the ingredients, the better the cooking results. This applies especially to meat and specifically pork. How the animal was raised and what it was fed is of utmost importance for the flavor of the meat. The better life and better feed, the better meat. Try to stay away from packaged supermarket meat and try find a local farmer that can ensure you high quality pork shoulders perfect for roasting. If you cannot find one go to a local butcher that knows where his meat comes from and how it's been raised. The butcher should able to tell you.
How much pork shoulder per person
A 4 pound (2.2 kg) pork shoulder is supposed to be enough to feed 6 people but let's be realistic, who eats a regular portion at a dinner party? AND who eats a regular portion when the recipe is called Pork Shoulder Roast?!? I suggest you calculate about a pound per person and pray there will be leftovers for you and you alone for the next day.
Yes, even when there is a starter and a dessert. I'm sure people are going to prefer to just skip dessert and rather have a second plate of this deliciousness. I can only say trying not to overindulge was impossible in this house. We all kept longing for more and more and more. It is a shame I don't have any left for now that I am writing this post. Can you imagine how hard it is to write about food and look at the pictures when there is nothing left of it to eat? Tortuuuuure!!
At what temperature to roast pork shoulder
Ok, so this question goes hand in hand with the question "how do I avoid my pork shoulder roast from being tough?" and applies to pretty much any tough meat cut such as lamb shoulder, lamb shanks, stewing beef etc. etc.
You can basically tell by cutting into a raw piece of meat. If it's easy to cut it's tender meat that should be cooked fast on high and if it's hard to cut into it's a tough piece of meat that needs to be cooked slow on low. A pork shoulder that is roasted or cooked on high for a short amount of time will give you VERY tough meat that will be extremely hard to chew and makes eating a not so enjoyable endeavour. If you roast/cook pork shoulder, or any tough piece of meat for that matter, slow on low, meaning patiently for a long time on low temperature, you will be rewarded with the the softest meat ever that will basically melt away in your mouth.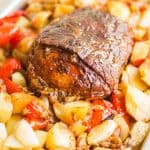 Pork Shoulder Roast
Print Recipe
Ingredients
4

lbs

pork shoulder

-

(2.2 kg)

1

lbs

yellow potatoes

-

(450 g)

1-2

red bell peppers

-

(depending on size and preference)

1

yellow onion

1

bulb

garlic

1-4

Tbsp

ají amarillo

-

optional

salt

pepper
Instructions
Take pork shoulder out of the fridge about 1 hour before roasting and let rest on kitchen counter.

Preheat oven to 450 F (220 C).

Make little cuts into the pork's skin being careful not to cut the meat, only the skin, about 1" (2.5 cm) apart. (This will allow the pork shoulder to absorb its seasoning better).

Generously salt and pepper the piece of meet using your fingers to rub salt into the cuts in pork skin.

Apply aji amarillo with your hands, too. Quantity will depend on guests, if they can eat and like eating spicy. In my case I only use 1 Tbsp because small children are eating from it, if it were only for my husband and me I probably would have used 4 Tbsp. If you can't find ají leave it out completely.

Place pork with skin side up in a large roasting pan or a deep baking sheet.

Add cut-up vegetables and whole garlic cloves in their skin around the pork, salt and pepper vegetables and then pour a couple dollops of vegetable oil over the vegetables and mix well.

Roast uncovered in very hot oven for about 30 minutes.

Take out from oven to cover with aluminum foil making sure it holds tight to the boarders of the roasting pan or baking sheet (wear gloves to prevent burnings).

Reduce oven's temperature to 350 F (180 C)!! and roast for 2 hours.

Take out of the oven and let rest for about 10-15 minutes before cutting into the meat.
What's your clean eating vibe?
Take this fun QUIZZ and find out in 10 seconds!