Want to know how to make 100% pure Pistachio Paste? It's super easy and you get some active meditation done while you make it ;)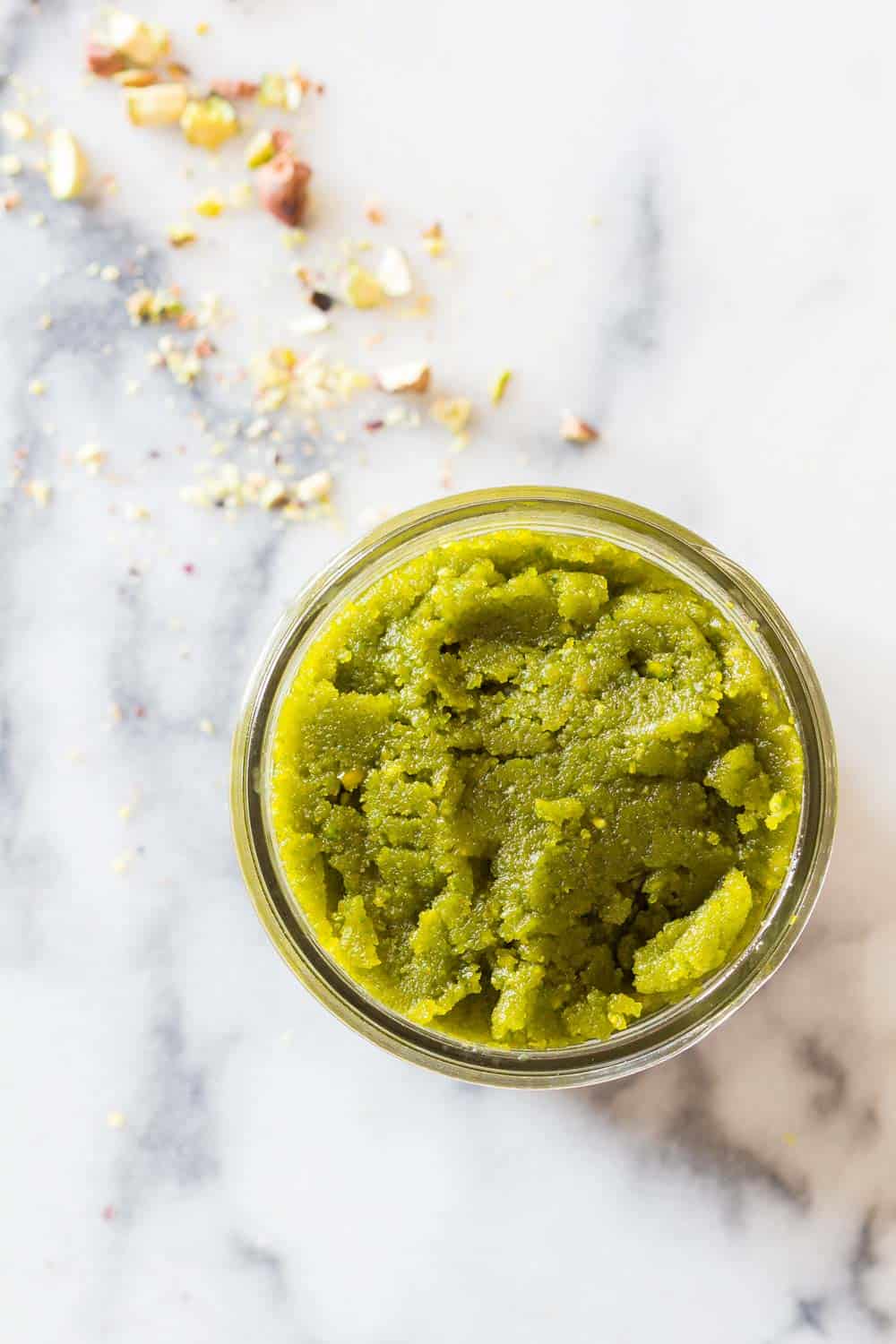 The only way to make sure you get 100% pure pistachio paste nothing else added is making it yourself. Yes, it might sound intimidating but I promise it's super easy! It does take some time, but it is eeeeasy!
So let's get right to it!
How to make pistachio paste
First of all, take your time and be patient. Actually I love these kinds of recipes. They are the only reason I will sit down to enjoy a cup of coffee instead of rushing through the day. In order to get the pistachio paste to be vibrantly green without adding any food coloring (which many store-bought pastes contain), it is crucial to peel them out of their skin. Yes, not only their shells but also their skins. The skins are brownish-redish and if you leave them on the paste ends up being brown and bitter, too.
I highly recommend buying already shelled pistachios * for that or you'll add another 30 minutes to the workflow. Make sure they are unroasted and unsalted to keep the flavor super pistachio-ish. That's a word, right?!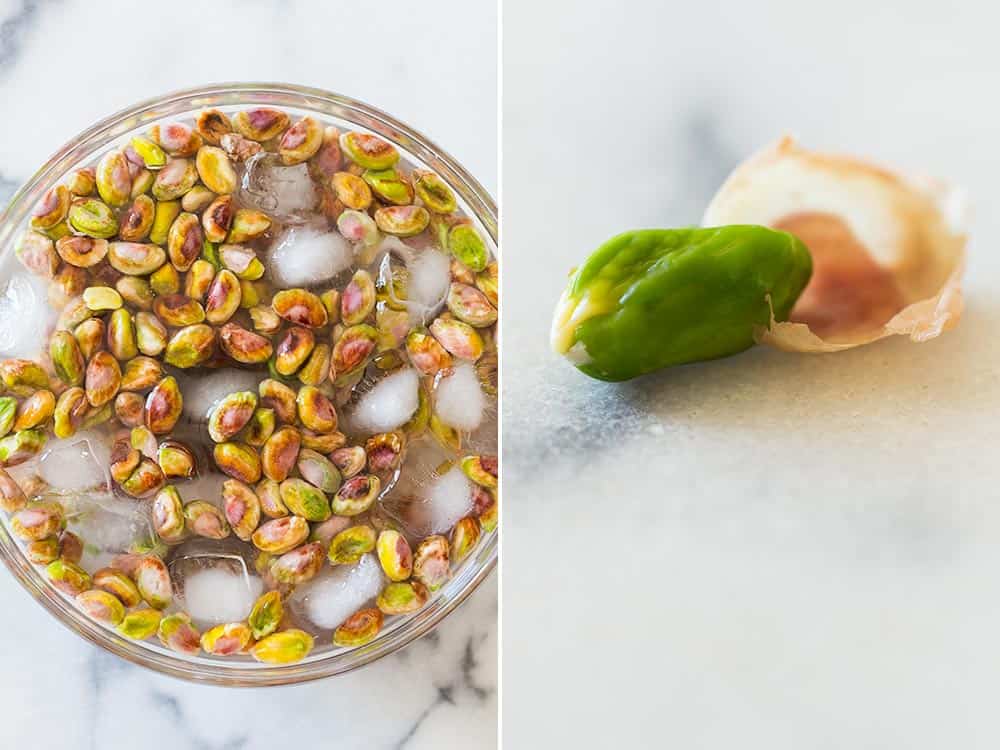 How to take off the skin off pistachios
So there is a trick to how easily get off the brownish-reddish skin off pistachios. You can of course use your fingernails and scrape it off just like that but you'll probably need all day to skin 10 pistachios. However, if you blanch and then shock them, your just press them between two fingers and they pop right out. Wheeee!
So basically, you bring water to a rolling boil, add all pistachios and boil them for maximum 1 minute, immediately drain them and add them to an ice bath (<- a bowl with cold water and tons of ice cubes) to "shock" them and stop them from cooking any further. Leave them there for another minute and then drain and remove the ice cubes.
Now you can start pressing them between to fingers or using your finger nails to peel the skin right off. It should be super easy. Of course we have to peel like a million, so it will still take time so make yourself some coffee and enjoy a show on Netflix while you do this. Alternatively, cound this as your active meditation time ;)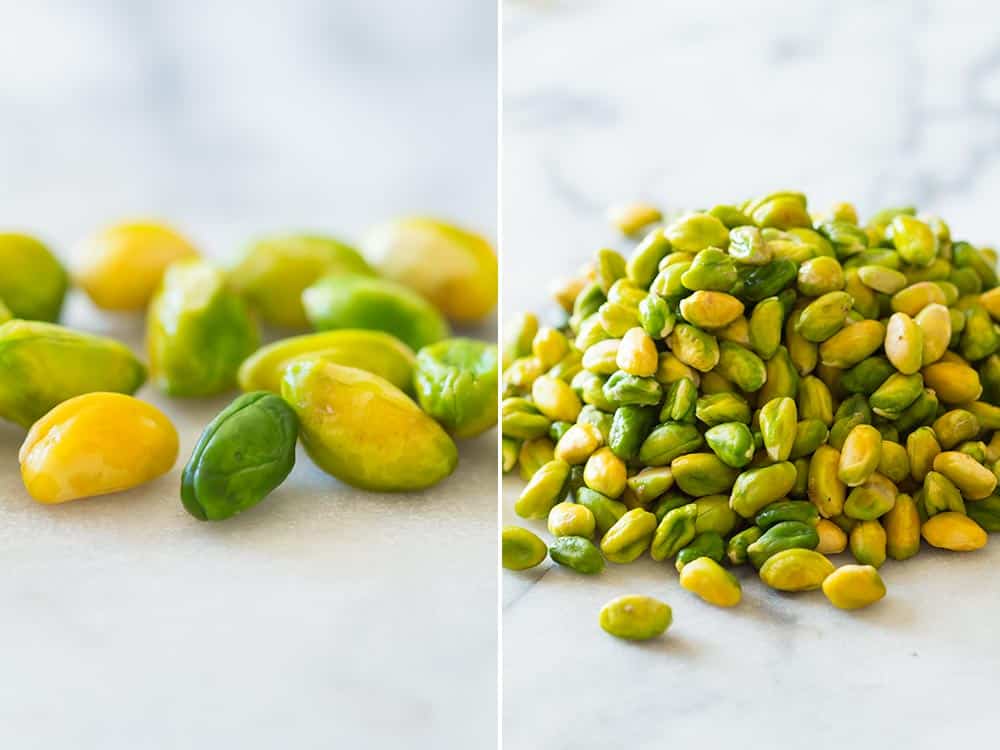 How to store pistachio paste
I recommend storing the pistachio paste in a air-tight sealable glass container such as a mason jar * or those canning and preserving jars * with the rubber ring around the attached lid. The emphasis is on "air-tight" here.
Then store it in the fridge. It can also be stored in a cool pantry but I prefer to store all my nut butters in the fridge because that way the natural oils don't separate as much and it's easier to mix it all together again.
When the oil separates a little and starts collecting at the top, make sure you stir the pistachio paste with a sturdy knife and mix it all back together before using.
How long does pistachio paste last
In the fridge the pistachio paste should last several weeks. Always make sure you give it a smell before using.
In the freezer pistachio paste should last several months. If you don't plan on using it up in a couple of weeks (hoooow?!?!), then freeze in 1 Tbsp portions in an ice cube tray and once frozen pop out and put in a ziplock bag and keep in the freezer. That way you can defrost only what you need for certain recipes. Smart, eh? :)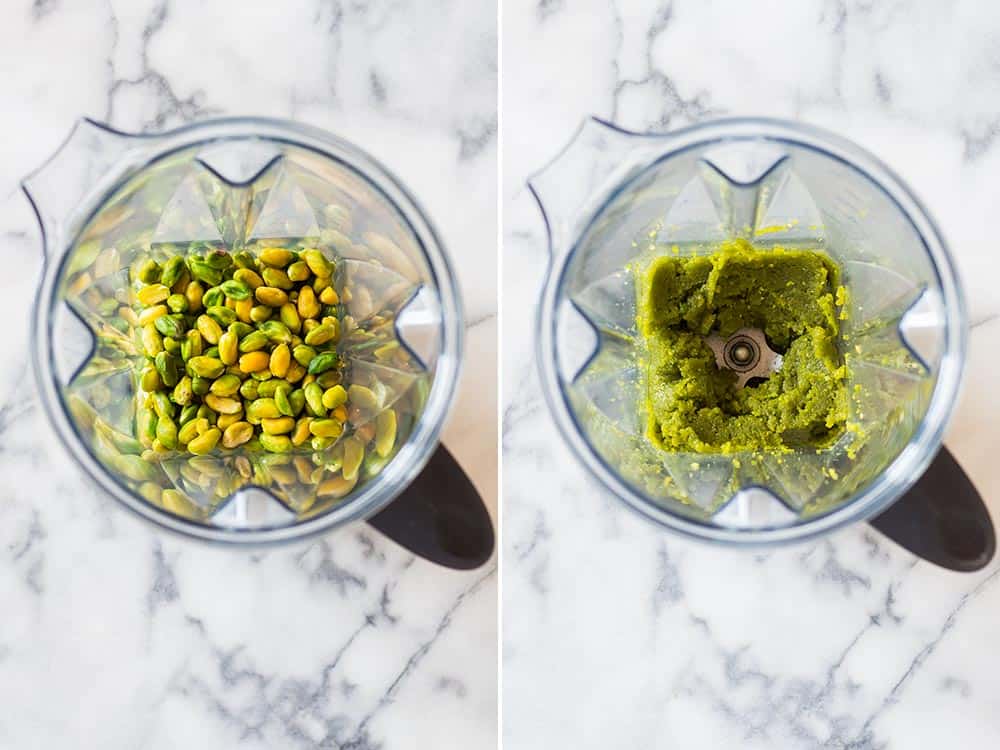 What is pistachio paste used for
You can use pistachio paste for aaaaaalll kinds of things, such as divine homemade pistachio ice cream or homemade macaroons. You can make pistachio croissants or you cookies that call for any kind of nut butter. Replace the other nut butter by equal amounts of pistachio paste and enjoy the heavenly tasting pistachio cookie! I wonder if these Flourless Peanut Butter Cookies taste like a bomb if I replace the peanut butter by pistachio paste. Uhhhhhhh, I'm drooling now!
How to eat pistachio paste alone
If you prefer to stop working on anything else but the pistachio paste itself you can also simply enjoy it on some apple slices. One of my favorite snacks has always been apple slices with almond butter. OH MY! Sorry almond butter, move over, you've just lost your spot to this pistachio paste. It tastes SOOO good in combination with apple slices!!!
I can also imagine it taste extraordinary on some banana or mixed into oatmeal in the morning. The possibilities are ENDLESS!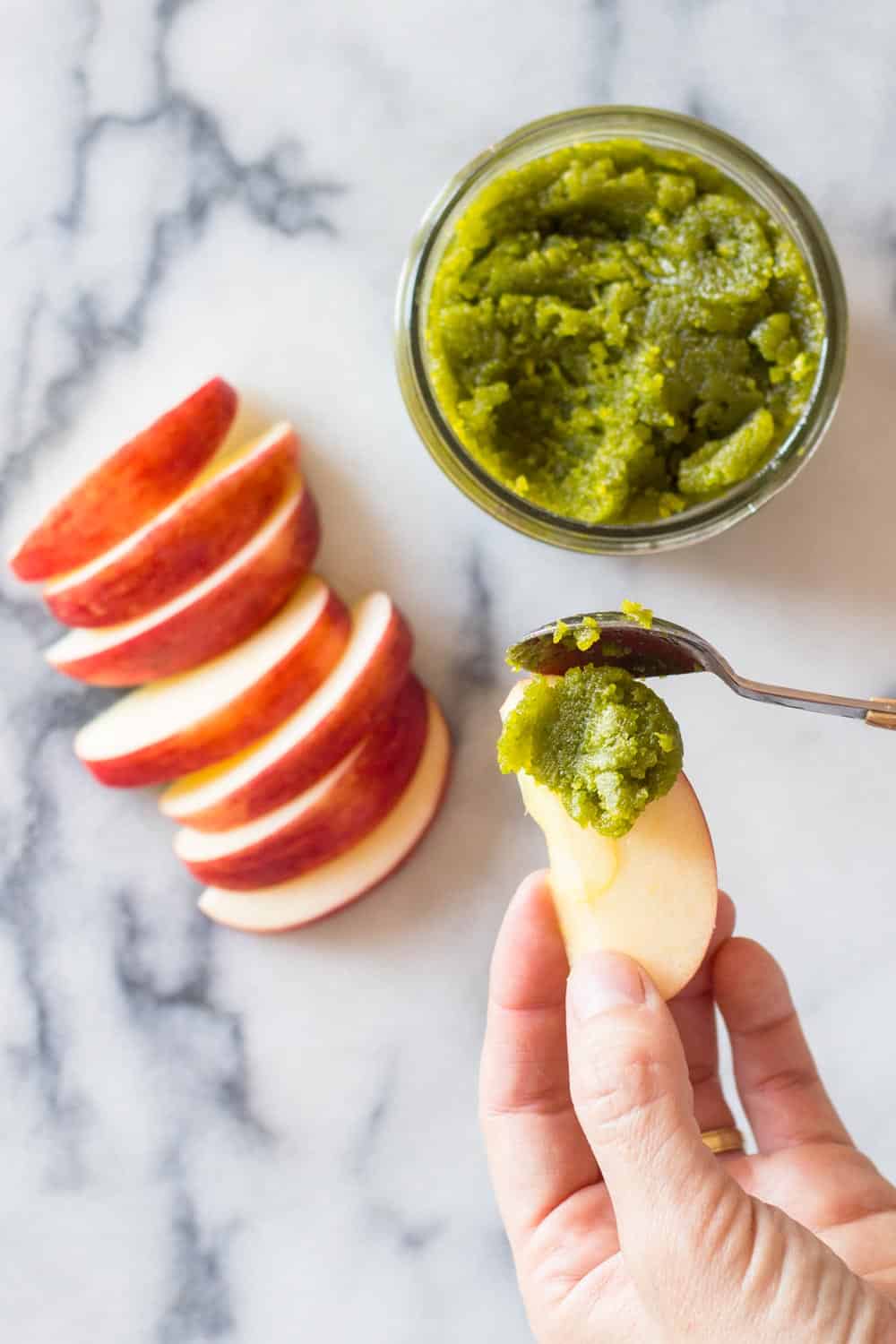 Where can I buy pistachio butter?
If after reading this you think I'm crazy for even considering making this, I get you, haha. It takes quite a while. You can also buy pistachio paste ready made and it's actually a lot smoother and more liquid than the homemade. This * one has pretty good reviews.
* the links above are affiliate links and I earn a couple cents commission if you buy the products through the links. All earnings go towards buying coffee and keep my brain running to create more blog posts for you :P.
Pistachio Paste
Want to know how to make 100% pure Pistachio Paste? It's super easy and you get some active meditation done while you make it ;)
Print Recipe
Ingredients
7

oz

pistachios

-

(200 g)
Instructions
Bring a small pot of water to a rolling boil, then add pistachios for 1 minutes only. Drain immediately and add to an ice bath to "shock" them and stop the cooking process. An ice bath is a bowl filled with cold water and ice cubes.

Drain the pistachios, remove all the ice cubes and press them between your fingers or use your finger nails to remove the skins. This is an easy process.

Add all peeled pistachios to a high speed blender or a food processor and blend/process until paste consistency. Scrape down the sides often.

Enjoy with apple slices and store the rest in an airtight container in the fridge.
Nutrition
Calories:
1114
kcal
|
Carbohydrates:
56
g
|
Protein:
41
g
|
Fat:
89
g
|
Saturated Fat:
11
g
|
Polyunsaturated Fat:
27
g
|
Monounsaturated Fat:
47
g
|
Sodium:
2
mg
|
Potassium:
2050
mg
|
Fiber:
21
g
|
Sugar:
15
g
|
Vitamin A:
1100
IU
|
Vitamin C:
13.2
mg
|
Calcium:
220
mg
|
Iron:
8.3
mg
What's your clean eating vibe?
Take this fun QUIZZ and find out in 10 seconds!