A no-churn super easy and guilt-free Pistachio Ice Cream Recipe to keep us cool during summer! You can eat A LOT of this without the guilt ;)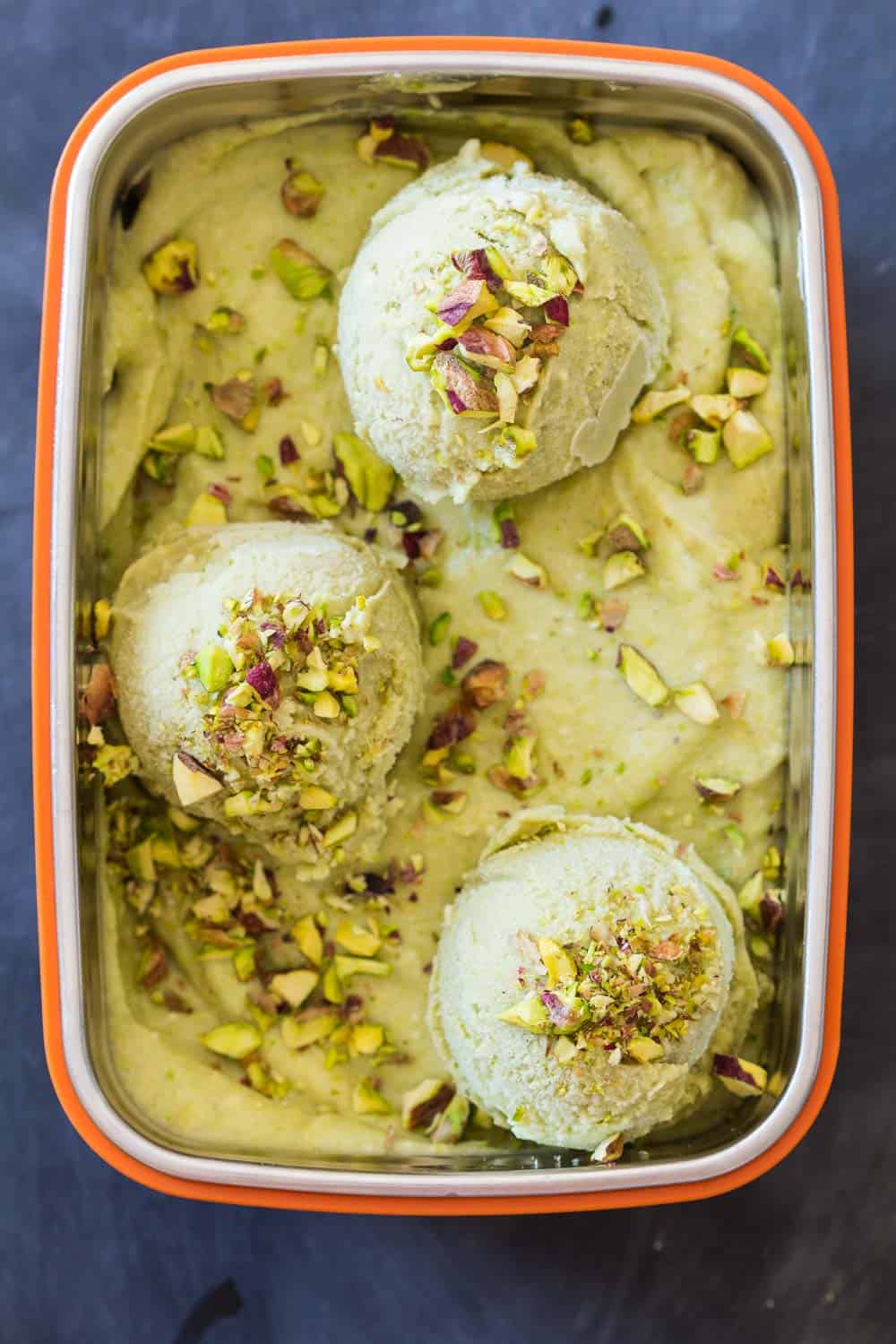 This recipe is refined sugar free, vegan and full of healthy fats. Basically A DREAM COME TRUE :P
I made my own pistachio paste, you can easily omit this step though if you're short on time and simply buy a good quality one *. If you do have the time, definitely make your own. It's simply the best stuff in the world. I swear!
What makes pistachio ice cream green?
In many cases unfortunately it's food coloring. Boooo! Big thumbs down. However, you can get nice and green pistachio ice cream without adding food coloring. You simply have to either create your own pistachio paste with peeled pistachios. Or buy a good quality one that's made of peeled pistachios. The important part here is the "peeled" pistachio. Not meaning only shelled but literally peeled out of their reddish-brownish skin.
It's a bit time-consuming to remove the skin but super duper easy. Promise!

How to make pistachio ice cream without eggs
So regular ice cream usually contains egg yolks. It's what makes ice cream creamy. If you can't eat eggs however for whatever reason, what's the best to replace those egg yolks in ice cream? The answer is bananas! Bananas are creamy, sticky, sweet and yummy! There is no better replacement.
How to make pistachio ice cream without cream
Well, technically this recipe contains "cream" it's just not the cream most people think of when they hear or read "cream". Most ice cream recipes call for dairy cream because it's nice and thick and when whipped becomes nice and airy. Guess what, coconut cream is equally amazing but dairy-free. For those that can't have dairy, the absolute perfect replacement. Put a can of full-fat coconut milk in the fridge over night, open and scoop out the cream that separated from the water. Tadaaaa, you've made yourself some coconut cream ;)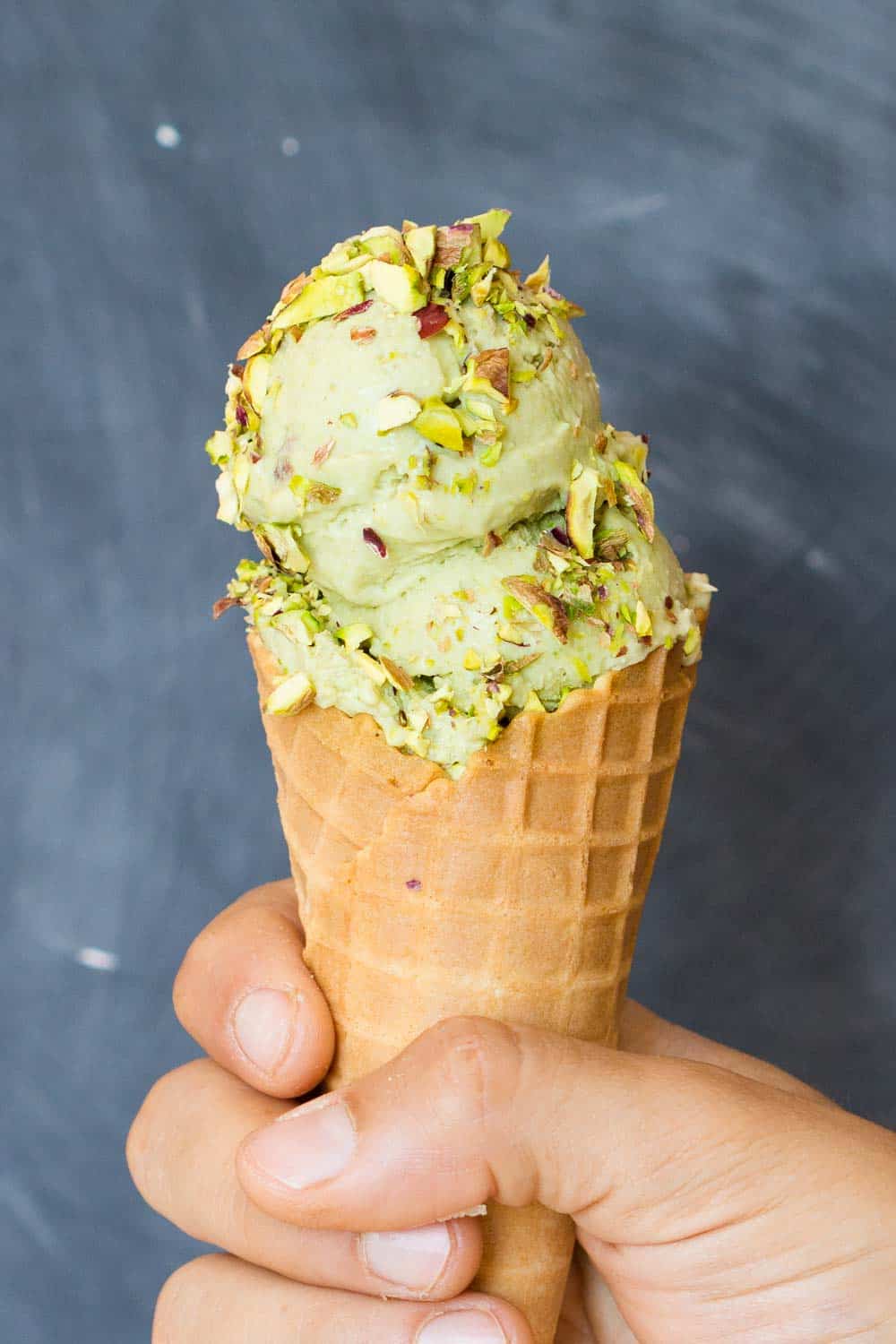 How to make pistachio ice cream without an ice cream maker
An ice cream maker can only make ice cream and I'm not a fan of kitchen gadgets that serve only ONE purpose. I prefer to invest in gadgets that can to millions of things. For this recipe you do not need an ice cream maker just a high-speed blender or a food processor or the strongest muscles in your city and a fork.
In a food processor you'll have to process everything for quite long to get it all really really smooth but it works. If you mash and mix it by hand, make sure you're using a high quality fork that doesn't bend easily and put everything in the freezer for 10 minutes every couple minutes to keep the bananas frozen.
My favorite tool for this is a high-speed blender such as a Vitamix.
How to make Pistachio Ice Cream in a Vitamix
So by now you all know I'm pretty much in love with a couple of my kitchen gadgets. One of them: my Vitamix *. (No, they're not paying me to say that). It's one of those things I always thought it's just too high of an investment but once I got one I'm hooked and if it breaks tomorrow I'll go sell my kidney to replace it if necessary. Yes, I'm serious. It's that amazing!
I mean, come on, you can make pistachio paste and pistachio ice cream in it!!! That's reason enough to have one. It's powerful enough to turn pistachios into paste and to cream frozen banana with coconut cream, pistachio paste and maple butter. You need the magic wand tool thingy for it to get the job done. That's the best tool of the Vitamix in my opinion. No "scrape down the sides a hundred million times" and stuff like that.
How to make Pistachio Ice Cream Video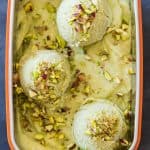 Guilt-Free Pistachio Ice Cream
A no-churn super easy and guilt-free Pistachio Ice Cream Recipe to keep us cool during summer! You can eat A LOT of this without the guilt ;)
Total Time
4
hours
10
minutes
Ingredients
2

bananas

(frozen for 12 hours)

1

can

full fat coconut milk

(refrigerated for 12 hours - and yes it HAS to be full fat)

6

Tbsp

pistachio paste

4

Tbsp

maple butter or honey

1

hand full

pistachios
Instructions
The night before put 2 peeled bananas in the freezer and put the can of coconut milk in the refrigerator.

Open the refrigerated can of coconut milk and scoop out the cream that separated from the coconut water. Save the water for smoothies or drink just like that. Add the scooped out cream to a high-speed blender.

Add frozen bananas, pistachio paste and maple butter or honey to high-speed blender and blend until smooth (regular blender won't work, alternatively use a food processor).

Add to a freezer friendly container and freeze for about 4 hours.

Remove from the freezer and let warm for about 10-15 minutes before scooping.

Sprinkle with chopped pistachios.
Recipe Notes
Nutrition Facts
Guilt-Free Pistachio Ice Cream
Amount Per Serving
Calories 167
Calories from Fat 81
% Daily Value*
Total Fat 9g 14%
Sodium 5mg 0%
Potassium 239mg 7%
Total Carbohydrates 20g 7%
Protein 3g 6%
* Percent Daily Values are based on a 2000 calorie diet.
WHAT CAN BE PRESSURE COOKED WITH WHAT?
Get access to my FREE cheat sheet to help you mix and match ingredients.