Last night we went on a date night! Uuuuhhh. We went to the cinema, enjoyed an action movie with lots of nervous fingernail biting and then returned home to a second round of this Red Lentil Sweet Potato Soup. Date night is all about perfection ;)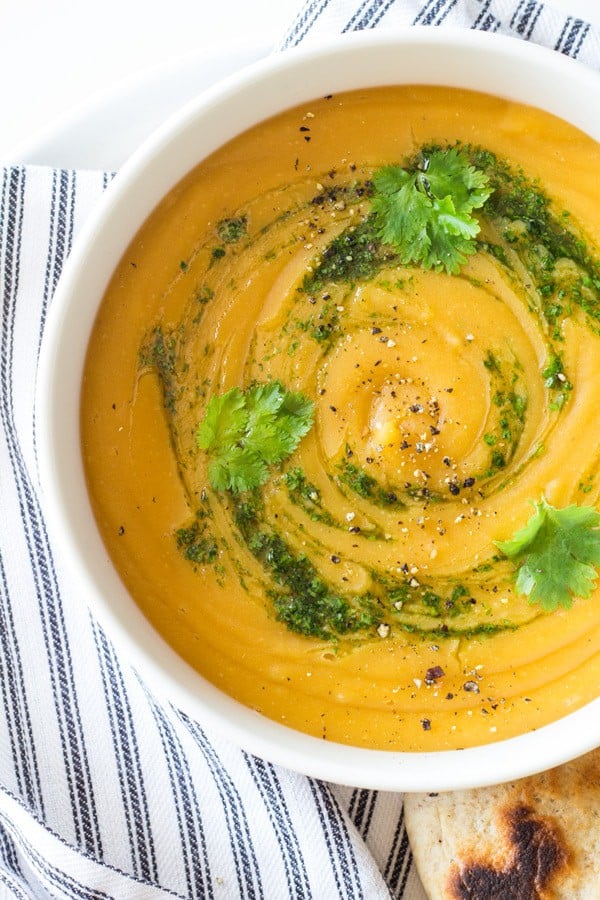 This whole going-out-on-dates thing, or going out in general is fairly new to me ever since I'm a mom. My husband and I used to go out A LOT. No, not just quite often but A LOT A LOT. We've always been extremely social and we've both always been party people. As soon as I had my son going out was pretty much impossible, at least for me. Living far away from family and on demand breastfeeding make going out kidless a MAJOR endeavour. For 4 of the past 5 years I was always either pregnant or breastfeeding and thus extremely tired and going out simply wasn't on my list of priorities. I did miss it though. All the time. Yes, I constantly missed going out and socialize on another level. Of course I left the house with the baby/ies and went and met other moms and kids and all that, but I never went out kidless to have a full sentences conversation with another adult. At a playdate sentences always end up being interrupted by "no don't touch that"…"be careful"…."be nice, be gentle please"…."no hitting"…."yes honey? Please don't interrupt, I'm speaking right now"…..etc. etc. The thing is, by the time you are ready to finish your original sentence you already forgot what you were talking about in the first place. To all those mamas out there in exactly that situation right now…..IT DOES GET BETTER. The kids get older and really "play" at play dates and moms can talk (!) Maybe not a whole uninterrupted conversation but at least one or the other sentence gets completed ;) Apart from that, the kids DO eventually sleep through the night and you CAN go out without them freaking out about staying with a babysitter. You WILL find a babysitter you can trust your most precious jewels to even outside the family and you WILL eventually be able to go out without watching your phone or even think about how the kid's bedtime might have worked. I am so enjoying this folks. I am enjoying going to the cinema with my husband and going out with him to that Friday evening after work drinks with his colleagues every once in a while and going out with my mama group but KIDLESS to talk, yes about the kids, but un-inter-rupted. Wohooo. A big *high-five* to all the mamas out there that finally reaches this stage. We made it :D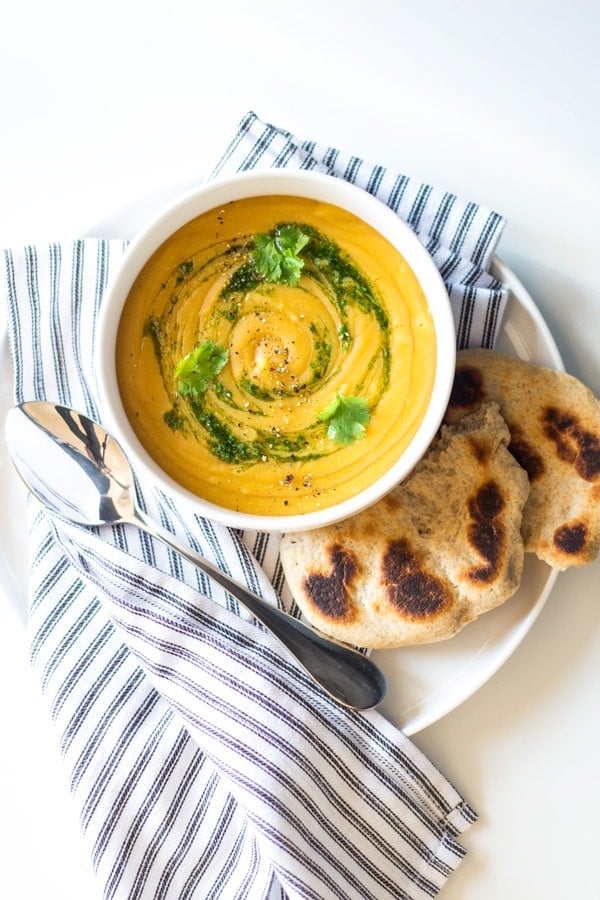 So what do all these long lines about going out kidless have to do with Red Lentil Sweet Potato Soup? Absolutely nothing. I'm sorry but if you want my recipes you're going to have to go through my blather about life….it's all about balance. Give and take, lol!
If you have been following Green Healthy Cooking for a while you might have noticed that I LOVE lentils. This sounds weird. Who loves lentils? People love chocolate, or maybe a piece of fruit, but lentils? I do love them though, seriously! Not only for their nutritional value and their price but for their amazing taste. Green lentils are my favorite and if I recall correctly I've only made recipes with those so far here on the blog. All lentils are equally delicious though and red lentils are awesome because they cook super fast and don't require soaking. Perfect for last-minute lunches or dinners that have to be made quickly without missing out on nutrient-density.
This soup hardly requires any seasoning. The red lentils and sweet potatoes have such an amazing flavour itself that the soup tastes pretty darn good even without seasoning and thus would be a fantastic baby food. It is nutritionally dense and has a naturally sweet taste. You can also easily freeze it. It can be served as a starter or main dish. We ate it as a main dish with some freshly homemade naan bread. I won't bother you with the naan recipe though. It was meh :( Will have to work on that one some more to find the perfect recipe to share with you.
Red Lentil Sweet Potato Soup
Print Recipe
Ingredients
1/2

small

onion

6

cups

water

2

cups

red letils

2

small

sweet potatoes

-

(350g)

1

clove

garlic

1/2

tsp

cumin

1

hand full

fresh coriander leaves

2

Tbsp

olive oil

Salt

Pepper
Instructions
Bring 6 cups of water to the boil.

Peel sweet potato and cut into small cubes (about 1/2"/1cm).

Peel onion, cut in half and add a toothpick to the onion to keep it from falling apart in the soup. The onion will be removed as one at the end.

Peel and crush garlic.

Add lentils, sweet potato cubes, half onion and crushed garlic, cumin and about 1 tsp salt to boiling water, cover and reduce heat to simmer.

Simmer for approximately 30 minutes or until sweet potato is very soft.

In the meantime, prepare coriander oil by picking a big hand full or coriander leaves and adding to blender together with olive oil. Blend well until all coriander is very small. Scraping might be necessary mid-through.

Once soup is cooked, remove half onion, blend remaining ingredients with an immersion blender or blender or food processor and season to taste with more salt and pepper.

Serve in a bowl with a swirl of coriander oil and freshly ground pepper and fresh naan bread or bread of your choice.
Have you tried this recipe?
Take a picture and tag @greenhealthycooking Can't wait to see your version!
Oh, and in case you were wondering what I look like standing on the table with a tripod and a diffuser to my left and a piece of black cloth over my head to create some shadow….take a deep look into the spoon ;P