Step by step instructions on how to make Bolillos including a video tutorial. These Mexican rolls are the number 1 sold bread in Mexico City. Bolillos are probably the second favorite carbohydrate after tortillas for any Mexican. The delicious, freshly baked rolls are an absolute must-try!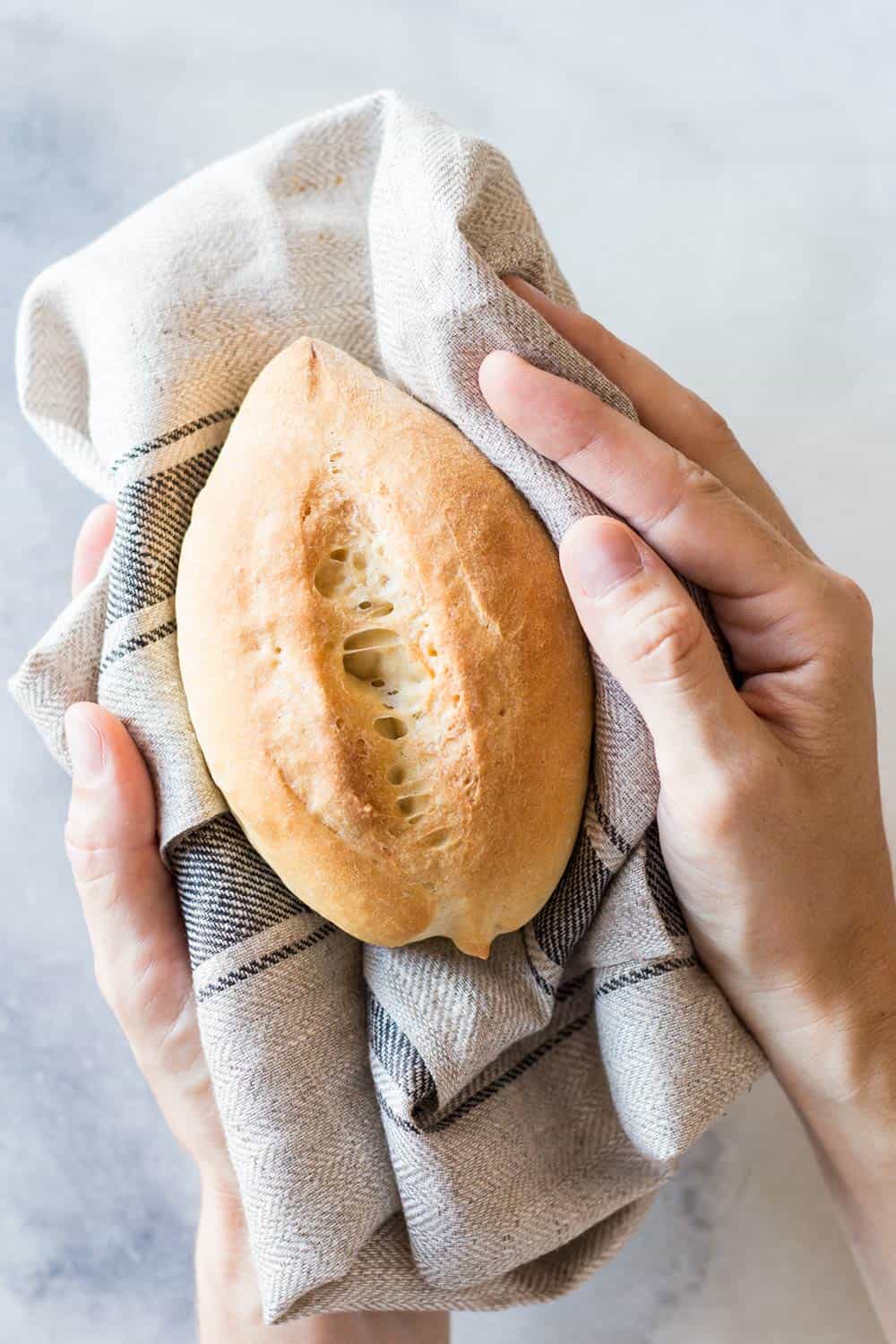 My Mexican Baking Credentials
I should probably start by quickly explaining why I consider myself an expert at making these Mexican rolls despite not being Mexican.
My husband is Mexican and grew up eating bolillos DAILY!
I lived in Mexico City for 4 years and joined the tradition of having one for breakfast every day.
We became ex-pats in 2011 and haven't had access to Mexican bakeries other than when visiting family over Christmas.
Needless to say, I had no choice but learn how to make my own Bolillos and other Mexican dishes like Huevo Ranchero or Salsa Verde and become an expert at it to satisfy our cravings :)
How to Make a Bolillo from Scratch?
It's very easy to make these Mexican rolls from scratch but there are a couple of pitfalls you want to avoid.
Use a digital kitchen scale!!! I cannot stress this enough. You can find inexpensive ones for as little as $10. No matter how exact you follow imperial cup flour-measuring techniques you always end up with different amounts of flour. You cannot successfully bake bread with inexact measurements. This is my favorite kitchen scale.
You have to make sure you're working with active dry yeast. If you bought your yeast packets recently it will most definitely work but if you've had them in the pantry for a long time it might be a good idea to first proof your yeast to ensure it can still come to life. More info about proofing yeast below.
Assuming your active dry yeast is in perfect condition you want to simply mix flour, yeast, salt and a pinch of sugar (to activate the yeast only, the bread is not sweet) in the bowl of a stand mixer to ensure everything is well combined and evenly distributed.
Then add 110℉ warm water. The temperature is crucial! See the explanation below about proofing yeast. These rolls will not turn out if you try to make dough with water that is too hot or too cold. This will give a 70% water-content sticky dough at first.
Let rise in a warm but not hot environment until doubled in size. No matter how long this may take. Don't try to short cut this process by putting the dough on the radiator or in the oven. You risk killing the yeast and then you have to restart.
It's time to hand fold. You want to achieve a very elastic dough. Take your time!
Form your bolillos as shown in the video and then spray or brush them with water so they don't dry out while they do their second rise. Do not omit this step. Two full rises are essential!
Make an incision with a sharp knife in the middle or else they will break open weirdly. And also spray with water again just before adding to the oven.
Keep an eye on them so they don't overbake. The exact baking time will depend on how big or small you formed the rolls and how high they are in the center. As soon as they are lightly brown as shown in the photos they are done. They should sound hollow when you tap their bottoms of you can also take internal temperature and aim for 195-200℉ in the center of the roll for perfect rolls right out of the oven.
Let rest for at least 10 minutes before eating so the steam inside can redistribute instead of immediately evaporate completely.

How to proof yeast
Add yeast to a bowl and then add warm water (half a cup is enough and reduce that amount of water later in the bread-making process if you have to proof your yeast first). Now here is the first tricky part. The water has to be "warm". What does "warm" mean? Anywhere from 100-110℉ (38-43℃).
Use a thermometer, if you don't have one for food, use your body temperature thermometer. If you don't have that either, use your elbow.
It should be warm like the water you would bathe a baby in, the milk you would give a baby in a bottle. If you have nothing to do with babies and don't know what kind of warm is meant by that, well, warm like your own pee ;)
The end result after about 10 minutes is foamy, bubbly, yeast-smelling water. If it doesn't foam and bubble, toss it. Your bolillos won't rise. They will come out dense and heavy and maybe even uncooked in the end. Do not waste your flour. Start over again. Remember it's just 10 minutes.
Reasons For Yeast To Not Activate or Dough To Not Rise
Now, how come yeast doesn't foam or bubble sometimes? There are 3 reasons for things going wrong.
the yeast expired -> buy another one.
the water was too hot or too cold -> use a thermometer to make sure the temperature is right.
your tap water is no bueno (too much chlorine or bacteria can kill your yeast) -> Use filtered or bottled water.
Do I Have to Proof Yeast To Make Bolillos?
If you are certain your yeast is perfectly fine because you literally just bought it, there is no need to proof it and you can proceed as instructed in the recipe card below.
If you are unsure most definitely proof it but be aware that the "total" amount of water necessary for the recipe is 350 ml. So whatever amount of water you use to proof the yeast, you have to deduct that from the total amount.
And, be aware that the water temperature has to be 100-110℉ for both, proofing the yeast and when you add the rest to the dough as well.
How Long Do These Mexican Rolls Last And How To Store Them
They are best eaten right away all at once.
Bolillos tend to be bought at least twice a day in Mexico City. They taste so good right out of the oven and every bakery keeps baking them all day long.
Only a couple hours later they become stale because they don't contain any emulsifiers or other ingredients to make bread last. This is quick to prepare clean ingredient bread. Airy with a crunchy crust and a soft center.
If however, you can't finish them in one sitting you don't have to throw them out of course. You can still eat them the next day. I recommend storing them (completely cooled) in a plastic bag on the kitchen counter.
To make them crunchier and less stale brush or spray them with water and put them in the oven for 3 minutes at 400F.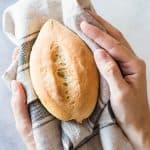 Mexican Dinner Rolls (Bolillos)
Step by step instructions on how to make Bolillos including a video tutorial. These Mexican rolls are the number 1 sold bread in Mexico City.
Print Recipe
Pin Recipe
Ingredients
500

g

unbleached all-purpose white flour

-

about 4 imperial cups

8

g

dry active yeast

-

about 2 teaspoons

8

g

Salt

-

about 1.5 teaspoons

8

g

sugar

-

about 1 3/4 teaspoons

350

ml

110℉ hot water -

(43℃) 1.5 cups
Instructions
Add dry ingredients to the bowl of your stand mixer and whisk on low until well combined.

Add 110℉ hot water. The temperature is crucial! Add colder water and your dough won't rise, add hotter water and you will kill the yeast. Use a meat thermometor to be certain of the temperature.

Attach the dough hook to the stand mixer and knead the dough for at least 20 minutes on low. Longer is even better. You want a very elastic dough (see video).

Cover the bowl with a clean kitchen towel and let the dough rise to double its size. Depending on the room temperature this will take anywhere between 25-50 minutes.

Once the dough doubled in size, remove it from the bowl and place on a clean floured working surface, sprinkle flour on top as well and then fold from the bottom up and over and from the top up and over, then let rest for 10 minutes, fold again, and let rest another 10 minutes, until the dough becomes smooth and elastic. (See video).

In the meantime, line a baking sheet with parchment paper.

Now cut the dough into 8 equal pieces and roll into "bolillo form". (See video). Then place on the lined baking sheet.

Once all bolillos are formed,make about a 1/2" deep incision in the middle with a sharp knife and spray or brush all bolillos with water.

Cover the bolillos with a clean kitchen towel and let the dough rise a second time until doubled in size.

Preheat oven to 450 F (230C) at least 20 minutes before the rolls have to go in the oven. Leave a baking sheet in the oven under the middle rack to fill with water later to create steam.

Remove the kitchen towel, spray the bolillos again with a little bit of water, add 1 cup of water to your baking sheet already in the oven, and put the bolillos on the rack on top in the oven for approximately 15 minutes.

Let cool for at least 10 minutes and enjoy warm.
Notes
*A digital kitchen scale will always give better results than volume measurements. If you absolutely do not want to invest in one (they can be as cheap as $10), make sure you are using imperial cups of 236ml volume, not metric cups of 250ml volume.
Nutrition
Calories:
236
kcal
|
Carbohydrates:
49
g
|
Protein:
7
g
|
Fat:
1
g
|
Saturated Fat:
1
g
|
Sodium:
486
mg
|
Potassium:
79
mg
|
Fiber:
2
g
|
Sugar:
1
g
|
Calcium:
9
mg
|
Iron:
3
mg
What's your clean eating vibe?
Take this fun QUIZZ and find out in 10 seconds!