If we are having an omnivore meal one day, we tend to have one vegetarian and one vegan or two vegan other meals such as these Mushroom Collard Green Potatoes. This dish can be served as side dish to some iron rich protein like legumes or meat or it can be eaten as less important main of the day as well because it contains fair amounts of protein and iron. I ate this specific batch as main for lunch. Serving size depends on whether you are eating it as main or side. As a side it probably serves 2 or 3. I am an absolute potato fan and could eat about 3 pounds of potatoes in one sitting. Ups. Both, German and Peruvian cuisine contain a lot of potatoes so I guess it's just in my blood.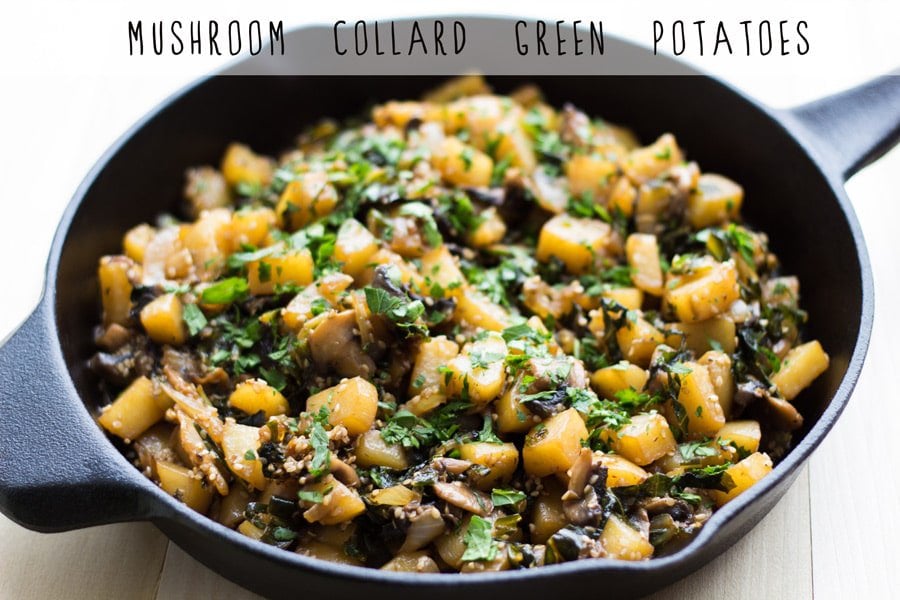 Sesame seeds are very high in protein, iron, calcium and magnesium and the collards add to the protein and iron just as the nutritional yeast does. Apart from that, the engevita yeast gives this a cheesy, salty flavor.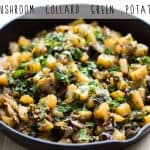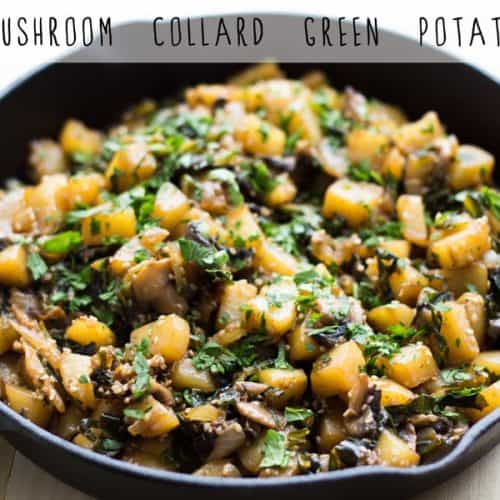 Mushroom Collard Green Potatoes
Print Recipe
Ingredients
1/4

cup

olive oil

4-5

medium sized red potatoes

1

small yellow onion

1

bunch

collard greens

5

oz

mushrooms

-

(140g)

1/4-1/3

cup

soy sauce

-

(depending on sodium content of your soy sauce)

1/4

cup

sesame seeds

1

tbsp

nutritional yeast

parsley

pepper

salt

-

(depending on sodium content of your soy sauce)
Instructions
Wash, peel and cut potatoes into 1" dice.

Peel and chop onion.

Wash, destalk and roughly chop collard greens.

Heat empty pan over medium heat and once hot add olive oil (to avoid burning), wait for olive oil to heat up nicely.

Add potatoes and fry for a couple of minutes alone. Do not add potatoes until oil is very hot (not burning) to avoid from sticking.

Add onions and collard greens and fry until potatoes are almost cooked through moving every once and a while.

Add mushrooms and a little soy sauce. Every soy sauce has a different sodium content so be careful if you don't know your soy sauce too well. There are some that are hardly salty and others that are very salty. Try a piece of potato and decide wether it needs more and add more accordingly.

Once mushrooms are cooked through, remove pan from heat.

Add sesame seeds, nutritional yeast, pepper and season to taste with salt (if even necessary, depending on your soy sauce).

Sprinkle chopped parsley over the dish.
What's your clean eating vibe?
Take this fun QUIZZ and find out in 10 seconds!