Super simple and easy to prep Parmesan Asparagus with smoked salmon and a soft boiled egg. Best lunch or summer dinner ever! A salmon and asparagus recipe to save forever.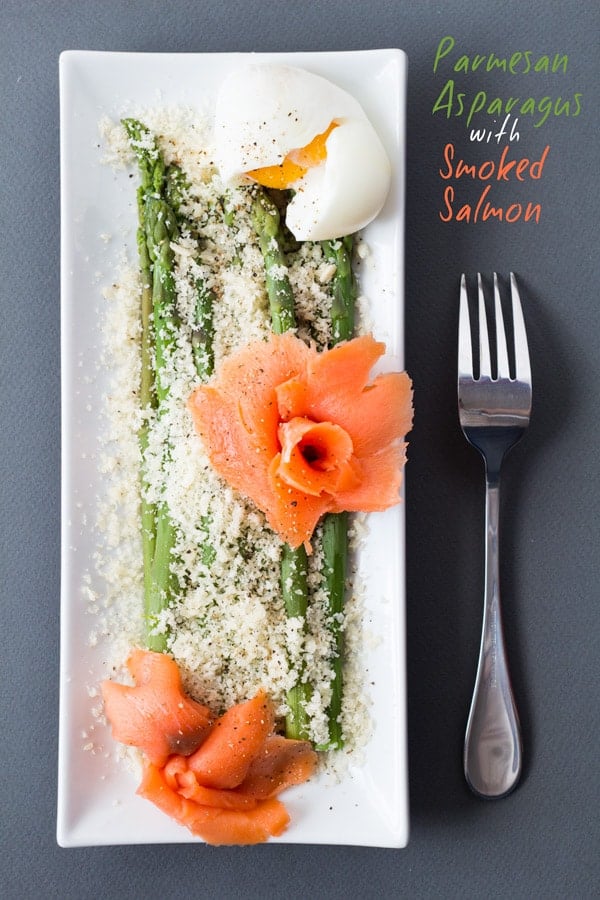 Sometimes keeping it simple is the most delicious!! There is no need for fancy 50-ingredient recipes all the time. I'm a lover of simple dishes.
Asparagus are one of my favorite vegetables. I love their texture (if cooked correctly) and flavor and of course….color. Green Healthy Cooking doesn't have "Green" it its name for no reason. I love all things green :)
The combination of smoked salmon and asparagus is super special. There is millions of ways to serve this as a combo. Another one of my favorites is Smoked Salmon and Asparagus Quiche. Sooooo good!!
How to cook asparagus to perfection for Parmesan Asparagus
You have three options with asparagus.
You either roast the the vegetable and turn the recipe into a Roasted Parmesan Asparagus or  Parmesan crusted asparagus. Use high heat (400-ish F) for a short amount of time 8-12 minutes (depending on thickness).
Or, you pan fry it in a little oil until nice and vibrantly green. For both these options you need oil though or it won't work.
The third option is to cook them in water. They are the most neutral this way but also the way to cook them in a low-calorie way, which is great for Parmesan Asparagus because the Parmesan has quite enough fat in it already.
Either way, this Salmon Asparagus Recipe will turn out amazing. Roasted, pan fried, boiled….your choose. Just make sure you cover generously with Parmesan and use a high quality smoked salmon to flavor the dish.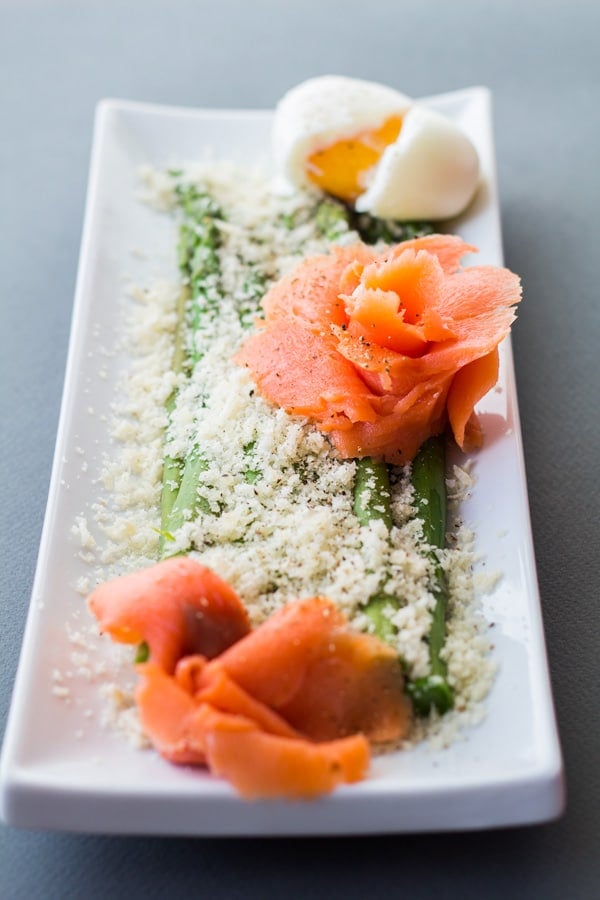 Salmon and Asparagus Recipe "Sauce"
I like sauces so so so much! There is different ways to smother your salmon and asparagus recipe in sauce. Either as shown in the photos with just a soft boiled egg. The egg yolk basically playing the role of sauce.
OR, you can make some yummy Greek Yogurt Hollandaise for it. That works really well, too.
If you roast the parmesan WITH the asparagus in the oven you can even get away with not adding any sauce or egg. The cheese will melt a bit and release its fat which serves as sauce.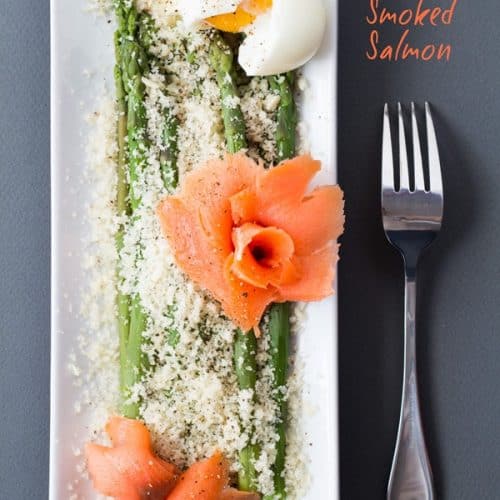 Parmesan Asparagus
Super simple and easy to prep Parmesan Asparagus with smoked salmon and a soft boiled egg. Best lunch or summer dinner ever! A salmon and asparagus recipe to save forever.

Print Recipe
Ingredients
1

lbs

asparagus

-

(250g)

200

g

smoked salmon

2

large

eggs

100

g

Parmesan cheese
Instructions
Either cut the hard ends of the asparagus or peel them (this will take longer but you don't throw away as much).

Wash asparagus and eggs and place in a large deep pan. Carefully not to cause any cracks in the eggshells.

Fill pan with water until eggs and asparagus are completely covered.

Once water is boiling immediately set timer for 3 minutes.

When timer goes off, take out eggs and let cold water run over them so they don't continue cooking.

Peel eggs while asparagus finishes cooking.

Drain asparagus when desired crookedness has been reached. Use a fork to check on them every once in a while and remove just BEFORE they get to your desired cookedness. They'll continue to cook a little even after draining. Drain well.

Place asparagus on plate and grate Parmesan over piping hot vegetables, then add smoked salmon and peeled egg.
Nutrition
Calories:
429
kcal
|
Carbohydrates:
10
g
|
Protein:
47
g
|
Fat:
22
g
|
Saturated Fat:
10
g
|
Cholesterol:
243
mg
|
Sodium:
1660
mg
|
Potassium:
748
mg
|
Fiber:
4
g
|
Sugar:
4
g
|
Vitamin A:
2460
IU
|
Vitamin C:
12.7
mg
|
Calcium:
685
mg
|
Iron:
7
mg
What's your clean eating vibe?
Take this fun QUIZZ and find out in 10 seconds!