This Chicken And Rice Casserole is the easiest and most delicious weeknight dinner ever! Rice, chicken, and broccoli all conveniently cooked at the same time in the oven!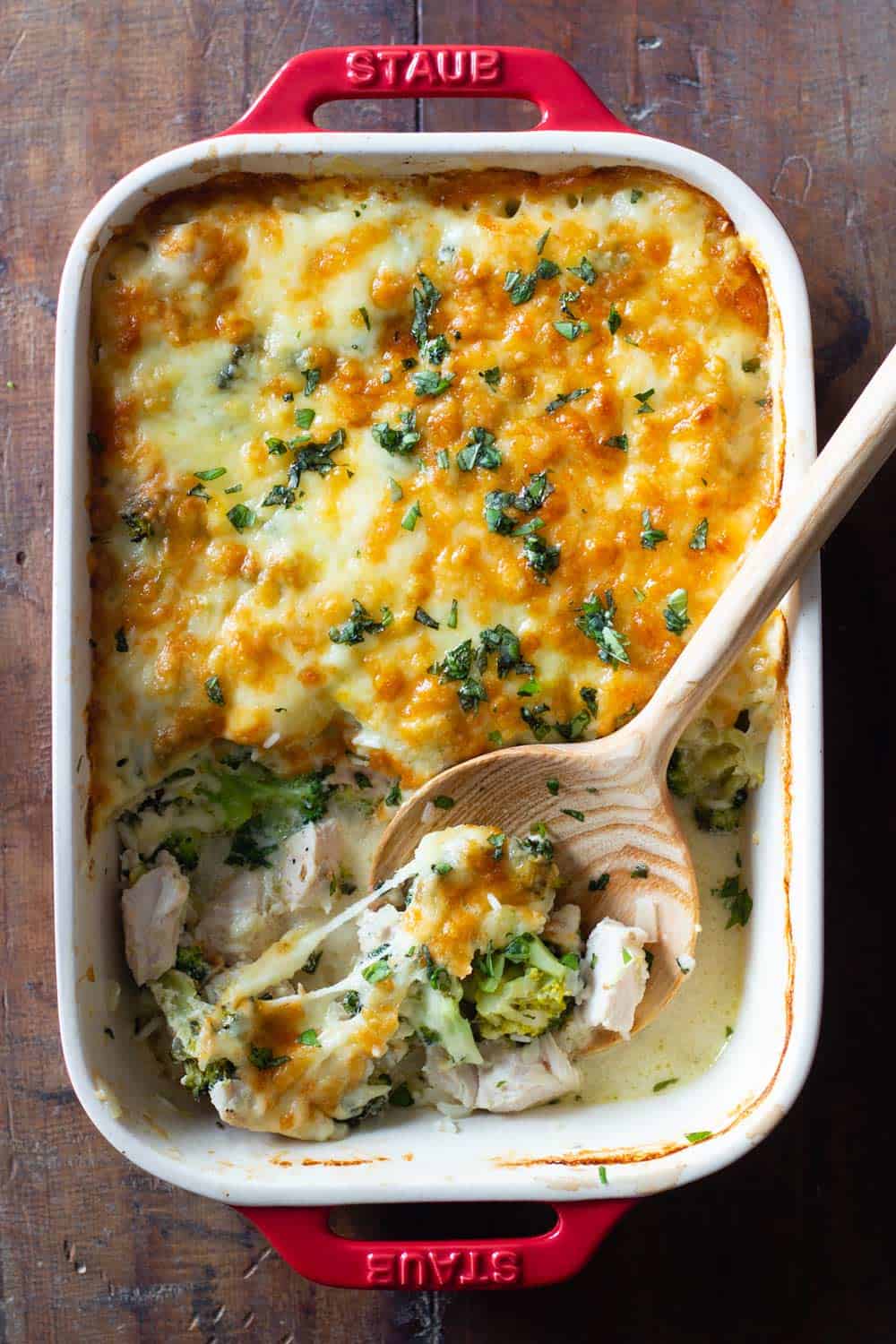 What I like the very best about this recipe is that I have my carb, my protein, and my veg all in one dish and I don't have to think about side dishes and main dishes and extra dishes, dishes, dishes.
Do I Cook Rice Before Adding To Casserole?
Short answer: No! Long answer: As long as you add boiling hot liquid and seal your ovenproof dish well, your rice will cook perfectly well in the oven, no need to pre-boil the rice.
Many (the majority) of Chicken and Rice Casserole recipes I've seen call for cooked rice and cooked chicken and blanched vegetables. What exactly is the point of making a casserole when you have to cook everything separately? Also….who's gonna wash all those dishes?
Needless to say, I went into the test kitchen and tried all different methods to make this work. What's the trick to get perfectly cooked rice in the oven? Hot liquid and sealing. That is the trick. Rice only cooks when the liquid is brought to a boil and then there is little liquid evaporation during simmering on low. Basically, you want to steam it and you can only achieve that by adding boiling liquid in the first place and then sealing the ovenproof dish.
My ovenproof dish is flat on top so I can take a baking sheet, flip it upside down and place it right on top of my dish and thus seal it (see video in the recipe card). If your dish is elevated at the handles I'm afraid you will have to use aluminum foil. Use a big piece and then tightly seal it all around to make sure no liquid evaporates.
Oh and one important note: All rice grains have to be submerged in the hot liquid or else they won't cook either. Use a spatula to press down the rice into the liquid.

Can I Cook Raw Chicken In Casserole?
Short answer: Yes! Long answer: Chicken has to be cooked to 165F internal temperature so if you cube your chicken and put it in a 400F preheated oven, it will most definitely cook to that internal temperature within 15-20 minutes.
If you used ice-cold liquid for the rice instead of boiling, neither your rice nor your chicken will cook in 15-20 minutes. If you're lucky your chicken and rice casserole will be done in an hour but probably not.
Do I HAVE to sauté de onion and garlic before adding?
You don't HAVE to do it but I strongly recommend it. Sautéd slightly browned onion and garlic taste 10,000% better. If you're super short on time though, you can just use a teaspoon of desiccated onion and about 1/4 tsp or dried garlic instead. It will still be delicious like that.
How Do You Fix Uncooked Rice In Casserole?
If for some weird reason your rice didn't cook. Maybe because you forgot to press it down into the liquid or your liquid wasn't hot when you added it, or you didn't achieve a tight seal with your baking sheet or aluminum foil, don't worry!
Drizzle 1/4 cup hot liquid well spread out on top of your still cheeseless casserole, this time seal it super-duper extra well and quickly return it to the hot oven for another 5 minutes.
If you didn't check on the rice and already put on the cheese and broiled it I'm afraid there is nothing you can do anymore to salvage uncooked rice. Just know that despite it being crunchy and not the best tasting, it's still perfectly safe to eat.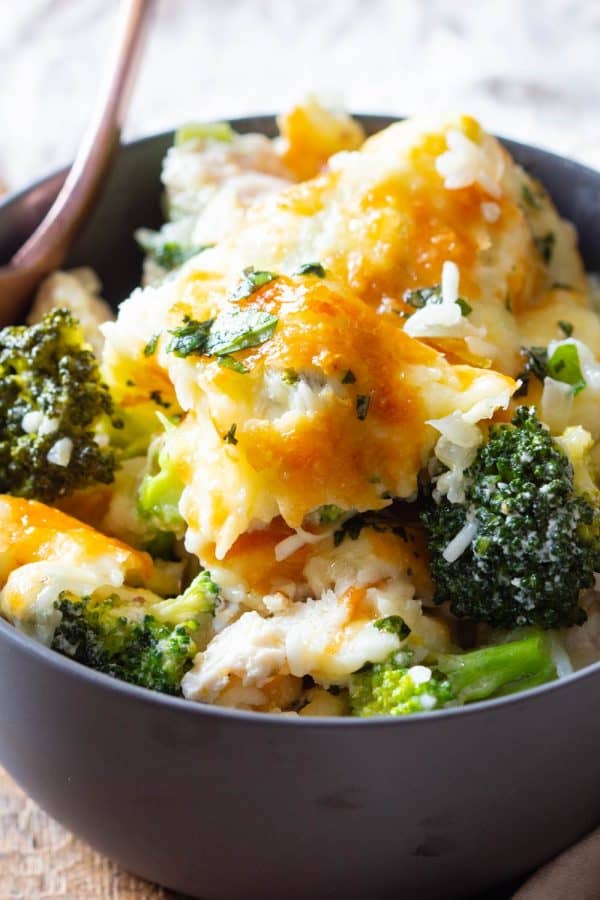 The Best Vegetable For Chicken and Rice Casserole
I love broccoli in my chicken and rice casserole but there are many other vegetables that go well in this casserole dish.
You can easily replace or mix and match:
Cauliflower
Asparagus
Green beans
Bell pepper
Sugar snap peas
Snow peas
The Best Cheese for Chicken and Rice Casserole
Any cheese that easily melts is good for getting the nice brown crusty cheese on top.
Cheddar, Swiss, Emmental, Mozzarella, Gouda…..
Parmesan gets nice and brown when mixed with another does not meld nicely if alone though. I love mixing mozzarella, swiss, and a little parmesan for best results.
The higher up you put your casserole in the oven, closer to the broiler, the nicer it browns and becomes a bit crusty.
More Chicken and Rice Recipes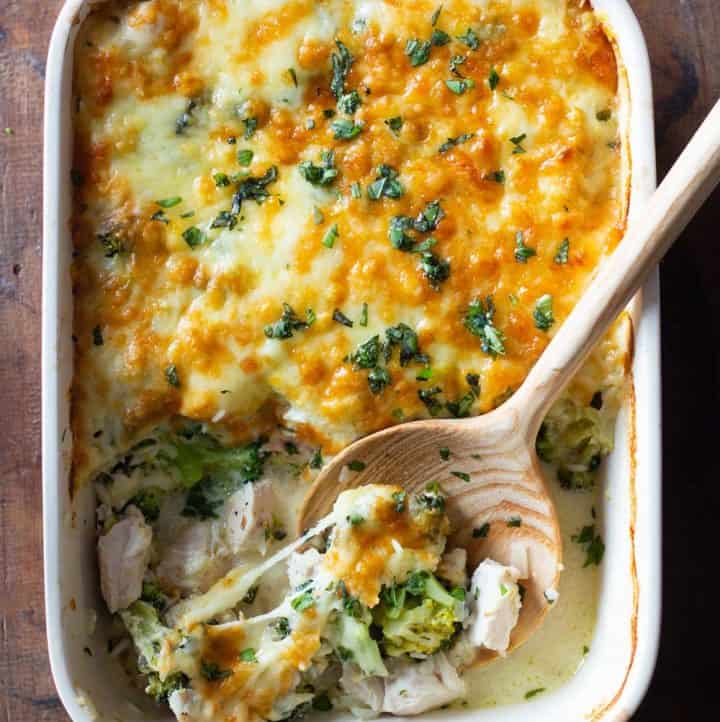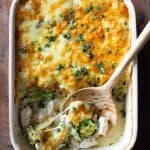 Chicken And Rice Casserole
This Chicken And Rice Casserole is the easiest and most delicious weeknight dinner ever! Rice, chicken, and broccoli all conveniently cooked at the same time in the oven!
Print Recipe
Pin Recipe
Ingredients
1

yellow onion

2

cloves garlic

1

cup

white Jasmine or Basmati rice

zest of 1 lemon

sea salt

pepper

1/2

Tbsp

poultry seasoning

2

chicken breasts

-

10 oz / 300g total for both

1

head broccoli

1.75

cups

boiling hot chicken broth

2

Tbsp

sour cream or crème fraîche

2

cups

melty cheese

-

mozzarella, parmesan, swiss or a mix of all

fresh basil

-

optional, for garnish
Instructions
Preheat oven to 400F (200C)

Peel and finely chop onion and garlic and then stir-fry in a little avocado oil in a pan over medium heat until slightly brown.

Add browned onion and garlic, rice, spices, and lemon zest to an ovenproof dish (11"x8") and set aside.

Cube chicken breasts into 1" cubes. Wash, dry, and cut broccoli into bite-size florets. Add chicken and broccoli to the other ingredients in the ovenproof dish.

In a large bowl or jug whisk together boiling hot chicken broth and sour cream until well combined.

Pour broth over all other ingredients, mix well and then press everything down into the broth with a spatula. All rice grains need to be submerged in the broth or they won't cook.

If your ovenproof dish is flat at the top, cover it with a flipped baking sheet. If it is not flat, use aluminum foil to get a tight seal.

Bake for 20 minutes, then remove the casserole from the oven, lift off the baking sheet or aluminum foil, sprinkle grated cheese on top of everything and place back in the oven under the broiler for 4-7 minutes.

The closer up next to the broiler you place the dish, the bubblier and browner the cheese gets.

Remove from the oven, sprinkle with chopped fresh basil if desired, and enjoy!
Nutrition
Calories:
479
kcal
|
Carbohydrates:
54
g
|
Protein:
35
g
|
Fat:
14
g
|
Saturated Fat:
8
g
|
Cholesterol:
81
mg
|
Sodium:
240
mg
|
Potassium:
952
mg
|
Fiber:
5
g
|
Sugar:
5
g
|
Vitamin A:
1314
IU
|
Vitamin C:
139
mg
|
Calcium:
393
mg
|
Iron:
2
mg
Have you tried this recipe?
Take a picture and tag @greenhealthycooking Can't wait to see your version!