THIS POST IS SPONSORED BY MANN'S
I'm sure you've all heard of the famous cauliflower rice, but have you ever heard of broccoli rice? It's equally – if not more – delicious and here is how to make it.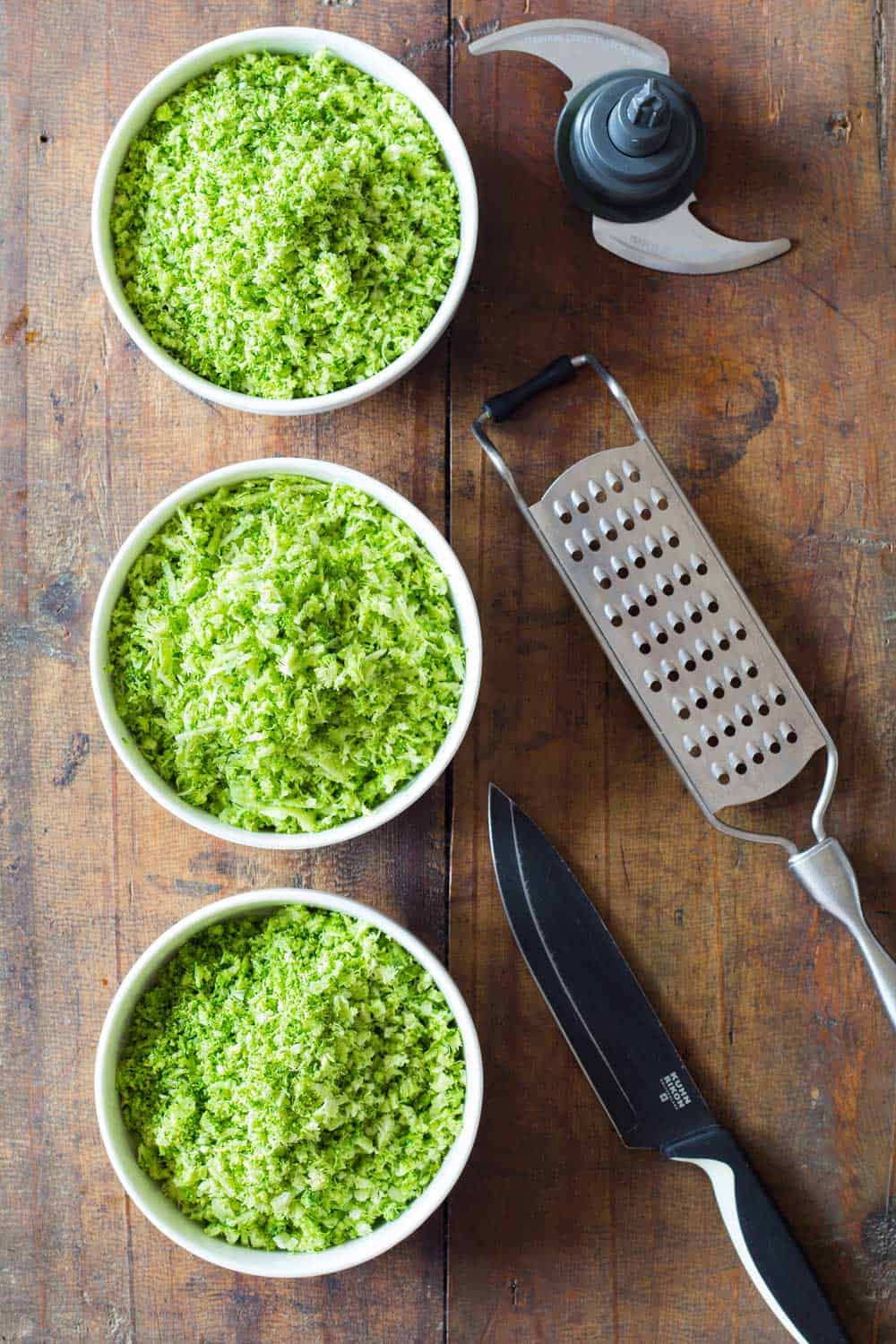 what is broccoli rice
Broccoli rice is essentially broccoli chopped into the size of grains of rice. Simple as that. It's an amazing way to add tons and tons of veggies into your diet. Use it as replacement for regular white or brown rice and make a low-carb high veggie meal with it.
It tastes absolutely amazing and cooks in minutes. I've also noticed that I eat a lot more of it in this form. Same applies to cauliflower of course. Or spiralized zucchini or sweet potato. Make your veggies look fun and you'll see how they pretty much disappear within minutes.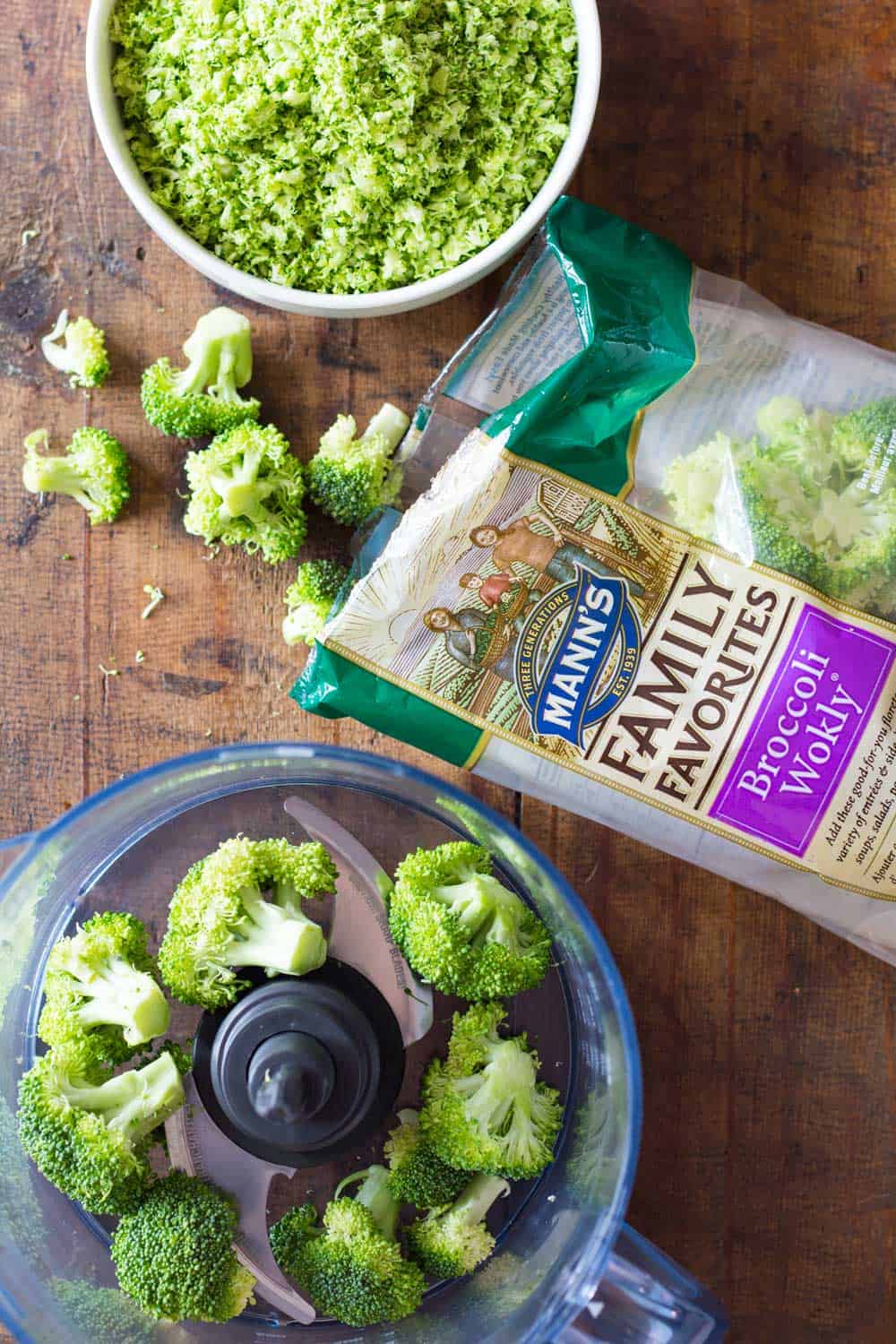 how to make broccoli rice
I've experimented with different options and there is essentially 3 ways to make broccoli rice.
With a food processor. That's the easiest and quickest way. It takes a minute to make it into rice with it. Especially if you use Mann's bagged Broccoli Wokly that is already washed and cut into florets.
With a grater. That's also a fairly easy and quick way to make rice out of broccoli in case you don't own a food processor. No need to go out and buy one or miss out on broccoli rice. Simply grate the florets and you're ready to go.
With a knife. In case you don't own neither a food processor nor a grater, don't despair. A knife will do the trick as well. Start with cutting thin slices off the head, which will immediately fall apart into rice, and then chop the stalks like you would herbs. (see video).
how to cook broccoli rice
Broccoli in the form of rice cooks super duper fast. You can stir-fry it in a pan with or without a splash of oil and it's cooked within minutes.
You could also steam it in a colander over boiling water in a pot. Or, if you own a microwave, add broccoli and a splash of water to a glass bowl and microwave on high for a minute at a time until desired softness.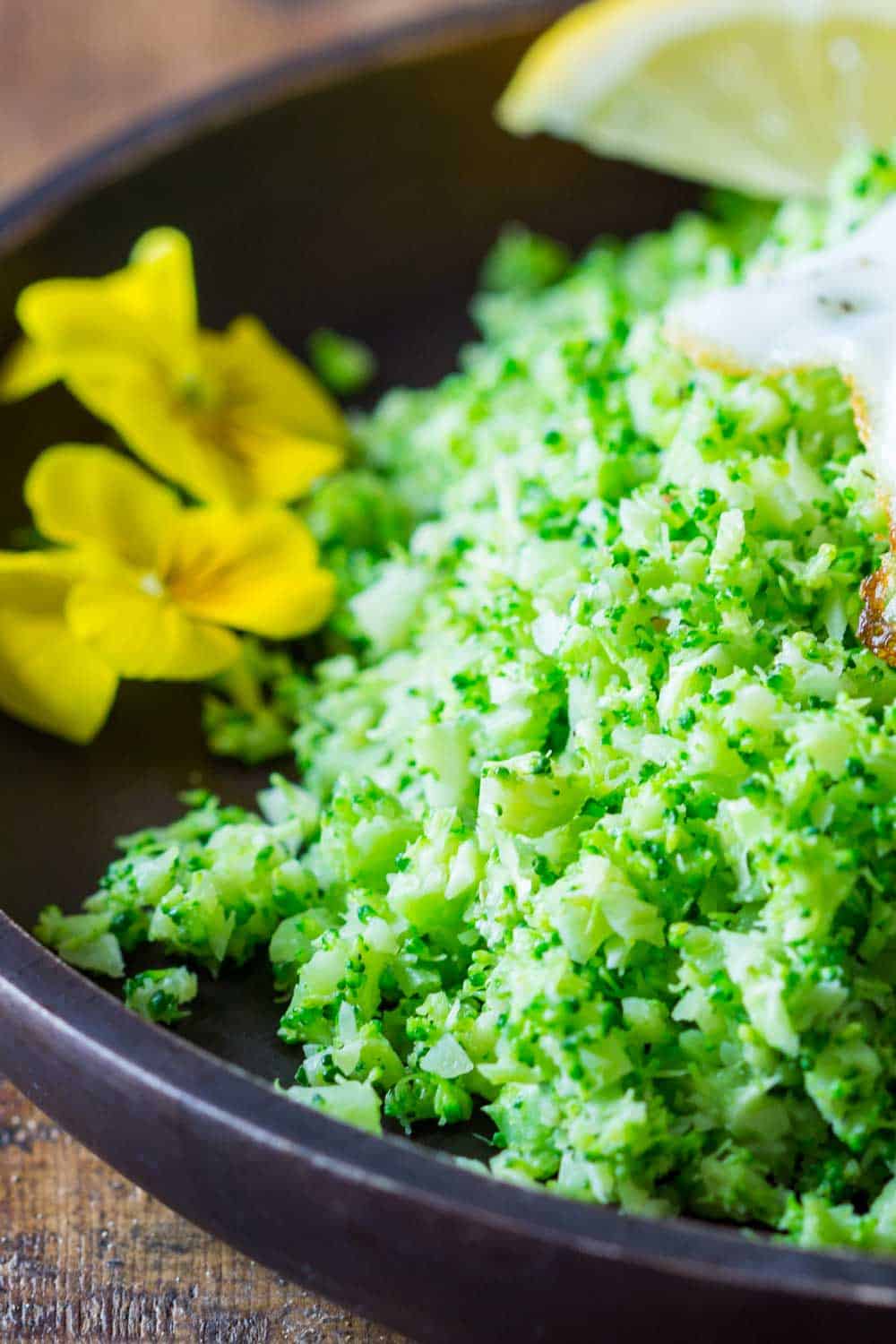 what to serve broccoli rice with
In case you were wondering what to serve broccoli rice with. You can serve it simply as is with a bit of salt and pepper and a splash of fresh lime juice.
To make it fancier, add a fried or poached egg on top and enjoy with the delicious egg yolk as sauce. Who doesn't love "rice with egg"??
Instead of egg OR on top of egg you can add a delicious chicken breast as well. This ended up being my absolute favorite combo. I can also imagine a broccoli rice chicken salad to taste out of this world. I encourage you to experiment and find your favorite combination. Maybe you could try make this Cauliflower Fried Rice or this Cauliflower Couscous with Broccoli instead. So so so many possibilities…..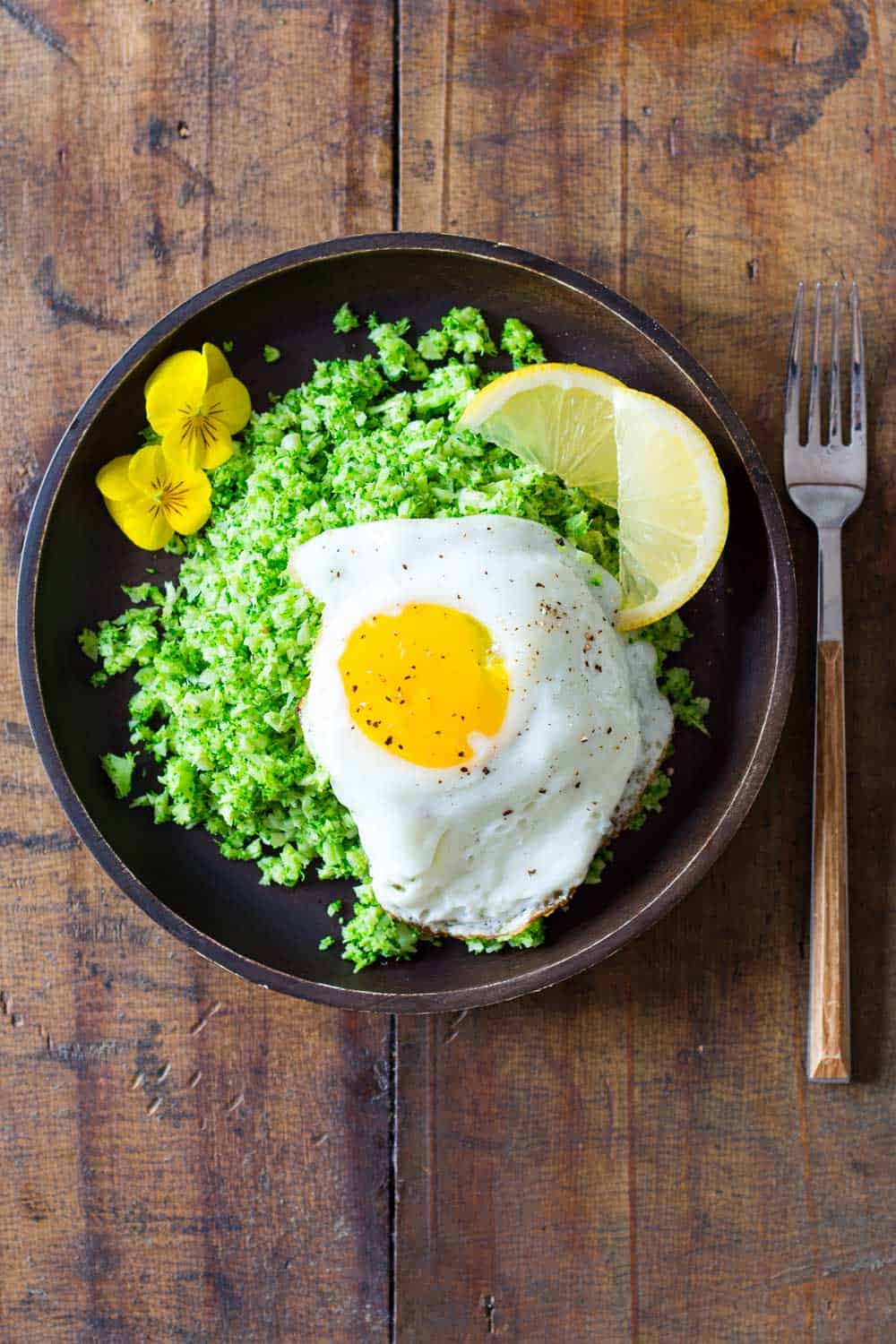 Mann's
Big big shout out to this amazing company for sponsoring this post. You are awesome! I am so happy I was given the opportunity to create a recipe for you! It was a real pleasure to come up with this recipe.
And thank YOU, my lovely readers, for supporting the brands that support Green Healthy Cooking! I hope you love Broccoli Rice as much as I did! Make sure to tag @greenhealthycooking when you post a photo of your finished dish. I'd love to see!
How to make Broccoli Rice Video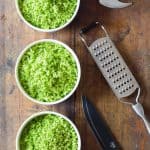 How to Make Broccoli Rice
I'm sure you've all heard of the famous cauliflower rice, but have you ever heard of broccoli rice? It's equally - if not more - delicious and here is how to make it.
Print Recipe
Ingredients
1

bag

Mann's Broccoli Wokly

salt (optional)

pepper (optional)

lime juice (optional)

2

eggs (optional)

2

chicken breasts (optional)
Instructions
Add broccoli florets to food processor and pulse until rice form (about 1 minute). Or grate with a grater or chop with a knife.

Stir fry in a pan over medium heat with or without heating a splash of oil before.

Season with salt, pepper and a splash of lime juice if desired.

Top with an egg and/or serve with chicken.
Nutrition
Calories:
50
kcal
|
Carbohydrates:
8
g
|
Protein:
6
g
|
Sodium:
50
mg
|
Potassium:
560
mg
|
Fiber:
4
g
|
Sugar:
4
g
|
Vitamin A:
5000
IU
|
Vitamin C:
214.5
mg
|
Calcium:
80
mg
|
Iron:
1.4
mg
What's your clean eating vibe?
Take this fun QUIZZ and find out in 10 seconds!