The best and juiciest baked salmon recipe with garlic, butter, and dill. Make baby potatoes and asparagus as sides and you just made yourself a fancy date-night dinner. Avoid foil and use a parchment paper bag instead.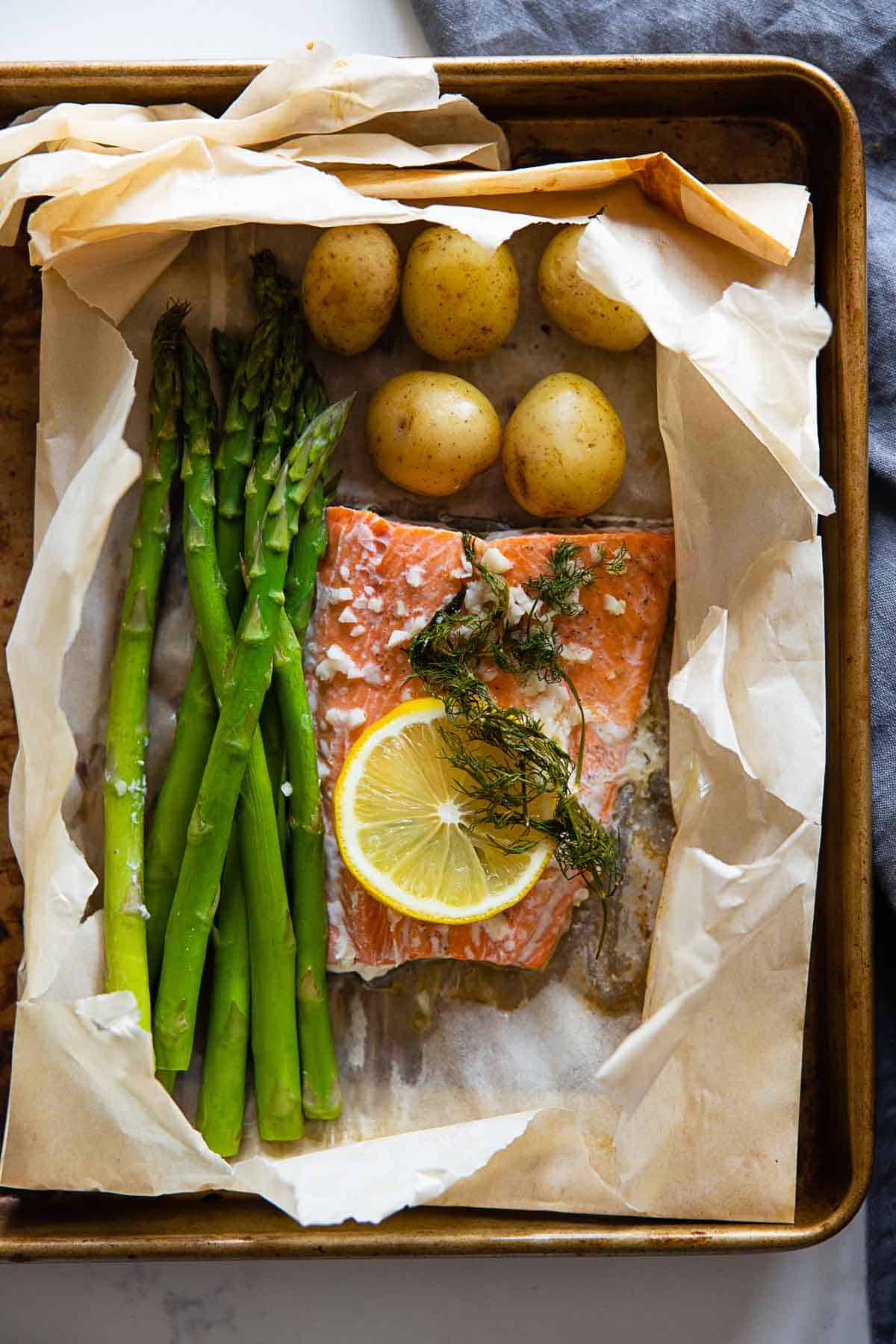 Aluminum Foil vs Parchment Paper Bag
If your baked salmon always ends up rather dry I highly recommend "shielding" your fish from the dry heat. Baking it in a pouch can keep your salmon nice and juicy.
Many recipes call for foil to make that pouch for the salmon. However, according to a study published in the Food Science and Nutrition Journal  "leakage of aluminum to food that was baked in aluminum foil" does happen, "and the research is indicating that excessive consumption of food prepared by baking in aluminum foil can carry a health risk".
So I tried to find a better alternative and found these amazing parchment paper bags (affiliate link). I couldn't be happier. The salmon stayed nice and juicy. I'm never looking back again.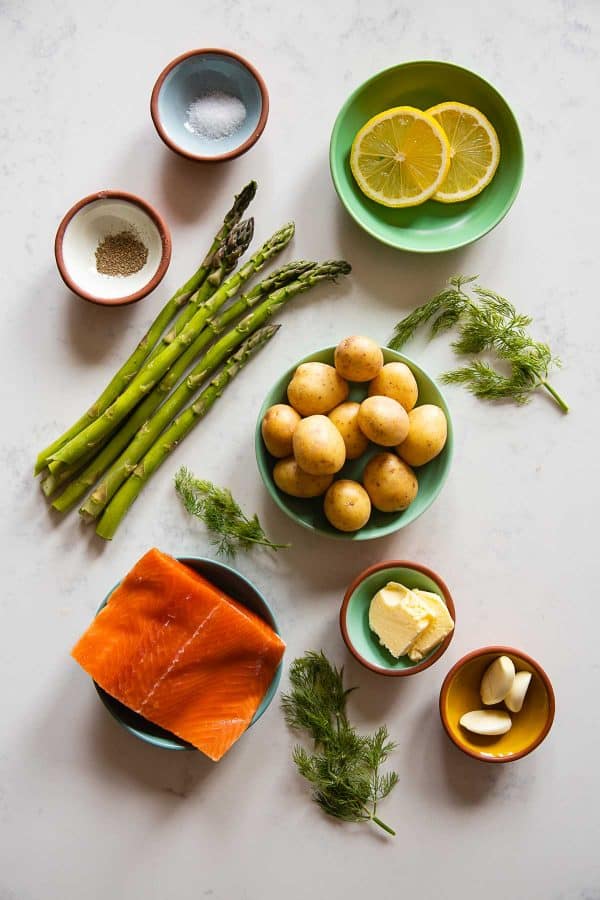 The Ingredients
Salmon – my favorite is Wild Sockeye Salmon. It has the strongest flavor and nicest texture. However, any Salmon you can get your hands on works of course.
Dill – Any other soft fresh herb works great. Basil, Cilantro, Parsley, Estragon… they all taste amazing with salmon but dill has a special place in my heart for salmon.
Lemon – My favorite way to spice up baked salmon is by adding a slice of fresh lemon but lime or orange work wonderful as well.
Garlic – You can omit the garlic if you don't like it but I believe it is what makes this recipe extra special.
Butter – olive oil is a great alternative. Or any other oil for that matter. I do highly recommend you add at least 1 tsp of some sort of fat. I don't recommend strong tasting sweet oils like coconut oil or sesame seed oil. They are overpowering and your baked salmon flavor won't be able to shine through anymore.
Asparagus – I chose asparagus as side veggie because it cooks in the same amount of time the salmon does. You can use green beans as well they will have quite some bite to them though. Other than that, bell pepper or cherry tomatoes will work. Other vegetables tend to take longer to roast.
Baby potatoes – potatoes go really really well with baked salmon and taste great with the melted butter. You can also make a batch of white rice in the Instant Pot because it's ready in about the same amount of time.
Frequently Asked Questions
At what temperature should salmon be cooked?
400F is the best temperature. You want to cook salmon short on high to avoid drying out. Slow-cooking salmon ends up with tough dry meat.
Is it better to fry or bake salmon?
Nutritionally speaking it's basically the same. From a "cleaning the kitchen"-perspective baking it is a lot less messy and saves you time during clean-up later. Baked salmon is the clear winner for me!
How do you not overcook salmon?
According to the FDA, salmon is safe to at 145 F internal temperature. That being said, in my opinion, and that of many professional chefs, that makes it pretty dry. I prefer to cook mine more to about 125-130F internal temperature and get nice and flaky and juicy salmon. Living on the edge here, living on the edge :P
Skin on or skin off?
ALWAYS LEAVE THE SKIN ON!!! You don't have to eat it if you don't like it but for pan-frying or baking always leave it on so the salmon stays nice and juicy. Also, it's super easy to remove once the salmon is cooked. It slides right off.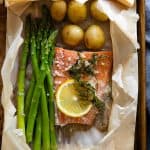 Dill Garlic Butter Baked Salmon
The best and juiciest baked salmon recipe with garlic, butter, and dill. Make baby potatoes and asparagus as sides and you just made yourself a fancy date-night dinner.
Print Recipe
Pin Recipe
Ingredients
1/2

lbs

baby potatoes

1

lbs

asparagus

2

salmon filets

2-3

cloves

garlic

1

Tbsp

butter

2

Tbsp

dill

2

slices

Lemon

sea salt

pepper
Instructions
Preheat oven to 400 F (200°C) and bring 4 cups water to a boil.

Cut the dry ends off the asparagus and finely chop the garlic cloves.

Season the salmon generously with sea salt and pepper, add 1/2 Tbsp butter per filet and add to a parchment paper bag.

Add 1/2 of the asparagus to each bag as well as half of the garlic, one slice of lemon, and half of the dill.

Close the bags by folding and crimping really well and then place on a baking sheet.

By now the water should be boiling, so add your baby potatoes to the boiling water and set a timer for 15 minutes.

5 minutes into the potato cooking time, add the baking sheet to the oven and bake the pouches for 10-12 minutes.

Let the pouches cool down for a couple of minutes, then carefully rip them open. Serve with the baby potatoes and season with additional sea salt if necessary.
Nutrition
Calories:
432
kcal
|
Carbohydrates:
30
g
|
Protein:
41
g
|
Fat:
17
g
|
Saturated Fat:
5
g
|
Cholesterol:
109
mg
|
Sodium:
138
mg
|
Potassium:
1769
mg
|
Fiber:
7
g
|
Sugar:
5
g
|
Vitamin A:
1991
IU
|
Vitamin C:
40
mg
|
Calcium:
94
mg
|
Iron:
7
mg
What's your clean eating vibe?
Take this fun QUIZZ and find out in 10 seconds!