An easy oven recipe for Rosemary Lemon Chicken. Deliciously juicy chicken thighs and drumsticks with earthy rosemary and fresh lemon. An easy weeknight dinner for the whole family.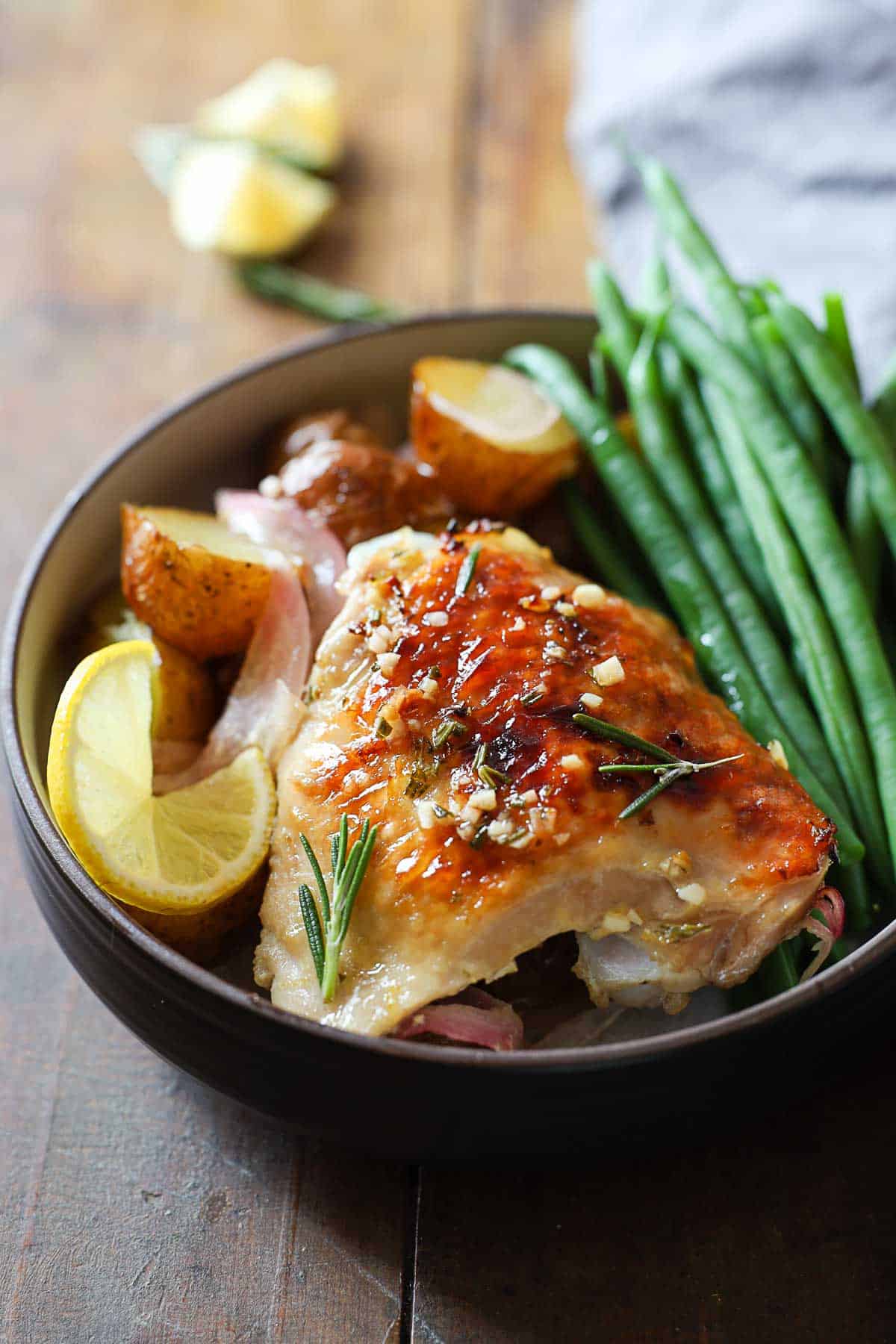 You tell me every day how much you love my Slow-Cooker Lemon Chicken so I figured it's about time I made a similar recipe but for the oven. Not everybody has time in the morning to prep dinner in the slow cooker.
The ingredients
The name already says it, there are rosemary and lemon in this chicken recipe but what else and what can be replaced with what?
Chicken – I strongly recommend using bone-in skin-on chicken thighs and/or drumsticks. The meat becomes fall off the bone tender and juicy. If you insist on using chicken breasts make sure you don't overcook them or they'll become super dry. Also, don't broil them or they'll dry out, too. 15-ish minutes at 450F tends to be enough. Let the breast rest for at least 10 mins without cutting into it after baking.
Lemon – You can use lime as well if you prefer but in my humble opinion lemon tastes much better in this.
Rosemary – It wouldn't be a Rosemary Lemon Chicken without rosemary but you can obviously replace it by thyme if that's all you have on hand.
Honey – The honey is necessary to counter the acidity of the lemon. If you omit it, the sauce will be quite sour. You can reduce the amount a little but I don't recommend using less than 1 Tbsp.
Garlic – You need it! Trust me!
Olive oil – Any oil will do but olive oil is the tastiest for the sauce.
Sides – make a carb and a vegetable as a side dish. The possibilities are endless. I like making baby potatoes or Instant Pot Rice and green beans or asparagus or broccoli as sides.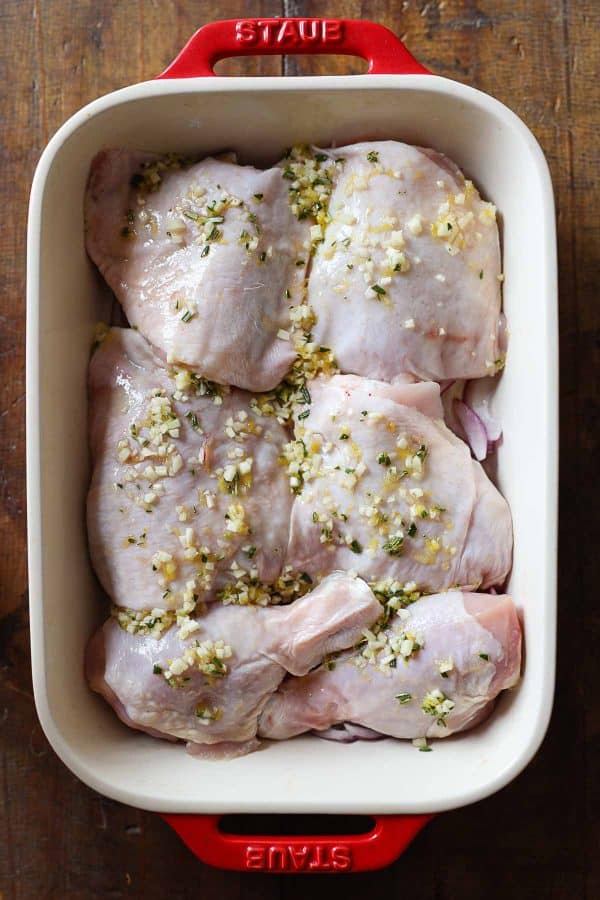 Frequently Asked Questions
How long do I have to cook bone-in skin-on chicken thighs?
Depending on the size, generally 35-45 minutes. Chicken is safely edible once it reached an internal temperature of 165F. However, dark chicken meat tastes better when cooked to 185F internal temperature.
That's why people keep saying "thighs are more forgiving". They are safe to eat at 165F but start falling off the bone at 185F. So anywhere in between, they are still fine and great.
To measure the internal temperature insert the meat thermometer at the thickest part and don't touch the bone.
Should I cook Rosemary Lemon Chicken on a baking sheet or in a baking dish?
I strongly recommend using a deep baking dish so the juices run to the bottom and give you a nice gravy at the end. If you use a baking sheet most of the liquid just evaporates.
If you want super crispy skin though, a baking sheet is better and the chicken well spread out without touching each other because the sides get crispy that way, too. I have a secret tip for you though for the best of both worlds:
How do I get super crispy skin when cooking chicken thighs?
The trick to getting juicy chicken thighs but also crispy skin is to bake the thighs in a deep dish first until cooked through (35-45 mins) and then remove them and place them on a baking sheet (leaving the juices in the baking dish).
Spread the thighs out on the sheet making sure no piece touches the other. Now place the oven rack to the upper third of the oven, slide in the baking sheet with the chicken thighs and turn on the broiler for 3-4 minutes.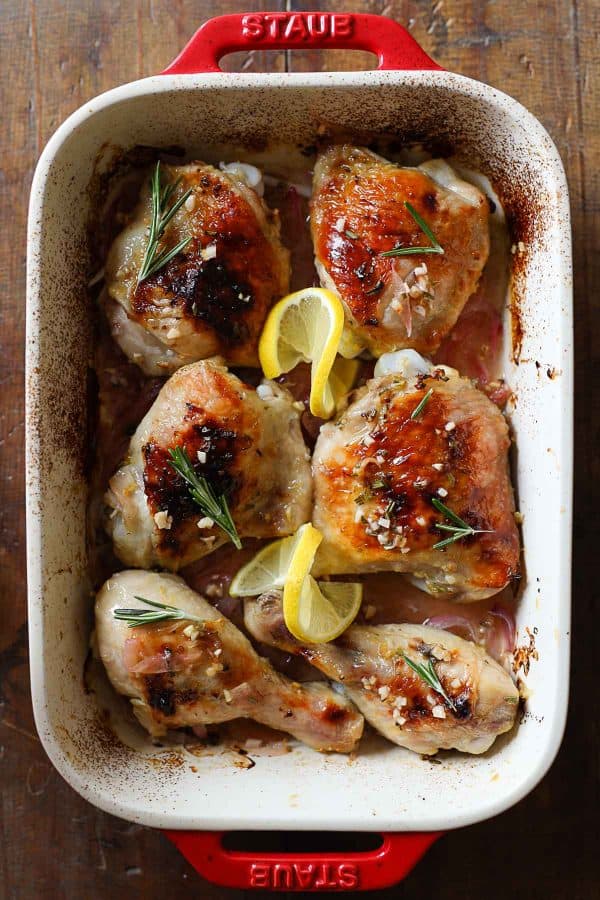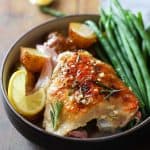 Rosemary Lemon Chicken
An easy oven recipe for Rosemary Lemon Chicken. Deliciously juicy chicken thighs and drumsticks with earthy rosemary and fresh lemon. An easy weeknight dinner for the whole family.
Print Recipe
Pin Recipe
Ingredients
1

red onion

1.5

lbs

bone-in skin-on chicken thighs and/or drumsticks

1

lemon

1

Tbsp

fresh rosemary, chopped

2

cloves garlic, minced

1

Tbsp

olive oil

1.5

Tbsp

honey

sea salt

pepper

0.25-0.5

lbs

baby potatoes

0.5

lbs

green beans

1

tsp

olive oil
Instructions
Preheat the oven to 400F.

Peel and thinly slice red onion. Then add the sliced onion to the bottom of an oven-proof baking dish.

Place the chicken thighs and drumsticks on top of the sliced onion in one layer.

Get a small bowl and add the zest of the lemon into it, as well as the juice of that same lemon. Then add the chopped rosemary, the minced garlic, olive oil, honey, and sea salt and pepper and whisk everything until well combined.

Pour the rosemary lemon sauce over the chicken parts and set aside.

Get a separate ovenproof dish and add the baby potatoes and a drizzle of olive oil and use your hands to evenly coat all potatoes with oil. Season with sea salt.

Put the chicken and potatoes in the oven and set a timer for 35 minutes.

In the meantime, boil the green beans for about 5 minutes or until your desired softness.

Once the oven timer went off you can either serve the chicken as is or put the pieces under the broiler for 3-5 minutes for the skin to crisp up nicely.

Serve the chicken with the potatoes and green beans.
Nutrition
Calories:
443
kcal
|
Carbohydrates:
21
g
|
Protein:
26
g
|
Fat:
29
g
|
Saturated Fat:
7
g
|
Cholesterol:
142
mg
|
Sodium:
119
mg
|
Potassium:
613
mg
|
Fiber:
3
g
|
Sugar:
10
g
|
Vitamin A:
519
IU
|
Vitamin C:
29
mg
|
Calcium:
52
mg
|
Iron:
2
mg
What's your clean eating vibe?
Take this fun QUIZZ and find out in 10 seconds!