An out of this world delicious Chocolate Raspberry Tart made with almond crust and coconut dark chocolate cream. It is naturally gluten-free, dairy-free, and low in sugar.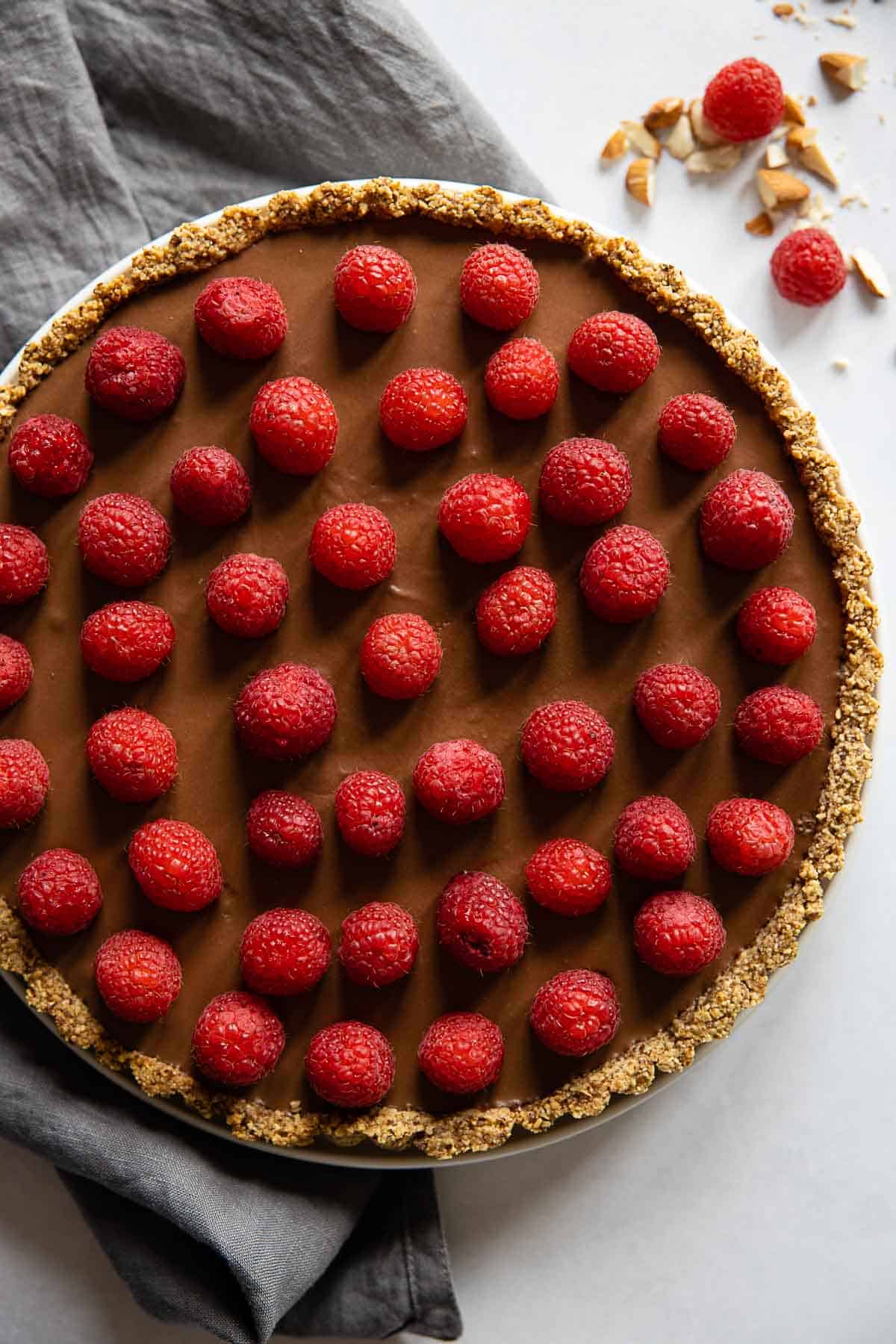 This tart is not only insanely good but also healthy-ish. It's not necessarily "light". It is rather "rich"….in flavor and color….but it is made with mostly wholesome ingredients. If you prefer a butter/flour crust you may want to try this Simple Pear Tart.
It's the most perfect Thanksgiving or Christmas dessert for anybody on a clean-eating diet.
The Best Crust For A Naturally Gluten-Free Tart
Hands down a nut crust. Not only a nut crust but an Almond Crust! I've tried it two ways. Baked and raw and both taste amazing.
I *think* I liked the baked crust a tiny little bit better, however, I must admit it kind of bothers me to turn on the oven for just a 15-minute baking time.
I went ahead and tested the recipe without baking the crust and it turned out great.
The baked crust holds its shape really good without the white chocolate layer but the raw really needs the layer. Not only for flavor and deliciousness but also as "glue" to hold the crust together. You can also use dark chocolate of course instead of white.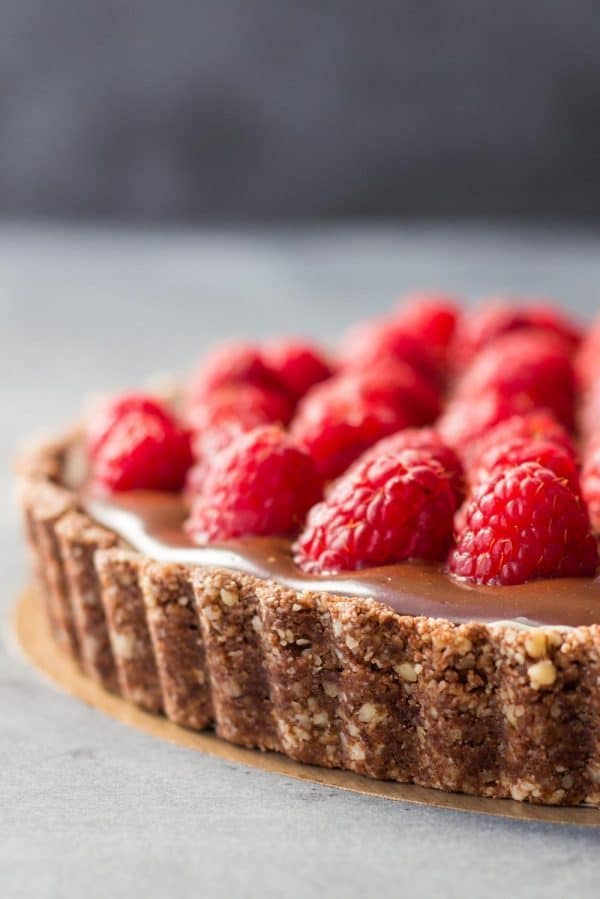 Best Creamy Chocolate Filling for a Raspberry Tart
Melted dark chocolate and coconut cream! The combination of dark chocolate and coconut is simply unbeatable!! The richness, the creaminess, the coconutty smell, and sweet and tart flavor of the dark chocolate probably make this the best dessert I've ever made.
Also, both ingredients are vegan in case you're looking for a Vegan Chocolate Raspberry Tart :D
What Exactly is Coconut Cream?
So, for the filling to really harden after a couple of minutes in the freezer you cannot use regular coconut milk. It has to be coconut cream.
You get the cream by placing a can of full-fat coconut milk in the fridge for several hours. The cream and water separate due to the temperature and then you can open the can and scoop out only the cream setting aside the water.
Don't try and stick the can in the freezer to accelerate the process. It doesn't work. The coconut milk freezes unseparated and you won't get it out of the can anyway.
What I like to do is to always have 2-3 cans in the fridge at all times so I always have coconut cream on hand when a recipe calls for it.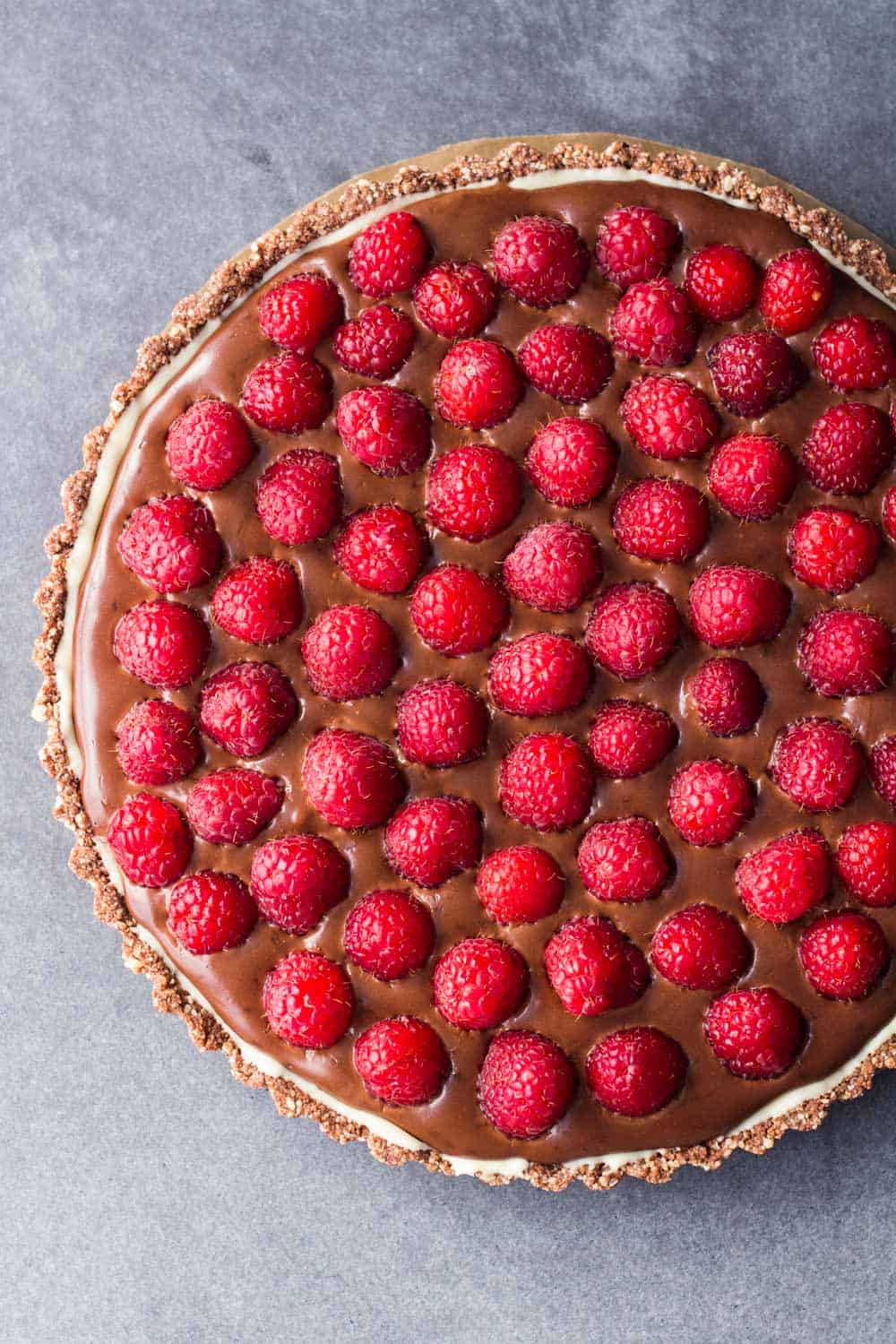 Fresh vs. Frozen Raspberries
For this Chocolate Raspberry Tart, you will have to use fresh raspberries. Frozen raspberries contain too much water and the water will dilute the creamy filling.
It's best to start the whole tart making process by rinsing and draining the fresh raspberries and then laying them out whole down on a cooling rack so they can air dry while you prepare everything else.
The drier the berries, the better.
If you love this tart as much as I do, you should also check out this no-bake chocolate tart from Leelalicious. I've made it like 10 times already it's so good!!
How Long Does It Last In The Fridge / Can It Be Frozen?
The fresher the raspberries the longer the tart lasts. Generally, it should be fine for about 4-5 days in the fridge.
You can freeze the almond crust and chocolate cream but unfortunately not the raspberries. You will have to remove the raspberries before you freeze the chocolate tart. To defrost simply place in the fridge for 12 hours prior to cutting.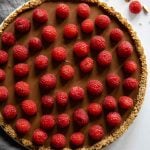 Chocolate Raspberry Tart
An out of this world delicious Chocolate Raspberry Tart made with almond crust and coconut dark chocolate cream. It is naturally gluten-free, dairy-free, and low in sugar.
Print Recipe
Pin Recipe
Ingredients
2

cups

raw almonds

3

Tbsp

flax meal

1/3

cup

melted coconut oil

100

g

white or dark chocolate

-

optional, only necessary if not baking the crust

1.5

cups

coconut cream

-

*see notes

100

g

70% dark chocolate

200

g

raspberries

-

(rinsed and drained and dried)
Instructions
Wash and drain raspberries and then let them air dry completely. The drier the berries, the better.

Preheat the oven to 350F if you want to bake your crust.

Add almonds to a food processor and process until you reach a coarse almond flour. Then add flax meal and while continuing to process add melted coconut oil. Process until the almonds resemble a crumbly dough.

Place dough in the middle of an 8" or 9" separable tart pan and press down with your fingers until bottom and sides are evenly coated.

Bake crust for 15 minutes and then let cool down completely. It's worth it. Absolutely delicious! However, you can also leave the crust raw and place in the fridge - if leaving raw you will have to melt a bar of white or dark chocolate to pour on top of the crust to serve as glue and then refrigerate so it hardens.

Melt the dark chocolate, then add coconut cream (see notes for what exactly coconut cream is) and stir until well combined.

Pour chocolate coconut cream into the crust and swirl around to evenly distribute. Then stick into the freezer for 10-20 minutes or until the chocolate coconut cream has hardened.

Add raspberries in a nice pattern & enjoy!
Notes
* to get 100% coconut cream stick cans of full-fat coconut milk into the fridge overnight and then the water and cream will separate. Scoop out the cream saving the water for smoothies or anything else you like. Even cans labeled "coconut" cream need to be refrigerated to separate the little bits of coconut water in the cream. You will either need 2 cans of coconut cream or 3 cans of full fat coconut milk.
Nutrition
Calories:
356
kcal
|
Carbohydrates:
13
g
|
Protein:
7
g
|
Fat:
33
g
|
Saturated Fat:
17
g
|
Cholesterol:
1
mg
|
Sodium:
4
mg
|
Potassium:
365
mg
|
Fiber:
6
g
|
Sugar:
4
g
|
Vitamin A:
6
IU
|
Vitamin C:
5
mg
|
Calcium:
81
mg
|
Iron:
3
mg
What's your clean eating vibe?
Take this fun QUIZZ and find out in 10 seconds!